A stunning collapse.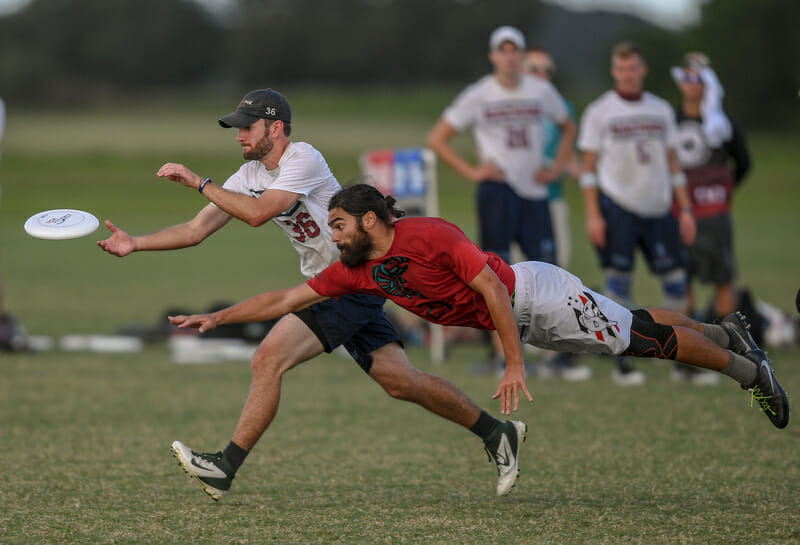 Ultiworld's coverage of the Men's Division at the 2017 Club Championships is presented by Spin Ultimate; all opinions are those of the authors. Please support the brands that make Ultiworld possible and shop at Spin Ultimate!
SARASOTA, Fla. — Even with the sun hidden behind the clouds at the end of pool play, the heat of the day still weighed heavy on Seattle Sockeye. The team was mostly shirtless, in various states of post-play disbelief and undress. Some sat in small groups; others stood hands on head or spread out in the perfectly flat grass at Lakewood Ranch.
The tournament's No. 2 seed—the overall No. 2 in the country and the one deemed best suited to beat San Francisco Revolver at 2017 Club championships—was eliminated after a winless performance in Pool B.
"I've never experienced anything like this," said Sockeye captain Trent Dillon after postgame huddles. "I've had pretty heartbreaking losses before in college, but nothing like a winless day one."
Dillon is a consummate winner. A decorated Pittsburgh alum with two College Championships, a Callahan Award, two World titles, and even a YCC championship. His team is filled with other champions from across the country and ultimate spectrum.
They were built for a 2017 trophy. Yet, in the course of about six hours, all hope for a berth in the bracket, let alone a title, fell away in a rash of execution errors and throwaways. Dillon was mystified.
"I have no idea. Individually, I'm pretty blindsided with this. I felt like this team was extremely well prepared," he said.
The change of fate started with Florida's Mischa Freystatter in the first round of the day, who posted five goals and five assists in his teams 14-8 dismantling of the Seattle team. Sockeye had no answer initially for the 6'7" cutter. Eventually, a healthy Matt Rehder crossed to the D-line and joined the high-flying Husayn Carnegie to double team Freystatter in the air for a few blocks, but they were addressing a symptom and not the root cause. No one was slowing ace thrower Cole Sullivan, downwind or upwind.
Florida's towering zone was the first defensive test for the lightning-fast Seattle O-line, bred on clinical around breaks and booming hucks from Simon Montague. But in the face of a zone that often encroached the 10-ft limit described by the rules, Sockeye showed the first signs of losing their composure.
It took the better part of the first half for a Seattle thrower to step into the zone and throw a strong upwind hammer. Sam Hart launched his massive frame up for each upside down toss powered his way, but on the first reception, he threw through contact looking for a streaking Rehder and misfired. On the second attempt, Hart smartly dished off to a trailer, but that player then also misfired looking for Rehder back on the open side.
Meanwhile, the Seattle handler crashers weren't working, and while there were some limits on Freystatter and Sullivan, the fiery athleticism of Jeremy Langdon and Bradley Seuntjens added to the mounting stack of problems for Sockeye.
The game withered away, in spite of heroic efforts from Dillon and Sockeye rookie Dylan Freechild to keep their teammates involved. The continuation throws were missing. Zane Rankin broke free but couldn't get his hucks to sit.
"I think that Florida kinda came out and punched us in the mouth. And part of me wants to say that I think rattled us. They had a great strategy, Mischa [Freystatter] had an awesome game, we kinda didn't respond, and then we were just on our heels," Dillon said.
The shocking loss to Florida blended into a back and forth battle with PoNY. The teams traded leads, and Seattle showed a zone look on defense with the wind at their backs, going to the bench for a host of talented youth to execute in the wall.
PoNY was prepared. New York sat on Seattle's flick side, forcing backhand, and making the best of turns. On offense, Harper Garvey put something close to the full cycle of throws for his teammates, and Seattle didn't have a cohesive answer. As Dillon said, they were on their heels, reeling from a call-filled, intense loss to Florida.
Seattle lost focus in the first round and never regained it.
Then Freechild went down. Late in the second half, he eyed up a poach block for his team from 25 yards or so away. He charged the force sideline, anticipating the throw to an up line or under and took off like a laser, hips-high. From the far sideline, he looked to secure the disc before contact. But he collided almost head-on with Sean Keegan and another PoNY player. All three went flying. Freechild immediately clutched his thigh.
Keegan popped up and called strip. From the ground, Freechild pled his case, contesting the call. He and Keegan agreed to disagree. The throw went back, but Freechild stayed on the ground.
PoNY survived what could've been a Sockeye break for 11-9, and instead tied the game at 10-10. Then they broke for 11-10 after Chris Kocher stuffed Dillon's attempt at a flick huck on the open side sideline.
Suddenly, the would-be finals contenders were two games in the hole. They'd need to beat Chicago Machine—the team that shocked them during quarterfinals at Pro Championships a month and a half ago—to make prequarters.
The lines stayed deep and the next game was close, at first.
Then Simon Montague, charging to save possession in the endzone with a block on a Machine huck, came down funny and rolled up clutching a bent knee.
Two stars down, Seattle stayed step for step with Machine around the field but still couldn't execute. The damage was done. The team was stuck in a bad dream.
"A couple of injuries here and there and just…you know. I still have this feeling that this team is sick, I still think. And I know no one should believe me when I say this, but this is still one of the best teams in the world," said Dillon.
Whether Sockeye player or ultimate fan, reconciling the performance on the field today with the heralded names that label the red and white jerseys is tough today. If the public has questions, there's no guarantee that the team has answers. After a weird club 2016 performance, and worse today, something needs to change.
But before any kind of shift in the team's makeup, strategic approach, leadership—whatever you'd suggest as an initial salve—they have to play tomorrow. They've got to climb out of today's pit. And that won't be easy. The leadership needs to say something to the team. People have intense feelings after a misfire like this, and the team will have to tackle or table those topics.
"I don't really know what to expect," said Dillon about the team's debrief and strategy for consolation play. "I hope that we're there for one another. I hope that we get to a point where we're looking ahead and we're thinking about not just closing out this year on the most positive note we can, but also thinking about…I'm already thinking about 2018 and how we're gonna get back up."