Mixtape erased doubts about their matchup against Slow White.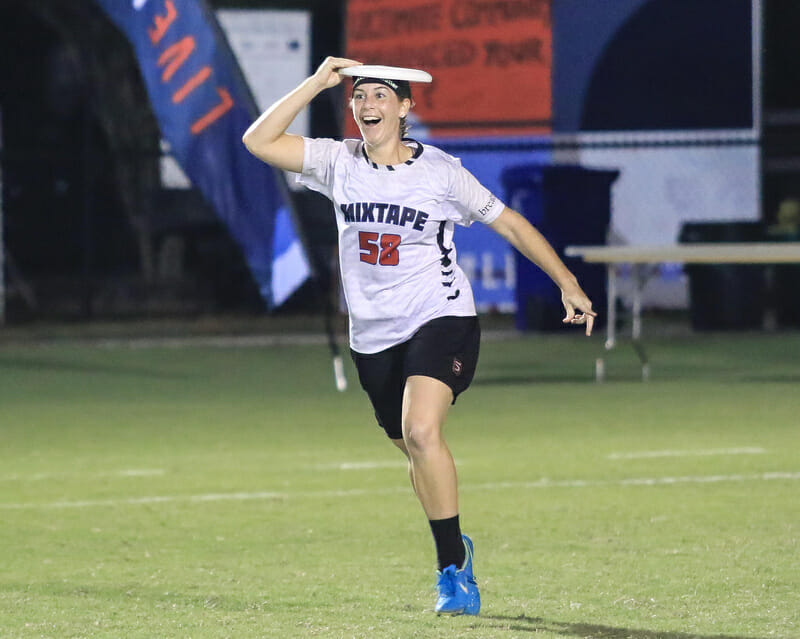 In the first ever night game of Club Nationals ever to be played in Sarasota, Seattle Mixtape capitalized on relatively calm conditions to run Boston Slow White all over the field en route to a comfortable 15-11 victory.  Mixtape won both the U.S. Open Championships in August and the Pro Championships in September, making them eligible to be the Mixed division's first Triple Crown Tour winner in history.
The teams traded holds to 4-4 on few turnovers, with both teams playing tight defense and crisp offense. Tommy Ferguson (3A, 2G), Vicki Chang (2A), and Tannor Johnson (2A, 5G) stood out early for Slow White, moving the disc with long throws into space. For Mixtape, Mark Burton (6A, 1G) and Paige Kercher (3A) were in control with the disc, while Brad Houser (2A, 1G) and Abbie Abramovich (2G) proved impossible for Boston to cover.
The first break of the game came when Mixtape's Evan Klein got a hand on a Tannor Johnson end zone shot, setting up a Khalif El-Salaam to Ari Lozano who found Cam Bailey for the score.  A Lexi Zalk drop on the ensuing point gave Seattle another break opportunity, which they capitalized to take a 7-4 lead. Mixtape took half 8-5 after another pair of holds.
Pulling out of half, Mixtape was able to add another break to build their lead 9-5 as their D-line played a small ball offense that Slow White could not keep up with. Boston held on the ensuing point and then earned a break of their own to close the gap to two, but that was the closest Slow would ever get.
Teams traded holds to 13-10. After a Boston turnover, Evan Klein launched a huck to Lexi Garrity that Slow's Caitlin Go was able to get a hand on. Henry Phan of Mixtape caught the tipped disc and fed Garrity into the end zone. Boston again came close to the block as Jeff Smith laid out, but Garrity held on with an acrobatic catch for the break.
Boston scored one more time on a Johnson assist to Ferguson, but Mixtape finished the game in style on a Jesse Bolton huck to Paige Kercher who outread Johnson for the score and win.
Mixtape will face Philadelphia AMP in the National Championship game Sunday at 12:30pm on ESPN3.