You have to get beyond 'We want to make Nationals.'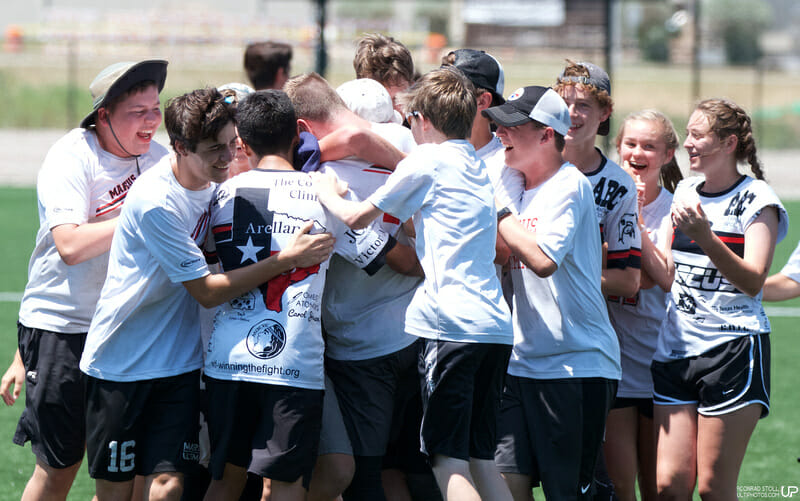 This article is presented by Spin Ultimate; all opinions are those of the author. Please support the brands that make Ultiworld possible and shop at Spin Ultimate! 
The best teams are more than a collection of players; they form a cohesive unit. That unit is treated as a single and powerful entity, one that other teams or players can describe without hesitation.
Many of us have experienced an opponent like this or watched them play. From watching, you can see players melding together with the same style. But even more, you can feel the sense of buy-in, of shared ideologies and methods. However, forming a team identity doesn't always happen naturally. For many teams, it doesn't happen at all.
In many instances, a team identity needs to be purposefully designed, molded by the players and leaders on the team, so that a culture, playing style, and persona fit an intended purpose. In other words, college or younger club teams need to work hard to craft themselves into that elusive unit.
Regardless, team identity is important and a lack of it can spell disaster. A team that doesn't know what it stands for or has several players with conflicting goals and styles is going to hit a wall. This is seen even with some of the best teams in the world, with players going outside a game plan or acting in a way contrary to team values, creating a conflict that brings the unit as a whole down.
So, how to solve these problems?
First, we have to examine what exactly team identity is. Next, we have to look at how to create team identity. Finally, it's important to look at ways to correct problems in this area.
What Is Team Identity?
In the most basic terms, a team's identity is who they want to be and what they want to achieve. This is not something that can be glossed over.
A collection of people is not going to always naturally mold into a cohesive unit. Each player has different thoughts, feelings, playing styles, goals, and things they believe are valuable. Often, at least a few of these characteristics will clash.
Established teams can sometimes get past this by having a culture that everyone buys in to, but for many new or young teams, this problem becomes quickly apparent in wondering what type of squad will form.
Will it be a group known for scrappy defense? Will they be athletic monsters? Masters of the long ball? Or will they be the team that has the most fun on the sidelines (and at the party later that night)?
Many teams will simply leave it as, "We want to be a team that wins every game," or at least compete in every game. But such vague generalizations do a disservice to your potential and can lead to mixed messages.
People who have been on teams without a full-fledged identity can understand. There is no greater frustration than having a serious feeling of disagreement with your teammates or leadership over the way a team should be acting or playing in a tournament.
You can't just be the team that says, "We want to beat every single team" or "We want to make Nationals." Those statements need a dose of reality. But teams can also harness the ideas of hope and improvement. They can examine their strengths and weaknesses as a group and set goals to measure and achieve success.
After all, not every team is going to make Nationals. Every tournament has teams that finish in the bottom half of the field. If one player wants to do anything to beat a rival and another just wants a spirited game to work on their own abilities, there is probably going to be a serious disconnect that can lead to conflict.
Identify how much winning matters to your team. Then, imagine how your team will conduct itself in the process of playing those games. If winning truly matters, how far will you go to win? And how will you win? If winning is less important, then what is? What do you value? Is it fun, and if so, what kind of fun?
Find the skills or abilities that make your team special and unique and lean into those.
Conflicting ideas will make it more likely for the team to fail in the long-term or for people to quit. If half the team is desperate to win, while the other half cares simply about improving, with one or two just there for the fun of it, you'll walk away with some, if not all, of the players unhappy.
Team identity is important because it is not only a matter of how your team conducts itself, but also how it thinks of itself and how, upon reflection, it will measure success.
How Is Team Identity Created?
Team identity is crafted in three ways:
Naturally over time.
Through purposeful planning.
Through hardship and conflict.
Naturally Over Time
This is the most common way teams form identity, but also the least likely to be successful. The reason? Teams that have identity problems may not last the needed time to form one.
Established programs will likely flow into this method because veterans have already gone about the process of creating a team culture and new people will join in, adapting as needed. These programs may also have a coaching staff to guide them and ensure more year-to-year consistency.
On the other hand, new teams will hope that identity takes shape as they try to mold their players into one unit. This can indeed happen, especially if these individuals are like-minded and feature a similar playing style (which can often happen if they come from a similar area or have learned ultimate in the same way). However, each player is unique, regardless of where they come from and each will have something specific they want from the team.
At the most basic level, individuals will want to improve and have fun, and their methods of doing so may not be the same as others, which can lead to identity conflicts. Player X thinks its fun to win the tournament, while Player Y thinks its fun to win the party.
Natural bonding will come through tournaments, through hanging out together (the more you can do it, the better you can accelerate the process), and through as many private in-jokes or goofy shenanigans that only make sense to your team (think weird cheers and strange nicknames).
If you want the team to form its identity naturally, then foster conversations about the future, while trying to get the group to spend as much time together as possible. Friendship is the ultimate key to common values; teams that don't have natural friend groups, or that have newcomers who are strangers to one another, are the most likely to struggle in this particular aspect. And those are the teams that will likely need step number two.
Through Purposeful Planning
Sometimes teams are very upfront about deciding what kind of team they want to be. This is probably the best bet for new teams that want to establish themselves seriously either for long-term existence or to be truly competitive in their ultimate scene, especially those with players who don't know each other very well.
The best thing to do first is establish a leadership group. Whether through a coach, captain, or leadership committee, have someone who can spearhead the organization that is going to be needed to get a team identity going.
Next, survey the players, whether formally or informally1 on several topics. Specifically, ask about their goals, their style of play, and what they envision the team being. Using self-reflection is also a great idea for players to find out about their own strengths, weaknesses, and personalities.
Try using something like the No-Doze Leadership Quadrant, a survey on topics such as how you want the team to compete, or even having an open discussion on team-related ideas. Ask players to describe their past experiences, especially examining their highs and lows. A lot of times you can learn a lot about a player based on their favorite ultimate experiences: a competitive player might say winning a tournament for example, while another player might mention the practices that helped them learn how to huck, or another still might talk about the great weekend they spent camping on a team retreat.
Make sure to ask your roster to imagine what the upcoming season will look like. What will their favorite moments be in the future with their team this season?
Fairly quickly, you'll run into players with different visions for the team, styles of play, and off-the-field behavior. That is not always a bad thing. Good teams have a balance of personality styles. However, remember the goal is to fuse these differences to maximize strengths. If players can complement each other, with one helping relax or motivate another, then this is a great success. If they angrily disagree at every practice, that's a problem.
Leadership and team members can help everyone begin to see their role in the group, whether on the sideline or on the field. Simultaneously, the team can begin to craft their goals and culture. When in doubt, have a meeting and share results of what people think. In the end, you can even hold votes. If serious disagreements arise, majority can always rule.2 Just be sure to find ways to invite those in the minority into the conversation about compromise.
Doing this thoughtfully and specifically will be important, and is more likely that, even if not everyone will agree, everyone will be on the same page with where the ship is steering.
Through Conflict Or Hardship
Team identity may not be fully realized until your team runs into a problem, either internally or externally, and has a chance to overcome it. Maybe it's the game where you go down big or face terrible weather all weekend. Don't think of these problems as negatives but as stepping stones to move forward to build common understanding.
Remember, some of the best learning comes through failure. Likewise, some of the best team direction can come through confusion. Use these moments to talk to the team or to gain common ground. Think about what happened and decide a best course for moving forward.
Most often, the best team identities are formed through a combination of all three methods.
The process is the key to getting the final product that you and your teammates want.
How Can You Fix A Broken Team Identity? 
Team identity incongruence can lead to some very unhappy teammates or uneven results. To truly maximize the experience of the team, sometimes team identity problems need to be solved.
If one or more people are in conflict over the direction of the team, the disagreements need to be addressed. Ignoring them is only going to make the frustration turn to anger.
Addressing them can sometimes happen in an up-front manner. Meetings and dialogue can be powerful tools. However, these can also be awkward and time-consuming.
Another way to simplify a team identity process is to do it through fun activities. Create simulations, either verbally or on the field, and have team members (or the majority of the team) figure out what to do next.
For example, put the team in a situation: a dead disc due to a questionable travel call. What do you do? We could play a last game for fifth place at the tournament, or skip it and head to dinner and drinks early. What should we do?
These simulations, whether acted out at practice, talked about at a bar, or discussed in a car ride, can be great insights into common understanding.
Other subtle ways to discuss team identity is to simply watch or talk ultimate together. Sometimes looking at other teams and then making connections to your own is a great way to figure out differences of opinion.
Again, time is your ally, especially if it is time spent together. Most people will adjust their behavior or become empathetic with others if they are able to better understand them. People are complex and so are teams. The truth is rarely simple. More and more time together talking is going to help you figure out what needs to change.
Final Thoughts
Trying to work with several conflicting value sets is tough, especially when it is clear that one core culture is the best route to success. Teams that can't make it work usually don't last more than a season or two.
Likewise, making a drastic change of a team identity is going to be difficult. However, sometimes those are the necessary steps, whether on a personal or large group level, that will be critical to ensure team longevity.
Team identity is important. Thinking about it, talking about it, and planning for ways to improve it will help your team on its path to success, whatever your own unique culture defines that to be.
---
Google Forms is doing great things these days and makes it really easy to keep track of data ↩

Consider keeping votes anonymous to help avoid tension. ↩