A great way to cap off the fall in New England.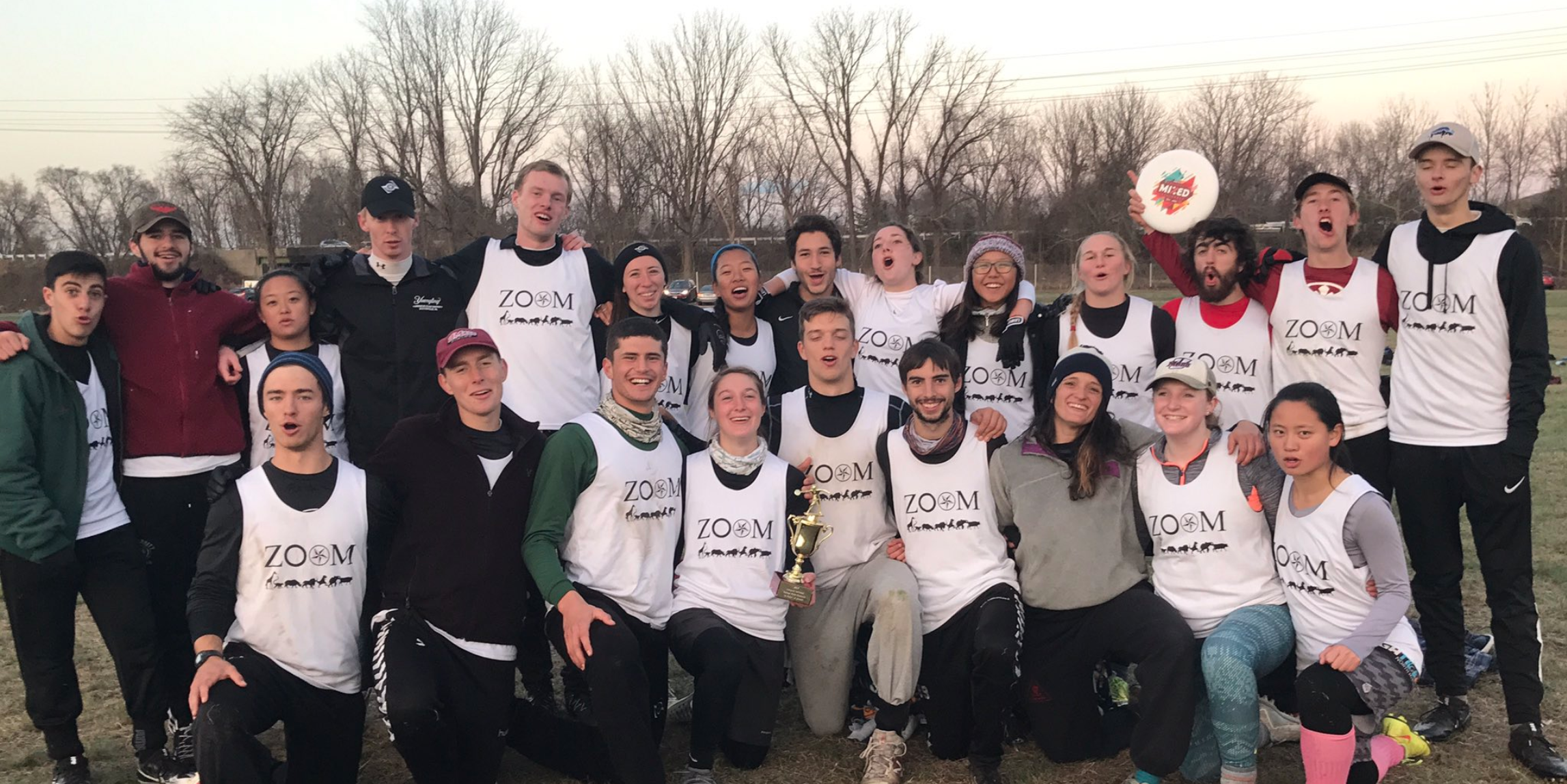 Disclosure: The author, Ben Hornung, is a captain of Wesleyan (CT) Throw Culture, a mixed ultimate team that played in this tournament; they had a great time. This recap is informed by in part a survey filled out by twelve other teams but mostly just by his experience, a very biased and breathless cub reporter's sideline perspective. He thinks Tiina Booth should write this next time.
It was a frigid but beautiful weekend at the Oxbow Marina in Northampton, Massachusetts, which broke some historical ground as it hosted the first-ever Northeast Mixed College Regional tournament. Despite being an inaugural event, it still felt like a surprisingly normal ultimate tournament. It was USAU sanctioned mixed college-level play, sure, but for the most part it was standard fare, with too many bananas and competing boomboxes and mismatched clothing layers. You could just smell the newness in the air, though. Or maybe that was the seagulls.
Oxbow Marina is a gorgeous little hamlet right off Interstate 91. It's tucked behind a quiet village, heightening the sense of Shangri-La like seclusion. There was plenty of car space; there was also a plane, but it was just for show. Some people went swimming and said the water was cold.
The boats ashore along the marina adjacent to the lower fields were labeled "ENVIRONMENTAL POLICE," a strong way to incentivize us dirty college kids to clean up our trash. Between two divisions of play (A/B, but really it felt like D-I/D-III, which makes sense) the top talent of the Northeast reigned, with UMass and Brandeis taking home the respective crowns. Thirty teams across twelve fields played in sunny but cold conditions for two days worth of glory in a way that had never really existed before this weekend. But it was still just an ultimate tournament, right?
Two big takeaways from a first-time Regional showdown: there are clear tiers in the Northeast college scene, and it translates very much so to the mixed scene; despite, or maybe because of, this inter-program stratification, gender balanced play remains a work-in-progress across those tiers. Here's what went down in the shadow of Mt. Tom.
Pool Play
All five pools shook out largely according to seed on Saturday, which is pretty remarkable given the total lack of precedent for competitive mixed college ultimate. Major props to TD Lee and the whole crew for running a tight ship in every logistical sense. A pattern repeated itself across both divisions: there were two clear contenders that emerged above a scrum of closer-matched lower level teams. But within those tiers, teams found some wiggle-room for upsets.
'A' Division
UMass Zoom and Bates Cool Whip cleaned up in Pool A at the one and two spots respectively, easily beating the cap with never less than a 10 point margin in any game. MIT, Hofstra, and Skidmore Wombats filled in the bottom three spots with closer games amongst themselves.
In Pool B, two-seed Northeastern Husky+Valks comfortably won every matchup by 11+, and Amherst cracked out the second spot without issue. Boston U, BomBardment, and Hamilton rounded out the bottom spots.
Pool C saw Somerville Youth and Cornell Rosebud duke it out in the penultimate round for the top spot to the tune of an 11-9 Somerville quarters bye. Rosebud took second in the pool, while Bowdoin, the overall sixth seed, slipped in some close games against Cornell and Somerville and eked out one- and two-point wins over Ur Not Harold (UNH) and Northeastern Salty Dogs, who between themselves maintained their respective pool seedings at four and five.
Pool D saw the going-to-seed boat get rocked, as twelve-seed Colby Dazzlin' Asses put on a show for the NESCAC crowd, upsetting four-seed Harvard Redzar and five-seed Middlebury Pranksters and cleaning up easily against Conn College Dasleithin and UMass Capricho. UMass Capricho took an upset of their own over Conn College, 8-6, to keep the pool off-kilter.
'B' Division
Brown Cosmic Funkadelic proved their top seeding on-the-mark and took Pool E undefeated, but not without some close wins over Providence College Friars (9-8) and Wesleyan Throw Culture (9-7). Providence also beat Wesleyan, on double game point, 11-10, to take the second spot. Brandeis Stinky Cheesers took the fourth spot and Vassar, running hard with a skeleton crew, found themselves on the outside of the bracket, looking in.
Pool F saw Brown Disco Inferno catapult over Keene State Owls and St Lawrence Ruckus, falling short only to Brandeis Transhee, who swept the pool up well before cap hit in every game. Ruckus themselves upset the Owls to take the number three spot, while Skidmore, despite some close matches, fell short in breaking seed.
All the merch, supplied by Zone Ultimate, sold out on Saturday. It looked like decent enough material and products, though the patterns kind of seemed wacky for wacky's sake. The inaugural "Mixed Regionals" USAU logo is pretty cool and only moderately nationalistic, though, which is nice. We'll see how it all feels when they actually ship the gear.
Bracket Play
…is where things got funky. Again, given the lack of precedent for this tournament, it's really hard to prognosticate how different programs actually would or should handle the pressure of a second-day single-elimination, so maybe Sunday's schedule just showed how teams really should've been seeded.
In the A Division, prequarters was a mixed bag of blowouts and one close finish. Harvard pulled ahead against Bowdoin and never looked back to a 14-7 victory. Bates routed BU 15-2; Cornell beat Middlebury 13-6; MIT pulled out the 10-9 upset over Amherst. Quarters resulted in every pool's bye-receiving top seed advancing (UMass, Colby, and Somerville Youth) pretty easily over their opponents, excepting Northeastern's 13-7 loss to Cornell.
Cornell's momentum would be stopped in semis during a rematch with Somerville Youth, where the MA squad soundly beat Cornell again, by the same score Cornell beat Northeastern. UMass vs. Colby in the other semifinal came down to the wire, with Zoom pulling out the 10-9 victory. They'd repeat that squeaker of a score against Somerville Youth, resulting in a 10-9 victory for UMass in the inaugural final.
The B Division saw some unexpected match-ups and interesting results in first-round quarters, on account of some injuries and internecine seeding. Brandeis Transhee took on Brandeis Stinky Cheesers in an intracollegiate (juniors & seniors vs. freshmen & sophomores, naturally) kerfuffle that saw the elder group of players emerge victorious, 15-3. Providence College kept it tight at first but eventually fell short against Keene State, 13-7. Brown Disco Inferno actually forfeited their first-round game against Wesleyan on account of numerous concussions/no-shows. Cosmic Funkadelic adopted several of their sibling squad members, but even with the fresh influx could not keep it together against St Lawrence Ruckus, who upset Brown 15-11. In one semi, Keene State pulled ahead against Ruckus and never looked back on their way to a 12-7 victory; in the other, Wesleyan dug themselves into a hole against Transhee and couldn't earn back the breaks, with Brandeis taking the 13-8 win. In the final, a rematch of their pool play game, Brandeis Transhee again came out victorious over the Keene State Owls, 15-9.
Sunday was a little warmer than Saturday, which may have contributed to the swimming. Northeastern Salty Dogs and Wesleyan Throw Culture won the inaugural spirit awards in their respective divisions.
***
In many ways this tournament was a tremendous showcase for the young ultimate talent contained in the Northeast Region. The scenery itself was perhaps the most gorgeous element of play. It also, though, showcased how gender equity remains a pressing cause in the college scene (among every other ultimate venue) on the field and off. Many team captains noted the stark differences between teams' utilization of their full rosters, which often fell along gender lines. In a tactic adopted from the mixed club division, teams were encouraged to switch between four-men and four-women lines, based on one dictating endzone. Across divisions, however, many teams did not bring the numbers for such a switch, resulting in male-dominated play.
It goes without saying that mixed college play is not immune to the same issues of athletic representation that plagues the sport of ultimate writ large. Sanctioned mixed play such as this tournament can work in very real ways–visibility and playing opportunities, first and foremost–toward legitimizing mixed-gender athletic endeavors, placing it on the same viably competitive level as ultimate's single-gender divisions.
While the single-gender experience and expertise of different programs definitely played a large part in establishing the top-tier teams of this tournament, there remained a wide berth for exciting upsets. Let's hope there's a repeated version come spring!
Final Standings
A Division
1st – UMass
2nd – Somerville Youth
3rd – Colby
4th – Cornell
5th – Northeastern Husky / Valks
6th – Bates
7th – Harvard
8th – MIT
9th – BU
10th – Amherst
11th – Bowdoin
12th – Middlebury
13th – UNH
14th – Northeastern Salty Sea Dogs
15th – Connecticut
16th – UMass Capricho (BPO)
17th – Bard
18th – Hamilton
19th – Hofstra
20th – Skidmore
B Division
1st – Brandeis Transhee
2nd – Keene State
3rd – St. Lawrence
4th – Wesleyan
5th – Providence
6th – Skidmore
7th – Brown X
8th – Brandeis Stinky Cheesers
9th – Vassar
10th – Brown Y