What are ins and outs of taking on a hybrid role for your team?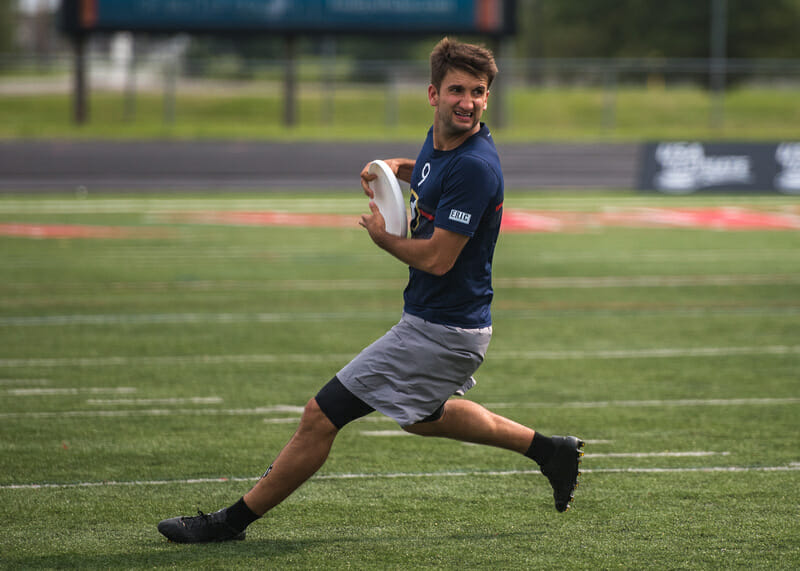 This article is presented by Spin Ultimate; all opinions are those of the author. Please support the brands that make Ultiworld possible and shop at Spin Ultimate! 
It's not easy being a player with a fluid offensive role.
It can be downright difficult to make good decisions when your team relies on you as a cutter and a handler, or what I call a flex candle. 
Teams, especially good ones, chose their identity and specific roles. Unless you are a superstar (and let's face it, most of us aren't), then you should have your own particular area of expertise. This can make it very tempting to pick one side of the line and throw yourself into a specific position. However, that brings up a whole other mess of problems; after all, how do you pick?
The reality is that there is often tremendous value in playing a flex position. The key is to make sure that you know it, and your team leaders know it too.
Here's how to navigate being a flex candle.
Find Your Spot 
Start by asking the obvious question: do you want to be a flex player?
There are certainly a lot of perks. It can mean more playing time, additional opportunities to improve and showcase skills across a variety of areas, and chances to make a serious impact on the game and your team.
Start by evaluating your team, especially if you are in the midst of tryouts or if your team is in transition itself (turnover, new coach or leadership, or changes in strategy). This process of evaluation and self-reflection is a good one to constantly be aware of, especially as you or your squad progresses over time.
When examining your team, take a good hard look. Try and assess your group's strengths and weaknesses. In this instance, look at the offense. What does your group do well and what does it struggle with? For example, are turnovers a problem? If so, where are most coming from? Bad throws? Stagnant downfield offense? Botched plays? What positions are driving the strengths of your team and which positions could help provide solutions to the problems you identified? 
If there is a very glaring area of need, you maybe able to adapt to address it. Not only will you be very much appreciated by your teammates, but it will give you a very specific and important job to do that will gather most of your energy. This won't be so much about limiting your skills in one phase of the game, but rather transforming your skills to fit a specific area of urgency.
On the other hand, if there is no glaring need, and if the team is very much set on (or at least average in) both traditional ultimate positions, then you should seriously consider owning the flex spot. Make it clear that you can and will handle and cut for the team.
It's not just enough to be that meek voice in the huddle that says you are fine with either spot. Be specific; you will be filling the flex role and have a plan on how you're going to do so. 
Define Your Role
Once you make it clear you'll be a flex player, you need to define the role for yourself. One of the scary (and exciting) things about this idea is that because the flex role is relatively nebulous, you have a lot of control over your actions.
Handlers and cutters, for the most part, have rather generalized job duties. Flex candle players have a little more creativity at hand. There are a few options on how next to proceed and you can pick the best route for you.
Be Specific On Your Primary And Secondary Role
The most common flex player has a primary strength and a secondary strength. Players tend to gravitate toward one role naturally and come to others with more work. 
As a result, it is perfectly acceptable to be a flex candle who only flips the switch in certain situations, most often in a backup capacity. In other words, you might primarily be a D-line cutter, but you can fly into the D-handler spot should a player go down or if someone  your handler group becomes needs an extra point of rest. 
Again, try to be definite about your own priorities. You'll need to be clear with your leadership that on both primary and secondary areas.
You'll also need to prioritize your practice time with both groups. Just because you can jump in as handler, doesn't give you the right to avoid practicing those skills. Find time to work with your handler unit, practice the specific plays and throws from that position, and likewise do so the opposite with your fellow cutters.
As a benchmark: figure out the ratio of expected use in each position and then divide your practice time (and most importantly scrimmage or game time) into that same mold.
 Be Specific On When Your Role Changes
Another option, rather than the secondary role, is to devote your time equally to both handling and cutting, but to be specific about when that role changes.
Again, the goal is to not be wishy-washy in the idea that you have the ability to do both depending on the situation. Rather, set specific expectations of when and how each role will be fulfilled and in what ways.
For example, this would work best in a line system. A flex candle could be a cutter on the offensive line when her name is called, but a handler on the defensive line. Or, perhaps you only cut for your upwind line, when you handle on all other points. There are lots of possibilities and the more specific you can be about the positioning on each line, the better.
If your team doesn't operate on the line system (and this is often the case for those players that need to be jack-of-all-trades), then try again to provide specifics for your teammates. This might mean you will only handle when pulling, or when coming in on defense. Or you might only handle in close games or important situations such as a red-zone possession or double-game-point.
Obviously, there will be exceptions to every rule and every situation, but if you can provide at least some clarity (for yourself especially, but also for others), you'll be much happier in the long run.
Or Be Creative And Make A New Position For Yourself
A third, and more adventurous option, is to break free of the traditional cutter-handler dynamic. True, these positions do offer clarity, but nothing is strategically set in stone.
This path is definitely more daring and it is more likely for players on a smaller team or when your own skills already have a multiple impacts on your squad. This might be something to try if you are already a leader who does a lot for your college team, or a captain of your club squad. It's much less advisable if you're new or trying to make a team (at least not without some time and proper consideration).
Being creative in terms of making your own position that is neither handler nor cutter, can have powerful strategic bonuses.
Offenses can be very dynamic when players move between the backfield and downfield fluidly. This is one area to be considered, even if you're a more regimented flex player. It can be very difficult to guard against a player who suddenly switches roles at will.
A player that is used specifically in isolation, rather than a traditional stack might be even more bewildering to defenses.1 Or come up with something totally unique to your squad.
If the creative role is your end goal, then you must communicate and consult with your teammates. Ultimate is not a one person sport, and no matter how great the idea, you'll need others to be on the same page for the strategy to be successful.
Start small: sketch out a few plays or sets with your new hybrid role in mind and pitch them to the leadership or core group of the team. After that, try them out and see how they work. You may find they're more trouble than they're worth and it'd be best to resort to another strategy. But, those that have merit can be expanded into serious advantages for your team.
Ideally, avoid asking the offense to be retooled just around you. This can be especially powerful if several others fill similar roles, or if the change can bring the right new tone for your sets that the group has already been looking for.
Communicate And Practice
Last, but certainly not least, you need to make sure all of this is communicated to your teammates and practiced thoroughly.
You need to be ready to adjust based on the input and expectations of the leadership team. You may have high ideals for yourself, but your coach or leadership may see you as less of a flex and more of a strict cutter. This is not the end of the discussion, but rather the beginning of a process in terms of role expansion. Be ready to be patient.
Even if your flex role is clear, it will take a lot of practice, and it will be difficult to divide your time.
Start by making goals and a clear schedule for how you plan to accomplish them. This action plan should ideally have priorities laid out and a good ratio of what proportion you want to be practicing each skill area.
Next, seek out advice from teammates and veterans on how best to help the team. You want to be the person that is flexible and helping to make it easier for others by having multiple positions. You don't want to be the person who disrupts everything and makes the entire team adjust around you.
Finally, work hard at each skill area and be reflective. Constantly seek out input and do self-monitoring to see how well you are reaching your goals. Be prepared to make adjustments, even drastic ones, to help the team. Remember, even if you are finding ways to improve or expand your own personal game, your group may not be benefitting. The team, the unit as a whole, must come first… even if it means limiting yourself to one role or playing less in another.
Walk The Tightrope
Being a flex candle is all about adjustments.
You can't walk the tightrope in one direction without change. Subtle tweaks are going to be a daily part of the flex life, switching back and forth with new ideas often. Live up to the title name and be flexible, change when you need to, and cut and handle at will.
Remember, in the end, skill and success are the metrics that do the most talking. If you can excel at both positions, or an entirely new one of your own, you're good to go.
---
Think German offense or variations as opposed to vertical or horizontal lines. ↩