A thrilling start to a windy week.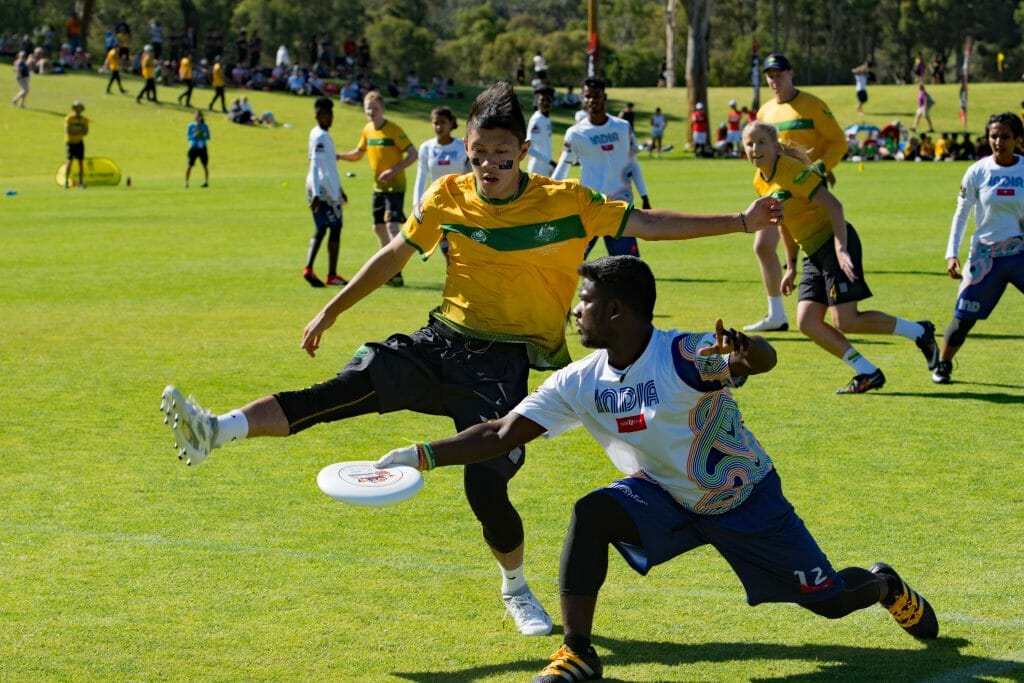 Our coverage of the Under-24 World Championships is presented by VC Ultimate. All opinions are those of the authors. Thanks for supporting the brands that make Ultiworld possible!
"Left side Sanjay! Left Side! Go crazy on the mark! Crazy on the mark!" bellowed Indian head coach Udaya Kumar, or 'Box' as he is known.
The World Under-24 World Championships in Perth, Australia, was underway under an intensely blue sky and, for the opening exhibition game, the matchup could not have been more appropriate. The mixed team from India, a country many see as one of the frontiers of the sport, up against the hosts, Australia. The two countries have a rivalry in cricket that goes back seventy years, but, in ultimate, not many people were expecting India to give the 2015 silver medalists much trouble. After they fell behind 7-1 early, the opening game appeared to be following the script. Against the noticeably larger and more experienced Aussie Bluebottles, the Indians appeared to be outgunned.
But that script? Someone must have forgotten to hand to it to the Indians.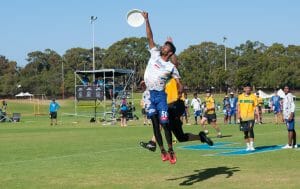 Their confidence grew, and their handling became surer as they pegged one, then two, then three points back against the Aussies, eventually taking the half 8-7 after seven unanswered scores. Their surge continued in the second half and their handling in the gusting wind became the difference against an Aussie team that grew nervous and tired. The roar from the crowd sitting on the grassy banks of the University of Western Australia Sports Park as the winning goal was scored on double game point (12-11) included plenty of locals who were surprised and delighted for the madly passionate Indian team.
WATCH: India v. Australia [Full Game Footage]
After the game, I asked Kumar if he had expected the result. He gave a knowing smile and that characteristic Indian head bobble. "Yes," he said. "In each world championship, we have steadily improved our placing and I expected this one to be no different. Our strategy was to trap them on the downwind side of the field and early on this did not go to plan. But we persisted, and I am so proud of the team."
Like the plot to so many great books and movies, things were not what they seemed: a fitting start to what will be an epic week. Emotions were also high among the tournament organizers as they saw two years and nine months of hard work come to fruition. Tournament Director Anna Haynes admitted to feeling a little overwhelmed as she thought about her team of volunteers.
"Seeing all this culmination of effort from these amazing people," she said, shaking her head. "It's just the greatest gift. I was too emotional. I left all the opening speeches to Woodie [Australian Flying Disc Association CEO Simon Wood]."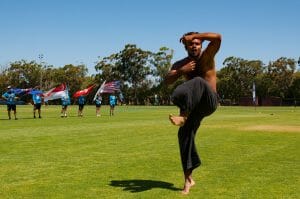 Central to the opening ceremony, too, was the 'welcome to country,' a greeting from the traditional landowners, the Wadjuk people of the Noongar nation, one of the oldest living cultures on the planet. Michael Smith, a Noongar dancer, then stunned the crowd with his grace and athleticism.
So we begin a week of competition and spirit with players from twenty different countries. The relative youth of those participating makes it the first visit to Australia for many of them. I caught up with Californian Elliott Chartock of Team USA, who was enthusiastic about his first trip down under.
"People are so easy going and friendly," he said. "They don't seem to get stressed about the things we get wound-up about back home. They don't sweat the small stuff. It's nice." I asked him about the wind, the infamous Fremantle Doctor, so named for its soothing properties on a sweltering summer's day (but not so soothing for a player trying to complete a pass).
"It takes some getting used to," he said. "It swirls and can change the throw in mid-flight. So it's a matter of throwing with lots of spin and a firm grip."
The Noongar people call this season 'Birak' – hot and windy. So far, the weather in Perth has been just that. I'll be looking for the Fremantle Doctor to play a part on proceedings all week.
***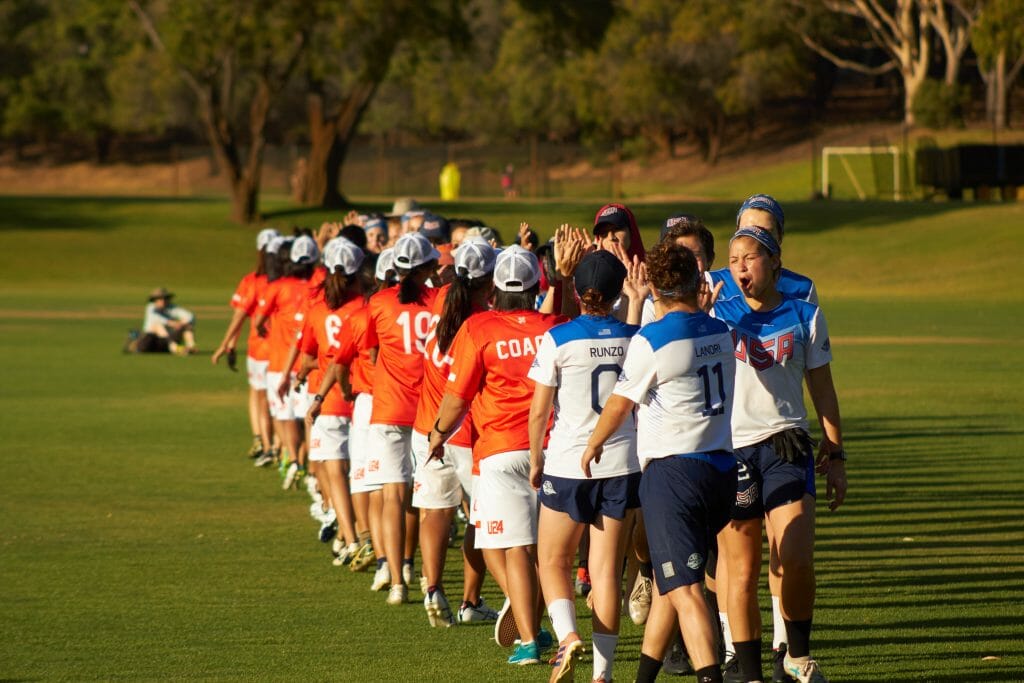 For their first game of the tournament, the USA Women's team faced off against the first year Singapore team. With contributions from across the roster — nine players scored and 11 threw assists — the much more experienced USA dominated the contest and won 15-1.
After months of training and waiting, it was clear from their warmups that both teams were excited to finally be playing. The US team performed a fairly high intensity set of drills and coach Alex Snyder could be heard shouting "Leave it all out here, let's get better!" For a team that has only played together for about a week, every minute of practice is important. Notably, Nhi Nguyen and returning star Jaclyn Verzuh were not dressed to play, though they did participate in some of the warmups.
The US team set the tone for the game early. Sophie Knowles aggressively contested every throw that came her way, launching for two full extension bids during the second point. While she narrowly missed getting either block, her blatant disregard for gravity fired up the rest of the team. 
On offense, USA ran a vertical stack for most of the first half, with some combination of Angela Zhu, Tulsa Douglas, Hannah Henkin, and Dani Runzo handling. While the offense generally flowed downfield, when needed the reset cuts from Zhu often left defenders dazed and, in at least one instance, sitting down. USA only showed glimpses of a horizontal offense but it looked smooth, with precise timing of cuts and relatively clear lanes.
Zhu had a fairly atypical stat-line with four goals and an assist. Amel Awadelkarim and Carolyn Normile had three assists each. Awadelkarim also scored twice. 
When given time to set up, Singapore's defense was able to generate turns. When asked about what worked, Singapore's spirit captain Natalie Lim said, "Defensively, it helped when we started talking from the sidelines to our players. The wind is pretty crazy and anything can happen. We didn't give up on the disc, as long as it was in the air anyone can get it."
While USA didn't seem to be using set defensive and offensive lines, they were able to consistently disrupt Singapore's offense. Aided by multiple fantastic pulls, the USA defense was often in place before the disc was put into play. It earned them at least two first pass blocks. For most of the game, team USA appeared to be forcing middle. "We have been talking a lot about our marks, and trying to stop easy quick shots to the inside," said Awadelkarim. 
Though down 8-0, Singapore came out of the half with huge energy and a loud sideline. Though the US team continued scoring, Singapore finally punched one in to make the final score 15-1. "We had a lot of trouble stringing passes together upwind, so we thought our best chance was to put it up," said Lim about the unplanned full field huck from Doreen Sim to Jamie Lim that was Singapore's only goal.
The wind affected both teams though the USA throws were generally more consistent. When asked about the constant breeze, Awadelkarim said "We have been working on throwing before every game, thinking about the wind, but our game strategy hasn't changed because of the wind". This rings true, as USA throwers seemed willing to attempt more challenging throws, including a lefty backhand assist thrown by Knowles.
As expected, USA nabbed a win in their first game and the team looked pretty put together. Though Singapore is in their first year competing, team USA approached the game with serious attitude, clearly a strategy to prepare for the games to come. Regarding the loss, Lim said, "This is our first tournament, a lot of us our junior players at our own clubs back home, so we need to keep things in perspective and just play our best."
Today, USA will play Colombia at 3 PM local time. In their first game yesterday, Colombia beat Great Britain 15-7.
***
Upcoming USA Games [All times EST]
Men's: 8 PM v. Colombia, 12 AM v. Singapore
Mixed: 8 PM v. Great Britain, 12 AM v. Hong Kong
Women's: Mon. 2 AM v. Colombia (1-0) [Livestreamed]