Your definitive guide to the 2018 D-III women's division.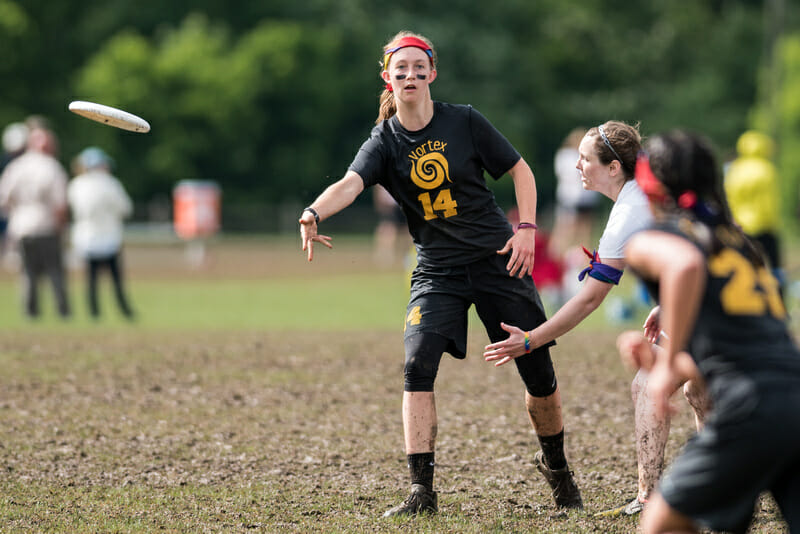 The Division III season primer is presented by VC Ultimate as part of their season-long support of our women's coverage. All opinions are those of the author. Please support the brands that make Ultiworld possible and shop at VC Ultimate!
A new spring season, a new opportunity to watch, cheer for, and follow D-III women's ultimate. Ready to know the stories, players, and bid predictions that will be at play each time teams take to the field? We've looked at the talent, weighed the odds, and brought it all together for those of us on the sideline. How many bids will New England earn to Rockford? What teams in the Metro East and South Central are ready to shock their regions? Should you be placing your bets on Eclipse just yet?
Get ready for the season and get our take with the D-III College Women's Season Primer below.
Stories To Watch
All the Bids (May) Belong To New England
In 2017, New England teams took three of the six power bids that were up for grabs to Nationals. Those bids were earned from the hard work and successful season-long campaigns of teams like #2 Bates Cold Front, #6 Bowdoin Chaos Theory and #1 Williams La WUFA grinding it out over the course of the spring. By the eve of Nationals, those three teams and #7 Mount Holyoke Daisy Chain had a combined spring record of 69 wins and 20 losses, a ratio even more impressive when you consider that it doesn't delineate between D-III and D-I opponents.
With the benefits of strong youth scenes in the Boston area and beyond, as well as shorter commutes to reach more intra-division competition at a single tournament than other regions see in total, New England had 14 teams registered with USA Ultimate in 2017, more than the Southwest, Southeast, and South Central regions combined.
As a result, the region has a bright outlook. Could the region nab four bids again this season? If last year's Nationals attendees, as well as in-region contenders #16 Amherst Sparkle Motion, Wellesley Whiptails and freshly-confirmed D-III electing Middlebury Lady Pranksters, bring the heat this season, why not? If they succeed, we could see another fistful of bids making it a very New England-heavy Nationals and the rise of a D-III Women's #evilempire on our hands.1 At the very least, Regionals will be a heartbreaker for some very worthy teams.
Can Eclipse Make it a Triple Title?
When it comes to betting against Carleton Eclipse, time and time again, the team has made the case for firmly standing in the camp of Don't.
That surety in Eclipse to rise to the top of the division when it matters most will be tested, though, by the loss of last year's Player of the Year Leah Roche and fellow D-III All-American Haley Olson. Both players filled critical roles on offense and defense throughout Nationals and, in particular, in the final against Wesleyan. In addition, last year's FOTY Laura Kiernan will be studying abroad; expect this year's team to have a significantly different composition on the stat sheet as a result.
What many have a habit of discounting is the incredible recruiting ability of Carleton, which brings star players to all of its women's programs; they're also a team that might get off to a slow start but will have all the pieces clicking by the time the postseason series kicks off in April.
This year will be the chance for captains Rachel "Rage Cage" Gallagher and Fiona "Phona" Fraser to rally the team and remind the rest of D-III to not discount Eclipse from title talk as we get closer to May.
Competitive Heat Stirring In The Southeast
The Southeast, much like the tiny Southwest, hasn't been a competitive region in the past few years for a myriad of reasons—fewer teams; a mix of opportunities and experience; and less exposure to the division at-large. That's left #8 Georgia College Lynx Rufus defaulting into the region's auto bid. That said, this year expect to see the first Southeast D-III Women's College Conferences event take place, an exciting development for teams and spectators alike.
While this will make Georgia College formally go head-to-head for the first time against their region to prove why they deserve the bid to Nationals, they should enjoy the opportunity to play their Southeast rivals with stakes. They can expect to go up against the ladies from North Georgia Aurea and Belmont URSA, programs that have been steadily developing their rosters and talents in the hopes of taking down Georgia College.
Does The Metro East Have The Secret Sauce For Another Year Of Success?
For those fans who get enjoyment from bandying about the phrase "Metro Least," we don't suggest trying it with the ladies of Division III. This region sent #11 Wesleyan Vicious Circles to Nationals as the tournament's eighth seed. They proceeded to work their way all the way to the final.
Will the region hold itself up to the same standards and produce competitive teams in 2018? It looks likely, if #9 Skidmore Thouroughbears has anything to say about it with their experienced roster, hungry after missing out last year. #10 SUNY-Geneseo Escargot, who lost in the game-to-go by a single point to Wesleyan, and Hamilton Hot Saucers will also be chomping at the bit to earn a strength bid after there were none to be found last year. The Metro East teams are more mature and competitive than ever this year, so New England and the rest of the division better watch their backs.
South Central Open For The Taking
Emilie Willingham will be taking on the role of coach this season for #17 Truman State TSUnami and is unlikely to step on the field for the team, putting Truman State's future in a much shakier state than anticipated by our initial preseason rankings. And consider this: a #25 Rice Torque team that didn't even make Nationals last year, a #13 John Brown Savage Skies squad that beat Rice at Regionals last year, and an up-and-coming Missouri S&T Miner Threat crew we didn't even get to see at Regionals last year? The South Central is as competitive as any region with likely only one bid to Nationals again this season, unless something drastic and, at this point, unexpected happens.
Get Excited For The 2nd Year Of The Donovan Award
Last April, Ultiworld announced the creation of the Donovan Award to celebrate player excellence in D-III. The players of the division voted, crowning Swarthmore's Tessa Jones as the inaugural honoree. Due to the late-season timing of the announcement, teams scrambled to mount campaigns for their nominees, a still harder task considering the lack of familiarity amongst teams in the division.
Coming into the second year of the award (the format of which has faced some critical feedback), look for a stronger buzz this season as teams put forth their candidates sooner and give the rest of the division a chance to learn about these players.
Regional Storylines
Atlantic Coast
At first glance, #18 Catholic University Nun Betta appears to have the competitive edge in the Atlantic Coast, coming off their first trip to Nationals and serving as the region's only representative in the Preseason Power Rankings. Nun Betta's leadership includes returning captain and D-III All-American Grace Castro, as well as incoming captain and Atlantic Coast First Team selection Christine "Gram" Tomasic. The team has grown consistently in numbers (this year's roster is at twenty-five and counting) and broadened their experience with both captains playing club and others participating in leagues over the summer. Nun Betta also includes a deep coaching bench with Coach of the Year Runner-Up Steve "Scuba" Kreider and three assistant coaches: Layne Scherer, Blaire Thomson, and alumna Bridget "Beef" Finnell.
While Nun Betta certainly has the credentials to book a return trip to Nationals, let's not forget they earned that bid by grinding out a win on double game point against the UNC Asheville Hellbenders during their semifinal matchup. Nun Betta has also graduated a number of playmakers from that universe line, including Laurel "Carl" Van Scoy, Peggy Stevick, and Rachel Youngberg. The turnover from graduation is also paired with study-abroad losses of two club-experienced players: Maddy Demaret and Victoria "Smalls" Kirkman. Unfortunately for the Hellbenders, Atlantic Coast First Teamer and mixed club player Allison Bashford is recovering from a torn ACL. The Hellbenders will, though, have the experienced handling of senior Kathy Frantz working in the backfield.
Elon Wild Rumpus has been a notable team in the region, but 2018 looks to be shaping up to be less promising. They lose a number of key All-Region players, including Sydney Harris (2017 Atlantic Coast D-III Player of the Year), Emily Harrison, Jessica Francois, and Kristen Goodwin. These losses contributed to a rough fall appearance at Fusion 2017, where Elon went 1-5 for the weekend. Emily Bell is returning as one of the captains for Wild Rumpus, along with Camden Formby Lavertu and Molly Spero. The team does benefit from having Atlantic Coast Coach of the Year Rachel "Rojo" Johnson at the helm, an experienced club player as well as USAU's Girls' National Outreach Director, a position focused on helping girls learn ultimate across the country.
Davidson DUFF notable had a nice win over Elon (8-6) at Fusion 2017 this fall season. Coached by Sharon Crawford, Davidson will look to on-field leadership from two of their captains, Julia Cardwell and Katie Craig, to help build chemistry after graduating seven seniors last year. For their younger players, look to the speed of sophomore Tiffany Pauls, and the athleticism of quick-minded rookie Cora Martin to help DUFF rebuild their momentum this spring.
Rounding out the rest of the Atlantic Coast, the Richmond University Red Hots, 2017's Regional runner-up team, will have to find a way to overcome the losses of Jessica Tow and Bridgette Heine, while returning Alexis Porter, a cutter known for her endurance and deep-cuts. Mary Washington Mary Massacre registered a win over Elon at Fusion 2017 with a score of 13-3, signaling that they're ready to step up. Goucher All You Can Eat and St. Mary's SMUT will be looking to hold place over a regional newcomer: the Christopher Newport University Airbenders, launched by founder Caroline Tsui one year ago.
Great Lakes
#12 Valparaiso Chicks Hucking Discs aims to keep their Nationals streak alive for the 9th consecutive year in 2018, and it should be an attainable goal. In 2017, Valparaiso showed their dominance at the Great Lakes Conference Championships by allowing no more than six points to be scored on them in a single game and ended with a resounding 91-17 point differential over seven games. Looking beyond the local competition, the loss of a large graduating class could cause CHD to struggle to beat last year's T-3rd finish should they earn a ticket to Rockford.
Serena Badgley, one of the captains, is Valaparaiso's only returning player from their All-Region roster after the losses of Mackenzie Allen (also Great Lakes Player of the Year), Jordan Bauer, Jordan Eissner, Aubrey Risetter, and Michelle Espino. The team will look to handlers Jesse Hershberger, who entered the team with experience from high school, and Joy Miller to lead from the backfield.
If there were a year for the Wheaton Mastadonnas, the strength of the returning class could give them the chance to show out in the Great Lakes. The Mastadonnas welcome back all six of their All-Region players, and not all of them will be graduating this spring–watch for juniors Amanda Shim, Lorien VanZwieten and Alexis McIlrath to really push the team.
The rest of the contenders will likely arrive at the 2018 Great Lakes Conference Championships to kiss Valparaiso's ring. North Park Allihopa will look to the leadership of Erin Stauerseth to put their best foot forward; the Olivet Nazarene Lady Penguins don't even anticipate having enough healthy players to field a team this spring. Unless Knox Mary Todd or Kalamazoo Queen Beez have brought in strong transfers or a class of exceptional rookies, it seems likely that even their strongest efforts will only get them to runner-up.
Metro East
The Metro East has sent Wesleyan to represent the region for the past two years, and in 2017, they faced off against Carleton for the National title. It's amazing to consider that the game almost never happened, as Wesleyan only barely snuck past Regional rivals SUNY-Geneseo in the Metro East game-to-go. The well-matched abilities of the Metro East teams means that it can be difficult to predict who goes home empty handed and who walks away with a bid to Nationals, but it's always exciting to see a nearly wide open field.
Vicious Circles may have graduated a full line of veterans this past year, but they have players aplenty ready to step up–Sydney Taylor-Klaus and Chi Chi Wakabayashi will make other teams take notice, and Sage Loomis will bring the defensive blocks to make them competitive. Of note, though, is a fall loss to Skidmore.
Skidmore is a team that may make Nationals this year if they develop and refine their offensive chemistry with their younger players, a task that will be less of a struggle with few roster losses between 2017 and this season. On defense, captain Karabo Mosola is a force to be reckoned with, and Gina Pryciak will bring the confident handling needed by the team. If these teams perform well, especially against neighboring New England schools, this region might be able to take a strength bid and bring both teams to Nationals.
Rounding out the top of the region are fierce teams SUNY-Geneseo and Hamilton. SUNY-Geneseo knows how to bring an energetic sideline that can make a positive difference for the players on the field, and with the handling skills of Maddy Schwenker-Punnett as well as the downfield talent of sophomore cutters Steph Mellin and Camille Montalbano, SUNY-Geneseo is a team to watch. Hamilton's seniors were freshmen the last time Hamilton made Nationals, but that yearning will need to be matched by playmakers stepping up to take the place of last season's All Region and Donovan nominee Kateri Boucher. Elsewhere in the region, SUNY-Oneonta Love$eat, College of New Jersey Anarchy, and Rensselaer Polytech Strut might make themselves part of the regional conversation if they can step up to match the athleticism and firepower of the top tier Metro East teams.
New England
New England is flush with talent and likely to show off quite a lot of it as a region in Rockford. But which teams are looking the best at making a definitive statement at Nationals?
2018 could be the year Bates gets to shine; the program has retained the coaching talents of Chase Baker and Mohdis Baker and will call on serious contributions from juniors Josie Gillett and Olivia Gomez, who were each in the top 20 players overall for blocks (Gillett), assists (Gillett), and goals (Gomez) at last year's Nationals. Top talent and little turnover make Cold Front a threat to the title dreams of the rest of the division.
A team that is also returning a talented core with few roster losses is Williams. The throws of Ava Anderson on the D-line and the hands of Casey Phalen on O-line–plus the multifaceted talent of D-III 2017 All-American Haley Lescinsky–will again make the case for Williams to be taken seriously. But can Williams break the streak of a decidedly dubious threepeat? In the two last Nationals tournaments, Williams has entered as the number one overall seed but failed to make it to the semifinals.
Behind the heavyweights that are Bates and Williams, New England is also home to the Nationals attendees Mount Holyoke and Bowdoin. Mount Holyoke is a bit of an outlier in the division (but not the region), with not only a coach in Evan Johnson but a coach who has been with the program for five years. That kind of consistency and development is hard for other teams to replicate; watch for growth from players like captains Katrina Meserve and Abby Cough, as well as other team stalwarts Hannah Finn-Erb and Bernadette Norman.
Bowdoin will also get the benefits of an experienced, cohesive roster in their campaign this season–expect to see lots of reps and enthusiasm go with the strong ultimate IQ from senior class members Rachel Musante, Sabina Hartnett, and Carly Berlin. They'll need to reintegrate the decently-sized contingency of juniors returning from fall semesters abroad, but Bowdoin will likely be looking fine by the time the Series rolls around.
Rounding out the serious threats in the region are Amherst, Brandeis, Middlebury, and Wellesley. Amherst and Brandeis, in particular, benefit from a coaching staff and upperclassmen who have been playing together for a length of time. On Sparkle Motion, watch for handler lines to be stacked with seniors like Victoria Zhang, Lauren Weiss, and Sarah Teichman hucking long and bringing the offensive heat; downfield targets for the handler core include juniors Lily Hunter and Kyra Wortley.
Brandeis, on the other hand, is filling holes from departed handlers, having to call on Tahlia Quartin and other players to step up and take command of the field. They might not be as polished as other teams this year, but if Brandeis can keep their positive attitudes and learn from the inevitable errors as they transition to new distributors, next season they will be some serious competition. Middlebury and Wellesley are bigger unknowns, but should make their impact on the rest of the region known shortly as the season gets under way.
North Central
What kind of bid situation will we find the North Central region in by the time we get to April? If the region find itself with at least one strength bid, there are two teams that are essentially guaranteed those spots to Rockford–defending champions Carleton and #4 St Olaf Vortex, led in part by the incredible talent of Tulsa Douglas. While St. Olaf underperformed at Nationals at least in part due to Douglas playing through injury, expect big things from the Brute Squad and 2018 U24 team member working alongside fellow team stalwart handlers Sami Peterson, Aidan Zielske, and cutters Anna Ruehlow and Kaitlyn Mulhern.
If for some reason the North Central is only able to take their auto bid to Nationals, it could be a toss up to whether Vortex or Eclipse makes it out of the region. It's rarely a good idea to doubt Carleton, but the smart money might just be on a St. Olaf team with a healthy Douglas.
Of course, it won't be up to just those two teams to muscle their way through the season to more than one bid. Within the last handful of years, #14 Grinnell Stickies and #23 Luther Freya have each had their shot at the big dance, and St. Benedict Rapture has been looking to crack the top tier of the region. While Luther took a tumble at Regionals, losing 12-2 to Carleton, there's always room to bounce back in a new season. Grinnell similarly suffered at the hands of Carleton last season, beating them in pool play at last year's Regionals before losing to them in the final and losing to St. Olaf in the game-to-go; don't discount the emotion and memory of those losses driving them as they hit the field and the gym preparing to create a new ending.
Regardless of who we see make it out of North Central, the team or teams to do so will be in a strong position to make a deep run at Nationals against the rest of the division.
Northwest
While it won't be likely to show in the strength bid allocations, the Northwest is collectively looking to have an up year. #5 Puget Sound Clearcut has seen quite a bit success in the past few years, with a loss in the semifinals at Nationals in 2017. They return 17 players from their Nationals run. This year, Puget Sound also picks up Emma Piorier and Bethany Llewellyn, U20 and WJUC tryouts in recent years. Clearcut has started off the spring nicely; they were certainly the most polished D-III team at Flat Tail Open in January with confident, effective playmaking from the likes of Abby Mayo, Neeyati Johnson, and Poulami Wiegla.
Last year's other Nationals team, #22 Portland UPRoar, still has the potential to do well if they can fill in the massive holes in their handler positions after graduating  D-III All American Demri Horton, Makena Strand, Elise Sunderland, and Raychel Teyman. Unfortunately, top handler Kristen LeBar is studying abroad this spring. They having the coaching and team system in place to turn the talent they have on their roster into a successful squad, but can they rise enough to overcome the other teams biting at their heels?
Not to be counted out, #20 Lewis and Clark Artemis and Pacific Lutheran Reign will also put the pressure on Portland and Puget Sound. Lewis and Clark has flourished so far this year under the coaching of Portland-area club players Angelica Boyden and Serphie Allen; they've shown themselves to have solid offensive and defensive positioning and playmakers like Kaia Mann controlling the disc and field of play with ease. Pacific Lutheran has similarly been on an upward trajectory over the past few years, growing under the coaching of duo Ryan Mitchell and Benita Ki. The trust between Pacific Lutheran's large and balanced senior class that includes Genny Boots, Liz Hol, and Margaret Chell plus their large haul of sophomore recruits bodes well for a team consistently focused on developing their program and culture.
Ohio Valley
Last year's Ohio Valley competitors at Nationals, #15 Lehigh Gravity and #19 Haverford and Bryn Mawr Sneetches, both ended in the bottom of the bracket, placing 15th and 13th, respectively. While it's never set in stone that we'll see them in Rockford in 2018, both are benefiting this season from the chemistry that comes with teammates who've been around for several seasons together; both teams had few major departures in the offseason. For Lehigh, look for strong seniors Juliet "Raven" Chung and Dana Waxenberg leading cutters like Kelly "Pockets" Skewis and Madison Cannon. Haverford will be sporting a senior class, including Nava Kidon, Madison Tillman, Molly Strange and Dana Gold, that has been gelling together for the last three seasons on the program's A team. Haverford even put up a double game point win over Lehigh in the fall at Huckoween 2017, a win tempered by struggles with injuries among their upperclassmen. If Haverford can stay healthy while getting their rookies up to speed, Lehigh will be facing danger with much higher stakes when the teams meet again.
The rest of the region is coming with their eyes firmly locked on making Nationals regardless of history. Just missing the ticket to Nationals in 2017, a still young #21 Allegheny Hellbenderitas team made a splash their very first year of playing, and if they can keep up the momentum from last year, they should give another good scare to the other teams.
Oberlin Manti and Swarthmore Warmothers have previously attended Nationals—both will be betting on their experienced players and influx of skilled and quick-to-pick-up rookies to get them back to the tournament. Oberlin will be utilizing the talents of rookies Zoe Hecht and Anna Barron, who come to Oberlin with ultimate experience. That should pair nicely with the talents of handler Helen Samuel and captains Abby Cheng and Emma March under the guidance of coach Allison Fulton. Swarthmore will look to senior captains Emilie Shepherd and Emily Cai to turn the class of 2021 into strong producers down the field and on defense for their run this spring.
Rounding out the region, Ohio Wesleyan Yetis have the most to gain if they can bounce back from a disappointing last place Regionals finish–seniors Anna Haley, Mallory Griffith and Colleen Chernowsky will need to use their speed and playmaking talents to end 2018 differently than they did 2017.
South Central
The ebb and flow of talent in South Central has primed the region for unexpected twists and turns. While Truman State will not have benefit from Emilie Willingham on the field, her ongoing presence may add a special edge as she becomes the team's coach for 2018. In addition to losing Willingham, the team will look to develop talent to compensate for graduating the rest of their All-Region players, a list that sports Callie "MC" Warren, Christy Crouse, and Haley Johnson. TSUnami's 40+ person roster includes the expertise of captains Brooke "Broccoli" Johnson, Emilia "Bud" Budzowski, who will be seen handling, and Claire "Posh" Trumbull, a utility player.
After finishing as the South Central runner-up last year, John Brown has shown potential for continued growth this season and the possibility of a better finish comes the Series. They were first in their pool and tied third overall this fall at Just Plain Nasty, demonstrating grit in close wins over Texas-Dallas (9-7) and North Texas (9-8). The team loses their South Central First Team players Veronica Bagby and Greta Smith but welcomes back the players from the Second Team: Abby Acker, Katelyn "Twis" Holst (who played club for Kansas City Blitzkrieg this summer), Peyton Rudisill, and Emily Tumilty.
Don't let Rice Torque's third-place finish in the region from 2017 fool you. While they've fallen short of Nationals the past two years, this program has a strong history in the region. The question remains if they can rebound from some tough losses including the firepower of All-American Kelsey Nanneman and dynamic cuts of South Central First Team Julie Doar. The trio of coaches–Ashley Shelor, Michelle Landis, and Jennifer Schmerling–have plenty to work with, ranging from the the fearless handling of Emma Wine, explosive power of Molly "Momo" Turner, ice-cold concentration of Jacqui "Queen" Lee, and deep threats from Ashley Fite. A wildcard in the equation is the eligibility of Samantha Paulsen, a graduate student who shreds opponents with disciplined play and endurance.
Last, but certainly not least, there's Missouri S&T Miner Threat. While they did not attend the Conference Championships last year, the team seeks to continue their growth. Miner Threat's leadership includes Kelly Dunlap and Erin Mann, as well as key player Courtney Munch and rising star Maddie Stiebel.
Southeast
As mentioned above, this will be the first year Southeast teams come together for a Conference Championships tournament. Leading the Southeast is Georgia College. In addition to taking 11th at Nationals, last year's squad was recognized with the Team Spirit award in Lexington by their opponents. Lynx Rufus has been on a steady rise over the last few seasons and returns powerhouse Katherine Yost, a 2017 D-III All American, who stands as a leader in endurance, determination, and spirit. The team will also look to Morgan DeMell, Jenny Hyunh, Cheyenne Balliew, and Melissa Escudero to secure their berth to Nationals this year.
The University of North Georgia Aurea returns their coach, Joanna Chen, and the majority of its players in their second year, losing only two to graduation. Captain Gabrielle Hartman, a savvy handler, is their primary playmaker along with sophomore hybrid Kay Mallet and high-voltage rookie Summer Sanders. In addition to Hartman, Jasmine Williamson and Lucy Estock, the other two founding captains, return to lead Aurea to the first Conference Championships with high hopes of showing off to the rest of the division.
Less is known about Belmont URSA, outside their attendance at Vanderbilt's Itchfest and their team's hat tournament in the fall. We'll look to learn more about URSA in the lead up to the Conference Championships and see how they size up within their small yet growing region.
Southwest
The Southwest is a strange beast. The D-III teams here have the chance to sharpen their skills and play their game against in-region D-I competition that includes some of the best teams in the nation; however, the dearth of D-III competition means significant travel to play other D-III teams. Since 2011, the Claremont Greenshirts have been the region's Nationals representative. A program that took home the title in 2012, Claremont faced a rebuild in 2017 and worked on redefining their team culture after the graduation of a massive senior class in 2016. They left Lexington last May without any wins to show for it. Under new coach Lexi Kirby and the on and off field leadership of four year players Montana "Noodles" Roberts, Sharon "Taffy" Huynh, and Nancy "Oido" Karreman, don't expect any to feel any déjà vu at Nationals in 2018.
Rounding out the region is Claremont's nearby Los Angeles neighbor Occidental Women's Air Corps, a team unlikely to be truly in contention for the Southwest's auto bid. Watch for sophomores like Celeste Padula and Jessica Wan, as the team looks to improve on its 5-12 record from last year.
Players To Watch
Returners To Get Excited About
Tulsa Douglas (St. Olaf) – A Brute Squad player and U24 gold medal winner in DIII? Yup. Expect exciting things from Douglas, especially if she can stay healthy all the way to Rockford.
Haley Lescinsky (Williams) – Even with a set of injuries last season, All-American Lescinsky showed a ferocious level of athleticism and determination on the field, particularly on defense. Another player with the potential to push her team to a National title if she can remain healthy.
Katherine Yost (Georgia College) – Yost helped Georgia College make a statement at Nationals in 2017; Lynx Rufus will continue to benefit from her on-field endurance and swagger-filled handling style in 2018. Watch for her forehand cannon.
Sarah Davidson (Puget Sound) – Davidson claimed the title of Defensive Player of the Year during Clearcut's run to tie for third in 2017; the fun-to-ask question is how many blocks she'll be able to rack up this year.
Grace Castro (Catholic University) – After a summer handling on the O-line for club team D.C. Grit, Castro returns to Nun Betta with an arsenal of skills to deploy against opponents. While she's made the poach her signature on defense, she's ready to layout and show a more physical side to her game in 2018.
Grace Warder (Bates) – Expect big things from one of last year's ROTY runner ups as a sophomore for a talent-laden Bates team.
Sydney Taylor-Klaus (Wesleyan) – A Paideia alum who brought serious downfield playmaking to the Wesleyan line last year, Taylor-Klaus should step up in a big way this year.
Karabo Mosola (Skidmore) – If you think D-line wins games, then you'll want to watch for Mosola and her ability to make turns and push offenses to their limit.
Juliet "Raven" Chung (Lehigh) – Now with club experience, Chung's got break throws and killer backhand hucks to set the tempo of Lehigh's games.
Emilia "Bud" Budzowski (Truman State) – This junior captain and handler is stepping up to force the division to not write off TSUnami just yet.
Rachel "Webster" Musante (Bowdoin) – An Amherst, MA, product with serious ultimate experience, look for Musante to lead her team with consistency in all aspects on and off the field.
Katrina "Tree" Meserve (Mount Holyoke) – Not just anyone can live up to a nickname like "Tree." Watch Meserve do it as she leads her teammates, handling with confidence from the backfield.
Daphne "Nix" Guo (Claremont) – Nix has been developing as a utility player for Claremont over the last few seasons–she can impact the game on offense and defense.
Serena Badgley

– (Valparaiso) – Badgley is going to beat her matchups to the disc on defense; watch her push herself on every point to make a difference for her team.
Rookies To Root For
Emma Mickelson (Pacific Lutheran)

Helen Murphy (Carleton)

Laura Marsiglio (Lehigh)

Zoe Hecht (Oberlin)

Nakeita Henry (Brandeis)

Feiyang "Eco" Lin (Claremont)

Jules Kampe (Portland)

Nelly Lin-Schweitzer (Williams)

Emma Piorier (Puget Sound)

Haley Challgren (St. Olaf)

Summer Sanders (North Georgia)

Madi "Filfe" Fulte (Truman State)

Karli Bigler (Ohio Wesleyan)

Cora Martin (Davidson)
Tournaments Of Note
Check back as we add teams and tournaments throughout the season.
Stanford Open
February 10-11
Morgan Hill, CA
Teams to watch: Carleton, Claremont, Pacific Lutheran, Puget Sound
Bring the Huckus
February 24-25
Morrisville, PA
Teams to watch: Allegheny, Amherst, Bowdoin, Haverford, Lehigh, Oberlin, Skidmore, SUNY-Geneseo, Swarthmore, Wesleyan, Williams
Commonwealth Cup
February 24-25
Martinsville, VA
Teams to watch: Catholic University, Davidson, Elon, Richmond
Midwest Throwdown
March 3-4
Columbia, MO
Teams to watch: Grinnell, Luther, Missouri S&T, St. Olaf, Truman State
Spring Awakening
March 24-25
Saratoga Springs, NY
Teams to watch: Amherst, Brandeis, Skidmore
Northwest Challenge
March 24-25
Burlington, WA
Teams to watch: Claremont, Pacific Lutheran, Portland, Puget Sound
New England Open
March 31-April 1
Northampton, MA
Teams to watch: Amherst, Bates, Bowdoin, Mount Holyoke, Wesleyan, Williams
Garden State
March 31-April 1
Vineland, NJ
Teams to watch: Haverford, Lehigh, Swarthmore
---
Or #powerprovince? Give us your best suggestions in the comments. ↩