Your chance to weigh in on the highlight block of the year!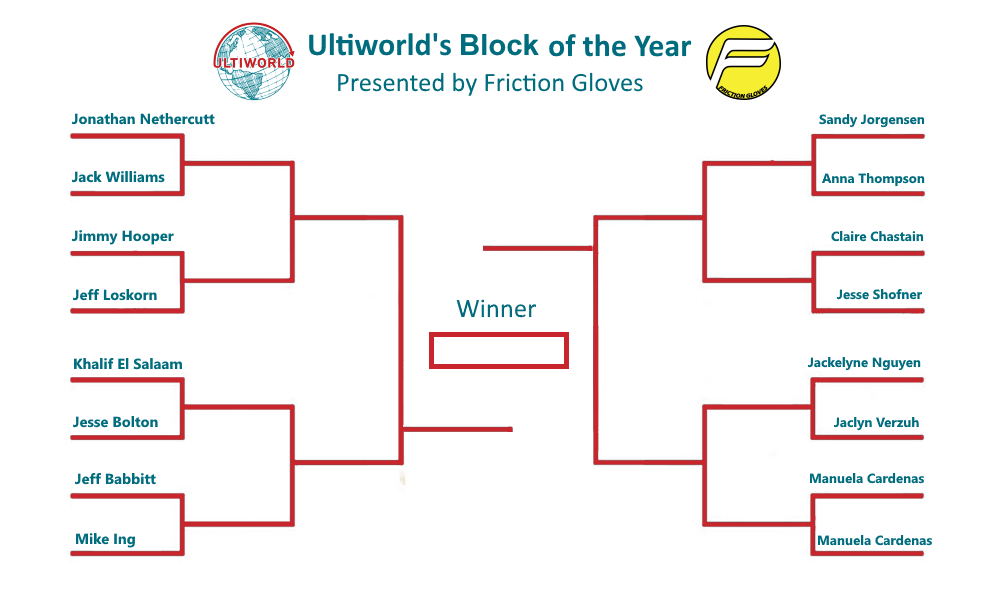 Ultiworld's 2017 Block of the Year bracket is presented by Friction Gloves; all opinions are those of the author. Please support the brands that make Ultiworld possible and shop at Friction!
Oh, you thought we were done with our 2017 year-in-review brackets? Luckily not! And good news (American) sports fans: there's no Russian nominee this time.
As with our recently completed Catch of the Year bracket, we've done our best to surface all the best blocks of 2017 and narrow them down to a list of 16 finalists—no easy task. Over the next week, you the Ultiworld readers will have a chance to weigh in and select the Catch of the Year.
Check out all of the nominees and vote below, then check back to see which clips advance for another opportunity to participate. The first round of voting starts now and closes on Thursday, February 8th, at 5 PM Eastern.
Round 1
Matchup 1: Nethercutt vs. Williams
Jonathan Nethercutt – Raleigh Ring of Fire (USAU Men's Club)
When a breakside throw goes up to the outside shoulder of your mark, you're not supposed to have a play on the disc—might as well cut your losses and work to set up a mark that stops any continuation. But when you're Men's Club Player of the Year Jonathan Nethercutt, you go get a catch block instead. In a Nationals prequarter game against Chicago Machine, Nutt showed off his exceptional closing speed to pick off this swing pass and help Ring advance.
Jack Williams – UNC Wilmington Seamen (USAU Men's College)
Like his former cross-state rival now club teammate, Jack Williams also refuses to concede defeat just because his teammate's mark got broken and his cover has steps on him to the break side. The stage may not have been quite as big as for Nethercutt's block,1 but Williams' explosive, go-go-gadget layout to deny Jonah Wisch at Easterns was perhaps even more impressive athletically. With the amount of time Williams spends horizontal at shoulder height, you'd be excused for thinking there is a glitch in the video, buffering for an extra half second while Williams hangs unhumanly suspended midair.
Matchup 2: Hooper vs. Loskorn
Jimmy Hooper – Seattle BFG (USAU Mixed Club)
At Club Nationals last fall, Seattle BFG and Boston Slow White played one of the cleaner, more intense mixed games you'll ever see.2 Despite the unpredictably windy conditions, blocks were hard to come by and the teams traded offensive holds to 11-11 before either squad could manage a break. It was in this context that Seattle's Jimmy Hooper made perhaps the play of the game, getting up huge over Slow White's Tommy Ferguson for a catch block.
Jeff Loskorn – Austin Doublewide (USAU Men's Club)
With the gusting wind in Sarasota tempting teams to take aggressive deep shots to win the field position game, many defenses set up schemes to provide help on hucks. That's just what Loskorn did here in Doublewide's national semifinal, taking off from the weak side as soon as he noticed Truck Stop's Rowan McDonnell slipping free deep. McDonnell may have beat him to the spot with his head start and speed, but Loskorn made an incredible bid to knock the disc away at full extension.
Matchup 3: El Salaam vs. Bolton
Khalif El Salaam – Seattle Mixtape (USAU Mixed Club)
Seattle Mixtape won a National title in 2017 thanks to a dynamic offense that was tough to stop. But at multiple points over the course of the weekend in Sarasota, it was their defense that bailed them out of tight spots. On double game point of their quarterfinal matchup with Wild Card, El-Salaam produced a season-saving block on a dump pass—turning and bidding almost all in one motion upon hearing an up call.
Jesse Bolton – Seattle Mixtape (USAU Mixed Club)
Two rounds later, down a break late in the national title game, it was Jesse Bolton who produced an epic block to keep Mixtape alive. Coming from behind Stephen Ng to catch up on the mark, Bolton threw his leg way out and stuffed Ng's huck at the point of release, denying a throw that might have pushed Amp to the brink of a championship.
Matchup 4: Babbitt vs. Ing
Jeff Babbitt – Boston Dig (USAU Men's Club)
In what is threatening to become a perpetual annual occurrence, Jeff Babbitt again flashed out-of-this-world athleticism to earn a spot in this bracket. This time his victim was Johnny Bravo, denying them a goal in a Club Championships game where one extra point would have been enough for Denver to knock Boston out of the pool's top spot.
Mike Ing – Pittsburgh En Sabah Nur (USAU Men's College)
Earlier in the year, Mike Ing took on Babbitt's alma mater in an intense quarterfinal battle at the College Championships. As we're becoming accustomed to seeing Ing do, the Pittsburgh sophomore launched himself from a seemingly impossible position behind his mark, safely contorted his body around the offensive player, and left a cutter pathetically clap catching nothing but air. Thanks to the brilliant camera work of Charles Cleary, we get a perfect view of the play, complete with the immediately recognizable emotions of both players throughout the sequence.
Matchup 5: Jorgensen vs. Thompson
Sandy Jorgensen – Washington DC Scandal (USAU Women's Club)
By this point, absolutely no one should be underestimating Sandy Jorgenen's closing speed. When she is on defense, the field simply shrinks, as Uno were brutally reminded in their matchup against Scandal at the US Open last August. The Japanese squad noticed a cutter taking off deep with a solid 10-yard advantage that against anyone else in the world would likely mean a simple pancake-catch goal. But as soon as the throw went up, Jorgensen turned on the jets, closing the gap in a blink like everyone else on the field was playing in slow motion.
Anna Thompson – Philadelphia AMP (USAU Mixed Club)
Anna Thompson was incredible for Philadelphia AMP all year long, coming up with huge plays in seemingly every game they played en route to Player of the Year runner up honors. No play was bigger than her effort on double game point of the club national final, as she earned her team another chance to score a title-winning goal with a form-perfect layout block.
Matchup 6: Chastain vs. Shofner
Claire Chastain – Denver Molly Brown (USAU Women's Club)
Claire Chastain has certainly made a habit of blowing up in-cuts with her explosive athleticism—even against the best players in the game. In a play strikingly similar to her nominee from last year's bracket, Denver's Club Player of the Year hung a step behind her mark—this time, Brute Squad's all-world cutter Lien Hoffman—on an in cut and then sprung into turbo gear as soon as the disc was in the air. But just because we've seen her make blocks like this before doesn't make it any less breathtaking.
Jesse Shofner – Denver Molly Brown (USAU Women's Club)
Absolutely zero fear. We've already seen how easily Sandy Jorgensen typically dispatches smaller opponents, but that doesn't phase Jesse Shofner in the least. With the score tied at 10-10 and Molly Brown needing a break to win their club national quarterfinal matchup against Scandal, Shofner spied Jorgensen taking off deep and peeled off her own mark to help defend the huck. After a quick peek over her shoulder to gauge Jorgensen's trajectory, Shofner busted her ass to win a race to the disc then soared above Jorgensen's outstretched hand to generate a crucial block that was credited in our game recap headline for pushing Denver into the semifinals.
Matchup 7: Nguyen vs. Verzuh
Jackelyne Nguyen – California Pie Queens (USAU Women's D1 College)
One of the more difficult skills in ultimate is learning how to safely layout for a disc when out of position and stuck on your opponent's back shoulder. Given how poorly things can go if you get it even slightly wrong—running a serious risk of both injury and poor spirit—it is downright dangerous to even attempt it. But Jackelyne Nguyen has seemingly mastered this skill, as demonstrated here against UBC at the College Championships. Her superwoman bid exploded past Ellen Au-Yeung on a line that avoided major body contact and allowed her to knock away the pass.
Jaclyn Verzuh – Dartmouth Princess Layout (USAU Women's D1 College)
In case anyone needed a reminder of just how much Jaclyn Verzuh dominated last year's College Championship final, here is an insane over-the-shoulder block against Texas's Julia Schmlatz to save a goal. When the Dartmouth sophomore is straight clowning on her closest competition in the Player of the Year running—who was fresh off a ten-goal semifinal performance asserting her own status as one of the most imposing athletes ever to play at the college level—you can't even implore Verzuh to pick on someone her own size. It just doesn't seem fair.
Matchup 8: Cardenas vs. Cardenas
Manuela Cardenas – Medellín Revolution (USAU Women's Club)
When weather delayed the start time of the US Open women's final, the game finished live on ESPN2 ahead of the scheduled start of the mixed final. Perhaps sensing the stage, perhaps just completely incapable of ever competing with anything short of jaw-dropping ferocity, Manuela Cardenas made one of the most iconic plays of the 2018 club season by flying through the air to deny Molly Brown a critical late game goal that would have brought the score within one. The ludicrous block was reminiscent of the bid that earned her 2016 Block of the Year honors—as well as many others she seems to make on a routine basis.
Manuela Cardenas – Medellín Revolution (USAU Women's Club)
Last year, Cardenas could not be defeated en route to winning our first ever reader-voted Block of the Year. As far as we know, it may well be impossible to knock off Colombia's human highlight reel in this competition. With a crazy number of tremendous blocks worthy of consideration for inclusion in this bracket,3 we've pit her against herself to find out just what happens when a unstoppable force collides with itself. Here is a second block FROM THE SAME GAME that helped Revolution become the first international team to capture a women's US Open title.
Editor's note: A previous version of this article incorrectly identified a missed offensive huck as a defensive block. The play has been replaced. Sorry for the mistake.
---
Then again, it could be argued that basically any Pitt vs Wilmington game is as big as it gets. ↩

Only to be thoroughly outdone a few days later by a fantastic final between Mixtape and Amp. ↩

Seriously, there were at least three worthy highlights from the US Open final, plus several others from other points in that one weekend, nevermind the rest of the year. ↩