Huge D-I tournaments on each side of the nation have caused some major shifts in the college landscape!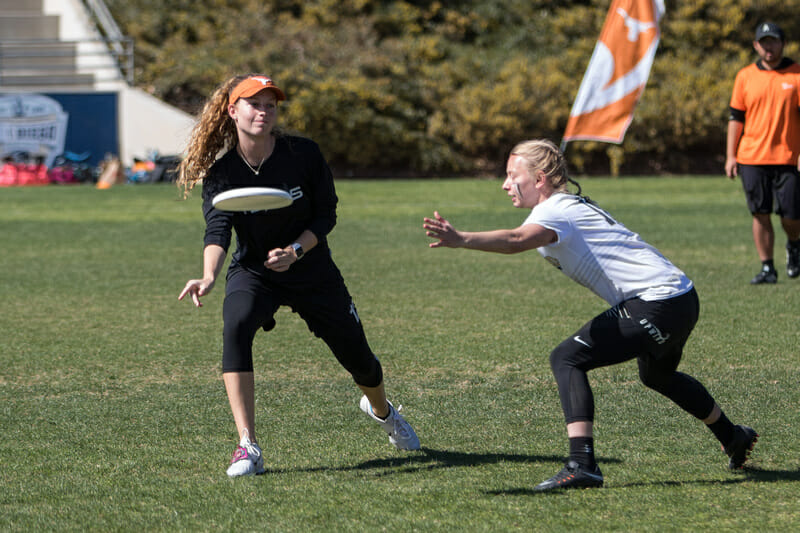 College Update is presented by VC & Spin Ultimate; all opinions are those of the author. Please support the brands that make Ultiworld possible and shop at VC Ultimate and Spin Ultimate!
During the spring season, we will publish a bite-sized weekly recap of the action across the College Division. This will serve as a supplement to our standard tournament reporting and will offer a high-level look at the latest happenings and the biggest stories of the week.
Want your tournament listed here? Submit a recap of what happened right here.
Women's
Two big west coast events, two championships for #3 Stanford Superfly. Five weeks into the 2018 season, there's no better resume in the women's division than Stanford's 15-0; nobody has scored double digits against them in a game this season. Their victory at Presidents' Day wasn't flawless—check out their narrow victories over UC San Diego and Colorado College—but they raise the floor, beating strong teams without even playing their best. Perhaps they are the nemesis of #1 ranked Dartmouth, as they were projected to be last season, a role they ultimately fell well short of.
There were plenty of notable performances behind Stanford's victorious holiday weekend. #4 Colorado Kali marched to the final despite playing without star cutter Nhi Nguyen, an impressive feat to open their spring season. The #9 UC San Diego Psychos continued their strong year, validating early season hype with a 3rd place showing; they've only lost to Stanford this season. #7 Texas Melee began their season 1-2, suffering surprising losses in pool play, but battled back through power pools and earned a gritty victory over #5 Oregon Fugue in quarterfinals, before falling on yet another double game point rivalry thriller with Colorado.
For full tournament coverage of the women's division of Presidents' Day Invitational, check out our Saturday & Sunday Recap and Tournament Recap.
Quick Hits
The titular team, Santa Clara, won Santa Clara Tournament, taking down no. 1 seed UC Santa Cruz in the final. Both teams were the class of the tournament, playing just one other close game on the weekend.
AntiFreeze was cancelled.
D-III Update: Occidental Breaks Seed at Santa Clara Tournament
It was a quiet weekend in D-III women's, with Occidental the only team in sanctioned play. The no. 6 seed managed a 4th place finish in the 12-team field, getting wins over California-B and Nevada-Reno.
Men's
It was a clean sweep for #4 Oregon Ego, who survived a strong field and windy holiday bracket to take home the tourney title. They defeated #16 Cal Poly SLO CORE in the final, 12-9, to cap off the 9-0 weekend. Adam Rees, Will Lohre, Colton Clark, and Leandro Marx led the way for the skilled Ego squad that revealed some added depth to pair with their characteristic speed and flare.
In the rest of the field, some of the west coast's best did battle. SLO bounced back from a tournament opening loss to #19 Colorado Mamabird to defeat the same team in the semifinals and reach the final. In their debut, Colorado's fitness shone through on the way to a 4th place finish. The weekend's biggest surprises were California and #7 Washington, for different reasons. Coming off a win at SBI, Washington Sundodgers were riding high, but suffered a loss to SLO in quarterfinals and failed to hold up well in consolation play. California Ugmo parlayed a 4-4 weekend into a 3rd place finish and semifinals appearance. They are an intriguing team in the Southwest.
For full tournament coverage of the men's division at PDI, check out our Saturday & Sunday Recap and our Tournament Recap.
Carleton Builds to Win Florida Warm Up Over Surprise Finalist Brown
#1 Carleton CUT started their season with a shocking loss to unranked Brown. They ended their tournament with a dominant victory over the same Brown team in the final, on the heels of bruising their North Central compatriots #3 Minnesota Grey Duck in their semifinal. Despite playing without some top players like Eric Taylor and Joe White, there was no doubt about who was the best team in Tampa.
Of course, there's almost as much to say about Brown Brownian Motion, who finally produced the explosive performance some had been waiting for since last season. And while Mac Hecht and freshman John Randolph were marvelous, inserting themselves into awards conversations, the team as a whole demonstrated they were not just riding a couple of stars. They proved they could do more with a 15-13 win over #14 Virginia Tech Burn in the semifinals.
With a deep field, there's a lot to chew on, so for more coverage of Florida Warm Up, check out our Friday Recap, Saturday Recap, and Tournament Recap.
NC State Wins and Maryland Qualifies at Easterns Qualifier
Thanks to a cramped format, windy conditions—and perhaps some parity—led to numerous upsets in pool play. Pools were won by their respective no. 3, no. 4, no. 2, and no. 6 seeds, and the top four seeds combined for 7 losses in pool play. Even the quarterfinal round was dramatic, with two games decided by one goal each, and another won by a two goal margin.
But after all the dust settled, it was no. 1 NC State and no. 2 Maryland still standing in the final. #22 NC State and #25 Maryland were the only ranked D-I teams in the field, and after both failed to win their pools, they survived some close scrapes to get through the bracket. NC State walloped Maryland 15-8 in the final. As NC State already had a bid to Easterns, Maryland claimed the bid into the hyper-competitive event.
With such a large field and plenty of drama, read on to check out our D-III Update and our Tournament Recap.
Quick Hits
No. 1 seed Tennessee and no. 2 seed Appalachian State marched to the final to face off after each winning one of Chucktown Throwdown's two pools. App State's 13-7 victory earned them the win, and they have put together some solid results this year.
Minnesota-B won the indoor one-day round robin that was Ugly Dome in undefeated fashion.
D-III Update: Disappointment at Easterns Qualifier
With three of the top five from our Power Rankings in action this weekend at Easterns Qualifier, hopes were high to see a D-III team qualify for a major D-I invitational tournament. However, all three teams fell short. #4 Dartmouth Pain Train came the closest, going 4-1 in pool play and crushing #5 Davidson DUFF 11-6 in the process. However, a DGP loss to Indiana knocked Pain Train out of the bracket, and they could only manage a 7th place finish from there.
It was a terrible weekend for the Atlantic Coast, with both the #3 Richmond Spidermonkeys and Davidson failing to put up quality performances. Richmond struggled in Saturday's wind and couldn't make the championship bracket, and DUFF missed a chance to make a statement in the division with their performance against Dartmouth. It's hard to tell so early in the season, but both teams will have some work to do in the second half of the regular season to ensure that the Atlantic Coast lands precious strength bids.
This weekend is going to be wild, with nine top 25 teams in play, including #2 Middlebury seeing their first action of the spring. Expect plenty of movement in our Power Rankings next week.
Looking Ahead
After a huge weekend concentrated at two tournaments, we've got many smaller tournaments on tap this weekend.
Commonwealth Cup (W) is the biggest tournament of the weekend, with six ranked teams in the field. The top two seeds, #8 North Carolina and #10 Tufts, didn't get a chance to play a full match in the QCTU quarterfinals, so we'll see if they get a chance to wrap up unfinished business.
Music City Tune-Up (M) hosts 20 teams in Nashville, led off by no. 1 seed Purdue. Some key D-III teams are also in this field, as well as former D-III contender Alabama-Huntsville.
Bring the Huckus (M/W) includes an astounding 63 teams1 across both divisions in Yardley, PA. A healthy mix of D-I teams trying to make Regionals and D-III teams trying to make Nationals will vie for the win.
Atlantic Coast Showcase (M/W) begins this week, with NC State hosting Duke for both men's (6PM) and women's (7:45PM) streamed showcase games. If you're curious how the new series will work out, you'll want tune in.
Other Events: Solar Showdown (M), PLU BBQ (W), Towsontown Throwdown (W), Big D in Little D Women (W), Ben's Barmitzvah (W), SoCal Mixer (M), Oak Creek Challenge (M), Dust Bowl (M/W)
---
In line with previous huge events from Ultiment ↩