A massive weekend has really moved the needle in all the divisions this season!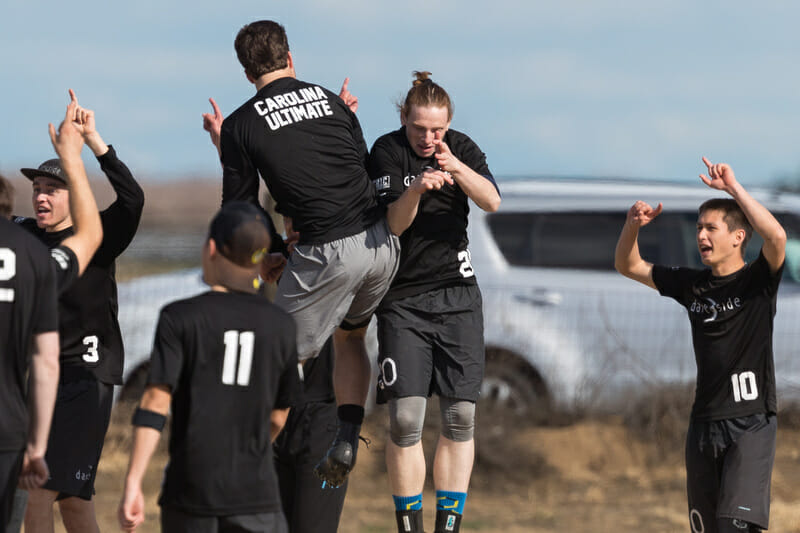 College Update is presented by VC & Spin Ultimate; all opinions are those of the author. Please support the brands that make Ultiworld possible and shop at VC Ultimate and Spin Ultimate!
During the spring season, we will publish a bite-sized weekly recap of the action across the College Division. This will serve as a supplement to our standard tournament reporting and will offer a high-level look at the latest happenings and the biggest stories of the week.
Want your tournament listed here? Submit a recap of what happened right here.
Men's
There's an old saying: "Careful what you wish for." We all wanted to see #1 Carleton and #2 North Carolina, and it sure seemed like they wanted to play one another. Both we and Carleton should have been more careful. UNC flattened Carleton, scoring the game's first four goals and maintaining their edge to win 13-8.
UNC did get their big test, however, from another source: #3 Oregon Ego. Their semifinal bout was a heavy favorite for regular season game of the year and will go down as one of the best college ultimate games committed to film. After a tight, well-played, and exhilarating game, it came down to a single point. Oregon received, advanced to the red zone, took a time out. Their drawn up play generated a pass to the break side of the end zone, but it was knocked away by a bidding Elijah Long. UNC punched in the break and survived their first scare of the season.
At a tournament of this caliber, there's plenty to see and learn. For full tournament coverage of the men's division at Stanford Invite, check out our Saturday Recap and Tournament Recap.
Ohio State Wins Midwest Throwdown
Ohio State Leadbelly won four straight games on Sunday, including a close victory over Iowa State in semifinals, to claim the crown at Midwest Throwdown. They lapped Washington University in the final, 15-3, who presumably was out of gas following their own 11-10 victory in their semifinal. It was Ohio State's first tournament win of the season and their record stands at 15-6 after three competitions.
Their chances of victory looked jeopardized when they were lit up by Illinois State, 15-8, in pool play. But they recovered to dominate Kansas State and Marquette in their first two bracket games on Sunday. They took an 8-5 halftime lead over Iowa State, but ISUC could never quite draw even with OSU.
Quick Hits
D-III Update: PLU BBQ, Midwest Throwdown
Pacific Lutheran Defends Home Turf at PLU BBQ
The busiest action in the division from this weekend came from Tacoma, WA, where most of the Northwest region came together to establish an early outlook at conferences. The host team, Pacific Lutheran Reign, came out on top in their season debut, going 7-0 and beating #17 Portland Uprise and #23 Lewis & Clark Bacchus convincingly on their way to the title. Finishing 5th in the region last year, Reign was not expected to do this well in 2018. Another tournament performance like this could see PLU bring home a crucial strength bid for the region.
Portland had a strong tournament, with their only loss coming in the final, and Puget Sound will make a return to our Power Rankings after their strong 5-2 showing, only losing to Portland and the PLU alumni. The big surprise was Lewis & Clark struggling to a 3-4 record. Bacchus looked like they'd be in contention to win the region, but after this weekend, they are way off the pace of their peers in the Northwest.
Carleton GoP Solidify Top Five Status
D-III programs from the North Central, South Central, and Great Lakes all converged on Columbia, MO this weekend for Midwest Throwdown, creating potential to establish a hierarchy between those regions. Unfortunately, the brackets didn't shake out to give us that connectivity, but #4 Carleton GoP confirmed their elite status in a couple of D-III clashes.
In the bracket, GoP brought a Truman State team coming off a strong Saturday back to reality with a 15-2 beat down. On Saturday in pool play, Carleton established themselves as the heavy favorite in the region with a 15-8 win over #22 St. John's in their first rematch since the game-to-go last spring. Avenging their loss from last year's Regionals in any fashion would have been big for GoP, but doing so in such convincing fashion will give them a high level of confidence going into Regionals this year.
Other D-III programs in attendance failed to convince. St. John's limped to a 1-5 record, suffering blowouts in all their losses. Truman State's 4-2 record looks good, but none of those wins were against quality opposition; the same could be said about North Park's 4-2 showing. Missouri S&T notched the biggest upset of the tournament with their win over Illinois State in prequarters, and a 15-11 loss to GoP looks respectable, but they'll need to pull off more than one upset to take a bid to Nationals in the loaded South Central.
Quick Hits
#1 Air Force Afterburn romped to a 7-0 weekend at their home tournament Air Force Invite, with two majorly convincing wins over #6 Colorado College Wasabi. Wasabi went 5-2 en route to a second-place finish, but they won't be happy with the margin of defeat in their games against Afterburn.
Condensed to a one day, five game tournament due to weather, Wesleyan dominated pool play before winning a close final 11-10 over #16 Army West Point at the West Point Classic. The two programs have now split the season series 1-1, with a point differential of 0 between those two games, making this a likely preview of the regional final in the Metro East.
The #11 Whitman Sweets blew everyone out at Big Sky Brawl on their way to an 8-0 record, as did #13 Georgia College Disconnected on their way to a 6-0 record at the Cola Classic. A shorthanded #12 Shippensburg Scapegoats, having to change tournaments last second due to weather, managed a 6-1 runner-up showing at Atlantic City 7, and #14 Franciscan Fatal was upset 15-14 by Miami-Ohio in the semifinals of DiscThrow Inferno.
Women's
UC San Diego Cements Themselves as Contenders by Winning Stanford Invite
If someone told you back in January that UC San Diego was going to win the women's division of the Stanford Invite, you probably would have thought such a prediction was nonsense. Yet here we are, with an incredibly tough field parted to make way for the #5 UC San Diego Psychos, putting a punctuation mark on a pretty successful start to the season. They mashed British Columbia in the final, opening with a 3-0 lead and parlaying it into an emphatic 13-7 win.
It was an impressive weekend to add to a great regular season for the Psychos. They went 6-0, with nary a close game, defeating three top 10 ranked teams. That gives them a tidy 18-2 record on the year, with both losses coming to #2 Stanford.
Speaking of Stanford, the favorite to win the tournament was eliminated in quarterfinals by #6 Oregon, one of many surprises the tournament had in store. The no. 3, no. 5, no. 7, and no. 8 seeds were the four semifinalists. You don't get to that eventuality without some upsets.
For full tournament coverage of the women's division at Stanford Invite, check out our Saturday Recap and Tournament Recap.
Triangle Tourists Conquer College Squads at Midwest Throwdown
Playing in back to back college tournaments, Triangle Tourists again proved their mettle, this time winning a fairly significant college event. The team of 11 high school girls even had some middle school representation, but they defeated reputable teams like Wisconsin, Iowa State, and even #18 Minnesota. In the final, they handled Colorado State in a decisive 14-7 victory. They've built quite a resume, at 13-1, with their only loss coming by 1 goal to #8 North Carolina, and might even be a top 10 team if they were in college.
But this is College Update, so let's talk college. Minnesota can be excused for losing to the Tourists, since that's just the popular thing to do. But their 11-10 loss to Colorado State in quarterfinals is perhaps a bit more damning. CSU has some real talent and could be a threat in the South Central, but have not been very consistent. For comparison's sake, Colorado State beat Wisconsin by the same count in semifinals and Iowa State by two in pool play. It paints a picture of the North Central as a tightly knit ball behind Carleton, and there may not be a second bid available come Regionals.
Quick Hits
No. 1 seed Emory avenged their pool play loss to Mississippi with a 13-9 victory in the final of T-Town Throwdown. They move to 10-3 on the season.
No. 1 seed Colorado College emerged as the winner of the Air Force Invite, topping no. 5 Denver in the final. But the only undefeated? BYU, who beat the eventual champions 11-9 in pool play on Saturday.
A 3 point win for Clemson over Central Florida proved to be the de facto final for the Cola Classic. Clemson's 6-0 run through the round robin put them atop the standings.
Northeastern-B reigned supreme at the Cherry B-Lossom Classic, a developmental round robin. They survived a scare from Brown-B and went undefeated.
Boise State and Utah swapped two point wins at Big Sky Brawl, but Utah got the more important victory in the final, 9-7.
Colby's 5-1 showing at Atlantic City was enough to get the win over 4-2 Ohio Wesleyan.
Atlantic Coast Showcase vs. UNC Wilmington, Metro Beast Invite, and Cupid's Revenge were all canceled.
D-III Update: Atlantic City, Cola Classic, Midwest Throwdown
This weekend gave us games from some D-III Women's teams that already have quite a few games under their belts in 2018 (Georgia College has already surpassed the 10 game threshold this season), as well as those from teams that finally got to see their first sanctioned points of the year. While some teams proved that they'll be serious contenders this season in the hunt for a bid to Rockford, others are just gaining momentum, or casting doubts on how far they'll go in the postseason.
Out on the East Coast, Atlantic City brought together New England, Ohio Valley, and Metro East teams for a full set of games, although the late timing had most final round games (and only round of bracket play) end in forfeiture. In pool play across the two days Colby had a dominant showing, ending at the top of the pool 5-1, built off of their wins over the other D-III teams in attendance with each earned by at least five points. Hot on their tails, Ohio Wesleyan ended 4-2 with wins racked up by single point margins against Shippensburg and SUNY-Fredonia.
In the South, Georgia College continued their successful season of dominating play over other in-region and nearby teams. At the Cola Classic, Lynx Rufus took wins over North Georgia and UNC-Ashville by seven points or more, and have continued to make the case as the rightful front runner of the Southeast region. North Georgia also brought home a close 7-4 game over UNC-Ashville; look to see how they stack up against Georgia College when they meet up to play for the Southeast bid to Nationals.
The state of Missouri again welcomed Midwest Throwdown and the variety of teams drawn to the early March tournament, including a handful of Top 25 teams from our Power Rankings. The biggest shakeup from the tournament? St. Olaf Vortex went 0-4 in a pool that pitted them against a trio of D-I teams that have already played over 10 games apiece this season, whereas Vortex is still getting the rust out of their gears. St. Olaf did secure a win against North Park in bracket play, marring North Park's 4-0 record from Saturday. North Park's Saturday stats also include a win over Grinnell (who ended right behind them in that pool at 3-1). At the top of Pool D Truman State proved they can be just as effective on the field with Emilie Willingham on the sideline coaching; they took wins over D-III squads Tulsa and Drake as part of their 4-0 Saturday. Not quite as dominant but still respectable in pool play, St. Benedict and Missouri S&T each finished second in their respective pools, including a Miner Threat win over Luther. St. Benedict beat Grinnell on Sunday in bracket play, proving the play for any North Central bids will be fierce come April.
Quick Hits
Winona State and Union represented the North Central and Southeast regions respectively at T-Town Throwdown, where Union took 8th with their single win of the weekend over Alabama-Huntsville. Faring better against the Southeast competition, Winona State split their pool play wins and losses evenly with 2-2. They eventually lost to Mississippi in the semifinals, and Alabama in their last game of bracket play.
Air Force Invite featured the first games of the season played by Air Force Kiwi and Colorado School of Mines Enthalpy, both 2018 USAU College Women's Startup Project grant recipient programs. Air Force earned their first couple of wins as a program, while Colorado School of Mines went home empty-handed of any W's.
Looking Ahead
The beginning of March marks the season hitting a new gear. Stanford Invite is one of the season's key events, but this weekend, there's wall-to-wall ultimate.
Men's Centex (M) has a fun March Madness-style bracket that could make for some upsets, and the large field will need them to get by Minnesota and Colorado State.
Tally Classic (M/W) hosts Massachusetts and UNC Wilmington in a solid men's division field of regional contenders, and was the site of some upsets last year. Vermont stands out in a similar field in the women's division.
Silicon Valley Rally (M) has a solid crew of Southwest teams jockeying for position, with UC Davis and Chico State as the top two seeds.