We dive deep into D-III Men's in preparation for a season-defining weekend in the division.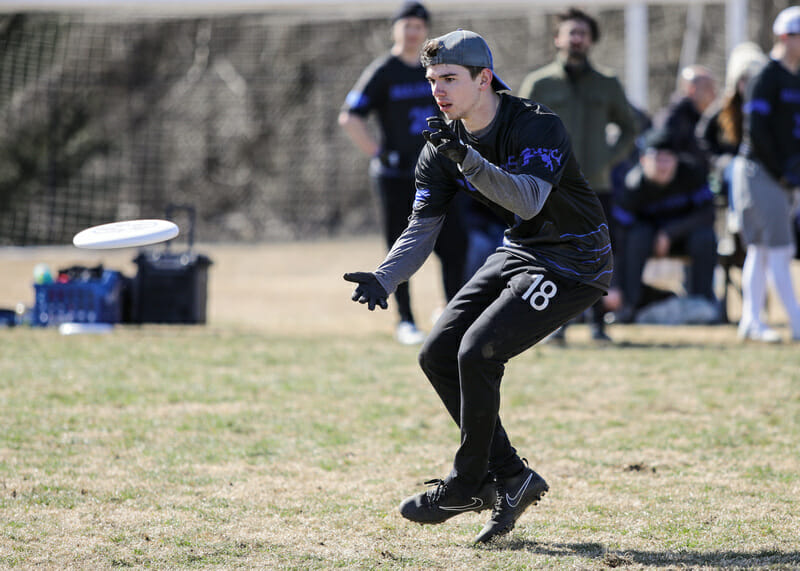 This season, we're trying something a bit different. Every Friday, our team will look at the exciting stories, teams, players, events, quirks, and all the inbetweens, and highlight five that have them hyped for the weekend of ultimate to come.
The college regular season is a three-month whirlwind where it seems like every weekend features multiple tournaments that will have a significant impact on several divisions. However, the stars have aligned in a strange way this weekend that leaves D-III men's as the only division with major action. Instead of our usual format of five different writers contributing something they're watching over the weekend, I'm taking over this week to share five major things to look out for in D-III men's this weekend. Unfortunately, this means a week without the excellent writing of my podcast partner Sam (check out her incredible contribution from last week), but hopefully I can somewhat manage to fill that void.
This Week's Roster
Mike Ball, D-III Men's Editor
Connectivity!
One of the biggest struggles for D-III ultimate every year is creating enough connectivity for the algorithm to work effectively at the end of the season. While we still have a long way to go in this department, we'll see quite a bit of connectivity at DIII Midwestern Invite this weekend in Indiana. Seven of the ten regions will be represented, including #4 Whitman and #20 Brandeis representing the Northwest and New England, respectively.
Matchups like South Central vs. New England and Northwest vs. Great Lakes just aren't common in the division, but if things go to seed, that's what the semifinals will look like. It's reminiscent of Nationals, and with Rockford just a couple of hours up the road, this weekend will serve as a good preview of what the big show will feel like in a couple of months.
Can the Bottom Tier of DIII Midwestern Invite Make Some March Madness?
The field of teams cleating up in Fair Oaks is somewhat of a microcosm of the division. There's a strong top tier of teams, a few teams knocking on the door of being in that upper echelon, then a drop off to a bottom tier that can't really compete. I would put every team below the top eight seeds this weekend in that bottom tier. Can any of them rise out of it?
The St. Olaf Berzerkers have a history of success, but it's been a few years since they've been nationally relevant. The Knox River Rats are just two years removed from Nationals, and they exceeded our expectations last year. Could they do the same this year? What about the Butler Bulldogs? I wrote about their strong declaration of intent in their first season of sanctioned competition. Can they walk the walk and substantiate their talk?
Incredible Team Names
For all the commentary and criticism about D-III ultimate, one thing cannot be disputed: the team names in D-III are far superior to their D-I counterparts. There are some truly incredible names present at Midwestern Invite this weekend, to the point where it's hard to seriously report on some of them. Pool A features a clash between the Horsecows and the Berzerkers. The funniest clash in Pool B will feature the Black Penguins taking on the Sweets. Pool C features gems such as the Mastodons, Angry Otters, and Udderburn (wtf).
However, the overall best pool of names goes to Pool D. It's hard to contend with TRON, B.L.O.B., the River Rats, Grinnellephants, and Disco. Imagine Evan Lepler having to say something like "the River Rats come into this high stakes matchup with the Grinnellephants with a spot in the championship bracket on the line." Maybe one day.
Is Mary Washington For Real?
Three weeks ago, #3 Mary Washington Mother of George made their 2018 debut with an impressive 6-0 showing at Oak Creek Challenge. This weekend, they'll be in attendance at the much more competitive Oak Creek Invite, looking to show that their first tournament was a stepping stone rather than a fluke.
They'll have a much more difficult schedule this tournament; there are no easy wins in their pool, and they'll need to beat an impressive Maryland squad if they hope to win the pool. Unfortunately, we'll need things to break a certain way in the bracket to see MoG play any D-III opposition. #16 Davidson, #21 Williams, SUNY-Geneseo, and Bates will also be in Axton, VA, with all teams needing some upsets to make the championship bracket. Worst case scenario, I'll be hoping to see some D-III matchups in consolation play.
D-III Heavyweights Clash in Georgia
I will never understand why more quality teams don't attend College Southerns. Hosted by Georgia Southern in Statesboro, GA, the tournament is played on incredible grass fields during the best time of year to be in southern Georgia. Teams have the option of camping at the fields, and did I mention that the fields are high quality grass? It might be the best field site at which I ever played in college.
This year's tournament features three high quality D-III programs, including two regional favorites in #5 Carleton GoP and #11 Georgia College Disconnected. The UNC Asheville Bulldogs round out the field, and of the three, they have the most at stake. A dismal showing cut short at Queen City Tune Up, followed by the cancellation of Sunday at Music City Tune-Up, means that Asheville find themselves much lower in the USAU rankings than they'd like to be. The good news, though, is that the two shortened tournaments means the Bulldogs have a lot of rankings points to play for this weekend.
The format for the tournament is strange, with four pools of three and a round of crossover games. While none of GoP, Georgia College, or UNCA are in the same pool, there will be plenty of opportunity for matchups in the crossover games and bracket play. I wish I were spending my weekend with them in Statesboro, camping and pulling for these matchups.
Enjoy the weekend of action, everyone. I'll be coaching at Oak Creek Invite, sneaking glances to other fields at every chance I get. Somebody be a hero and Periscope the final of Midwestern Invite. If all else fails, tune in to 7500 Club next week for a recap of all the action.