While Oregon bounced back from their showcase game loss to win the tournament, Washington got bounced in semifinals by a bid-hungry Stanford.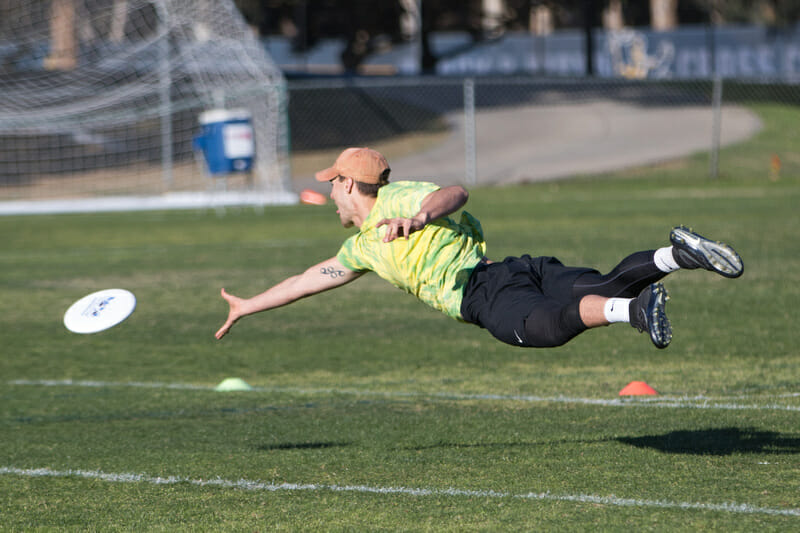 Coverage of the Men's Division at Northwest Challenge is presented by Spin Ultimate; all opinions are those of the authors. Please support the brands that make Ultiworld possible and shop at Spin Ultimate!
SEATTLE, Wash. — As teams packed up this past Sunday and pulled away from the parking lot at the University of Washington's turf fields, there was little doubt of Oregon Ego's dominance left behind. Ego finished that streak with powerful 15-10 win over Stanford Bloodthirsty in the final.
Though the hometown Washington Sundodgers came away with a 15-13 win over Ego in Friday night's showcase game, Oregon bounced back on Saturday and Sunday with a 5-0 record, with four of their wins coming against teams ranked #20 or higher.
While Oregon spent the weekend reasserting their dominance, Washington put together a strong weekend, Stanford greatly increased their chances of bringing a second bid to the Southwest, and the South Central contenders added more questions about their regional hierarchy than answers.
2018 marked the most talented field in the short history of the Men's Division at Northwest Challenge. Here's a look at some of the storylines that had us most preoccupied at weekend's end.
Oregon Is West's Best
By Sunday afternoon, Oregon Ego's loss to Washington under the light of the Space Needle on Friday night felt like a fluke. They finished their three-day weekend by throttling Stanford Bloodthirsty in the second half of the final, taking the game 15-10.
Though injuries at the end of Oregon's bench kept the rotation around 17 players, according to coach Jay Janin, each and every one of them won matchups Sunday. Ego jumped out to a 2-0 lead against Stanford, kicked off with a hold scored by Xander Cuizon Tice and a bookends break score from Leandro Marx on the very next point. They never relinquished the lead.
Even at Stanford's best, with Gabe Hernandez pressuring resets and Drew Matheison doing his best Will Lohre impression to chase down hucks for goals, Bloodthirsty was outmatched. At 3-3, they put the pressure on Oregon captain Colton Clark, standing near his own brick mark in the center of the field. With the count somewhere between seven and 10, Clark unleashed a 70-plus yard flick bomb that aired out past the sideline and looked like it was headed for no one and never coming back. Instead, the disc flipped to an outside-in edge and tailed back in bounds; Lohre hit the jets and ran away with a hold to keep the lead intact.
Some of Oregon's best moments this weekend—and all season—have come from their defensive improvements. The team has talked about focusing on defensive pressure in 2018, and Janin admitted that they've expanded their scheming to include more force middle, junk, and zone looks to keep opponents guessing. The vaunted O-line, so often a focal point of the team, has played second fiddle while Marx, Adam Rees, Colby Chuck, Braedon Petrus, and Duncan Fitzgerald have made plays.
But here was Lohre, bringing Oregon's impressive offensive talent back into focus, reminding Stanford (and the Division) that when Ego's playing at top speed, they're extremely difficult to stop.
"The O-line, when they're on, are really, really good. And we need to make sure they're not overconfident, but they're really good," said Janin.
2018 has felt like a reversal in ethos from the last two or three seasons. Overconfidence has been a consistent quality for the offense, while the team has struggled to generate defensive pressure. Thanks in large part to the efforts of the D-line group mentioned above (with occasional help from Lohre and Cuizon Tice), this season's felt like the opposite. In fact, the team's played fairly vanilla open-side offense so far this season. Lohre's impressive rundown was likely the only play of its kind for Ego during bracket play.
In spite of the results—wins over Colorado and Colorado State to go along with a pair against Stanford—Janin felt the weekend was a somewhat sloppy effort from the team.
"[It was a] combination of good choices and just poor execution and then sometimes just some poor choices. When we run our system I think we do a lot better. We've avoided poor execution most of the year and today we had some open, easy throws and people just missed them. I don't know if that's from being tired or stressed or what, but we missed some easy throws," said Janin.
Ego could've fooled us.
In spite of the loss to Washington—and spotting a pair of breaks to Colorado in the beginning of the semifinal—Oregon looked in control. The defense got a boost from the return of sophomore Noah Coolman. Clark played downfield against Mamabird and let Ted Sither and Noah Stuart run the backfield. Rees, Lohre, and Cuizon Tice played wherever they were needed.
Now, the team heads off for Spring Break—a 10-day respite from practice and the demands of the regular season. They'll hope to have all 24 players healthy by the time Conferences in Corvallis arrives in mid-April. They'll take vacation still the best team on the West Coast.
Stanford Stakes Out A Bid
Stanford put together the kind of complete performance they needed to push the themselves into the bid conversation, going 5-2 on the weekend with their only losses to Oregon. The crown jewel of the weekend was their win in the semifinals over a previously undefeated Washington team, 15-9.
So after a season full of inconsistent results, how did they pull this off?
Gabe Hernandez and Nick Hirning. Both players were healthy for the whole tournament, and Stanford leaned heavily on the two of them to control the disc against Washington. Hernandez never stepped off the field for Stanford, picked up the disc after every turn, and showed off his arsenal of breaks to push the team past a tired Washington team.1
Hirning's array of throws were on full display, stepping around the shorter Washington marks and springing Stanford's offense off the sideline. His around backhands and high-release inside flicks completely ignored whatever defender was marking him and ensured there was no dead side of the field for Stanford.
Sam Kunz provided a third tall handler option for Stanford. He played the safe reset option for Stanford, allowing Hernandez and Hirning to be aggressive with their looks. Knowing they had a safe bailout allowed the team to stay aggressive in their offensive sets. Combined with the downfield cutting skill of Drew Mathieson and Kevin Tien, Stanford rode a tight rotation to a victory over an impressive Washington team and a rematch with Oregon in the final.
"Going out and beating [Washington] with a really high level of defensive intensity and offensive focus for the whole game was great. It was a really consistent game from us," said coach Ryan Thompson after the game. A combination of tight matchup defense and a new zone look threw off the Washington handler rhythm.
Instead of trying to beat Stanford's defenders downfield, Washington resorted to a lot of over-the-top swings and scoobers. Hernandez racked up blocks in these sets and, in the first game of the day on Sunday, had plenty of energy to punish Washington on break chances.
Overall, Stanford has a tough-to-match top rotation. Hernandez is the engine that makes the team go, and with Hirning, Kunz, Mathieson, and Tien all healthy, this top line can really put the pressure teams who lack the combination of size and quickness to pressure their break throws. In a game to go situation, if this team is fired up and healthy, it's tough to pick against them.
The downside to leaning on a tight rotation is that they run out of gas late in the day at a tournament. We saw this on Saturday, when a fiery UBC Thunderbirds squad, led by Hugh Knapp, took half on Stanford 7-5.
Heroics from Hernandez and Hirning helped Stanford run off four straight breaks to keep Stanford's winning streak going, but that left the team too tired to put up a fight against Oregon in the next game. With enough rest, this team can beat anyone, but at the end of a tournament, it's hard to say whether Stanford can push through the wall and find that third or fourth wind.
That's all for the future, though. Right now, Stanford has jumped up into bid territory, and the Southwest sits with two bids. If Cal Poly-SLO has a strong finish to the season at Easterns, Stanford should feel confident that they can make a splash at Nationals.
For Stanford, the path to improvement is clearer. "[The players] know now. They know where our strengths are and where our weaknesses are. I think it inspires people to throw, lift, run, outside of practice and then bring higher intensity to practice," said Thompson. If they can ramp up over the next month, even if the Southwest has only one bid, Stanford is in the driver's seat.
Despite Stanford Loss, Washington Still #2
Washington came into Sunday's games undefeated on the weekend, riding high after big wins over Oregon on Friday and Colorado on Saturday. Sunday, however, was a different beast.
After a lopsided 15-9 loss to Stanford in semifinals, coach Mark Burton summed up his team's performance.
"Tired legs. I think the whole typical hangover thing," he said. Hard to argue with that assessment.
"Stanford came out hard, and when I called the first timeout, they wanted it more than we did. We showed glimpses, but couldn't get any breaks, and I think we were playing a bit selfish. The scoobers over the top, trying to make things happen with our throws and not our legs, that stuff," said Burton.
It was a stark contrast to the win over Oregon on Friday. Against Oregon, Washington worked their deep game to perfection. Looking to huck early and often to Jakob Steen and Reed Hendrickson, Washington's array of throwers attacked the deep space and kept Oregon reacting. That deep game was notably absent a day and a half later. The team was too content to play small ball and not stretch the field against the tight Stanford rotation.
The defensive pressure Washington brought against Oregon's handlers was still present, but that pressure did not translate into blocks or turns. Oregon needed to throw through marks to relieve the pressure and allowed Washington to focus on defending a narrow slice of the field. In contrast, Stanford used their around throws and the entire width of the field to stretch the Washington defense.
Burton was untroubled by the team's struggles against the Stanford zone. He was confident that his handlers would make the necessary adjustments to break the next zone they come across, whether it be from Stanford, USC, or anyone else. One thing they can do is to move the disc more quickly off the sideline. Too often, the Stanford zone was able to trap Washington on one sideline, without any release valves across or behind the thrower. Moving the disc quickly and not allowing the cup to set up would go a long way to alleviating any potential issues.
Washington's cutters need to be willing to stretch deep, even if they get looked off. Washington ran into trouble when every player was within 20 yards of the disc, making narrow windows even tighter. As long as Washington uses their depth and legs to wear down an opposing zone, they will be in good shape.
All that said, Washington still looked like the 1B team at the Northwest Challenge. They beat Colorado twice on the weekend to go along with the Oregon win, and rarely found themselves trailing in a game. They proved they could hang with a speedy Oregon team despite hitting a perfect storm of factors against Stanford. They should still be considered a semifinals threat at Nationals.
Burton was confident that his team would recover. "Games like this happen, and I'm happy that it happened now rather than later on," he said. "Now's the time we turn the page and move forward, and this is a game that I hope they do remember, that we can get knocked down. We'll bounce back."
State Of The South Central
Headed into the weekend, rankings and reporters had Colorado State Hibida pegged as the South Central's best team and Colorado Mamabird skidding. By weekend's end, those roles were much, much murkier.
Both competitors finished 3-3 on the weekend.2 Hibida went 1-3 on Saturday. Mamabird went 3-1. Neither team could handle Oregon. Hibida needed to rethink their offensive and defensive assignments. Mamabird had a bunch of key contributors back on the field. Saturday's results landed Colorado in the semifinals, and State in the bottom bracket playing for ninth place.
After two tournaments lacking offensive spark, Alex Tatum and Isaac Chestler were back in the Mamabird lineup. What a difference they made. Chestler understands playing as a lefty in this division and broke the mark well, while Tatum got assists and goals as needed. Rookie Sam Hammar got involved. Jack Ziemer and Mathieu Agee played their big men roles well. Erik Hotaling stuck like glue to his marks and couldn't be touched in the backfield.
"Definitely happy with how the team looked," said Hotaling. "We had a rough two weeks of practice before this, a lot of guys sick, a lot of guys injured, and some guys not here because they are sick or injured. Definitely really happy with it. We've been working on some stuff in practice, some reset stuff especially, and I think it definitely translated."
Mamabird was right there in contention in both first halves against Oregon and Washington on Sunday. In the second half, the seams in the offense and defense showed just enough for the Northwest favorites to rip out a few breaks.
"Felt our first half against Oregon was great, our first half against Washington was really good, so we just need to get everyone back, fine tune, and close out some of these games," said Hotaling.
The results might've been just enough to keep Colorado in contention for a second bid in the South Central, and they were more than sufficient to merit some reconsideration of the South Central's likely champions.
Meanwhile, Colorado State got caught looking two games ahead to Oregon during Saturday play. After beating Southern California convincingly to start the weekend, they fell out of sync and got out-run by BYU's athletes and outsmarted by Cal.
"Saturday, we just had a very poor mental performance. I think a lot of the guys, myself included, circled that Oregon game on the schedule, not giving any of the other teams their due," said coach Tim Kefalas.
With the shock of two losses still settling in, Hibida brought Cody Spicer over to the offense and hung around with Oregon but still left the field in Burlington on Saturday feeling out of sorts.
Spicer stayed on offense for Sunday. Kefalas took over the offense, swapping roles with co-coach Peter Raines who turned the ninth place bracket into a playground for Hibida's zones. Jake Servaty, usually an O-line stalwart, helped out on defense.
The changes paid off. Hibida rebounded Sunday with a 15-13 win over a feisty Oregon State team and avenged their four-point loss to Cal from Saturday with a seven-point win.
With the posteason now coming into focus, Hibida's gotten caught twice looking ahead to the bigger names on their schedule.3 Kefalas thought that this weekend was shock to the system, but that the team is still full of Nationals-worthy talent. Perhaps by the end of the 2018 season, Northwest Challenge will read more like a lesson-learned than a major indicator.
For now, Colorado State will sit shakily inside the bid cutoff, with Colorado one place beyond. But with Easterns less than a week away, the bid allotment is far from settled. What we know after Northwest Challenge is that the battle for South Central dominance should be tighter than expected.
Quick Hits: Bid Implications Edition
Speaking of bids, let's take a look at the stakes after a interesting weekend.
Stanford moves into bid-earning range after making the final this weekend, but a second ticket out of the Southwest isn't guaranteed. With regional rivals Cal Poly-SLO headed to Easterns, a shakeup is very much a possibility. Bloodthirsty has a good chance at staying put, but a bad weekend from SLO could send the bid elsewhere. Speaking of the Southwest, Southern California and California did their best, but it wasn't enough to secure a bid.
Colorado State takes a hit after their .500 weekend, but they should stay safe as the top-ranked South Central team.
Colorado stays right on the bubble, with their score tied to BYU. Many BYU opponents are in action next weekend, which could float CHI and tank Mamabird.
After a so-so weekend, Western Washington's hopes for earning another bid for the Northwest are dashed. They'll have to hope that BYU's results improve after Easterns and Huck Finn, or just plan on upsetting Oregon or Washington.
---
He played every point of Sunday's games. ↩

Colorado finished fourth, State finished ninth. ↩

They also took a loss to LSU at Centex earlier this month, with their eyes on Minnesota. ↩