Nine bids to the D-III College Championships are on the line!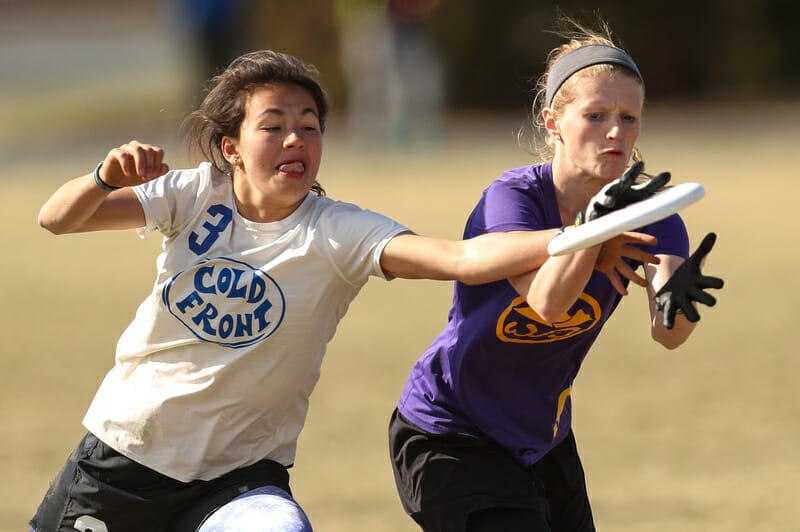 Ultiworld's 2018 Women's college coverage is presented by VC Ultimate; all opinions are those of the author. Please support the brands that make Ultiworld possible and shop at VC Ultimate!
A few invitations to the D-III College Championships have already been handed out, but the nine remaining women's spots are up for grabs in what should be another exciting Regionals weekend. The math—sixteen Top 25 teams, plus some others champing at the bit—fighting for those coveted bids just adds up to drama. Here's who will be in action this weekend and how they stack up.
North Central (1 Bid)
Score Reporter
Location: Northfield, MN
Top 25 Teams: 3
Weather: High 50's to Mid 60's; mix of clouds and sun; winds up to 15 MPH on Sunday
Note: North Central Regionals was postponed (again) to this weekend. Below is a reprinting of last weekend's preview, with some updated information.
After the incredible amount of snow dropped this spring, the teams of the North Central are looking forward towards more enjoyable ultimate weather. For the game play itself, the weekend will be absolutely brutal–one bid for a region with three top 25 teams, including the reigning two-time National Champions, and a team sporting one of the best players in the division.
While split up in pool play, the match to watch will be when (not if) #14 Carleton Eclipse and #15 St. Olaf Vortex meet in bracket play. Carleton has had an uneven season, looking less polished by this time of the season than seen in the past and still missing their class of 2017 roster losses. St. Olaf ended the regular season ranked higher but relies heavily on the immense handling and defensive skill of U24 National Team member and Brute Squad player Tulsa Douglas, who's pre-Nationals injury last year hampered the team in the final tournament of the year. With a healthy Douglas, Vortex is ready to shut Eclipse out from even defending their National Title, and the result will depend on how deep each team can dig on Sunday on their way to and through the one game that matters.
Beyond the top two teams in the region, there are other squads prepping for a weekend where fates can change with just one win, if they're the ones to make it so. St. Benedict Rapture, Luther Freya, and Drake Ibex are all in that conversation.1
St. Benedict went 6-1, including wins over Luther and Grinnell at their only non-cancelled tournament of the season back in March. If they've continued to grow the strengths of their deep bench, then they could put a up a serious surprise against other North Central programs. Luther Freya, who previously attended Nationals in 2016, has had a more mixed bag with the aforementioned loss to St. Benedict and facing off against weak programs. While they played more games than Rapture, they're a larger unknown in terms of how successful they might be against their intra-region competition.
Rounding out the tournament are Winona State Bad Monaz, Macalester Pursesnatchers, and Carleton Nova. Only Winona State logged sanctioned games during the regular season; all other teams either suffered from the cancellations caused by weather this year or did not participate in regular season events. Winona had a decent showing against the Southeast teams at T-Town Throwdown and may be primed for an upset of the more established North Central squads. The other two are unknowns, which will help make the tournament that much more interesting to watch for over the weekend.
Ohio Valley (2 Bids)
Score Reporter
Location: Allentown, PA
Top 25 Teams: 3
Weather: High 50s to low 60's; rain Saturday
In the Ohio Valley Region, one can say that there's the top tier of #12 Oberlin Preying Manti and #5 Lehigh, and then everyone else. The two teams earned the bids for the region, and crushed the competition at their respective Conferences in the 2018 postseason. In particular, Oberlin had just eight points scored on them over six games last weekend. While situated in the weaker Conference that only sent three teams on to the eight team Regionals, Oberlin's regular season backs up their results with quality wins over other D-III programs and close losses to decent D-I schools. With the handling talents of rookie Zoe Hecht in the backfield, paired with the speed of Helen Samuel on both offense and defense, Oberlin looks to be in good shape to claim a bid to Rockford.
Their largest test will likely come at the anticipated face-off between Oberlin and Lehigh. Gravity similarly put the hurt on the rest of their Conference–they gave up a total of 11 points over 5 games–and defeated Swarthmore in the final with a score of 9-3. With a deep roster stacked with capable upperclassmen like Juliet Chung and the pinpoint assist talent of Madison Cannon, Lehigh is hoping to come up with a win and head into Nationals with a better seeding by taking the whole region.
For the rest of the teams in the Ohio Valley, they'll need to take down Oberlin and Lehigh to make a bid theirs. The most credible threats are Swarthmore Warmothers and Dickinson Jive Turkeys. Swarthmore last attended Nationals in 2013; Dickinson has never made the trip. Dickinson in particular will be interesting to watch–they defeated the Warmothers at an abbreviated Bring the Huckus, and scored the most points on Lehigh of any team in attendance at Pennsylvania Conferences. If they can recreate their regular season success and adjust from their Conference experiences, they will certainly make things harder for Oberlin and Lehigh. Swarthmore has had a much more uneven season, but could still wear teams down with the sheer size of their roster, and the senior standout talents of Emilie Shepherd and Emily Cai.
Outside of the top four, Haverford & Bryn Mawr Sneetches, Cedarville Queen Bee, Ohio Wesleyan Yetis, and Messiah Falcons will have the hardest paths to playing their way into bid contention. Most notably, Haverford attended Nationals just last year, but with their roster losses and injuries, are unlikely to make the trip again without dramatic results from them, as well as Oberlin and Lehigh.
Metro East (2 Bids)
Score Reporter
Location: Oneonta, NY
Top 25 Teams: 4
Weather: High 40s; rain Saturday, sun Sunday
Four teams represent the region on the Power Rankings; only New England has more. With two bids to Nationals and last year's runner-ups in the field, could 2018 be the year of Metro East?
#11 Wesleyan Vicious Circles have represented the region for two years running. A strong second place finish at Conference Championships proves they're still here to fight. With only two losses in the regular season, each by only three points, they're a credible threat. They've had strong wins against other Top 25 teams like #22 SUNY-Geneseo and #16 Skidmore at Bring the Huckus early in the season, as well as #13 Bowdoin at the New England Open. Keep an eye on co-captain Sage Loomis for fakes in every direction, as well as rookies Neve Wallace, Sophie Lesjak, and Ray McCann.
Another team to look out for is relative newcomer #8 RPI Strut, whose strong showing at Conferences gave them the title in a 14-7 win over Wesleyan. They've also proved they can go toe-to-toe with other Nationals-quality teams, playing within a point with Lehigh in two contests this season, splitting that pair of games. Handlers to watch are Makayla Wahaus for her lefty hucks and Nancy Bush; Tamar Austin will also be a threat in any 50-50 match up and Lindsay Zadunayski's hard handler mark.
Eastern Metro East teams Vassar Boxing Nuns and Skidmore Wombats will also be fighting for a Nationals bid. Each team went 2-1 in pool play at Conferences, their losses coming from eventual 1st and 2nd place finishers. Perhaps more rested legs could be exactly what either team needs to make it to and through a game-to-go.
Out of Western Metro East, SUNY-Geneseo Escargot took the Conference title with an 8-5 victory over Hamilton in the final. After a tough season start at Bring the Huckus, Geneseo has since proven they deserve that honor with wins over top-level teams such as Skidmore and Swarthmore. After a one-point loss to Wesleyan in the Regional final last year, they will certainly be out looking to come away with the win this time around.
Hamilton Hot Saucers, SUNY-Oneonta Love$eat, and SUNY-Fredonia will also represent Western NY at Regionals. In direct contest, each team has wins over the other; in pool play at Conferences, Hamilton won against Oneonta (10-9), who then won against Fredonia (11-4), who then won against Hamilton (11-9).
The largest question on the field is how the Western teams will play against their Eastern rivals. SUNY-Fredonia and Hamilton played no Eastern Metro East teams in the regular season. SUNY-Oneonta has played RPI and Skidmore, losing to both, and SUNY-Geneseo has a loss to Wesleyan, and a one point win over Skidmore. Current standings favor the Eastern teams to take the Nationals bids, but anything could happen.The region has a lot to prove this weekend, but they've proven capable of living up to the pressure.
New England (4 Bids)
Score Reporter
Location: Williamstown, MA
Top 25 Teams: 6
Weather: High 40s to low 60s; Saturday PM rain
In our season preview, we tagged New England as a possible #powerprovince, and they rightly earned that title. The strength of the region in the 2018 regular season resulted in New England maxing out their possible bid allocation with a whopping 4 out of 16 possible bids to Nationals. This weekend, eight teams will take to the field, with half of the teams going on to Rockford, and half heading home empty handed.
At the top, leading the New England squads, are #1 Bates Cold Front and #2 Williams La WUFA. Both teams have deep rosters and standout stars in Josie Gillett and Haley Lescinsky, respectively, and came out on top of each Conference. La WUFA will be not only looking to clinch a bid, but avenge their 8-7 loss to Bates at New England Open and get back on top with the offensive help from seniors Caroline Weinberg and Mia Wang. It'll be a tall order against Bates and Olivia Gomez playing disc-eating defense; regardless of the outcome, any match between these two teams will be a thrilling one to watch.
The middle of the pack is likely where things could get interesting for the other two bids. While #4 Mount Holyoke Daisy Chain and #7 Amherst Sparkle Motion earned the bids, when Nationals is on the line, exciting things can happen. In 2017, we saw an example of that when Amherst lost 10-8 to Bates in the final game to go; the specter of that loss may just fire up the returning ladies of Sparkle Motion when it matters most. Watch for Charissa Doerr and Kyra Wortley and the rest of the Sparkle Motion roster as they play to keep their bid.
As Sparkle Motion fights to keep the past from repeating, Daisy Chain will be also be hoping to create a brighter future. So far this season they've beaten Amherst (12-7 at Conferences) but lost to Williams (12-6 at Conferences). Enough to keep their bid if they can repeat at Regionals, but Katrina Meserve and Abby Cough will be looking to generate turns and bring in more scores and wins this time around.
Just on the outside and looking to take those bids are the ladies from Brandeis Banshee and #13 Bowdoin Chaos Theory. Bowdoin had a strong year in 2017, ending second and snagging an unexpected bid. They'll look to captains Rachel Musante and Sabina Hartnett, as well as a deep upperclassmen group, to make it two for two and continue the streak of upsets in their wake. Brandeis will similarly look to show off to their New England peers–most of their games have actually come against out of region teams, which makes then a bit more of a dark horse in the context of such a strongly inter-connected region. This will be Tahlia Quartin's chance to grow her stock as a cutter-turned-handler, and for Grace Barredo to layout all over the hopes of other teams at the tournament.
Last, but certainly not least, in the region are #20 Middlebury Lady Pranksters and Smith Luna Disc. Middlebury has suffered considerable losses to Williams and Amherst, but been within two points of Bowdoin. If they bring their A game, they could shake things up in pool play against Brandeis and Mount Holyoke. Smith has had some success against weaker teams like Elon and Colby, but in head-to-head matchups with the other teams at Regionals, by at least five points.
Additional reporting provided by Amy Schumacher.
---
#19 Grinnell Grinnellen Degenerates were also expected to attend, but have since been removed from Score Reporter. ↩