Some games went down to the wire with Sunday bracket hopes on the line!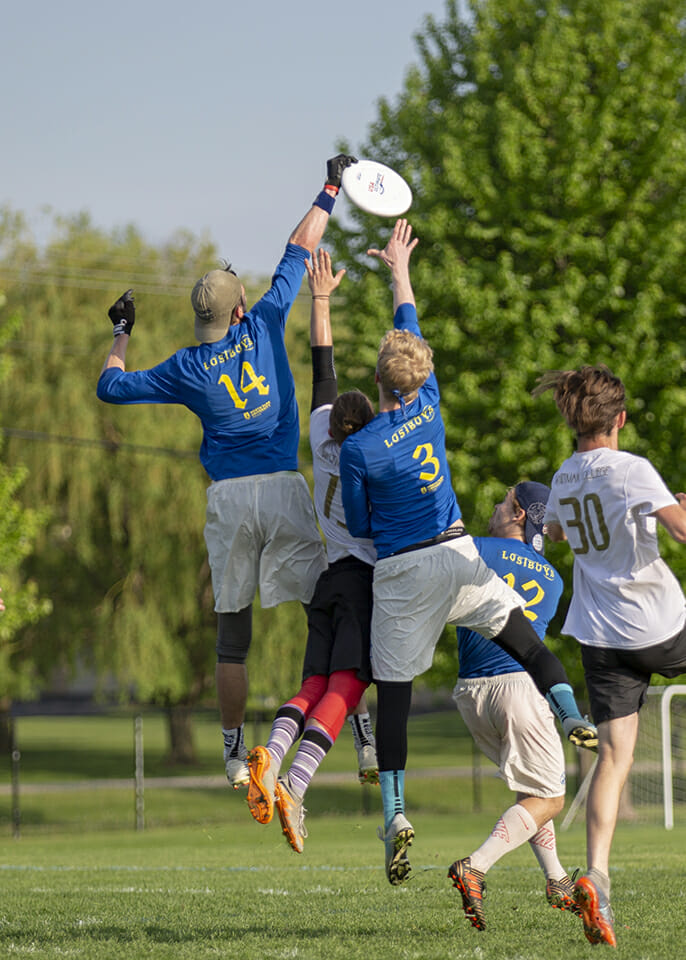 Coverage of the Men's Division of the 2018 D-III College Championships is presented by Spin Ultimate as part of their season-long support of our coverage. All opinions are those of the authors. Please support the brands that make Ultiworld possible and shop at Spin Ultimate!
Eight teams entered elimination play in the Men's Division, knowing only half of them would return Sunday still in championship contention. With seasons on the line, teams were forced to step up or be sent packing.
Bowdoin Offense Rolls In 14-12 Win Over John Brown
Bowdoin continued to shine in their prequarters matchup with John Brown, taking a 14-12 victory to move on to the quarterfinals. Bowdoin started off the game with a quick jump, taking a 3-1 lead. John Brown fought back to tie the game up at 4-4. Grant Bruner led the way, working the disc past the Bowdoin defense with a variety of throws. Overall, John Brown showed great disc skills, moving the disc.
Neither defense was able to gain ground throughout the game, as it continued back and forth. Bowdoin's Max Vogel, Conor Belfield, and Phil Galonsky kept the disc alive for their offense. Vogel is a crafty thrower, who seems to always make the right decision with the disc. Belfield used a variety of skills, both in the backfield and in the downfield spaces, to get open consistently. For Galonsky, he used speed and shifty hips to consistently get open upline.
"We've got a lot of great legs," said coach Michael Pistrang. "These guys can run forever. We worked hard against Air Force and we made it pretty close, and that just gave us the confidence to play for the rest of the day."
After the tie at 4-4, Bowdoin took two quick scores and a 6-4 lead that they never really looked back from. Bowdoin took an 8-6 lead into halftime, and a hold by their offense out of half made it 9-6. Although John Brown consistently scored on offense, they could not do much to slow down their opposition.
A small run struck fear into Bowdoin, as Ironfist was able to narrow the game to just one, at 11-10. Ultimately, the run was not enough, and Bowdoin pulled away to take the game, and the trip to the quarterfinals.
For John Brown, today was an impressive showing, playing with just nine players. The heat and sun played a factor in wearing them down throughout the second half of the day, but they managed to save legs and energy with a zone defense that disrupted teams. With such few legs, though, it was hard to keep up with a team as deep as Bowdoin proved to be.
"Our rookies and the bottom of our team are stronger than I've ever seen," Pistrang said. "I've been coaching these guys for four years, and the bottom half of our team is really really good; way better than these seniors were three years ago."
With the win in prequarters, Bowdoin will advance to the quarterfinals, where they will face off with Bryant. They've played within one of Bryant this year, and are excited for the opportunity to play them again.
"It's too bad that our region is meeting up so soon in the tournament," said Pistrang. "We'd really like to see the three teams from our region go further. I honestly believe that our region deserves five teams here, based on the quality of play at Regionals."
-Zakk Mabrey
Mary Washington Finds Rhythm in Rout of Oberlin
Whatever jitters Mary Washington's offense showed in pool play vanished in their prequarterfinal 15-8 win over Oberlin. The lower seed struggled to find legs as Zach Norrbom found his form on the Mother of George O-line, unleashing a full arsenal of hucks and snappy inside breaks. He tried to project as much energy as possible onto his team as Mary Washington's D-line shut the door on Oberlin almost as soon as the game began.
"I don't think teams were ready for the athleticism on our D-line. If our game plan starts working we ride a mental high. That's how things played out for us today," said Norrbom.
Mary Washington's Cameron Bierkan was very successful reeling in shots downfield and notched a huge layout catch for half.
The victory over Oberlin is a good boost for a Mary Washington team that has a tall order ahead in quarterfinals. During pool play and in the prequarters their matchup defense kept them ahead of every team except Carleton. Against the top teams on Sunday, MOG's offense will need to hit a different gear if they hope to advance further than their team has ever gone. Even with that said, to be competing on Sunday at Nationals is in itself a tremendous accomplishment for a team that barely existed five seasons ago.
"We've never been this far in this tournament. It's huge to be competing on Sunday," said Norrbom. Middlebury is the heavy favorite Sunday morning, but the underdog role is one that Mary Washington is far more familiar with.
-Hugo Sowder
Georgia College Makes Late Run to Beat Occidental
In a back and forth game where neither team lead by more than two points, Georgia College landed the final punch, riding a 3-0 run to close out the game and beat Occidental 14-12 to claim their spot in the quarterfinals. Adam Grammer had a terrific performance for Detox, tallying 6 assists and 1 goal, but it wasn't enough to overcome Nathan Vickroy and the top end talent on Disconnected.
The game started with both teams feeling each other out, trying to determine who was best for what matchup. Both offenses held until 4-4, and in general the intensity from both defenses was lacking. However, Disco ramped up the intensity on this point. Jacques Perivier ran down Vickroy's pull, disallowing the centering pass and forcing Detox's offense to start from an awkward angle. A high stall throw resulted in a run through block from Vickroy, and two throws later, Perivier found Parker Rhinehart for the game's first break.
The intensity jumped a level after that first break. Three of the next five points had multiple turnovers, and Georgia College managed another break to take half 8-6. However, the sidelines during halftime did not reflect the score. Georgia College's small roster sat for all ten minutes, hydrating, stretching, and trying to muster energy for the remaining half. Occidental, on the other hand, were vibrant and energetic, and it was evident that they were ready to make a run of their own.
Detox's Max Marion got a run through block on the second throw of the half, and before you knew it, Occidental was throwing a hammer for a break. At 8-7, Georgia College tried to set up a huck play for Vickroy, but Perivier's throw went out of bounds, and Occidental threw a hammer for another break that tied things up. At that point, Vickroy noticeably ratched up his own energy level and intensity, asserting himself and commanding the disc all over the field.
"At halftime, I was like, 'I'm feeling it,'" said Vickroy. "I have the best throws on the team; for sure I trust my teammates on unders, but if it's a risky throw, I told them 'Don't throw it. Let me get it and I'll throw it. If you're not feeling it, let me throw it, then you can yell at me if I turn it.'"
Matching Vickroy for Occidental was their Donovan nominee Adam Grammer. He displayed masterful control of the disc, completing throws that his teammates wouldn't dream of attempting. On the point to make the score 10-10, Vickroy was guarding Nelson Rayl, Occidental's strongest deep cutter. Grammer got the disc, and Disconnected's star allowed Rayl to beat him by a few steps deep, clearly tempting Grammer to throw the huck. The Occidental handler obliged, and he threw an inch-perfect huck that went just over Vickroy's fingertips for the hold.
"Adam is our MVP by a good margin," said Occidental coach Nathan Warden. "My thought throughout the course of this year has been to let Adam be the man. He's been incredible today."
Occidental broke to go up 11-10, and it felt like that might be the late break that sealed the deal. Georgia College held to tie things up, and soft cap went on as the pull was in the air; in hindsight, that cap horn could just as easily have been Detox's death knell. Occidental made unforced errors on the next two points, including turfing a centering pass, and Vickroy and Disco punished those mistakes quickly, notching two breaks to take a 13-11 lead. Oxy managed a hold after that, but they couldn't stop Georgia College's momentum at that point, and Disconnected won the game with a two-throw hold, setting up a matchup in the quarterfinals against Air Force.
"We're going to go get some pizza, then hit the hot tub and the ice bath," said Vickroy. "Hopefully that'll refresh us so we can give Air Force a run for their money."
"It's my last year. It's Scott, Kade, Dakota, and Alex's last year. We want to go out with a bang."
-Michael Ball
Whitman Survives Roaring Comeback From North Park
At halftime of the Whitman-North Park prequarter, the sidelines were subdued. A large North Park fan contingent didn't have much to cheer for: their boys were down 8-3. Whitman had dominated from the start.
North Park, receiving to start the second half, had just given up back-to-back breaks going into halftime. But Drew Swanson, who had all three of his team's goals in the first half, fired a deep backhand to Eric Lundgren for a quick hold. An auspicious start.
It was quickly apparent that Whitman had relaxed a bit too much during the halftime break. They coughed up the disc against a zone look from North Park, and Bradley Johnson was a steady hand in the backfield to set up a quick break for the Lost Boys. After Whitman turfed a swing, Johnson dropped in a hammer to bring the game back within two at 8-6.
Whitman righted the ship with a hold — but only briefly. North Park got an easy hold before Swanson got a block and then a bookends goal against double coverage. It was one of his eight goals in the game. He also had two assists.
"As a freshman [at my first trip to D-III Nationals], I didn't make a huge impact," said Swanson. "But after three years, this being my second year as a captain, I'm just coming in as one of the players on my team. They rely on me to make some plays."
With Whitman looking shaken — they had two uncontested drops on unders, amongst other poor mistakes — North Park made it a second 3-0 run with another break on the ensuing point to tie the game up at 9-9.
Whitman desperately needed not just a hold but for somebody to make a play. Despite multiple turnovers on the next point, Whitman got their answer: Robbie Farwell, a 2016 World Juniors Team USA selection. Farwell launched an almost full-field backhand huck to Christoph Suhr for a score to go back in front, 10-9.
Swanson wasted no time tallying another goal to tie it back up.
North Park again had break chances. They had two throws into the endzone — but Swanson whiffed on one and Whitman got multiple players under the other to break up the pass.
Farwell time.
From almost the same spot of his previous assist, he launched another backhand, this time to Alex Brettmann.
Brettmann, though, was a couple steps slower than Suhr, and it looked like the disc was headed for the grass in the back of the endzone. But he never gave up on the play, chased it down, laid out, and made a catch maybe two inches off the ground to haul in the score.
"Both Brettmann and Christoph have been — in the past month — perfecting their jab step under and go deep, 'cause they know I like to throw it," said Farwell. "So I'm rewarding good footwork."
North Park again had a quick offensive point: Scott Nitchie fed the Swanson beast for his eighth and final goal to force double game point, 11-11.
Surprisingly, the game's final point was perhaps its least interesting, despite the stakes. Whitman flowed quickly past midfield, where freshman Sam Huston pump-faked a forehand. His mark dove towards the open side, biting on the fake, and Huston calmly threw an unmarked inside forehand to Farwell on the break side. Game. 12-11.
"If you buy into the nerves, you lose your mental game," said Farwell, discussing his emotions during North Park's comeback. "There was never a point today when I felt out of control, and I expressed that to my teammates pretty clearly."
That calm demeanor from the leadership — including from Alex Wells, former Washington Sundodgers coach who joined up with Whitman after Regionals1 — perhaps made the difference in the game's final moments.
North Park parents were quick to tell their players, and rightfully so, that it was a great comeback and that Whitman would remember them. Certainly the Whitman coaching staff hopes so. Wells spoke in the huddle after the game about how the team could draw on their experience in this game to steady themselves in the future.
Whitman will play Carleton GOP in the quarterfinals. The game will be filmed by Ultiworld and made available to Full and Plus Subscribers next week.
-Charlie Eisenhood
---
Wells was formerly a coach of Farwell at the youth level ↩