Standout performances from some of the nation's best teams.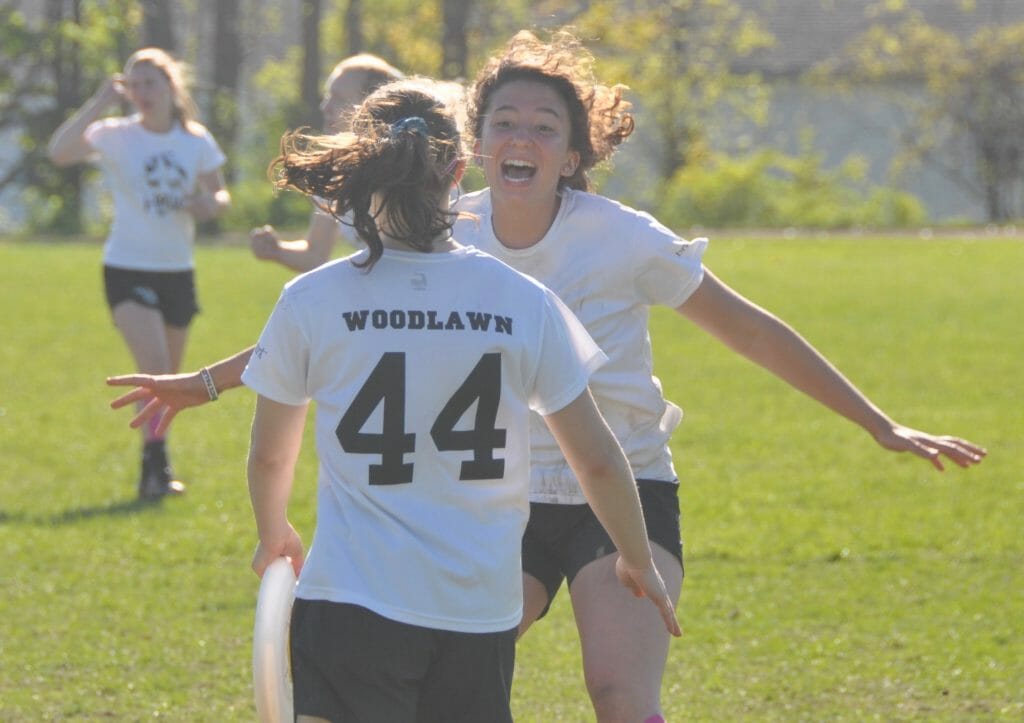 This recap was written by Josh Seamon. Ultiworld's coverage of the Amherst Invite is presented by the National Ultimate Training Camp! All opinions are those of the author. Support the brands that make Ultiworld possible and participate in NUTC.
Sheer Pandemonium
While the tournament's #1 seed in the Girls' Division, HB Woodlawn Pandemonium, marched to a couple easy pool play victories, the rest of their journey to the title was not so easy. In a tournament that has been completely dominated for years by the Amherst Hurricanes, four teams rose to the top that had a real shot at taking home the girls division title: #9 HBW, #10 Four Rivers, #14 Amherst, and #20 Lexington.
In the first semifinal matchup, a strong, tall, and athletic Lexington team, anchored by Team USA's Tess Johnson, used every inch of the field to grind out goals against a fast and sharp HB Woodlawn. With HB's biggest star, Ella Juengst, out due to injury, the rest of the team stepped up to fill in the gap. Senior captain Maya Nir was notably a calming presence on the O-line.
Lexington's practiced handler core of Mira Anderberg, Caroline Tessy, and Johnson put up a valiant effort, dropping careful throws into thoughtfully chosen spaces in the HB zone, but it wasn't quite enough. HB took control in the latter part of the second half, snapping off four breaks to win 12-7.
The other semifinal featured a grudge match between local rivals Four Rivers and Amherst. Propelled by senior powerhouse Leija Helling and supporting stars like Rachel Oram-Brown, Amherst leaned its clinical play style into Four Rivers' freewheeling, confident, and super quick attack. The teams traded points to 6-6 before Four Rivers took advantage of a perfectly timed downfield cut to take half 7-6.
Combined with a couple short field possessions, and incredible grabs in traffic, Four Rivers continued their charge, going up 10-7. As time wound down towards hard cap, Amherst's Helling hit Stella Wenczel to close the gap to 11-9, and Amherst regained possession with a few minutes left. A long throw was not converted by Amherst and just after hard cap was reached Four Rivers punched in their last goal to win 12-9.
Four River's undefeated season and flexible play style started off strong against HB in the finals but lost steam right before half as HB's patient and controlled game led them to a 9-5 lead. Four Rivers would not be denied, and they rattled off four consecutive breaks to tie up the game at 9s. Several long points ensued, but points were traded all the way to 11-11, when HB tied the game back up with a knifing forehand to a wide open receiver.
With the hard cap coming into play on the next point, HB's senior captain and Team USA selection Caroline Tornquist connected on a 40 yard backhand to a pressured Kirsten Knisely to win the game 12-11.
Here's the winning goal:
Amherst Invite 2018 | HB Woodlawn Game Winner
Hurricanes Reign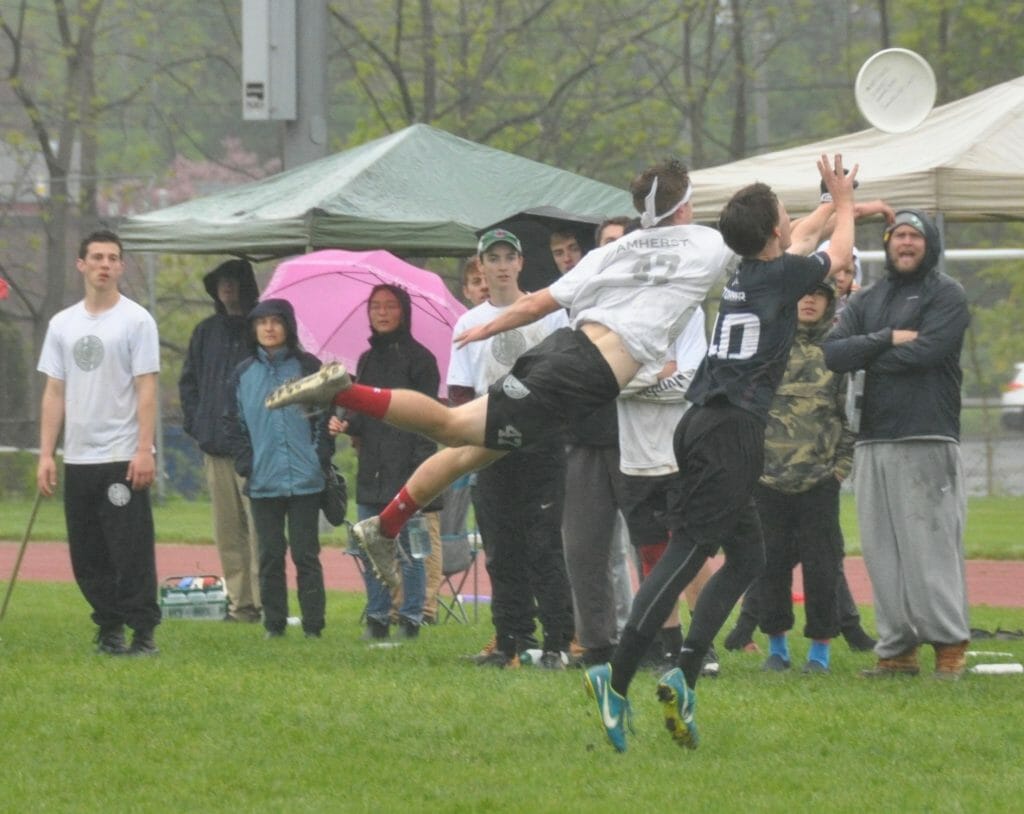 Shortly after the semifinal round ended at the 27th annual Amherst Invitational, two parents of Amherst players turned to me and asked, "How do the coaches remain so calm?" While the Amherst boys had remained in control for most of their game against HB Woodlawn, the game had been close throughout.
Joe Costello and Leila Tunnell, the coaches of the Amherst Varsity boys are notoriously relaxed on the sideline. While Tunnell frequently walks with the boys back to the line with hands raised, a smile running widely across her face, neither coach ever seems to show any signs of pressure.
"Oh, they definitely aren't calm," I remember saying to the parents. "They are just very, very good at channeling those emotions into positive action."
The same could certainly be said of their players.
In their quarterfinal match up against local rival Northampton, the 'Canes traded points to 6-6. Northampton's zone was working, slowing down the Amherst offense. Northampton's O line was also particularly impressive, connecting on deep shots, with several notable layout catches in traffic against the large and athletic Amherst backfield.
The pressure was building on Amherst… who responded by taking half, continuing their attack of careful short throw zone O, and winning 13-7.
Even though Amherst started their semifinal against HB Woodlawn with a break, HB answered with two of their own to go up 3-1. Soon after, HB snagged an impressive Callahan to go up 5-3 and eventually take half 7-6 off of a gorgeous IO flick. The pressure was building on the 'Canes…who responded with precise handler motion, impressive endzone-line toeing, and 50+ throw possessions to win 11-9.
On the other side of the bracket, Pennsbury cruised into the finals with a dominating 13-3 win over Yorktown. They didn't lose any momentum, quickly going up 2-0 on Amherst. Amherst took advantage of a few clever scoobers and a Pennsbury turf to tie the game at 2-2, which opened a sequence of trading holds to 6-6 before Pennsbury took half 8-6 with very smooth force side offense.
Pennsbury came out with matchup defense in the second half, forcing a mid-field drop and quickly converting to go up 9-6. The pressure was building on Amherst, who responded by grinding out three unanswered goals to tie things up at nine off of the grit and determination of senior captain and Team USA selection Caleb Seamon.1
Pennsbury's cutters reasserted themselves to get back in front at 12-10, before Amherst punched back with a 3-0 run to get back in front, 13-12. Pennsbury tied the game at 13 before junior phenom Cole Davis-Brand perfectly placed a 40-yard IO backhand into the waiting hands of Clayton Fosterweber.
Pennsbury was able to work the disc patiently down the field before Amherst was able to earn a goal-line D. Amherst's calm O-line then went to work, chewing up yardage on every throw before Amherst junior and Team USA member Orion Cable found a wide open Luca Harwood on a cross-field forehand for the tournament-winning score:
ARHS Amherst Invite Winning Score
With the win, Amherst continues their undefeated 2018 season with wins over multiple top 25 teams, including #7 Paideia, #8 Grady, and #9 Catholic.
The full tournament results can be found on the Amherst Invite website.
---
Disclosure: the author is the brother of Caleb. ↩