The rise of Oregon Ego's former shortstop turned ultimate star.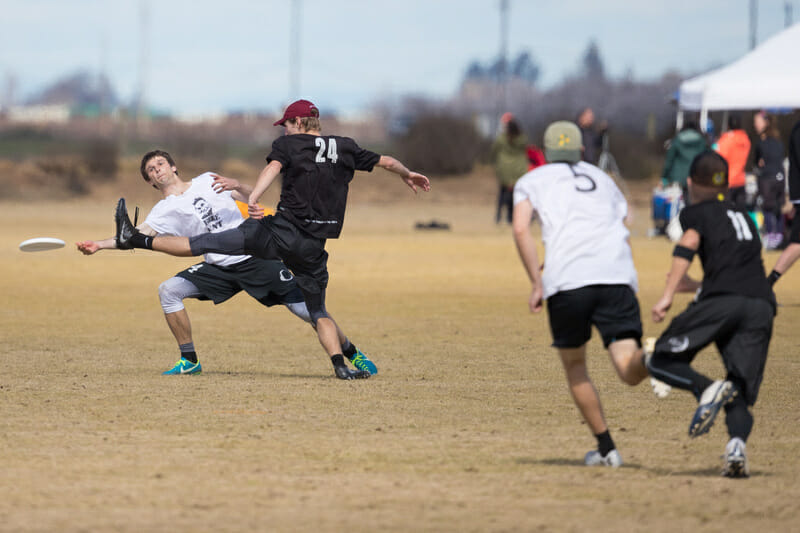 On double game point against UNC Darkside in a semifinal of the 2018 Stanford Invite, Oregon Ego captain Adam Rees threw a turnover on the goal line.
https://gfycat.com/gifs/detail/HeavenlyGrotesqueKrill
Teammate Ted Sither was well-covered on the called play. UNC went back the other way, and Nathan Kwon stabbed an away throw into the endzone for the winning goal. Season-defining upset win denied. Consolation play for Ego.
One game later, as Oregon went home with third place on the weekend, Rees paused for a moment, smiled, and allowed that he might've forced the backhand. He giggled a little. He didn't seem bothered.
The thing is, Adam Rees doesn't really make mistakes.
The three-time Oregon Ego captain, nicknamed Smiley by his Portland Rhino teammates the one season he played in 2015, makes plays. He makes adjustments. He trains his ass off. And he leads by example.
The 2018 D-I College Championships in Milwaukee marks Rees's fifth-straight trip to USA Ultimate's biggest college stage. He returns as Ego's Callahan nominee and with a U24 World Gold Medal from Australia this past January.
Rees's accolades and accomplishments speak for themselves. Which is good, because he's not likely to. He'd rather be training in the gym or hiking with his Australian shepherd, Taz.
"He's got that Kawhi Leonard game," said teammate Tim McGinn after 2017 Northwest Regionals. "He can literally do anything you would ask from a frisbee player on both sides of the disc and he does it better than everyone else, too."
Adam Rees is an initiating cutter who can make the next throw, regardless of shape, distance, and mark. He stands over 6', but not by much. He has a long reach, an athletic frame, and after years of hitting the gym hard following his self-imposed and self-devised training schedule, he has both a deadly first step and turbo top speed. Oregon coach Jay Janin, who's been with the team for almost a decade, said that having Rees is a luxury.
Rees's ascent to the top of college ultimate has, like his demeanor, been remarkably steady. He is not an edge-spiking, sideline-taunting superstar. He leads by example, relishing tiny mistakes as opportunities to make minuscule improvements. Where some top players are chatterboxes, blurting out enthusiastic analysis as they strive to help teammates improve, Rees communicates through body language and demeanor.
Analyze Rees's game—the smooth continuation hucks, second-nature layout blocks, the anticipatory throws to space—and it's his work ethic that stands out. Teammates, friends, and family can't seem to remember a time when he didn't work this hard.
From The Baseball Diamond To The Ultimate Field
Even before ultimate, Rees was a nut for sports. Sarafina Angstadt-Leto, Oregon Fugue veteran and Rees's girlfriend of many years, remembered that Rees was hardly ever free when other children in their homeschool group in Alameda, CA would have birthday parties. More often, he was off at a baseball game. When he was with his friends, Angstadt-Leto remembers him as the fastest kid in the backyard.
"[Sports] was always clearly a big part of his life," said Angstadt-Leto.
Rees started playing baseball at the age of five, following in the footsteps of his older brother. He grew into a shortstop who loved stealing bases. McGinn remembered seeing a poster of Rickey Henderson, often thought of as an all-time MLB base-stealer and leadoff hitter, on Rees's wall in college. Henderson holds the league's single-season record for stolen bases: 130 in 1982.
"I thought [Henderson] was so fun to watch play because he was so good at timing his jump and so fast that even though everyone knew he was going to steal most of the time, it didn't matter. Also he was a little bit of a showman in how he played, which was pretty entertaining," said Rees.
Looking at Rees's straight-line speed on the ultimate field, the transition between sports appears to have been a natural one. In tribute, he plays ultimate wearing the number the Oakland Athletics retired for Henderson, 24. As for the transfer of showmanship, while Henderson's swagger in the MLB was more outspoken, Rees's style shows in the smooth efficiency of his game.
By high school, Rees was a baseball player who could've had college prospects. He had also grown up playing soccer. In both games he applied his focus and zeal for sports, but the slow, tense slog of baseball honed his focus and ability to improve. As a shortstop, Rees learned to analyze how he held and moved his body, zeroing in on minor shifts in weight or glove placement. He also learned how to let mistakes bounce off of him.
"I think that's one of the biggest skills that carried over between the two sports is trying to put it behind you when you messed up and move on to the next play," said Rees.
"The speed of the game, it's very slow and it's a lot of failure in baseball. It's a game of failure, if you're batting .300 or whatever you're doing great and you're only getting on base 30% of the time. It's hard to have fun when it's so slow," he said. He recalled having to forget about missing one ground ball, knowing that if he focused on the mistake, he'd surely make it again innings later when the next hit shot out to his station between second and third base.
Choosing to analyze and applying logical approaches to improvements seems to have been a natural skill. The calculation for Rees was simple: sports are fun, so try hard to be better at them.
The monotony of repetition can send many kids packing. Rees never lacked focus.
"When he was a little kid he would juggle 2,000 times in a row or something, like for soccer. He would set himself challenges," said his mother Anita Rees.
The simplicity is almost alarming, but the approach worked well. As Rees overcame challenges in baseball, he might have caught the eye of scouts.
"We sort of thought maybe he would go to college and play baseball," said Anita Rees. "But between his junior and senior years in high school, he really made a decision that it was going to be ultimate for him."
Angstadt-Leto wasn't shy about her influence on Rees's decision to play ultimate instead. She started playing first, thanks to another friend in their group and she remembered openly evangelizing for ultimate.
The shift started in the park across the street from the Rees family's house in Alameda. Angstadt-Leo said they would throw for hours with friends. And once Rees decided to give ultimate a shot, at age 15, it was clear his dedication elsewhere in sports was going to pay early dividends. "It was irritating that he was pretty good right away," she said.
Rees gave the Bay Area youth club Dark Meat a full season in his junior year of high school, with ultimate eating at the margins of a promising collegiate baseball career. Even as a teenager, he brought a clinical approach to improving. Once he identified a skill to improve, he'd make a plan and improve it.
Angstadt-Leto recalled an example of this, that ended with Rees ruining one particular spot in his family's yard:
"In high school, after that first season of playing where he would mostly cut, catch it, and dump the disc right away, he decided he wanted to be a better thrower. So he bought 15-20 Frisbees off the internet, set up one of those baseball nets…set that up in his backyard, and would throw out there for hours. He wore a big hole in the lawn from pivoting. And you could see it the next season, he was better at throwing. He not only decided to do it, he followed through on a level that's pretty remarkable for this sport still."
Ultimate started to curry more favor for Rees than baseball. Playing with Dark Meat was faster, less predicated on failure. Baseball was no longer fitting his formula for fun.
"At that time, he was being pushed a little bit to move forward with baseball," said Anita Rees. "And he wasn't having as much fun with it. He was good at baseball, but I think he was finding that his skills were better suited in many ways to ultimate."
"Doesn't like peer pressure, that one," said Angstadt-Leto.
Rees admitted that in high school, America's Pasttime lost some of its luster. "It started to feel like work. And if it's not fun, I don't want to play the sport," he said.
Chasing plastic, on the other hand, was really fun. In Rees's senior year, he was fully committed to Dark Meat. "In high school, my senior year I really wanted to win the state championships and I was just like, I guess that got me really into it. I started throwing, lifting, and doing stuff like that a lot more. And then I just kept working on that stuff in the college season, too," he said.
The deed was done. Rees gave up fastballs for forehands.
A Ticket To The Big Show
With Angstadt-Leto headed to Oregon for college, Rees visited the Eugene campus as well and scouted out Ego. "When I was thinking about going to Oregon, I went up there and I visited the school and it was really nice. They let me play at one of their practices and it was pretty interesting to see how big of a difference that was [in comparison to Dark Meat]," he said. The opportunity was an obvious step up. He had a lot of fun at practice.
Sure enough, in the fall of 2013, Rees was at tryouts for Oregon Ego. And while classmates Colton Clark and Braedon Petrus missed the cut (for different reasons) in their first year, Rees made the team. He earned a starting spot on the D-line.
"When he first tried out for Ego though, he was certainly already one of the more like physically-refined players as far as body, soul, and strength. He just kind of knew how to move around the field and it was clear that he had been in the weight room in high school, which was more than most of the college kids would say or like the upperclassmen," said then captain Dylan Freechild.
Freechild saw how comfortable Rees was on the field right away. Through their two seasons on Ego together and Rees's one season playing club with Portland Rhino, Freechild couldn't remember Rees backing down from an assignment. He told a story from 2013 College Nationals, a season before Rees arrived, when Oregon had lost to Pittsburgh En Sabah Nur in a semifinal matchup. The Ego player assigned to guard Tyler Degirolamo later confided in Freechild that he'd wished he'd gotten the assignment earlier than an hour or so before the game.
"That's something that Adam would've never said or thought about," said Freechild. "He would have just been put in that situation and done his little Adam calculation and been like, 'This is how I'm going to do it.' And figured it out, and excelled. And not have been taken aback by the moment or frustrated that he wasn't given enough time—he would've just done it."
The Diligent Growth Of A Captain
Rees got a taste of the D-I men's title game in 2015 in Milwaukee, his sophomore year and his first playing offense for Ego. It was Freechild's last. The team was short on rostered players, but still playing their high-octane offense with a deep-set horizontal stack that had them charging through the bracket past Florida State in semifinals before falling to North Carolina. Rees left Milwaukee at Ultiworld's 2015 Breakout Player Of The Year in the men's division.
That set Rees up for captainship in 2016, with his considerable drive and talent stepping in to absorb the touches given up by Freechild and other Ego graduates. McGinn started to have a voice on the team that year, as did Clark. As leadership shifted, Rees's playing continued to lead the team, although his quiet nature made him an atypical ultimate captain.
"I'm still not very good at speaking to big groups," said Rees. "Even in the huddle I'm not particularly good at figuring out what to say. Most of the time I don't really say much in the huddle."
As Rees took on responsibility, he stayed even-keeled. After taking a few minutes to think, Clark could think of one moment in their four seasons of college play (plus more with Eugene Dark Star) where Rees had gone off the handle.
In the last game of pool play at 2017 Easterns, Oregon was deadlocked with Cal Poly-SLO. On double game point, Ego worked the disc to the red zone and got it to Rees.
"He got handblocked on the goal line and we lost. That was universe, and we were on the goal line, he got handblocked, and I've never seen him more frustrated with himself," said Clark. "He cussed, which…I've never heard him cuss. For like two seconds."
The loss dropped Oregon to the ninth place bracket, starting with a quarterfinal against Harvard. According to Clark, there were no outward signs of frustration from Rees during the game, but he lead the team to a 15-12 win.
Players can externalize the act of using a mistake for motivation. They might be openly hard on themselves and talk about fueling a better performance and not flubbing another pass or blowing another assignment. Rees processes quietly, stays determined, and fixes the error without the theatrics. Adjusting and improving is as natural as breathing.
"Adam is even. I must say, I don't really think that his expression changes a tremendous amount between the most competitive and high-strung situations and even just at practice," said Janin.
King Of The Orange Toss
As hard-working as Rees is known to be, he has had his off-field moments of silliness that have worked their way into Oregon Ego lore. Clark, Janin, McGinn, and Petrus all remember the first occurrence of The Orange Toss, a game the team substituted for pull once at the Presidents' Day Invite in 2016.
With an abundance of citrus on the sidelines courtesy of supportive Ego parents and fans, the team challenged their next opponents to pick a representative to throw an orange as far as possible. Then, an Oregon player would do the same. The team with the farthest toss would pick color and side.
Accounts differ on the exact order of operations and amount of information known at the time. Rees thinks his teammates knew, with his baseball background, that he could overhand throw any ball-shaped object a mile. Petrus said the team had suspected he'd win handily, but had never seen him throw overhand.
A representative from the other team went first and threw his orange admirably, probably about 60-70 yards. Then, Rees grabbed his orange and threw it as far as it could. McGinn described it as the kind of throw that kept "slipping up," gaining altitude and traveling two fields. Petrus said it went at least a field's length and a brick. All accounts agreed that Rees won the toss and that the other team felt duped, but they capitulated nonetheless.
When asked about his Orange Toss, Rees started chortling. "It was a lot of fun to do," he said, smiling ear to ear.
"He comes off as so incredibly calm and quiet in public and he is a huge goofball. Pretty sarcastic. People tend to be surprised when I say that. I'm like, 'No, he's kind of a troll sometimes,'" said Angstadt-Leto.
Since then, Rees has competed in only one other Orange Toss. He said that—years removed from baseball—he wasn't used to throwing overhand anymore and that his elbow hurt for a while after.
Top Billing In His Division
Whether through off-field dedication or on-field supremacy, Rees has slowly grown into the team's best player, if somewhat reluctantly.
Freechild vaguely recalled having a conversation with Rees about embracing leadership at some point during that transition. He wanted Rees to understand that his immense talent would naturally draw other players to him—that people would be eager to play both with and for him.
Especially during the 2018 season, Rees made efforts to start speaking up more. Janin and Petrus noticed that Rees was more likely to lead a drill this season. Rees himself found particular joy in one-on-one moments with his teammates, helping them improve.
Even so, Rees still leads with his play. "He doesn't have to say what he wants. You just kind of know," said Petrus.
Rees isn't one to talk much with new people. He's polite, positive, and his sentences are short. Teammates know Rees as an expressive player on the field—Petrus said it's easy to know what the lengthy cutter wants to throw next. Petrus remembered catching a goal at a club tournament, where the two friends and many other Ego teammates were competing as Eugene Dark Star. Petrus read a play near in the end zone and dashed into the end zone; when he turned around, the throw from Rees hit him bang on.
Clark added more color. When asked how an Ego rookie, with little prior knowledge of college ultimate's talent tiers and best players, might know Rees at a first practice, Clark was quick with his answer.
"You would know him because he would get a handblock on you immediately. He won't let you touch the disc the whole practice," said Clark.
Teammates see one of Rees's greatest on-field strengths as making the players around him better.
"He's glue," said McGinn, who then added a comparison to lauded NBA roleplayer Shane Battier to his description of Rees. The Duke university graduate and two-time NBA Champion made a name for himself as a top-end workhorse, focused on activating his teammates and executing perfectly on his own responsibilities. Battier even authored a piece on the skill for The Players' Tribune in 2016.
"Adam at his heart is a role player who just kills it. And he's able to flip a switch," said McGinn.
As such a player, Rees has endeared his teammates to himself without being a boisterous star or even a generally chatty person. The accurate nickname that his Rhino teammates gave him, Smiley, was discarded. Instead, in a demonstration that his teammates still know how to make him giggle, he's earned a more sarcastic moniker.
"We call him 'The Big Show,'" said Clark, referencing an oversized tank top that Rees bought at Club Championships a few seasons ago and wears during play when the team is out of uniform. The tank top actually says 'Big Show' on it. Clark also said Rees told the team that he just likes the shirt.
However true Big Show-as-nickname is, the ironic label is fitting for Rees. Multiple sources called him quiet. At least one called him "light-spoken". All agreed that he was incredible on the field. To hear Clark explain it, that kind of silliness would never be lost on Rees—but instead of talking the nickname up, he'll keep focusing on being, as his the song in his Callahan Award Nominee video says, better.
Which, coincidentally, will make Rees one of the players to watch at the 2018 D-I College Championships, an Ultiworld Player Of The Year Shortlister. His smooth, near-flawless, even-keeled game will power Oregon on both sides of the disc.
As Ego gears up for their trip to Milwaukee, the fifth-year captain can expect his four-day weekend to be full of playing time. Rees has played on both offense and defense with ease in his career. Janin will deploy him everywhere—he will take top downfield matchups and look to burn those assigned to him. Janin said that when he identifies a player with a similar skillset, it's Rees's job to shut him down.
His dedication to constant and consistent improvement should launch him even further in his ultimate career.
Beyond The Spotlight
After Milwaukee, Rees and Angstadt-Leto plan to be in Eugene this summer. Plans lean toward moving back to the Bay Area. And with the move, another distinct opportunity in men's ultimate appears.
"I just think Adam is NBA-ready, if you will. And I think he always has been. I think he would make any club team, and I think he would be able to be slotted in any position and would have an impact. I've been telling him, 'Dude you would be the classic young dude that [San Francisco] Revolver would pick up and would play 10 points in a semifinal game,'" said Freechild.
Rees doesn't have specific plans for a job hunt this summer. He'll graduate with a major in English and minor in Spanish. He's chosen to play Dark Star with his Ego teammates the last two seasons, instead of a more competitive club.1
For now, ultimate is still fun, which means Rees is still working as hard as he can to be most reliable player on the field for Oregon Ego in Milwaukee.
"I very much want to win. Really, that's been my goal my whole time I've been on Ego. I've wanted to win a national championship," said Rees.
A lot of college players mean it when they say they want to win a championship, but for a player as unassuming off the field as Rees, admitting the ambition adamantly spoke worlds. If Oregon has the disc on double game point in the semifinals this upcoming Memorial Day Weekend, don't expect him to force the throw.
---
Although in 2016, Dark Star nearly went to the game-to-go at Northwest Men's Regionals and somewhat infamously threw the game. ↩