Tulsa Douglas was locked in for the D-III women's final.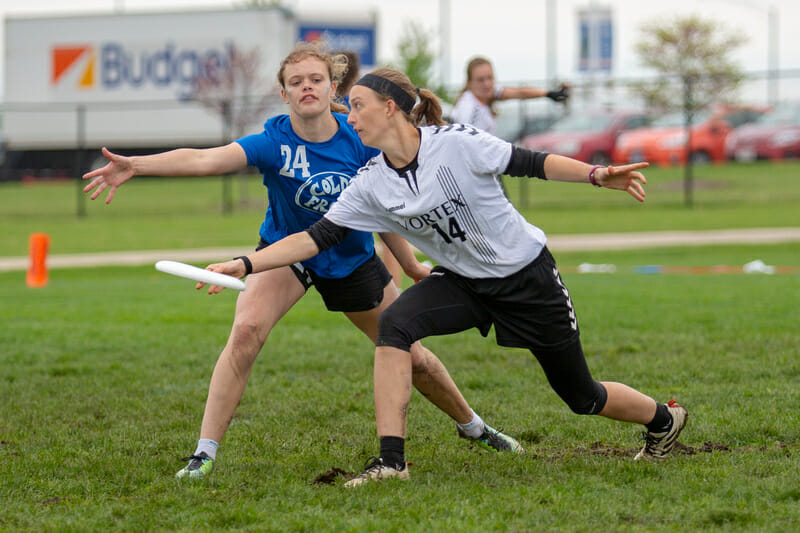 Coverage of the Women's Division of the 2018 D-III College Championships is presented by VC Ultimate as part of their season-long support of our women's coverage. All opinions are those of the authors. Please support the brands that make Ultiworld possible and shop at VC Ultimate!
Teams look to their best players to help carry them through the season's defining moments. In the biggest game of the season, St. Olaf asked Tulsa Douglas to help win the team's first National Championship. She answered. Douglas scored or assisted every single one of St. Olaf's 11 goals in their victory over Bates in the final. The final tally: two goals and nine assists, with Bates doing everything they possibly could to slow her down. It was a tremendous effort from the best player in the division.
What made Douglas' performance so memorable, beyond the sheer, staggering stat line, was how nonplussed she was by the whole thing. Whether she was obliterating her matchup in the handler space to get the disc every other throw, or launching perfect hucks to her cutters downfield, Douglas barely seemed bothered by the moment or the load she was carrying for her team. Her unburdened expression only broke for a few smiles to celebrate her teammates' plays and once St. Olaf had clinched the victory.
Douglas was so in the zone, she said after the game that she wasn't aware that she'd scored or assisted every point. She may not have been aware of the perfect game she was throwing, but her opponents certainly were.
Bates threw the kitchen sink at Douglas trying slow her down. Several different players took a crack at marking Douglas, but for the most part it was a lost cause. Josie Gillett, Bates' best player on the weekend, took her turn to start the second half and Bates immediately got two breaks. Douglas only committed one turnover on those points, but Gillett was able to take options away from Douglas that some of her teammates couldn't. On the third point of the second half though, Gillett was late setting the mark on Douglas after pulling and Douglas took advantage by dropping in a perfect backhand huck for a one throw score.
"We definitely threw a lot of people at her," said Bates coach Chase Baker. "Cameron Johnson has been somebody who was on fire for us all weekend, a freshman and just started playing this year. She has the length to challenge [Douglas] a little bit, but experience wise [it was tough] with somebody who's been playing almost their whole life and at a very, very high level. We also threw one of our other freshmen Sarah King on her for a while. [She's] really athletic but not quite as tall or lanky as Tulsa is. So we tried some different looks and we threw Josie on her for a couple points. They each got a couple of shots on each other. Josie made it tough for her but I still think they did a good job of following their game plan in terms of running their motion that they like with their upfield cutters and it was really hard to stop that too. They did a great job of sticking to their game plan."
Gillett continued to mark Douglas for much of the second half, and she actually got a hand block on her at 9-8. It was a startling reminder of Douglas' mortality given the game she was having, but it was the last imperfection in her performance. Even with Gillett slowing Douglas down better than anyone else had, Douglas maintained her casual mannerisms and continued to score or assist every goal her team scored.
Douglas explained that the nonchalant nature in which she played came from her sense of duty to her teammates and her ability to stay in the moment. "It's a lot of trust in my teammates, knowing that they're working their hardest and that I need to be working my hardest for them. It's dangerous to think ahead or think behind," she said. "I got handblocked, and I remember that now, but as soon as it happened I was like, okay great, time to go play D. Something happens and you let it go and you move on has been huge for me and is something our team has really focused on. Be in the moment, and that is the only thing you can control, is that moment."
Douglas was undeniably spectacular, but her teammates' performance need to be mentioned as well. Kaitlyn Mulhern, the tournament's leading goal scorer, registered four goals and caused havoc in the deep space all game long. Aidan Zielske was a dependable presence alongside Douglas in the backfield, and the rest of St. Olaf's depth played their roles well.
In fact, Douglas credited her teammates' play as the reason for her not realizing the magnitude of her own performance. "I don't know if it feels like [I had a big impact,]" she said. "One of our goals this weekend was to make everyone a threat. We saw an improvement in our cutter continues, instead of me throwing and getting back every time, let's use everyone and make every single defender work. I didn't know I threw or caught every goal because we're doing it together."
It may not have felt to Douglas like had the massive game that she did, but it was apparent to those who were watching. It also should be mentioned that the final was the third time on the weekend that Douglas directly contributed to all her team's scores, so maybe she's just so used to that feat it barely even registers as significant to her. But what Douglas did in the season's grand finale inked her spot in the game's history books and etched out a special place in ultimate's lore. It was a titanic performance from the division's best player. The most impressive aspect of all? She was barely aware she'd even done it.