After experiencing disappointment in two previous trips to Club Worlds, Fénix is hoping their third trip brings the success they've sought.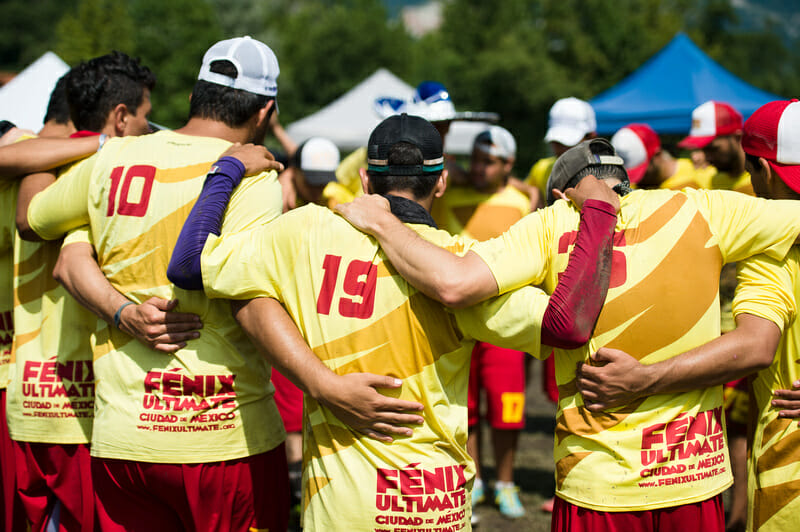 Ultiworld's coverage of the 2018 WFDF World Ultimate Club Championships is presented by VC Ultimate; all opinions are those of the authors. Please support the brands that make Ultiworld possible and shop at VC Ultimate!
As teams from all over the world get set to pour into the United States for the WFDF 2018 World Ultimate Club Championships, one team from south of the border is finishing its preparations for a third straight appearance at Club Worlds.
Fénix Ultimate started planning to make a run at the tournament back in March 2017. The Mexico-based men's club team qualified in October after winning their ninth national championship in 10 years. After qualifying, the team took a few months off and regrouped in March of this year. Since then, Fénix has been practicing three times a week and working with a trainer to help manage the different approach to the season.
"We talked to our trainer about a program with two peaks during the 2018 season. Worlds will be the first one," said captain Sergio Ramirez.
Ramirez is no stranger to the challenges that come with the format of a week-long tournament. "We had this experience before and learned from it," he said. "Mentally, we know we need to stay focused for a whole week. We also have scrimmage games at practices in order to get our bodies used to two games a day."
The previous two WUCC tournaments have not resulted in Fénix making much of a splash. In 2010, the first time Fénix qualified for Club Worlds, the team finished 44th out of 48 teams. In 2014, they rose to 39th, showing signs of improvement, but they weren't pleased with their finish.
"In our last international competition in Lecco 2014, the team realized that a more competitive preparation was needed to face the international top teams," Fénix's Mario Rodriguez wrote on Ultiworld in 2015. "What happened? We grew overconfident after not losing a single game in Mexican territory for about two years straight. It made us reckless, and that overconfidence backfired with tough losses against Singapore, Australia, and Hungary. We returned from Italy with a bittersweet taste in our mouths, knowing that if we had played more competitive games (not only the final in Nationals), we may have increased our chances of winning those games."
Since 2015, Fénix has been competing in the USA Ultimate series in order to get more exposure to competitive teams. Last year, they went 4-4 at Texas Sectionals and qualified for Regionals, where they went 1-4. The combination of more battle testing against USA teams and their pride in their success in Mexican competition could give them an edge they didn't have in 2014.
"You can just tell, they have this air about them that they are the champions of that country when it comes to ultimate," said Maine resident Holden Cookson, one of two additions to Fénix from the United States for Worlds.
Cookson and Jorge Ramirez went above and beyond the typical WUCC additions, who tend to join their team for the first time at the tournament. Much like Jimmy Mickle and Chris Kocher, who moved to Australia to play with Colony for the few months before Club Worlds, Cookson and Ramirez went to Mexico City for Nationals with Fénix. Cookson is more than just an outsider to Fénix's success; he has seen it firsthand.
"The teams that play them have to face that every time they play them, and it becomes a mental game," he said. "It's like coming up against any of the big teams [in the U.S.]"
Despite all the success Fénix has had at home, they will have their work cut out for them at WUCCs. They find themselves in a tough pool to crack. Pool A features Mooncatchers from Belgium, a pickup-heavy squad with some heavy hitters from the United States; Euforia from Colombia; Hot Chilly from Australia; and the reigning U.S. National Champion, San Francisco Revolver. It's an exciting opportunity for Ramirez and his teammates. He pointed to Euforia, a strong South American club and multiple-time Colombian champion, as the team they are most excited to play.
Expectations are high this year. Ramirez said the team aims to finish around 20th. He added that Club Worlds is the priority this season, but the team still fully intends on defending its national title.
At the end of the day, though, Ramirez wants to remember to soak in the experience. "We have been practicing for several months," he said. "We will enjoy every single game we play and the chance to interact with players from all over the world."