CUSB has had a successful start to the WUCC, but it's been built on a local culture of ultimate.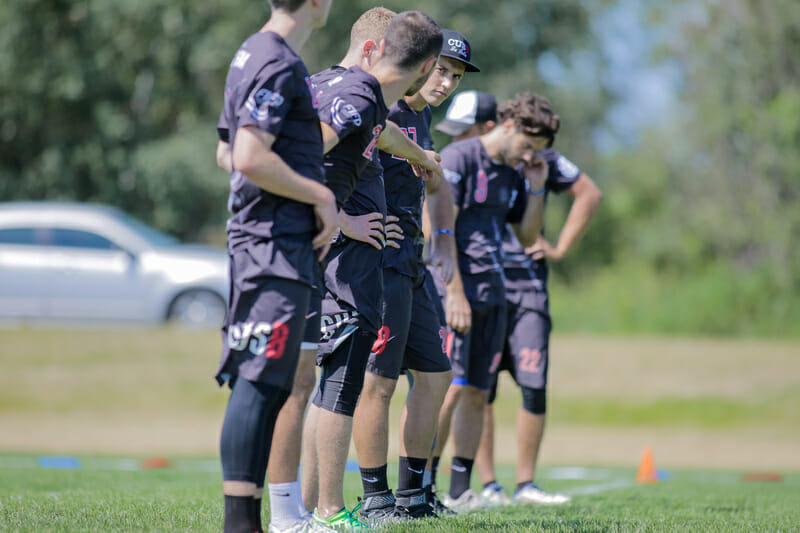 Throughout WUCC, we will be "embedding" with select teams and telling their stories with daily updates about their journey, history, and more. We call it Inside Break.
Ultiworld's coverage of the 2018 WFDF World Ultimate Club Championships is presented by VC Ultimate; all opinions are those of the authors. Please support the brands that make Ultiworld possible and shop at VC Ultimate!
CUSB, out of Bologna, Italy, couldn't have had a better top seed in Pool E and were practically salivating when WFDF released the WUCC pools. Their opening day featured a matchup against longtime rival Clapham (GBR), a team they had seen four times in the past year, most recently in the Windmill final. In that matchup they fell 15-13, but had taken the other three matchups. After seeing the pools they had an even stronger desire to be sharp coming into Club Worlds.
And it showed, blowing the doors off the Londoners on Sunday and riding that energy to two more wins on Monday, giving them the pool victory and extra momentum going into power pools tomorrow where they will play Raleigh Ring of Fire and the Irish squad Ranelagh. "It was important to us to know we could beat them but we also talked about how it was good that we had had that loss at Amsterdam so that we didn't come in [to WUCC] overconfident," said Italian captain Bruno Mine. "Their D couldn't put pressure on our offense and when we got break opportunities, their O-line couldn't stop us from scoring." This was the case in all four of their games, where the Italians decisive cutting and crisp throws were too much for opponents to stop.
But the journey to WUCC started much longer ago for these men from Bologna than their Windmill final loss. For many of them, this tournament is another triumph in one of the most incredible youth programs in ultimate. For the last decade, ultimate has been spreading like a wildfire in Bologna, spearheaded by the fanatical effort of Davide Morri. Under Davide's leadership, ultimate has become an official sport in Italy and is taught to students across Bologna with youth participation numbers only behind those of football.1 Many of his players that came up through his middle school and high school classes work with him and are instructors, teaching the game to Italian youth and gym teachers. Then those teachers bring it in their PE classes and to schools as after-school activities. 20 of the 24 players who were on the Italian Men's U24 team were from Bologna, and that group brought the US National team to the brink in the final of the U24 championships.Of course, the squad was coached by none other than Davide, who plays for CUSB.
This afternoon, CUSB's final game of pool play was livestreamed, giving the youth players that many of them coach, along with their friends and family, an opportunity to watch them compete. The community gathered at a local bar's watch party and were not disappointed, with a convincing 15-9 victory over Comunidad El Oso (COL).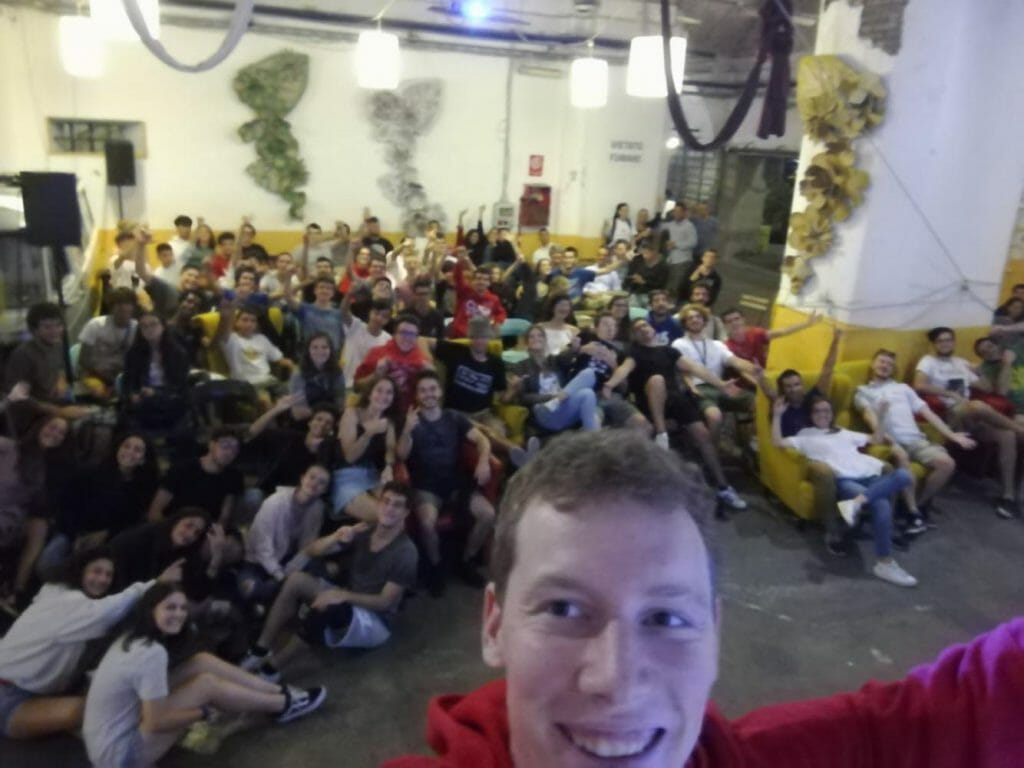 In the coming days, we'll dive into how this program lit fire and spread from an single after-school program to a 2,500 high schooler movement, and get to know this loud and exciting group of young men. But for now, CUSB are excited to continue to show the world what they have, and to take on the Americans and Irish tomorrow for a spot in the round of sixteen.
---
American soccer. ↩