After a day filled with delays and changes, two finalists were crowned in front of a raucous crowd in an unusual environment.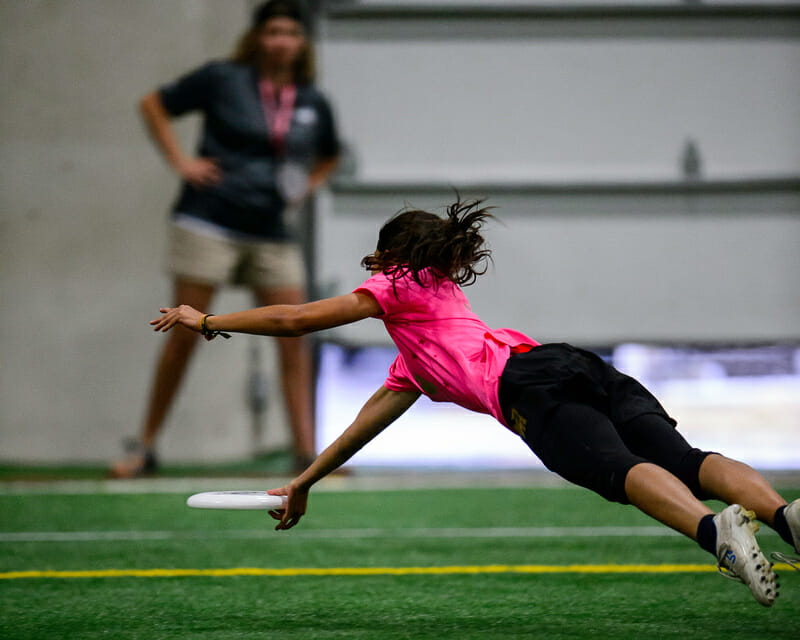 Ultiworld's coverage of the 2018 WFDF World Ultimate Club Championships is presented by VC Ultimate; all opinions are those of the authors. Please support the brands that make Ultiworld possible and shop at VC Ultimate!
The semifinal round at the WFDF 2018 World Ultimate Club Championships was the chaotic mirror image of the rest of the week. Weather delays and venue changes created a surreal scene and drastically changed the feel of the round. Revolution (COL) and Brute Squad (USA) squared off at the same time as Riot (USA) and Molly Brown (USA) at 11 AM at the Lebanon Sports Park, but both games were stopped for lightning near halftime and eventually pushed indoors to the Wall 2 Wall soccer complex in the evening for a final 20 minutes of game action. Revolution defeated Brute Squad 12-9 and Riot knocked off Molly Brown 13-10 to book their spots in the gold medal game, but both of their paths to those victorious were wild and crazy rides.
The indoor turf field didn't quite make the regulation dimensions, and the 20 minute conclusions to each game meant that neither game was played to its original cap. But the atmosphere of the moment made up for those shortcomings, with hundred of people packing the sideline. Playing in an enclosed space created a loud atmosphere that is rarely seen in ultimate, and the energy exchange between the crowd and the players made for an fitting complement to the magnitude of the games being played.
Brute Squad vs. Revolution
Revolution got off to a dream start against Brute Squad. In their previous two games, against Molly Brown (USA) and HUCK (JPN), Revolution started slow, giving up multiple early breaks, before surging late and winning comfortably. But against Brute Squad, they built a lead with breaks on both of the first two points; Brute's offense was uncharacteristically sloppy, and Valeria Cardenas' throws were characteristically on-point.
In fact, Brute Squad was lucky to not face an even bigger early deficit. They continued to turn the disc over on their next two offensive points, but Revolution was inefficient in the red zone and unable to take advantage of Brute's continued errors. They paid for those wasted opportunities in the middle third of the first half. As the wind began to increase, Revolution's offensive execution faltered. Brute Squad went on a three goal run to take a 5-4 lead, erasing Revo's two break advantage. But just as they had all tournament, Revo didn't allow the blip to turn into a burying swing of momentum against them. They answered with another run of their own, scoring three of the next four points to lead 7-6, up one break, before the lightning delay that turned into a six-plus hour affair.
Of all the games that were played at the indoor field, the Revolution-Brute Squad matchup was most in the balance. Brute Squad was down just one break, and while both teams traded runs, they looked pretty even on the whole in the first 13 points of the game. But Brute Squad suffered their second stunningly poor start of play. Amber Sinicrope, one of the division's most experienced players, dropped the pull to restart the game indoors. Revolution picked up and broke right away, and with Revolution receiving the pull in the second half1,  the game suddenly felt like a very tough uphill climb for Brute Squad.
Revolution coach Mauricio Moore said the Sinicrope drop and subsequent break for his side were huge for getting his team in position to win after the restart. "That was a big signal for us," he said. "We did all of our mental [exercises] since the end of the first part of the game to the beginning of the second part of the game were all for that point. The rest is just normal."
What seemed like a tough task quickly turned into an impossible one, as Revolution held for 9-6 and then broke again for 10-6. It's rare that a hold feels like a bigger moment in a game than a break, but that was the case when Revo made it 9-6. Laura Ospina made a massive layout catch to snare a big huck from Manuela Cardenas that looked to be out of reach. The emotional reaction from the team after the play, which made the SportsCenter Top 10 at #3, and the reaction from the crowd made the play far more meaningful than a usual hold.
https://twitter.com/SportsCenter/status/1020813264375164933
Suddenly, a game that had felt so up in the air was a comfortable lead for Revolution. Brute Squad did get one break back, when Lillian Weaver suffered her own flubbed pull catch, but they were never able to get the score closer than 10-8. Revo held out to 12-9, and when the whistle blew at the end of the 20 minutes on the indoor field, Brute Squad didn't even finish out the point.
Revolution guaranteed themselves a medal and booked their spot in the gold medal game with an impressive performance. They better dealt with the chaos of the weather delays and schedule changes, and they better executed on offense across both game conditions. It was unfortunate that a close game was interrupted in such an impactful manner, but both teams were given an equal opportunity to earn their place in the gold medal game, and it was Revolution who were more composed in through the adversity, taking advantage of that chance.
"Someone said to me, 'whoever has the stronger mind will win,'" said Moore. "Basically we went for a game at 11 AM, and finished at eight something. It's a lot of energy and you have to keep it up. We had lots of dancing and singing. We call this 'breath.' Get on your knee and take a breath, thinking about what's up…We first thought we had an hour of breath, and it was more than an hour, but it was really important for the team."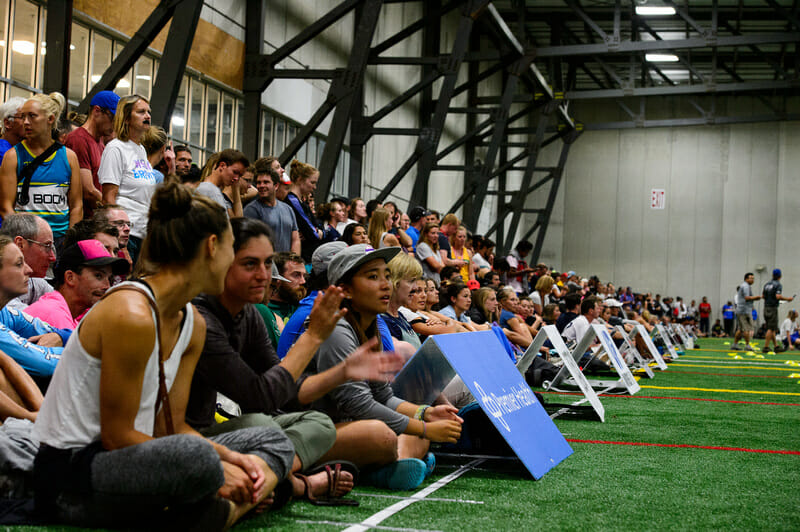 Molly Brown vs. Riot
Like Brute Squad against Revolution, Molly Brown got off to a rough start against Riot. They were broken at 2-1, and then again at 4-2. Charlie Mercer scored two goals in that seven point stretch, and Kelly Johnson and Hana Kawai each had two assists to help Riot take their 5-2 lead. Unlike Brute Squad, however, Molly Brown was not able to claw their way back into the game before halftime.
They got a desperately needed hold at 5-2, and getting it wasn't easy. The point lasted over nine minutes and featured three timeouts. But eventually Claire Chastain was able to find Jesse Shofner for a score to prevent the game from getting completely out of hand. They weren't able to find a break, though, and when Lucy Williams hit Bailey Zahniser to take half, it gave Riot an 8-5 lead at halftime.
Molly Brown coach Joe Durst blamed the deficit on his team to be a little too clever against Riot's defense. "We tried to throw our way through junky looks, as opposed to run through them," he said. "Pretty classic overthinking it."
It was at halftime that the weather delay started, and several hours later, Molly Brown needed to rediscover the offensive rhythm they'd begun to establish with their last two offensive points of the half. Returning from the break, Molly was confident they could come back despite the deficit, and they were buoyed by their previous win over Ozone (USA) in quarters. "We scored eight points in 25 minutes against Ozone, we knew we could do it here if we needed to," said Durst.
Molly did get off to a successful start after the resumption of play. They broke to start when Chastain found Paige Applegate. Both teams traded holds until 11-9, then they got another break when Lisi Lohre rose high in the endzone over Kawai for a score, giving Molly hope of a dramatic late comeback. With the clock winding down, though, they would need to break on the ensuing point as well.
But Riot responded to the newfound pressure by holding clean, Shira Stern hitting Dominique Fontenette in the end zone to make it 12-10 and seal the victory. The two teams played one more point, and Riot got the break to end it officially.
After the game Nora Landri spoke of the team's ability to respond to that pressure so well. "There's just a lot of trust," she said. "We trust the O-line to get back out there and score and we trust the D-line to get out there and pressure the team. There's just always trust, mo matter what happens, we still have that."
Riot wasn't as entirely dominant as they'd been for most of their run through WUCC, but they were plenty strong enough to hold off Molly Brown.
The win keeps their hopes of defending their 2014 WUCC title alive, and with as well as they've played to this point, they have a great chance at doing just that.
---
given the time cap, the teams simply mirrored and Brute pulled immediately. There was no halftime break. ↩