Does your practice plan balance drills that teach new skills with those that preach perfection?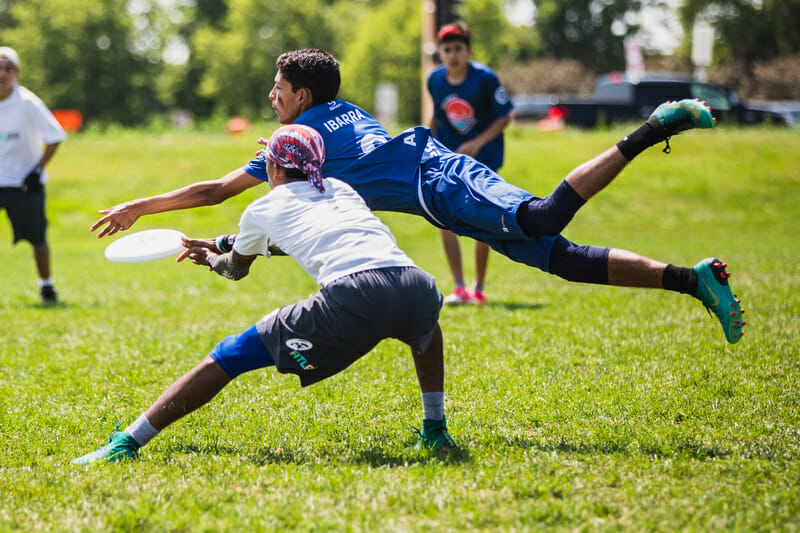 Tuesday Tips is presented by Spin Ultimate; all opinions are those of the author. Please support the brands that make Ultiworld possible and shop at Spin Ultimate! 
This column was written by guest author Jamie Millage. Jamie coaches the Stud Junior program out of Durham, Ontario. He has played with Grand Trunk, Phoenix, Backdraft, and this year is playing with Houndd. He also attended WMUCC with Bingo & Chill. He works as a life insurance and benefits consultant, and loves to talk and write about ultimate, coaching, and strategies. 
I remember being 10 years old at a hockey camp in Toronto, and one of the instructors was a young man named Cam, who played for the Wexford Raiders Junior A team. Cam was really, really fast. His blades just became a blur as they carved up the circles.
Someone asked Cam "How did you get so fast?" He had a bit of a surprising response: "I fall a lot".
He went on to explain, "Whenever I do a drill like skating circles, I'll just push myself until my feet can't keep up, and I fall down. I'll look stupid, but eventually, I figure that my feet will learn to keep up".
What Cam was tapping into is commonly known as the Principle of Training to Failure, combined with a touch of the Overload Principle. These are usually applied to strength and conditioning training, but they can both be utilized for skill development, and their use has an impact on decision making as well.
Push Vs. Perfect Drill Classification
Every time we run a drill as a team, I try to operate the drill under one of two classifications: Push drills, and Perfect drills. At different times, the exact same drill could be classified as either Push or Perfect. Push drills try to expand our skill set. They ask players to extend themselves into new territory and to embrace failure. In fact, if you're not failing while doing a Push drill, you're missing the point.
It's important that athletes know they are engaging in a Push drill, and that they get that green light to fail. Not everyone is as comfortable with falling as Cam. If you don't tell athletes that you're asking them to push their boundaries, they'll continue to operate within their comfort zone, and feel like they're being judged on their completion rates, catches, etc.
In practice, let's say you're doing a break mark drill, and you decide to classify it as a "Push" drill for the day. Athletes in that drill should not just be trying to complete passes, but should be working on new techniques to break the mark, new movement patterns, new grips and release points. They should be extending their release points slightly beyond their comfort zone, into places where they almost certainly won't have a consistent release (yet).
Perfect drills, as the name implies, seek perfection. The idea, which maybe applies more to ultimate than to other sports, is to play completely within your game, and to execute your skill set perfectly (though it's important to recognize we're just aiming for perfection – there will still be some miscues).
In practice, if you're running a break mark drill under the "Perfect" classification, you'd want to include some option to simulate reset. We ran a variation of this with Phoenix in Ottawa, where you'd try to hit a cutter on the break side, but if you didn't think you could complete the pass, you had the option of turning to the side and saying "dump".
The theory in this case was that there should be a very low percentage of turnovers – the thrower either has the confidence to release the disc, or they pull it back and wait for a better option. You're simultaneously trying to perfect in-game throws and in-game decision making.
Whether or not you embrace this classification system, it's important to include both types of training in your practices. You want athletes to develop new skills, but also understand how to operate most efficiently in a game situation. Running a classification like this cuts down on poor decisions when you're trying to simulate games, and still gives your athletes opportunities to expand their skill set.
In our sessions, I often see situations where a player's throwing skills aren't as strong as our main handlers, and they develop an apprehension around throwing forward, preferring to comfortably wait for a dump.
In a game, letting the best throwers make the most difficult throws might actually be the best move for them to make. But there needs to be an opportunity for them to break through as someone who can comfortably throw forward. I'll often explain to athletes facing this situation that they need to "get worse before they get better" and that in order for them to progress from someone-who-always-just-dumps to a forward-thrower, they're going to go through a period where they become a liability. For some period of time they have to become someone who is not comfortable throwing forward, but who does it anyways. That's where Push drills come in.
The Forgiveness Factory
The Forgiveness Factory is the name I've given to a segment that would definitely be classified as a "Push" drill.
The idea is for each athlete to partner up, and pick a throw that you don't quite have yet. It might be a flick, a low-low release backhand, a scoober, an off-hand throw, whatever. Pick something that if you tried to throw ten of them in a row during a regular warmup, your partner would curse your name because they'd be sick of walking around picking up discs as a result of all your terrible, stupid, errant throws.
You pick your throw, and you throw 100 of them. Your partner picks their "not-ready" throw, and throws 100 of them back at you. You're both going to agree to be so full of forgiveness for 15 minutes that you won't even mind walking around and picking up that disc. The idea here is that you're giving yourself 100 throws to "train to failure." If you're connecting on 98%, then you're missing the point. This time is for you to fail. It's for you to make mistakes, and work through the ugliness, hoping that eventually your body and brain catch up to the desired outcome.
You can also do this on your own with a pile of discs, but you look like Milhouse, which unfortunately deters some people. And, perhaps more important, it's better with a friend: they'll laugh when you want to cry, and they may be able to offer some insights into your progress, or lack thereof. Just make sure that, if you decide to go it alone, you remember the forgiveness part.