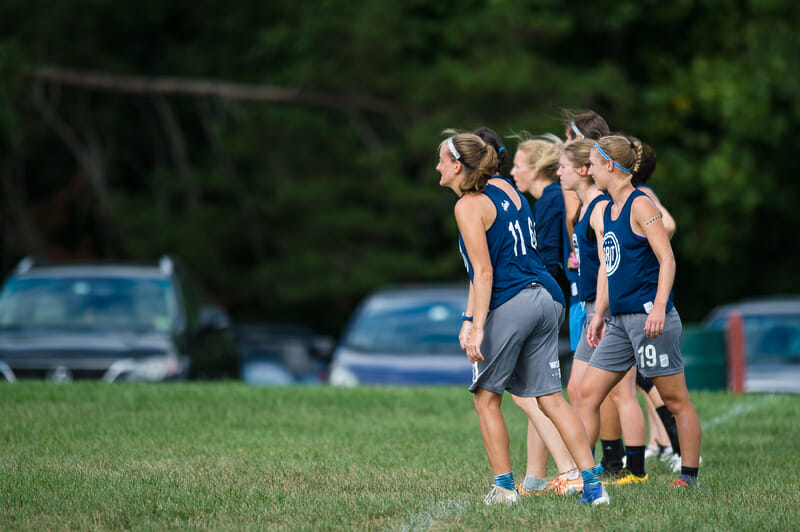 Ultiworld's coverage of the 2018 Women's Division is presented by VC Ultimate; all opinions are those of the authors. Please support the brands that make Ultiworld possible and shop at VC Ultimate!
After day one of Elite-Select Challenge, here's everything I'm buying, selling, and holding.
Buy
Washington DC Grit
Grit was the biggest story of the first day of ESC. They comfortably knocked off Portland Schwa in the first round of the day and then backed up that performance with a double game point loss to Chicago Nemesis and a second win over Seattle Underground. They played with an impressive, physical brand of defense and took care of the disc. It's a shame they won't get an opportunity to continue their impressive performance in bracket play, because they looked capable of making semis on Saturday. Grit jumped 13 spots in the rankings as a result of their play today, and while it will not be enough to earn another bid for the Mid-Atlantic, Grit looked like a legitimate top 20 team.
Libby Lehman
The handler for Madison Heist wasn't the flashiest player on Saturday or even the best player on her own team. But her presence in the Heist backfield was vital. Lehman's throwing ability freed Robyn Wiseman from being tethered to the Heist backfield. Wiseman is an elite thrower, sure, but she's also a huge matchup problem athletically for opponents, and she was able to put both of those weapons to use on Saturday. As a result, Heist won their pool and made a case for being the most impressive team in action on day one of ESC. Without Lehman, Wiseman doesn't have that same opportunity. Not every player can be a Robyn Wiseman, and that's why players like Lehman, who allows their superstars to be maximally effective, are so valuable.
Julia Schmaltz
Schmaltz has been an effective cutter at the club level for a few years now. Tall and hyper-athletic, Schmaltz is still dangerous in the deep space, but this weekend she showed off a much improved ability as a thrower. She fired nreak throws in the red zone and big hucks after making catches underneath. She even stayed in the backfield as a reset option from time to time. She didn't connect on everything she tried, but it's evident she's put in a lot of effort to become more dangerous with the disc in her hand. With her athletic ability, that has to be a worrisome development for her opponents.
Sell
Northwest Bids
Schwa avoided total disaster with their win in their otherwise meaningless pool game against Nemesis. But it was still a rough day for the Northwest bid picture on Saturday. Schwa had a rough go, with a losses to Grit and Underground. Unfortunately for them, Underground also went 1-2 on the day. That dropped Underground further out of the bid cut off, while Schwa now sits just five points above it. The Northwest is in very real danger of having just two Nationals bids after Saturday, and that would be a nightmare scenario for both Schwa and Underground.
Phoenix
Phoenix went 3-0 on Saturday, so, in that sense, they did all they could. But as the no. 1 seed, their combined margin of victory was a mere three goals. They scored 13 goals only once. Neither line played particularly well. Perhaps it was just a rough day, and the unusual nature of the schedule (byes every other round) and the conditions (swampy) may have played a factor. They could also still win this tournament, but they looked a long way from what many hoped they could be after their performance at PEC.
Wildfire
If the Northwest doesn't lose one of their bids, it will be because Wildfire loses theirs. They sit at #16 after Saturday, having dropped two spots. Wildfire got off to a great start, jumping out to a 9-3 lead on Small Batch. But they struggled to get breaks from that point on. They didn't get a single break against Pop in their second game. Then, after getting two breaks early to go up 3-1 on Phoenix, they didn't get another one the rest of the round. The Wildfire offense was a dangerous unit on Saturday, but their D-line offense wasn't nearly good enough with their scoring chances, and that has put them in very real danger of missing out on Nationals.
No Quarterfinals
It's always difficult to deal with weather problems. The tournament directors did a great job of making the best of a tough situation on Saturday, having lost about a third of the original fields, but it's undeniably disappointing that we won't get quarterfinals on Sunday. By and large, the four pool winners weren't significantly better than the four teams that finished in second place in each pool. Bracket play felt ripe for upsets and exciting games, but instead we're heading straight into semis with just the pool winners — the no. 1, 2, 3, and 5 seeds — left standing. For a tournament that has had surprising runs from high seeds in the last few years, this feels like an unfortunate letdown.
Hold
6ixers
Yes, I know, they missed out on semis and are still outside the bid picture. But there's no reason to push the panic button on 6ixers yet. Remember, they were without their ace handler Lauren Kimura, their top cutter Sarah Bobak, and two D-line starters, including their number one D-line handler Molly Lewis. They haven't made their job of earning a bid any easier, but I saw nothing on Saturday that makes me think 6ixers won't be a quarterfinals team at Nationals. And for what it's worth, Saturday's results pushed Quebec Iris into the top 16, which could relieve some pressure from 6ixers needing to earn a bid for the Northeast.
Nemesis
Nemesis won their pool, but barely. They survived the double game point scare against Grit, which locked up the pool, and their loss to Schwa didn't matter. In their game against Underground, they weren't broken all game, but they also didn't get any breaks of their own after the first two points. On paper, Nemesis had a tough pool, and that was before we knew how solid Grit was. Nemesis missed an opportunity to make a statement on Saturday, but they still have a great chance to win the tournament, and that would solidify them as quarterfinals contenders.
Rival
They certainly looked better than they did at U.S. Open, but I'm not full ready to invest in Rival stock just yet. They had to score three straight to knock off Wicked in their second round, and their win over 6ixers feels like it should come with an asterisk. Still, their offense looked much improved, to the point that I almost put them in my "Buy" section. A strong Sunday showing would put them there for me, but I'd like to see a more definite positive result from them before I buy back in.