Time to start speculating about which players will be selected!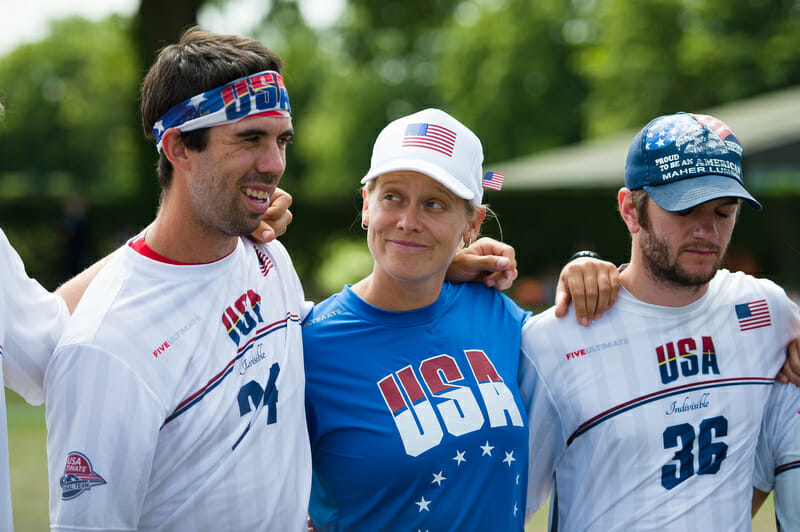 USA Ultimate announced today the 202 players invited to the Under-24 USA National Team tryouts this fall in Winston-Salem, NC, and Tracy, CA.
The teams will be selected by the respective coaching staffs — Bob Krier, Joe Durst, and Darryl Stanley for the Men's team; Mike Mackenzie, Lauren Boyle, and Patrick Sherlock for the Mixed team; and Nancy Sun, Jason Adams, and Alex Snyder for the Women's team.
Here are the players invited, searchable and sortable:
Men
| Name | City, ST | College | Tryout |
| --- | --- | --- | --- |
| Marty Adams | Crystal, MN | Minnesota-Duluth | West |
| Hill Balliet | Birmingham, AL | Claremont | West |
| Patrick Barron | Bridgewater, MA | Massachusetts | East |
| Chris Bartoli | Ashland, MA | Massachusetts | East |
| Steven Benaloh | Seattle, WA | Washington | West |
| Bret Bergmeier | Lawrence, KS | Kansas | West |
| Nikhil Bhatia-Lin | Medford, MA | Tufts | East |
| Stanley Birdsong | Atlanta, GA | Carleton College | West |
| Christian Boxley | Bowie, MD | Georgetown | East |
| Mason Cary | Athens, GA | Georgia | East |
| Noah Chambers | Highland Village, TX | Texas | West |
| Noa Chun-Moy | USAF Academy, CO | Air Force | West |
| Jackson Cochran | Arlington, VA | Tulane | East |
| Sam Cook | Seattle, WA | Southern California | West |
| Alexander Cuizon Tice | Seattle, WA | Oregon | East |
| Kipton Curtis | Carmel, IN | Indiana | West |
| Nick Dahms | Chino Hills, CA | Chico State | West |
| Kai DeLorenzo | Shelburne Falls, MA | Middlebury | East |
| Spencer DeRoos | Newtown Square, PA | Cornell | East |
| Michael Dillard | Atlanta, GA | Tufts | East |
| Wystan Duhn | Eden Prairie, MN | Minnesota | West |
| Rocco Essex-Linehan | Norwich, VT | New Hampshire | East |
| Robbie Farwell | Seattle, WA | Whitman | West |
| Quinn Finer | Boulder, CO | Colorado | West |
| Henry Fisher | Durham, NC | Carleton College | East |
| Duncan Fitzgerald | Washington, DC | Oregon | West |
| Tyler French | Chapel Hill, NC | Georgia Tech | East |
| Joe Freund | Arlington, VA | Virginia Tech | East |
| Samuel Gabrielson | Midlothian, VA | George Mason | East |
| Matt Gouchoe-Hanas | Chapel Hill, NC | North Carolina | East |
| Brett Gramann | Austin, TX | Massachusetts | East |
| Matthew Hanna | Pittsburgh, PA | Pittsburgh | East |
| Mac Hecht | Newton, MA | Brown | East |
| Kyle Henke | Lubbock, TX | Texas Tech | West |
| Frederick Hennighausen | Davidson, NC | North Carolina-Wilmington | East |
| Henry Ing | Bryn Mawr, PA | Pittsburgh | East |
| Michael Ing | Bryn Mawr, PA | Pittsburgh | East |
| Cameron Jack | Lynn, MA | Bryant | East |
| Levi Jacobs | Indianapolis, IN | [High School] | West |
| Tannor Johnson | Lexington, MA | Massachusetts | East |
| David Jones | Raleigh, NC | North Carolina State | East |
| Cole Jurek | Shoreview, MN | Minnesota | West |
| Victor Kao | Palo Alto, CA | NYU | East |
| Dillon Lanier | Chapel Hill, NC | Carleton College | West |
| Sean Liston | Salt Lake City, UT | Cal Poly-SLO | West |
| Will Lohre | Golden, CO | Oregon | West |
| Elijah Long | Chapel Hill, NC | North Carolina | East |
| Raymond Lu | Princeton Junction, NJ | Michigan | East |
| Jonny Malks | Arlington, VA | William & Mary | East |
| Jake Marrapode | Fort Collins, CO | Colorado State | West |
| Garrett Martin | North Logan, UT | Utah State | West |
| Leandro Marx | Portland, OR | Oregon | West |
| Walker Matthews | Durham, NC | North Carolina | East |
| Brendan McCann | Plymouth, MI | Michigan Tech | West |
| Will McDonald | Fort Collins, CO | Colorado State | West |
| Caleb Merriam | Washington, DC | Cal Poly-SLO | West |
| David Miller | Lakewood, CO | Colorado State | West |
| Peter Miller | Ames, IA | Iowa State | West |
| Derek Mourad | Seattle, WA | Washington | West |
| Marcel Oliart | Newton, MA | Pittsburgh | East |
| Anders Olsen | Rochester, MN | Emory | East |
| Andrew Otterlei | Edina, MN | St. Olaf | West |
| Jacques Perivier | Atlanta, GA | Georgia College | East |
| Nathan Pettyjohn | San Luis Obispo, CA | Cal Poly-SLO | West |
| James Pollard | Mechanicsville, VA | Philadelphia | East |
| Anthony Prato | Albany, NY | SUNY-Geneseo | East |
| John Randolph | Seattle, WA | Brown | East |
| Joseph Richards | Alexandria, VA | Mary Washington | East |
| Noah Robinson | Charlotte, VT | Pittsburgh | East |
| Solomon Rueschemeyer-Bailey | Amherst, MA | Brown | East |
| Connor Russell | Westfield, NJ | North Carolina-Wilmington | East |
| Kyle Rutledge | Irving, TX | Northwestern | West |
| Dylan Salzman | Denver, CO | Middlebury | West |
| Ted Schewe | Madison, WI | Wisconsin | West |
| Timothy Schoch | Northfield, MN | Carleton College | West |
| Charlie Schuweiler | Saint Cloud, MN | St. John's | West |
| Morgan Scott | Fort Collins, CO | Colorado State | West |
| Liam Searles-Bohs | Durham, NC | North Carolina | East |
| Jack Shanahan | Naperville, IL | Illinois State | West |
| Ted Sither | Arlington, VA | Oregon | West |
| Eric Sjostrom | Helena, AL | Auburn | East |
| Daniel Sperling | Atlanta, GA | Emory | East |
| Drew Swanson | Chicago, IL | North Park | West |
| Ian Sweeney | Oakland, CA | Cal Poly-SLO | West |
| Eric Taylor | Durham, NC | Carleton College | East |
| Kevin Tien | Louisville, KY | Stanford | West |
| Nick Tolfa | San Mateo, CA | California-Davis | West |
| Jasper Tom | Pittsburgh, PA | Carnegie Mellon | East |
| Kevin Tsui | Westfield, NJ | Pittsburgh | East |
| Connor Ughetta | Katy, TX | Texas A&M | West |
| Alan Villanueva | USAF Academy, CO | Air Force | West |
| Nick Vogt | Edina, MN | Wisconsin | West |
| John Walden | Austin, TX | Maryland | East |
| Cole Wallin | Minneapolis, MN | Minnesota | East |
| Leo Warren | Smyrna, GA | Pittsburgh | East |
| Luke Webb | Amherst, MA | Carleton College | West |
| Jeff Weis | Chicago, IL | Chicago | West |
| Joe White | Wyoming, OH | Carleton College | West |
| Harry Wolff Landau | Amherst, MA | Carleton College | West |
| Sol Yanuck | Chapel Hill, NC | Carleton College | East |
| Ilya Yudkovich | Salem, MA | Northeastern | East |
Women
| Name | City, ST | College | Tryout |
| --- | --- | --- | --- |
| Nicole Akina Wilkinson | Sudbury, MA | Case Western Reserve | East |
| Robin Anthony-Petersen | Alameda, CA | [High School] | West |
| Isabel Arevalo | Atlanta, GA | Carleton College | West |
| Mia Bladin | Seattle, WA | Harvard | West |
| Hannah Blizzard | Pittsburgh, PA | Pittsburgh | East |
| Abby Bomberger | Pittsburgh, PA | Pittsburgh | East |
| Maddie Boyd | Montgomery, AL | Auburn | East |
| Maddy Boyle | Eugene, OR | Oregon | West |
| Shea Brennan | Portland, OR | Portland State | West |
| Carly Campana | Kirkland, WA | Carleton College | West |
| Abagael Cheng | Lititz, PA | Oberlin | East |
| Jenny Choi | Suwanee, GA | Georgia Tech | East |
| Juliet Chung | Lodi, NJ | Lehigh | East |
| Hannah Crowley | Medford, MA | Tufts | East |
| Gaby Cuina | Austin, TX | Texas | West |
| Dawn Culton | Chapel Hill, NC | North Carolina | East |
| Vail Dark | Boise, ID | Western Washington | West |
| Hallie Dunham | Seattle, WA | Stanford | West |
| Karen Ehrhardt | Sugar Grove, NC | Carleton College | West |
| Helen Eifert | Flagstaff, AZ | Northern Arizona | West |
| Dena Elimelech | Burbank, CA | California-San Diego | West |
| Jamie Eriksson | Plano, TX | Texas-Dallas | West |
| Rebecca Fagan | Chapel Hill, NC | North Carolina | East |
| Robin Fassett-Carman | Boulder, CO | Colorado College | West |
| Stacy Gaskill | Golden, CO | Colorado (2019) | West |
| Frances Gellert | Seattle, WA | Colorado College | West |
| Laura Gerencser | Farmers Branch, TX | Texas | West |
| Josie Gillett | Seattle, WA | Bates | East |
| Sara Gnolek | Webster, NY | Northwestern | East |
| Leanne Go | Lexington, MA | California-San Diego | West |
| Megan Gordon | Marshall, MI | Michigan | East |
| Haley Grajewski | Export, PA | Pittsburgh | East |
| Ella Hansen | Seattle, WA | Oregon | West |
| Shayla Harris | Covina, CA | Stanford | West |
| Julia Harris | Charlottesville, VA | Virginia | East |
| Ivy Harrison | Austin, TX | Texas | West |
| Eleanor Heberlein | Saint Paul, MN | Western Washington | West |
| Zoe Hecht | Newton, MA | Oberlin | East |
| Abby Hecko | Seattle, WA | [High School] | West |
| Kendra Hess | Flower Mound, TX | Oklahoma | West |
| Rachel Hess | Arlington, VA | Oregon | West |
| Kelli Iwamoto | Hacienda Heights, CA | California-San Diego | West |
| Sierra Jensen | Salt Lake City, UT | Utah, Texas | West |
| Tess Johnson | Lexington, MA | Massachusetts | East |
| Ella Juengst | Alexandria, VA | North Carolina | East |
| Sarah Kim | East Lansing, MI | Northwestern | East |
| Julianne Kloza | Point Pleasant, NJ | Northeastern | East |
| Brittney Kokinos | Madison, WI | Wisconsin | West |
| Miranda Kosowsky | Pittsburgh, PA | Pittsburgh | East |
| Julia Kwasnick | Palo Alto, CA | California-Santa Barbara | West |
| Kate Lanier | Chapel Hill, NC | Carleton College | West |
| Brielle LeClear | Gainesville, FL | South Florida | East |
| Caitlyn Lee | Superior, CO | Dartmouth | East |
| Almaze Lema | Snellville, GA | Georgia Tech | East |
| Kiera Lindgren | Centennial, CO | Colorado State | West |
| Sarah Lipscomb | Los Altos, CA | Notre Dame | West |
| Saioa Lostra | Portland, OR | Colorado | West |
| Erin McCann | Plymouth, MI | Minnesota | West |
| Michelle McGhee | Berkeley, CA | Stanford | West |
| Lindsay McKenna | Malvern, PA | West Chester | East |
| Lilly Mendoza | Cranberry Township, PA | Cornell | East |
| Bridget Mizener | Chapel Hill, NC | North Carolina | East |
| Sarah Mondschein | Madison, WI | Wisconsin | West |
| Arielle Nelson | Millburn, NJ | Northeastern | East |
| Caroline O'Connell | Highland Village, TX | Texas | West |
| Samiya Omar Ismail | Renton, WA | Western Washington | West |
| Elisabeth Parker | Apex, NC | North Carolina | East |
| Renata Pepi | Amherst, MA | Bard College | East |
| Alyssa Perez | Los Angeles, CA | Southern California | West |
| Marie Perivier | Atlanta, GA | Georgia | East |
| Annelise Peters | Columbus, OH | Ohio State | East |
| Clil Phillips | Chapel Hill, NC | [High School] | East |
| Malaina Piyassaphan | Kansas City, KS | Kansas | West |
| Clea Poklemba | Corvallis, OR | NA | West |
| Maya Powell | Northfield, MN | Carleton College | West |
| Ashley Powell | Raleigh, NC | North Carolina State | East |
| Mary Rippe | Carrboro, NC | North Carolina | East |
| Annie Shriver | Newton, MA | Vassar | East |
| Cara Sieber | West Chester, OH | Ohio State | East |
| Malia Smith | Burlingame, CA | UCLA | West |
| Alissa Soo | Seattle, WA | Whitman | West |
| Linnea Soo | Seattle, WA | Whitman | West |
| Clara Stewart | Arlington, MA | Northeastern | East |
| Amy Stoddard | Lincoln, MA | Michigan | East |
| Domenica Sutherland | Chapel Hill, NC | Texas | West |
| Elissa Sutherland | Brooklyn, NY | NYU | East |
| Sarah Thomann | Albany, NY | SUNY-Albany | East |
| Anika Thomas-Toth | Seattle, WA | Carleton College | West |
| Anna Thompson | Kirkland, WA | Pennsylvania | East |
| Mackenzie Timbel | Denver, CO | Whitman | West |
| Claire Trop | Seattle, WA | Dartmouth | East |
| Jac Verzuh | Seattle, WA | Dartmouth | East |
| Julianna Werffeli | Somerville, MA | Dartmouth | East |
| Megan Wilson | Medford, MA | Tufts | East |
| Anne Worth | Chapel Hill, NC | North Carolina | East |
| Brittany Wright | Lyons, MI | Michigan | East |
| Anna Wysen | Seattle, WA | California | West |
| Yuge Xiao | Berwyn, PA | Columbia | East |
| Alexa Yadama | Seattle, WA | Washington | West |
| Candy Zhang | Foster City, CA | RPI | East |
| Angela Zhu | Somerville, MA | Dartmouth | East |