Are we seeing the seeds of change?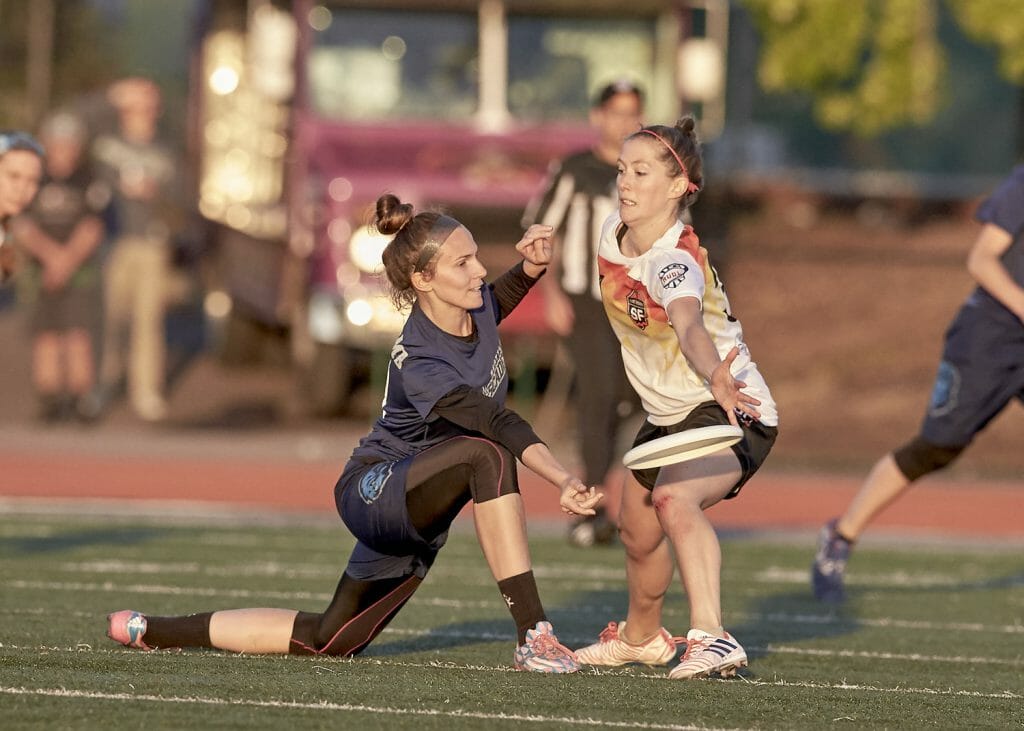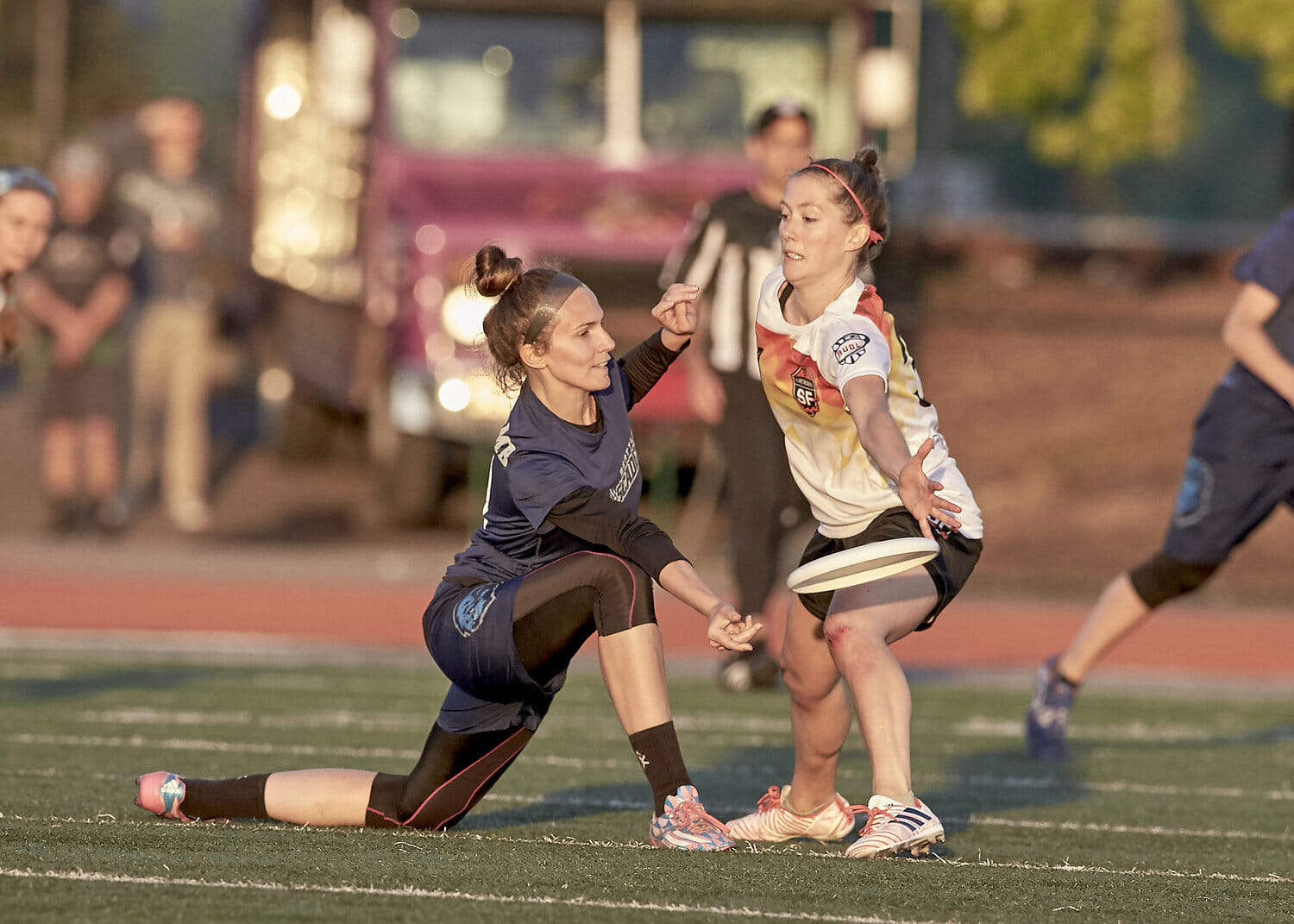 This season, for the first time in American Ultimate Disc League history, multiple women were rostered on AUDL teams and played significant minutes, especially on the West Coast. I have had conversations over the past few weeks with many players involved, and I've learned a lot about the impact of women on the three teams leading the equity conversation on the West Coast.
In 2008, Natasha Won joined her high school's ultimate team. She was in the middle of an intense track season, but her friend was the only girl on the team and wanted some company amongst the boys. Won joined the team at a tournament and became hooked, relishing in the communal support ultimate provides. Wanting to be a bigger part of the team, she invested time and energy to build skill and contribute more for the next season.
Won went on to play in college, spending two years on Las Positas College's open team before joining the women's team at UC Santa Cruz. She joined San Francisco's elite mixed team Polar Bears during her second year at Las Positas and now plays for the women's club team Nightlock. Last year, she had friends participate in the Cascades Cup, a mixed showcase game between the Seattle Cascades and San Francisco Flamethrowers, and wanted to play, but she could not make the tryouts. This year, after conversations with players and the team owners, she was convinced that it was important to have women representation in the AUDL and build change from within the league. She built trust with the Flamethrowers owners, and was asked to help run tryouts, serving as part of the team, along with Audry Lyman and Callahan award winner Jackelyne "Kobe" Nguyen tasked with picking the 20 women who play for the Flamethrowers. The team owners helped to reserve fields, supply necessary materials, sign contracts, and coordinate games, but the women were in charge, a rare occurrence in professional sports, which have traditionally been dominated by men.
Just as ultimate sells itself as a different sport, one that prioritizes spirit above the win-at-all-costs behavior seen in more established sports, some owners in the AUDL are working within the league to make professional ultimate a different professional league, one where people of all genders are playing an equal role. This past season saw the most involvement by women in AUDL events and could serve as a catalyst for an equitable future.
A Brief History of Women in the AUDL
When the AUDL was founded in 2012 it was ostensibly a men's league, though the league technically remained open: players of any gender were allowed to make a team. After three seasons of exclusively men playing in the league, without a hint of a parallel women's opportunity, many people in the ultimate community expressed outrage at the lack of representation and offered potential solutions to "fix" the gender equity problem.
On May 13, 2015, the Raleigh Flyers made AUDL history by signing Jessi Jones to a one day contract. Jones became the first woman signed by a semi-professional ultimate team and played 14 points of the Flyers contest against the Nashville Nightwatch that weekend, part of the Flyers larger 'Women's Ultimate Day,' which included a girls-only clinic and a Raleigh Phoenix scrimmage at halftime.
Two years later, Jesse Shofner became the first woman to make a full season roster, signing with the Nashville Nightwatch for the 2017 season and playing in 12 games over the course of the year. The signing was reported both on Ultiworld and ESPN, and her participation was generally greeted enthusiastically by the ultimate world. Despite the encouraging reaction by the ultimate community, as the only female-identifying player to take the field, Shofner was "kind of tokenized," as Claire Chastain, Shofner's Molly Brown teammate, put it to ESPNW.
While Shofner was the only female player competing in sanctioned AUDL games, that same season, the Seattle Cascades hosted the first Cascades Cup, a mixed gender game against the San Francisco Flamethrowers. While designed to feel like an AUDL regular season game, the game itself was an exhibition. After the 2017 season, Seattle committed to create more playing opportunities for women in 2018.
While the Cascades as an organization committed to working towards gender equity, some involved in the AUDL wanted to see a bolder change at the national level. During the offseason, 149 ultimate players, many of whom had played in the AUDL in past seasons, signed a boycott of the AUDL under the declaration, "I believe that women and men should have equal representation at the highest, most visible levels of our sport – including semi-professional play. If the AUDL does not ensure that women and men have equal representation in 2018, I will not support it. This means I will not be playing in or attending games, and will avoid consuming related media and content." After opening the boycott to all potential players, coaches, and fans, nearly 800 people signed it.
Entering 2018, a groundswell of support for the gender equity movement opened more opportunities for women to play at the semi-pro level. For some, sitting out and not consuming AUDL related media or events was enough. Others found value in more active change. Semi-professional teams formed in Detroit, Indianapolis, Raleigh, Nashville, Atlanta, and Austin, creating something of a loosely organized semi-professional women's series. Seattle and San Francisco released women's and mixed rosters alongside their open rosters and played women's and mixed games as exhibitions during the season. More women earned roster spots than in any past season, namely in Seattle, San Francisco, Los Angeles, New York, Pittsburgh, and Madison.
While there was certainly not a unified approach to achieving gender equity in the 2018 AUDL season, interested ultimate players and fans got a sneak preview at what different outcomes might look like.
Given that much of what happens in the AUDL is somewhat hidden from public view, I set out to learn about and share the experiences of women playing in the AUDL today.
What Does it Take to Build a Semi-Professional Mixed or Women's Team?
Qxhna Titcomb wanted to play for the Seattle Cascades this season for many of the same reasons Won started playing ten years ago: to hold space for women in open sports dominated by men and to spend more time with her friends. She was already part of the leadership of the Cascades, as an owner, but wanted to contribute as an athlete as well. Titcomb was injured during the tryout process, but once she was cleared to play, she saw an opportunity to play with different teammates in a new system and to grow as a player. Acknowledging the complication of being a female team owner and player in a male-dominated league, she says this season she was ready to "lean in to the complexity," to come up with an way to push the sport forward without leaving anyone behind. One of the most important decisions the Cascades leadership made was to create a team building process distinct from past seasons that only included an open roster.
Coming in to the season, Seattle was open to having players on a variety of rosters (they list Open, Mixed, and Women's rosters on their website) but did not have a sense of what might be the best fit. The roster selection committee included team owners, the General Manager, and player leadership, and considered a range of possibilities for their final roster. Seattle not only wanted to put women on the field but also in leadership positions. Rohre Titcomb, Qxhna's older sister and fellow team owner, was vital to the tryout process. Despite not being able to evaluate everyone together (due to scheduling conflicts), Rohre has played long enough and with enough of the women trying out to discern where players' skills and added values lie, even if everyone on the field couldn't see those skills on the field in that moment.
Running a semi-professional mixed team extends beyond the field. Two of Seattle's five owners (Rohre and Qxhna Titcomb) are women, and their influence permeates the organization. One small example can be seen in the lighthearted video recaps the team posts on its Twitter account after games. They almost always feature equal amounts of male and female players. Additionally, Cascades owners say they collectively spend about ten hours each week engaging in gender equity conversations.
The Cascades are quick to point out that they are a meritocracy. The players who made their various teams did so because they deserved to be there. They were the best options available for their positions. A great example of the practical implications of this mentality can be seen watching Steph Lim play. Lim is one of the best throwers in the Seattle area and was slotted into the Cascades O-line in Open games. Of all the women who played in the AUDL this season, she had probably the most prominent role within an offense, but to the Cascades, she is simply the best player for that spot and therefore earned that playing time.
Like Seattle, San Francisco had female leadership this season. In San Francisco, Won, Lyman, and Nguyen, captains of the women's team, were pivotal in starting one-on-one conversations to get women to attend tryouts and stay involved with the team. Just like the Cascades, the Flamethrowers matched players' talents with their roles instead of trying shoehorn women into unfamiliar roles on the field. Won divided O- and D-lines based on where her teammates play with their club teams. In this sense, players were put in comfortable positions that allow them to play their best. Getting the players there was the harder task.
In past years, the Flamethrowers' open team formed more or less from the leadership of San Francisco's elite men's club team, Revolver. Eli Kerns, a Revolver mainstay since 2014, said his playing in the AUDL started with a goal of "trying to make it on Revolver, trying to get more reps with the Revolver guys." In the past, the Spiders or Flamethrowers were used as a vehicle to get in some extra club practice.
This season was different. Until college, Kerns had almost exclusively played mixed ultimate and felt conflicted playing in the AUDL because of the gender-based "imbalance in representation and opportunity." In past seasons, he played with the Flamethrowers to improve chemistry with teammates on Revolver. This season, after initially signing the AUDL boycott, he played with the team because his values aligned with the Flamethrowers' leadership in regards to gender equity and thought the team would "be a lot more successful in reaching the same vision if [he] and other men and women were involved and in [the team's] ear trying to push them to make the right decision or take the most meaningful steps."
Kerns also stressed that he did not want to lose the momentum the gender equity movement started last season, saying "it would feel like a loss of momentum if the experience were to not grow from last year to this year," and that he wanted to help "set up success and momentum," for full equity moving forward. He was less active in recruiting Revolver teammates to join the team, and much more involved in sending information to local women's and mixed teams, encouraging their players to attend tryouts and to be involved in the gender equity conversations. Kerns said he and team leadership learned a lot by reaching out. Many women were skeptical of the organization because of the lack of information it had sent out, so Kerns said that they probably sent more information to women's and mixed teams this year than they have sent directly to men's teams in all previous seasons combined. While Revolver captains in the past recruited men's players, this season the Flamethrowers relied on Nguyen, Lyman, and Won to do the same for the women.
The Flamethrowers experienced some growing pains this season as the team expanded to three rosters (open, mixed, and women's) and, as a result, had to coordinate many different players' schedules. There is a perception because it is labeled "professional" that the AUDL is intricately organized, but the Flamethrowers had trouble even setting a tryout date, first setting tryouts on the weekend of the Bay Area Club Mixer (the Bay Area's mixed club combine), then on a weekend with a winter league tournament.
Conflicts persisted into the season. Won described to me her itinerary the weekend of the Cascades Cup: first, she had a three-and-a-half-hour Nightlock practice Saturday morning before flying to Seattle to play in the Cascades Cup game that night. The next morning, she work up early to catch a 5:00 AM flight back to SFO and hurry over to her 10:00 AM Nightlock practice.
While the level of play is different across leagues and divisions, Won said she did not feel as fresh cramming in so much ultimate in such a short amount of time. Part of the process of agreeing to play semi-professional ultimate is prioritizing time to prove players' commitments to their club teams while also moving the needle on the gender equity front in the AUDL. It takes a big mental investment from the players who try to play in both leagues as they need to adjust between teams, sometimes playing with both in a single day.
There are also practical concerns about fatigue and injury, but Won says that going in with a positive mindset and trying to enjoy the time with her teammates helps her not think about the potential negative consequences.
Building a mixed roster is more difficult than it seems on the surface. While semi-professional teams have an infrastructure in place to align with the needs of the AUDL schedule, mixed teams need to be organized by leadership groups so that people of multiple genders are in leadership positions. Creating balanced leadership is important both so that players see all types of leaders, and so that those judging tryouts and making team and league schedules are familiar with the backgrounds and needs of the players involved. As schedules are made, they need to be coordinated with the calendars of all three club divisions. As possibilities for mixed or women's semi-professional ultimate become more tangible, team and league owners will need to take these considerations into account as they build their teams.
What Does This Season Mean for the AUDL?
The AUDL set out six years ago to be the premier semi-professional ultimate league in the world. For a community that had been almost entirely player-supported and player-run until then, the league created an imbalanced system, wherein men had the strongest voices in the changes and progress made in the sport. As a community that openly values equality, this adjustment was hard to reconcile. As Qxhna Titcomb said, "the sport is so young, so the opportunity to have a big impact is really special." Those who have stepped up to make that impact, through participating in mixed, women's, or open AUDL games, or by signing a boycott, are all adding their voices to the mix.
Most players I spoke with were reluctant to predict where the league might be in five years. While it is an incredibly hard question to answer now, the Flamethrowers are doing what they can to be part of the decision-making process. In their two mixed games this season, team leadership made a point to commit to bringing as many different players as possible to play their games, so that they have a larger base for feedback so that the team can improve the experience for next season.
Won enjoyed her experience playing mixed and open in the AUDL and would like to play again next year, assuming the league progresses in the right direction. She sees the Flamethrowers as genuinely striving to advance gender equity from the field to the front office but hopes to see a full-fledged mixed professional league. While there is a solid system in place, Won knows that "there is more that we can do" to achieve gender equity.
Kerns offered that, in the end, "equal representation is the goal, and it is an achievable one." He added that an actionable next step could be to allow teams to move forward in providing more playing opportunities for women.
"If two teams want to play against each other women's instead of men's, they should be able to do that in regular season games," said Kerns. (Right now, mixed and women's events are merely exhibitions).
If that doesn't happen next year, he thinks it is possible that more players will join the boycott.
Benefits of Semi-Professional Mixed Ultimate
Jack Brown is a male player for the Cascades mixed team. His high school team has trouble recruiting enough players for separate teams, so he has experience playing mixed. However, he most appreciates the seriousness and consistency associated with playing semi-professionally. Like Qxhna Titcomb, he enjoys the experience of playing with the Cascades because of the opportunity to connect with higher level teammates, especially those who play or coach for Seattle's elite teams: Mixtape, BFG, Riot, Sockeye, and Underground. He values the chance to compete at a higher level and to learn from elite players as a means to improve his own game, an opportunity that would not exist without an investment by the Cascades in the mixed team.
Qxhna agreed, adding that while many Seattle players know each other and are active in the community, the Cascades structure allows players and coaches to develop relationships with each other that otherwise would not have matured as deeply. She calls "having the opportunity to play with players that [she] would not otherwise get to play with, getting to learn from them…and develop really great relationships" a pleasant surprise, because she "did not expect to become such good friends" with her Cascades teammates.
She also was able to join a new kind of team this season: women who played in open AUDL games. The ultimate community is known to be tight knit, but the women playing in the open AUDL have created a special bond with each other. Aside from an email chain (on which they share experiences and tips for adjusting to a new league), a bond has formed between these players across the country from participating in and driving a shared historic experience.
Kerns really likes playing in mixed games. He loves the strategic element not just of playing mixed but of incorporating teammates from all three club divisions and building a learning curve to what players are looking for on the field. Videos of little girls going up to players after the game asking for autographs and being engaged with what was happening on field inspired Kerns. He also said he noticed a difference in fans' attitudes in mixed games compared to open games—counting home games this season, without knowing the exact numbers, Kerns said he felt like biggest and most engaged crowd was for the Flamethrowers Cup this season.
While that would be impressive by itself, it should be noted that the Flamethrowers Cup was held on the same day as Game 6 of the NBA Western Conference Finals, a key win for the Golden State Warriors, which threatened to weaken the Flamethrowers' attendance. While most of the region was watching the basketball game, mixed semi-professional ultimate still had tons of fans in the stands.
Kerns has played for two AUDL teams, and in both mixed and open play he has noticed that more integrity calls are offered in mixed-pro games than in open-pro games. Though he acknowledges that it could be correlated to the lower stakes of an exhibition game, he found that it was easier to refrain from chippy play and have a healthier dialogue in mixed games.
Veronica Eder and Stephanie Pritchard play for the Aviators' open team. They both agree that playing in the AUDL improves their understanding of the game. "It's a totally different game," said Pritchard.
"…[Playing with men] is helping me understand the game at a completely different level than I have before."
"[I have to] think quicker and react faster, which causes you to understand the field and the game and the players at a much greater level than I've felt I've needed to before," she said.
Playing in the AUDL has created for both Pritchard and Eder a higher level of ultimate IQ, which they are excited to bring back to their women's club team, Wildfire. Won agreed, adding that playing more ultimate is beneficial in general. She played open and mixed in the past, which helped her adjust to AUDL games, but she still cramped up in her first open AUDL game because she was running a lot harder and a lot more. Qxhna Titcomb also acknowledged that she has become a lot more precise with the timing and shape of her cuts. She also noted that she stays in great shape from playing essentially another full season.
Aside from the collective benefits of self-improvement, including women in the semi-professional game gives them an equal seat at the table in discussions about the advancement of the sport. How can women have an opinion on the difference between referees or observers if they have not had the opportunity to play with referees? How can women accurately articulate the benefits of tournament play or weekly matches if they are only allowed to play under one format? As a group that wants not just to value equality but model it as well, the ultimate community needs to put all of its constituents in a position to sit equally in conversations that could potentially change the sport as it is played now.
Where Do We Go From Here?
Since the gender equity conversation picked up, there have been a lot of proposed models for a semi-professional league. Some advocate for concurrent semi-professional mixed and/or women's leagues with similar schedules to today's AUDL. Some have plans for AUDL games to function as doubleheaders with men's, mixed, and/or women's games all associated with one organization playing on the same day, or even to play one game but split playing time by possession or by quarter so men and women can see the same field equally. Some just think that ultimate does not need to be semi-professional at all, and the that USA Ultimate club structure is best.
No matter what proposal ends up coming to fruition, it is undeniable women have had a significant impact on the AUDL this year and are leading one of the most important conversations our sport has had yet.