Is your tournament bag well-stocked?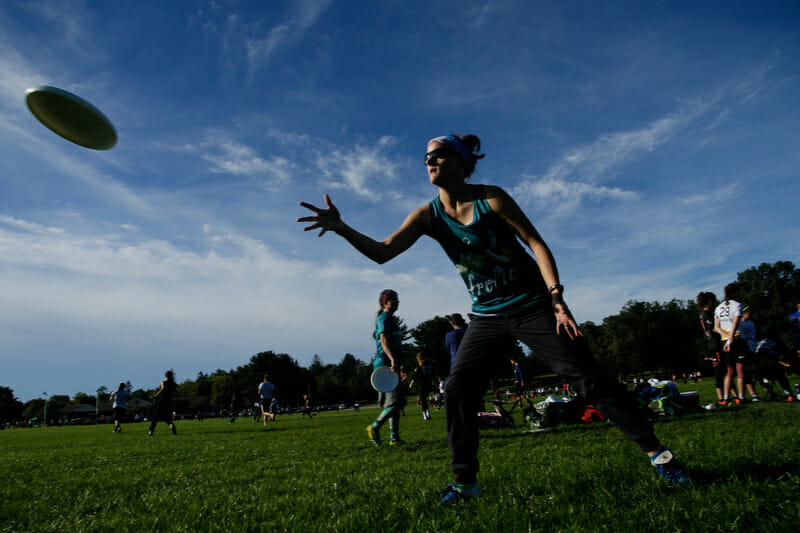 This article is presented by Spin Ultimate; all opinions are those of the author. Please support the brands that make Ultiworld possible and shop at Spin Ultimate! 
Life hacks help you see difficult tasks in new ways, simplify or streamline frustrating tasks, and can come in the clutch to help you out of annoying moments or sticky situations.
The ultimate world, especially with its high rate of (often grueling) travel and exercise can benefit from life hacks even more than the average joe. These tips can come in handy during tournaments, practice, when on the road, or even in those moments of downtime between points.
Here are ten life hacks that can be very useful to the ultimate player.
1. Use a carabiner for holding on to valuable items (keys, rings, water bottles).
Carabiners are one of the most useful tools to have on a bag, especially a backpack.
A carabiner can cost you less than $8 (unless it's going to hold your weight on rock climbing wall) and is a guaranteed way to provide secure connection to important items. It's great for holding on to jewelry like necklaces, but can also be a perfect spot for a ring (especially useful for an important wedding ring).
Likewise, these handy devices are awesome for keys or for keeping your water bottle from falling out of its sleeve or holder. Keep a carabiner in one spot so you'll always know where these items are (perfect to make sure nothing gets lost) and use it whenever possible.
2. An empty and rinsed out sunscreen tube can be a great waterproof valuables case.
Using a similar style, keeping your wallet and phone in a safe place using a sunscreen bottle can be a clutch and smart tip when you travel.
Find a bigger bottle with a removable cap. Once you've used it during a tournament season, rinse out thoroughly and find a good place to stash it in your bag (many can fit in a front compartment).
Once again, you have a surefire way of making sure those important items aren't lost. Plus, as a bonus, the bottle will be waterproof, keeping them safe in the case of rain. Also, while theft (thankfully) isn't a problem at most tournaments, if someone was snooping in your bag while you were away from it, they wouldn't know to swipe your valuables.
3. Carry an empty trash bag before every tournament for two important uses
To the savvy vet, packing a trash bag before tournament weekend is as essential as packing a disc. This classic kitchen essential is key during the weekend in case of rain to cover up your ultimate gear. However, don't ditch the bag after just one downpour. 
A quick run under a bathroom dryer and the bag can then be key to separating your dirty (and often wet) clothes inside your bag. Use it as a nice separator to make it easier to unpack when you get home and sort the clothes you don't need to wash later.
4. Hotel soap bars + dryer sheets= homemade odor protection.
Unfortunately the business of ultimate can sometimes stink. Rather than buying (and having to carry around) the expensive sprays, balls, and other items, grab some cheap (or free) tools to create a nice smell for both your clothes and your cleats.
A bar of soap from a hotel room and some dryer sheets together create a nice aroma and odor blocker. Place it in the dirty clothes section of your bag or trash bag, in a cleat bag, inside the cleats themselves.
5. Newspaper, toilet paper, and a small towel are valuable commodities.
Keep a stash of paper in the bottom of your bag in case of a rainy day.
Newspaper is useful for dealing with wet footwear; stick it into your cleats to help suck up moisture and dry them overnight after a rainy day of ultimate. 
Toilet paper can be used for the same purpose in a pinch, but is also life-saving in a sticky situation. Have it in case the fields you're playing at run out (or heaven forbid don't have any); also use it on those days you have a cold in place of tissue, in times of injury to help stop bleeding, and as a makeshift pair of earplugs if you're sharing a hotel room with someone who doesn't find sleep as important as you do (or who snores).
A towel, as Douglas Adams put it, is the most useful item in the galaxy. It can be everything from a blanket to a pillow to a cleanup device to a bandage. Worth a tight fold or roll and pack.
6. Out of space in your bag? Tie it on.
A lot of times ultimate bags are nicely packed on the way in, but bursting on the way out with crumpled clothing.
A great way to add on without having to carry things is to tie shirts or pants to your bag. Whip up a quick knot and they're along for the ride without having to be kept inside.
A really good trick if you want to walk barefoot home or air out your shoes or cleats, tie them up on your bag straps and cruise along.
7. Utilize your phone in multiple ways.
People know how valuable phones are,  but a well-charged device can also replace a dozen others.
Using a glass or empty toilet paper tube can turn a phone into a small speaker for pump-up jams in the morning or relaxing vibes before bed.
A water bottle on top of your phone's flashlight can become a great lamp for nightly use while camping or hanging outside.
Your phone is also your built in notebook for stat-keeping or scorekeeping, and also your rulebook (keep it bookmarked or tabbed open during tournament weekends).
Use your camera feature to keep track of directions to the fields, where you parked your car, what hotel room number you are in, or the schedule for the day (all then accessible if you lose service or need to turn it off to save battery).
8. Bring or create a multi-tool or small emergency kit.
A swiss army knife or multi-tool can be incredibly useful in so many situations. From opening bottles, to cutting nails, to having a screw-driver or pair of scissors handy, these are one of the best investments in ultimate.
However, if you aren't willing to pay for a quality tool (or ask for one for a gift), you can create your own little emergency tool kit.
Grab a plastic bag (small ziplock works best) and put in anything that might be super helpful to have in a stressful or emergency situation.
Put it nail clippers (sharp objects are useful in so many situations), bandaids, athletic tape or duct tape, a mini screwdriver, a cheap bottle opener, tweezers, a pen, some string or rope, and anything else that might be useful when you have a problem.
9. A few binder clips can help keep you organized.
Keeping two or three binder clips can be another nice and cheap addition to your travel. Binder clips can keep headphones and chargers from tangling, breaking, or getting lost.
Binder clips are much easier to find than leaving items loose. Use a paperclip to connect your binder to an internal loop, pocket, or zipper to leave the wires hanging and ready to use.
10. Tag or label your stuff.
This oldest lifehack in the book—in fact it's probably best to call this common sense. Your parent has been doing this since you were two, but most ultimate players ignore this simple and effective tip.
Find the tags of your clothes or gear and write your initials or jersey number or phone number to help them from being lost. Especially important, place a card or tag on your bag to distinguish it and help someone contact you if you lose it.
A distinctive piece of ribbon or rope can help mark your bag as yours if everyone on your squad is rocking the same style as you, but nothing can replace a sharpie or identification card (no need to buy one, just make your own) to keep your stuff safe.
Use these little tricks and make your next ultimate traveling experience a perfect one.
Ready to share your own Tuesday Tips? Send your column ideas to [email protected].