Sockeye faces a very tough pool again in 2018.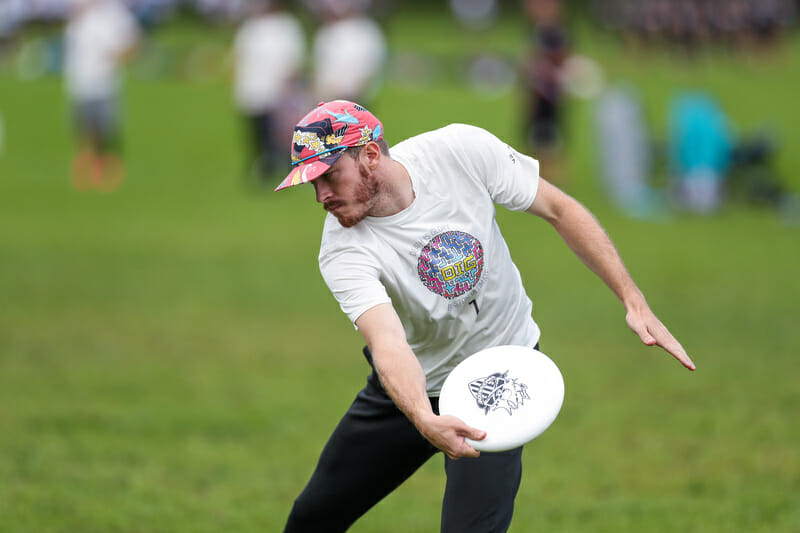 Ultiworld's coverage of the Men's Division at the 2018 Club Championships is presented by Spin Ultimate; all opinions are those of the authors. Please support the brands that make Ultiworld possible and shop at Spin Ultimate!
Pool A Preview — Pool C Preview — Pool D Preview — Competition Schedule
It would be easy to be tempted into thinking that Pool B sets up as an easy path to the quarterfinals for the pool's top seed (and #2 overall) Seattle Sockeye. While the format paints a picture of a manageable path, a little insight into recent history reminds us that Pool B is more likely to serve up fireworks then chalk.
Seattle entered the tournament in identical position last year, only to turn in a disastrous 0-3 Thursday that saw them eliminated from the tournament. Below them sit two squads in DiG and Doublewide whose backstories suggest that they might be on the verge of hitting an as of yet unseen top gear. Finally, rounding out the pool is Pittsburgh Temper, one of three teams to have handed Sockeye a loss on the year.1
Seattle Sockeye [No, 2, B1]
Sockeye enters Nationals again as the #2 overall seed. Last year, they entered Nationals as one of the favorites to win a Championship, hot off a dominant regular season2. But a combination of the windy Sarasota conditions, a gigantic Florida United four-man cup, and a mental panic led to a stunning 0-3 performance that eliminated the Fish from title contention on Day 1.
Hopefully, Seattle will see calmer winds in San Diego. This year's squad, partially as a function of their unexpectedly low finish last year, played a fair soft regular season schedule and flashed some chinks in their armor in some of their more contested games–most notably a 13-10 loss in Northwest Regional final to Furious George.
Things won't get easier in San Diego, where they draw a handful of deceptively tough matchups in pool play. Austin Doublewide possesses a lot of the skills that made Florida United a difficult matchup for Sockeye last year (tight zone defenses, height, effectively huckers in the wind) and is likely to just be hitting their peak. Boston DiG is in a similar position to peak late, and Pittsburgh Temper has already handed Sockeye a loss on the year.
What do they have going in their favor? Quite a bit, actually. Seattle has quietly been in the midst of a changing of the guard the last two years, as well-known stars like Danny Karlinsky begin to cede the reins of the team over to the next generation of players–a contingent headlined by former NexGen all stars Simon Montague, Dylan Freechild, Trent Dillon, and Jacob Janin3. Clearly, they have the talent. They are also an incredibly diverse team on the schematic side, featuring a variety of offensive and defensive sets that make them difficult to pin down. Finally, their coaching staff of former captains Mike "MC" Caldwell and Roger Crafts, plus the the talented former Pittsburgh assistant Dave Hogan, is formidable.
The question around Seattle is certainly not their talent, personnel, or schematic flexibility. In those areas, they are amply spoken for. The challenge for this iteration of Sockeye is to win the mental battle on the field in order to capitalize on their championship-level quality.
Likely Ceiling: National Champions
Likely Floor: …Done on Day 1 (woof)
Boston DiG [No. 7, B2]
Boston DiG is back at Nationals for the third straight year, this time representing a combination of last year's quarterfinal squad with fellow Boston quarterfinalist Ironside (RIP).
This seems pretty cut and dry at first, right? You take a team in Ironside that had made nine straight semifinals (before last years quarters exit) and then fuse them with a roster of the Boston young guns who keep making the bracket on their own. Boom, guaranteed semis floor and championship contender. Right? Perhaps not.
As we have seen in the past, putting two teams together and expecting the results to sum up cleanly almost never goes off without a hitch or two. Mentalities have to be reconciled, roles have to be defined, and culture established–and all of those things affect on-field performance in subtle ways. This year's DiG is not an exception. Their regular season has shown us flashes of brilliance (a DGP loss to Revolver, a brutal 15-8 beat down of Ring) as well as some "trust the process" moments (losing 14-12 to GOAT in the regional semis, and numerous tight wins over fringe Nationals teams).
All that said, it appears that DiG is hitting their stride at just the right time, on the strength of a budding youth movement. While the offense is still led by the ageless Josh Markette, many of their biggest offensive contributors were suiting up for college teams four months ago. The cutting trio of Mac Hecht (Brown), Rocco Essex Linehan (New Hampshire), and Tannor Johnson (Massachusetts)4 has been a force to be reckoned with. The youth shines just as brightly on defense where a handful of recent grads bring fireworks with their athleticism and ultimate IQ.
Holistically taken, Boston's regular reason was respectable but not compelling. But viewed in the lens of development, the outlook is quite positive. The progress from the Pro-Elite Challenge to the Pro Championships was an important step in the right direction, and the third-year program will look to parlay that level of development into an even stronger Nationals. And while DiG has clearly forged an identity separate from Ironside–even schematically, they favor horizontal and side stack offensive look where Ironside was known for their disciplined vertical set–they will look to carry on Boston's traditional standard of excellence.
Likely Ceiling: Finals
Likely Floor: Quarterfinals
Austin Doublewide [No. 11, B3]
A casual observer might be tempted to count out Austin Doublewide as a contender this year because their USAU regular season was both short and unspectacular. Here's your official PSA: do not sleep on Austin Doublewide. This is a team that made the finals in 2017 and also made the WUCC semifinals this summer.
Did they also put up a 5-7 regular season against USAU competition? Yes. Did they barely scrape by with a DGP win in the regional finals against a Bravo squad made the bid cutoff by the narrowest of margins? Yes. But again, do not sleep on Doublewide. Of all the teams in the division, they should get the most leeway for having a middling regular season.
It's a similar path to the one that led them to the final last year. While trusty veterans like Andrew Walch, Rory Orloff, and Brandon Malecek still put in great work, a significant core of players key to the team's success are recent college graduates sourced from the 2016 rosters of DW, Houston HIP, and Kansas City Prairie Fire. Combining skills while building chemistry in such a situation is a challenge in itself, but the situation is exacerbated by Doublewide's irregular training regimen. Because they source players from all over Texas, instead of regular weekend practice, Doublewide holds a handful of "training camp" weekends to get the team experience together. It's not a blocker per se, but it has its effect on team cohesion. Last year DW's young stars- particularly on O-line–never quite gelled until Nationals (which they described as their longest extended time to practice playing with each other).
Given that they didn't truly discover chemistry until Nationals last year, and then spent the majority of this summer planning around the WUCC tournament, a so-so regular season is understandable. But at their core, this is largely the same roster that has put up elite tournament results in the last calendar year. And though they are without the services of handler Abe Coffin this year due to injury, the meteoric rise of all-around star Jay Froude (1st Team All-Club 2017) continues, along with the rising cohort of Chase Cunningham, Kai Marshall, Kaplan Maurer (2017 Club DPOTY), Dalton Smith, Ben Lewis, Mitch Bennett, and Matt Bennett. On top of that, they've added former FLU captain Chris LaRocque, as well as a quintessentially Doublewide player in 6'7'' Josh Zdrodowski out of Utah. There is a wealth of talent; once again, the challenge will be fitting it all together.
Austin is not a welcome site as a No. 3 seed in any pool. On their worst day, they could simply air it out and use their army of big men to pull down jump balls. On a windy day, they can play a goon squad four man cup. And on their best day, they have the ability to play high-quality ultimate and athletic defense5. The rest of the tournament should be on notice: Doublewide will not be anybody's easy out. They could certainly find themselves deep in the bracket once again.
Likely Ceiling: Semis
Likely Floor: Prequarters
Pittsburgh Temper [No. 14, B4]
Pittsburgh Temper will arrive in San Diego to make their first Nationals appearance since 2014. The fact that they've been absent over that stretch is somewhat surprising since the team has a strong connection to the perennially strong University of Pittsburgh college program  As expected, a significant mass of this year's major contributors are indeed Pittsburgh products, and Temper has (like everybody else in the pool) leveraged their young talent into a spot at the Show.
Temper kicked off their season with a blazing hot start, making the final at the Pro-Elite Challenge and knocking off Seattle Sockeye on the way. However, the Elite-Select Challenge proved to be just that for Pittsburgh, as they were routed by the Condors and Chain Lightning 13-8 and 12-7, respectively. The questionable trend continued at Mid Atlantic Regionals where, after easily making the finals, Temper was blasted by Truckstop 15-6, knocking them into the backdoor bracket to face off with Patrol. And though Pittsburgh was able to steady the ship and pull the the DGP win in the game to go–breaking to win–they do not enter Nationals with the level of momentum their early season results might have suggested.
While Temper didn't qualify with an exclamation point, they still have a roster and system that should be of concern to any team they face. Temper is a smart, fast, and fundamental team. The aforementioned Pitt pipeline has provided them with a multitude of threats who have made names for themselves in the college, club, and pro circuits.
Tyler DeGirolamo is finally healthy again and has been an absolute monster downfield, both deep and in distribution. Pairing his daunting skill set with fellow dual-threats Max Thorne and Dylan Best makes for a formidable cutting corps. In the backfield, a trio of former Pitt centerpieces in Jonah Wisch, Pat Earles, and Thomas Edmonds are happy to open up the offense by breaking the mark or by patiently dinking and dunking until they can wriggle into power position to shoot. The line clearly benefits from the chemistry and familiarity that come from developing in the same system. The concept holds on the D-line side as well, where a handful of even younger Pitt players–headlined by Michael Ing (2017 College POTY Runner Up)– bring athletic defense and disciplined offense.
When Temper can play their preferred game–ideally in still conditions–they are a tough out.
Likely Ceiling: Quarterfinals
Likely Floor: Done on Day One
---