Brute Squad and Molly Brown are set to meet in the semifinals for a fourth consecutive season.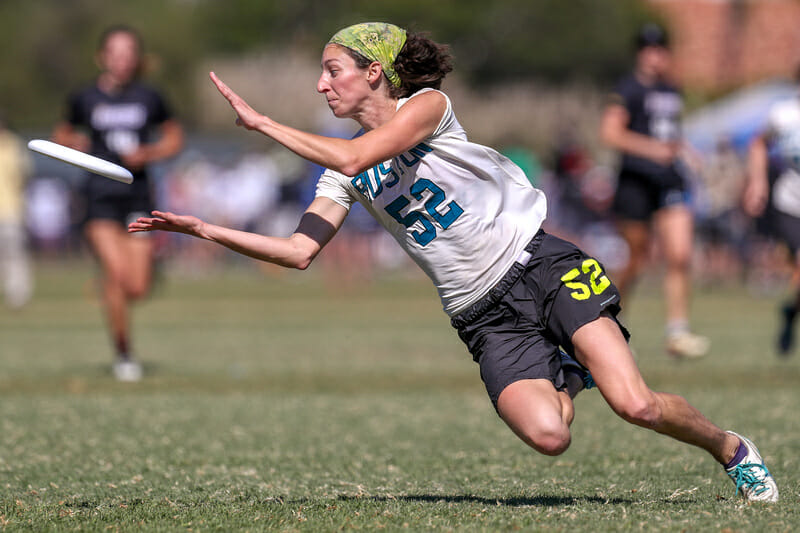 Ultiworld's coverage of the 2018 Women's Division is presented by VC Ultimate; all opinions are those of the authors. Please support the brands that make Ultiworld possible and shop at VC Ultimate!
For the fourth consecutive year, #1 Boston Brute Squad and #4 Denver Molly Brown will meet in the semifinals of Club Nationals. Each time, Brute Squad has prevailed, with the closest game being 12-10 in 2017. Additionally, Brute Squad brings a undefeated 2018 season record into tomorrow's matchup, which includes a 15-13 win over Molly Brown at the U.S. Open. With so much recent success from Brute Squad, will we see the same result for the fourth straight time?
Molly Brown displayed tremendous depth in their quarterfinal win over Atlanta Ozone. Their well-balanced attack included 20 Molly Brown players recording a goal, assist, or block. Throughout the season, new additions Alika Johnston and Allysha Dixon have added depth to Molly Brown's defense, while Liz Kaloupek has become a consistent goal-scorer.
The extended presence of Manuela Cardenas has given Molly Brown an added weapon. Last season, Cardenas only practiced with the team twice. This year, she spent the last two months in Colorado. Cardenas has played during big points on both offense and defense over the last couple days. She's established herself as one of the best players in the world, and this season, she's much more comfortable and integrated in Molly Brown's system. Adding her to Claire Chastain, Lisa Pitcaithley, Liza Minor, and the rest of the impressive cast sharpens the Denver offense.
Meanwhile, Brute Squad has had an historically impressive season, sitting on a 26-0 record. They've won 25 of those games by four or more goals. Kami Groom and Angela Zhu have been excellent as usual, but this year, new additions Nicole Canning and Jessie Grignon Tomas have made huge contributions to the squad. Carried by a defense that generated a lot of pressure, Brute Squad finished their quarterfinal win against Toronto 6ixers on a 7-1 run. That's not too dissimilar from the 7-3 lead Boston built against Molly Brown in their U.S. Open bout.
In order to pull off a stunning upset, Molly Brown will have to efficiently convert their break chances. Molly Brown's offense is full of firepower and the ability to generate quick clean holds, so their D-Line will have to capitalize on whatever limited opportunities Brute Squad may provide. Boston's reputable defense will not give Denver a lot of cushion, so the underdog South Central squad will need to take advantage of what they can get. 
If not, we'll see the expected: Brute Squad advancing to their fourth consecutive championship game.