Nearly universal praise for the San Diego Nationals experience.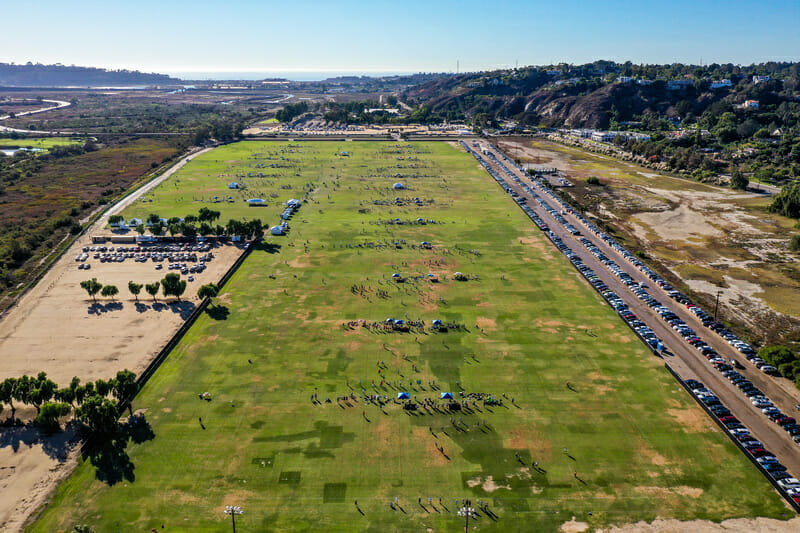 Club Nationals made its return to the west coast for the first since 1999 this year, and the reactions from players are in. With higher tournament fees, pricier flights, and more expensive housing and general travel costs in Southern California, the ultimate community has come to a consensus: San Diego Nationals is awesome.
Players from every region and division seemed to love San Diego as a host site, nearly unanimously. From sick Airbnbs on the beach with hot tubs and pools with rock slides, and from scooter rentals to beautiful weather and solid field sites, complaints were few and far between.
Highest on the list of compliments for San Diego was the weather. With highs in the 80s that never lasted too long, lows in the 60s, and minimal wind, San Diego featured ideal ultimate conditions. Several players noted that the Southern California weather stood in stark contrast to a few of the recent Nationals locations, as well as the weather in other parts of the country over the same week.
"You can't compare anything to 75 and sunny every day," said Joe Freund, of Washington DC Space Heater. "It's pretty unreal, especially coming from Blacksburg, where it's probably 30 degrees right now. I can't explain how happy I was that it was here. Coming from a place that was 30 degrees and snowy when I left, I'm so happy to have it here. I think it's pretty special to come to a place where everything relies on how good of a team you are. Not if it's rainy, if it's windy, how do you play in different conditions. There's a place and a time for that, but I feel like at Nationals, it [should be about] how good are you as a team, together, and how are you against the other teams."
Seattle Mixtape's Jesse Bolton and Vancouver Traffic's Catherine Hui shared similar praise for the sunny weather. "I like San Diego. The weather's been great. Slight wind, thrower's wind all week, sunny, not too hot," said Bolton.
"There's a bit of wind but it was awesome, weather-wise," said Hui, who was also appreciative of not having to change time zones. "Not super humid, not super hot, but still warm and everyone likes the beach. Everybody loves being in the warm temperature, and also for us it's the same time zone so that was nice."
Another common theme was enjoyment of the beach. Most teams seemed to have beach houses that wouldn't have been out of place on MTV Cribs. And even the teams that weren't directly on the beach all seemed to take some time to enjoy the Pacific Ocean. Members of New York PoNY reportedly went scuba diving.
San Diego offered plenty for players when not at the fields. The coast, the food, and plenty of opportunities for fun within the city itself meant players were able to treat the trip to Nationals like a vacation.
Bolton, whose grandmother was able to watch him play at Nationals for the first time as a result of Nationals being on the west coast, explained that several members of Mixtape made the trip for Seattle early to take in the San Diego Zoo1 and the enjoy the beach. Columbus Cocktails' Sadie Jezierski shared that her team was able to fully enjoy their first ever trip to Nationals. "Great food and surrounding area," she said. "The fact that we had to choose between the pool and the beach was something a lot of us hadn't experienced. Even though the bid fee and California itself was expensive, it was worth it for a once a year tournament."
Atlanta Ozone's Meg Harris explained why the off the field appeal of a Nationals site is so important. "I think it's a nice location and it's a place that has a little bit more to offer than just a field site. It seems like there's a lot more stuff around here than there's been in some of our other places and that's nice," she said. "A really special part of the Nationals experience is getting to see all of the opponents that you play on the field all day for so long for three days in a row and then you get to all come together and hang out and have fun at the end of the tournament. I think it's a pretty important part. I think it's why a lot of people stay really excited about it."
It wasn't perfect 10s across the board, however. A few players did have criticisms of the field sites. The fields at the polo grounds of the Surf Cup Sports Park, which hosted the vast majority of games, weren't in the best shape. "I thought the fields were pretty hard," said Harris. "They weren't the best field conditions. They were pretty hard, they were pretty dirty. But they weren't the worst either."
Atlanta Chain Lightning's Michael Fairley was the biggest detractor of the fields. "I think San Diego's a great location. The weather was great. It wasn't too windy," said Fairley. "But the field site leaves a lot to be desired. I just think it's really hard to go from Sarasota to this place because the fields at Sarasota are just amazing compared to what we played on. The ground was pretty firm and dry.
"When I think of what Nationals quality means, if I'm paying $104 myself, that's not what I expect," he continued. "And I understand San Diego is more expensive, but I think you have to look at the fact that I paid $72 last year for those amazing fields in Sarasota, and Frisco was amazing fields and I think it was around $70 a person. At that point you're like, 'Are we kinda getting hosed for this?' It's a great location, great, but do I feel like when I walk away from that field site, did I feel like I was at Nationals? Not really. It felt more like I was at Sectionals."
Fairley did say he thought it was fair to have Nationals on the west coast to accommodate the western teams and suggested a system of alternating between the west coast and Sarasota as the ideal. There were also criticisms of the semis and finals field being on turf and at a second location 30 minutes away from the main site.
"I thought the Frisco setup where it was all at one field site was ideal, same as the Sarasota field site, where all the games are at the same field site was ideal. But as far as this goes, the fields out in the county were really great. They were a little sandy, but there weren't many holes, not many twisted ankles, I felt pretty safe on it. I'm happy we only had to play one game out here [on the turf.] But this is a nice site," said Bolton.
Still, even the field sites received mostly fine to good reviews, like from PoNY's Isaac Saul. "I can see why some people complained about the fields who weren't there, because they didn't look pretty. But on the ground the grass was short, soft and well kept," he said. "I thought the fields were an 8/10, and definitely good enough to host Nationals."
For the most part, San Diego earned rave reviews as a Nationals location. The criticisms were largely focused on the fields, but even those complaints weren't deal breakers for the vast majority. Players loved their time in San Diego and most were happy that Nationals will return there next season. Perhaps most telling was that even all of the Twitter hot takes were positive.
On the Twittersphere and in person, players from the Northwest, Southeast, and everywhere in between were high on San Diego come the end of the weekend. There were complaints, and some were stronger than others, but, compared to the general feelings on previous Nationals sites, San Diego was a winner.
No one, though, had a more positive review of San Diego than Saul. "We had an awesome Airbnb that was a 10-minute walk from the beach, rode electric scooters all over town and got to enjoy the local grub like tacos. The weather was also pitch perfect. I've now been to Nationals in Sarasota, Rockford, and Texas. This was by far the best location top to bottom," he said.
"In terms of cost, it was definitely a bit more expensive to go to San Diego than other places, but I think it was worth it. Also, all the west coast teams have to come cross country and wake up at their biological 4 AM to play in Florida or Illinois. This seems a lot more equitable since it isn't really a disadvantage for East coast teams to come West. Overall, San Diego seemed like an awesome, welcoming city with incredible weather, good fields, and lots of fun stuff to do nearby. I would vote for San Diego Nationals for the next 10 years."
I can't remember Rockford, which got some snow and featured temperatures in the 30s at times over the Nationals dates this year, getting such an endorsement.
---
Editor's Note: The zoo is expensive but definitely worth it. ↩