Ultiworld's 12 Days of College Ultimate are presented by Spin Ultimate; all opinions are those of the authors. Please support the brands that make Ultiworld possible and shop at Spin Ultimate!
It's time to unwrap some presents as we introduce the 12 Days of College Ultimate. Through December 21st, we will be releasing one gift per day, though don't count on getting any partridges in pear trees: it's all college ultimate. From highlight videos to player chatter to a giant bracket, we've got a little something for everyone.
On Day 2, we bring you some of the most exciting handler-cutter duos to watch this season. Whether they're known for posterizing skies, huge flick hucks, or just generally shredding defenses, these players should be on your radar this season.
Men's Division
Kai Marcus & Alex Davis (UNC)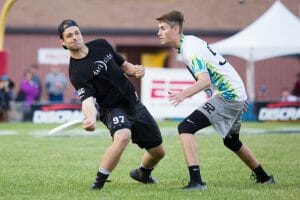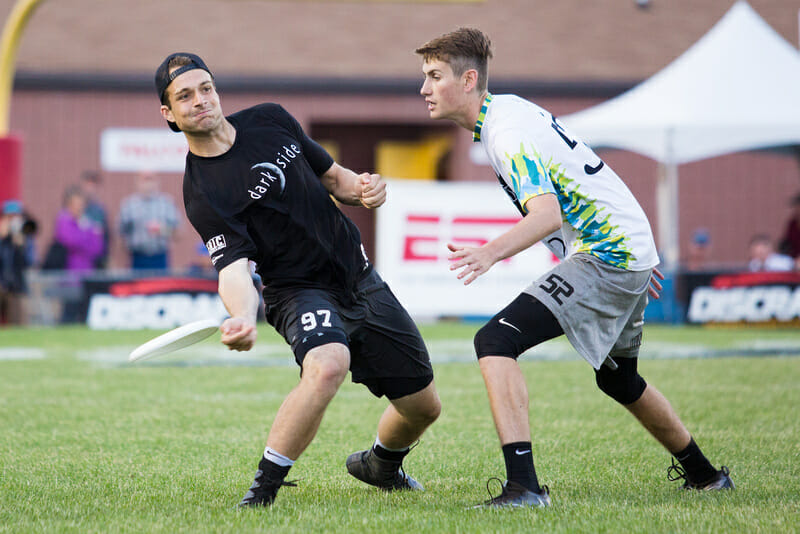 A lot of teams these days yell 'Shooter!' when the opponent's dangerous deep thrower has the disc. But is there any player in the division who's got more shooter in him than Kai Marcus?
The junior brings a "grip it and rip it" mentality to a mostly finesse-based handler corps. While it can sometimes backfire (who could forget his brutal game against Oregon in the semifinals of College Nationals last May?), he has exceptional vision and the ability to pull off some really crazy hucks from all release points.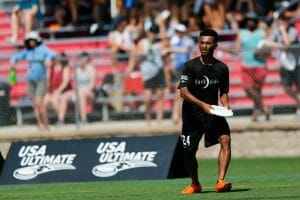 The lightning fast Alex Davis will be hauling in plenty of those this season for UNC. Even though he stands at just 5'8", he's springy and fast enough to simply blow by bigger defenders. He was tied for second on the team in goals at 2018 Nationals, behind only Matt Gouchoe-Hanas' 20.
There were already plenty of Marcus to Davis moments last season, but we should see even more this year as UNC stretches the field to make even more room for their handlers and middle cutters to thrive.
---
Ted Sither & Will Lohre (Oregon)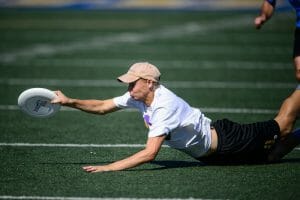 In case you were worried that Oregon would be taking a step back with the departure of big offensive contributors like Adam Rees and Colton Clark, have no fear: Ted Sither and Will Lohre are ready to disintegrate defenses.
Both players were standouts at the Under-24 West Coast tryouts last month, and Sither is coming off of a club season where he was named the 1st runner-up in the Breakout Player of the Year race in the mixed division for his handling prowess for Space Heater.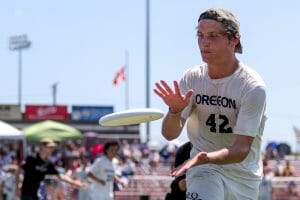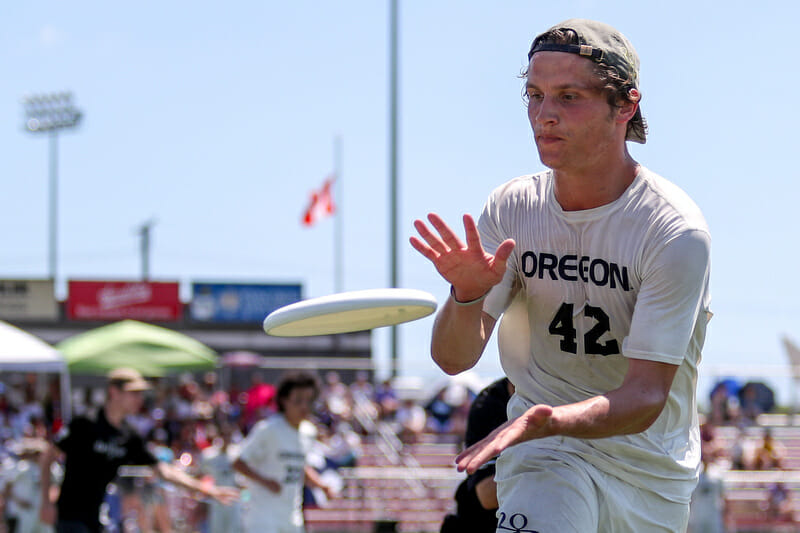 Add their talent to the offensive wizardry that head coach Jay Janin has been conjuring up year after year and you've got a recipe for a lot of appearances in the highlight reel.
Let's just quote from the U24 recap: Sither was "one of the most impressive handlers at the tryout. He showcased the ability to make high difficulty throws as well as consistently attack from the reset space." Lohre was "unguardable in the cutting lanes."
Should be fun watching Oregon this year.
---
Mac Hecht & John Randolph (Brown)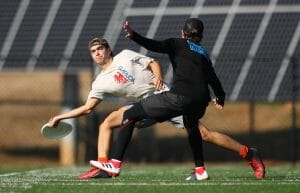 Quick: is Mac Hecht a handler or a cutter? What about John Randolph?
It's kind of hard to answer those questions, but we can say one thing for sure: the pair of them will be getting a lot of buckets this season.
Often, you'll see both Hecht and Randolph, each a 2nd Team All-America selection last season, start downfield. Hecht initiates for the under, Randolph goes deep. Easy.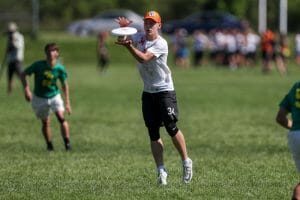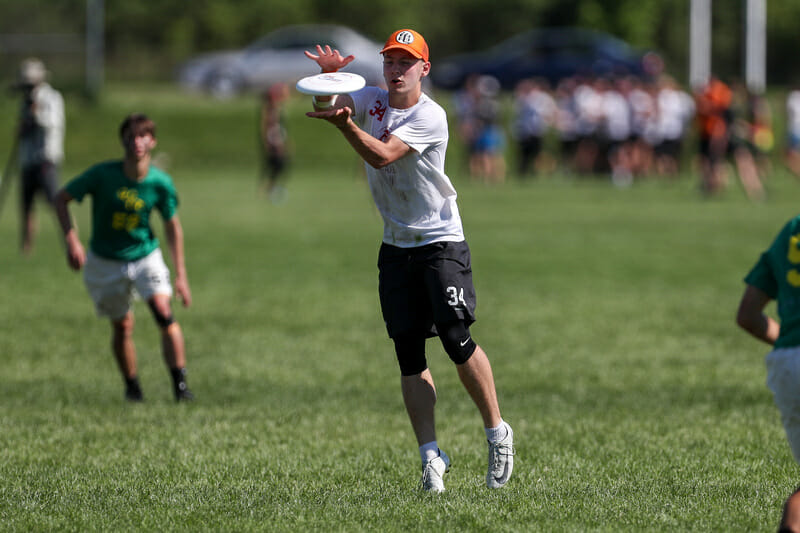 In some ways, Randolph is a more natural handler and Hecht a more natural cutter, but both will touch the disc a lot both downfield and in the backfield on a Brown team that is a little bit thin in the offensive depth department.
But forget the labels! You'd be hard-pressed to name a more exciting duo to watch this season, as both players have the versatility to launch hucks, get open downfield, and break the mark consistently.
And, hey, if Hecht comes back for a fifth year, we'll get two years of this!
---
Leo Warren & Noah Robinson (Pittsburgh)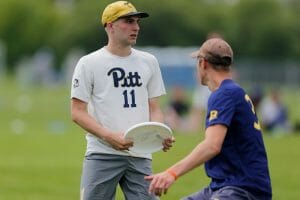 Leo to Big Cat! It sounds like a movie, but it's real life Pitt brotherhood right now.
Leo Warren is ready to step into an even bigger handling role, and we expect to see him on the offense in the spring, given the departures on that side of the disc for Pitt this offseason. And he's got the perfect downfield target in 6'5" Noah Robinson AKA Big Cat AKA The Karleton Killer.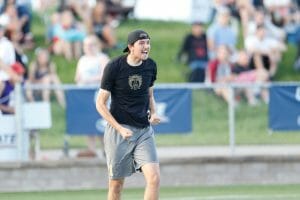 Robinson has struggled with injuries in the past, but he really came alive last year late in the regular season (he was great at Easterns) and then of course with his huge four goal, three assist game against Carleton in the Nationals semis. Warren was primarily a D-line handler last year, but he's the best and most experienced pure handler on the team this season, so a move to the O-line makes sense for him.
Now, is it possible that Mike Ing becomes the focal point of the offense, catching and launching hucks? Of course, can't rule it out.
But he doesn't have a sweet nickname like Big Cat, and that should be a primary consideration for the Pitt coaching staff when they think about who should be the alpha cutter on offense.
---
Carson Wilder & Kyle Henke (Texas Tech)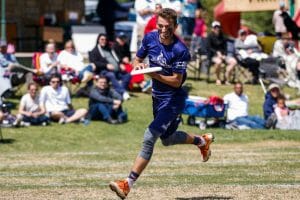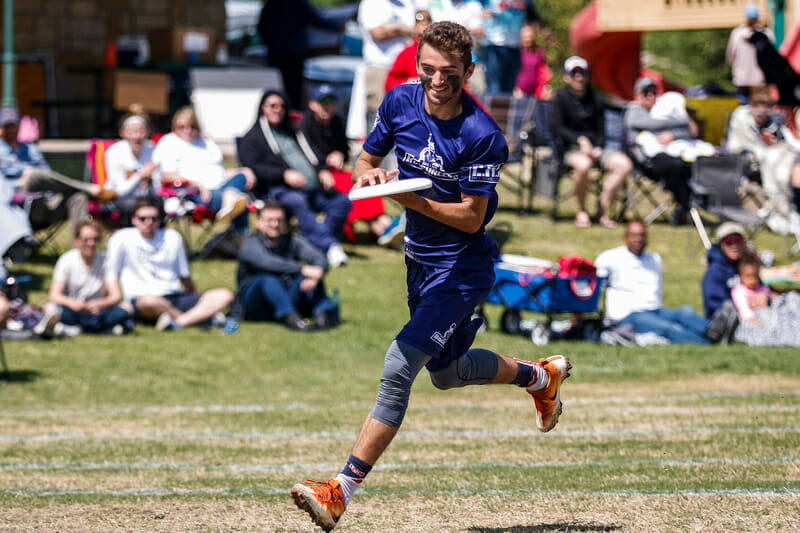 Alright, we're going way off the board here to name a duo on a team that celebrates its Regionals appearances on Twitter (2015, 2017, and 2018, if you're wondering).
That's right: Carson Wilder and Kyle Henke of Texas Tech.
Both players are coming off of successful AUDL seasons (Wilder with Dallas and Henke with Austin) and a year with Austin Doublewide, where they were each tied for second on the team in goals (7) at Nationals. This play alone cements Henke as a must-watch college player this season:
Wilder is definitely a natural cutter, but like many top tier players on otherwise mediocre college teams, he gets a lot of touches and will be throwing up bombs to Henke all season.
Is Texas Tech going to be any good? Who knows! But these guys are going to tear it up and play a zillion minutes, so you know it will be fun to watch.
Women's Division
Janelle Siwa & Ellen Au-Yeung (British Columbia)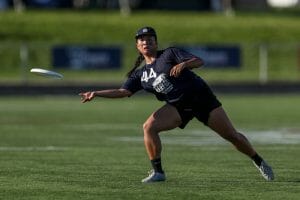 What do you get when you combine one of the most dynamic all-around players in the college division with a thrower who has no cap on her range? UBC's Ellen Au-Yeung and Janelle Siwa.
It's always been tough to judge the merit of British Columbia heading into the college season because the Canadian university starts their ultimate season so late compared to others. However, if there is any type of a lock we are willing to predict, it's that Au-Yeung and Siwa are going to be phenomenal for the Thunderbirds. Au-Yeung has long been heralded as a multifaceted threat on the ultimate field. Stop one aspect of her game and she'll punish you with another. It's not wrong to say that there have been games for UBC that were won by the sheer will power and tenacity of their swiss-army knife star.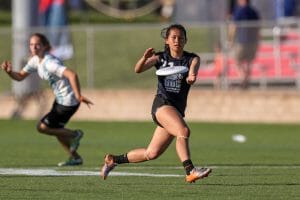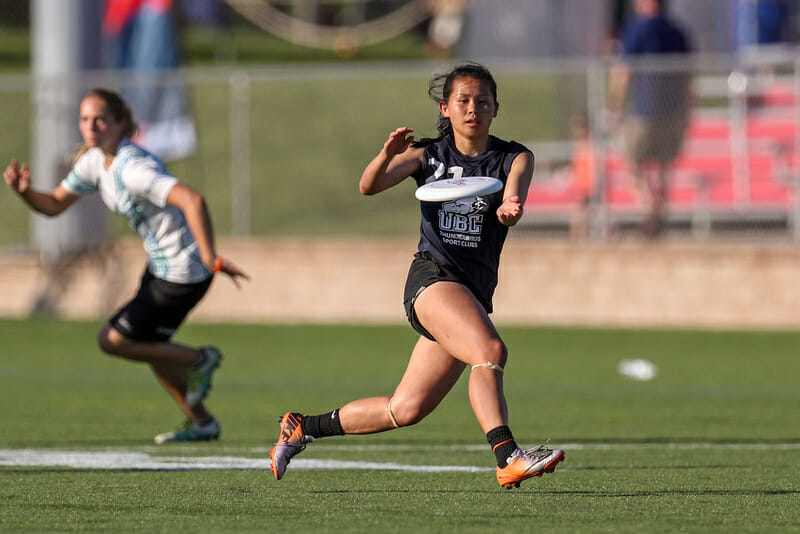 Still, with all of Au-Yeung's strengths, her full ability shines through when she's not forced to run the offense on every possession.
Enter Siwa, UBC's resident do-it-all hucker. There's nothing more discouraging than marking someone who can huck the disc from any angle. That's Siwa in a nutshell. It's not a question of if she'll get the pass off, but how. With Au-Yeung operating as an initiating cutter, she's often Siwa's first (and easiest) option. Between the two of them, UBC can carve up a defense and return to the sideline within seconds. It's rare that an entire defense has to be planned around two players, but for Au-Yeung and Siwa, they may be the exception.
---
Kelli Iwamoto & Dena Elimelech (UC San Diego)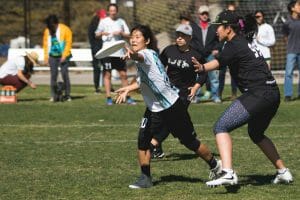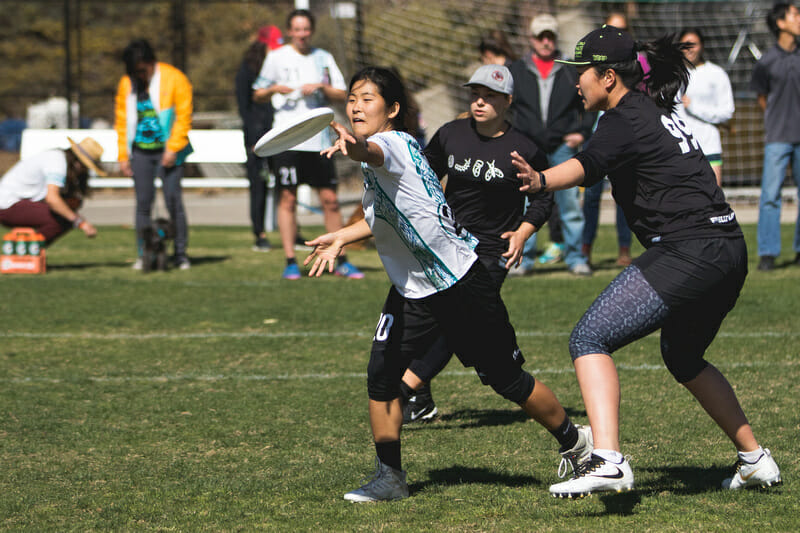 UC San Diego had the most meteoric rise of any team in 2018. And while they are essentially returning their entire team from last year, no two players are more integral to their system than Kelli Iwamoto and Dena Elimelech. Iwamoto is an ideal give'n'go handler, a dynamic force that never holds the disc for too long and is constantly in motion.
As UCSD's pace-setter, she confidently marches the disc downfield with crafty OI throws and her trademark off-hand backhands. When Iwamoto is in her element, no defender can keep in front of her.
Iwamoto's pace may set up the UCSD offense for success, but it's Elimelech that tears down the defense to close out points.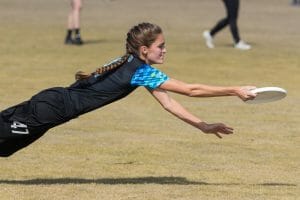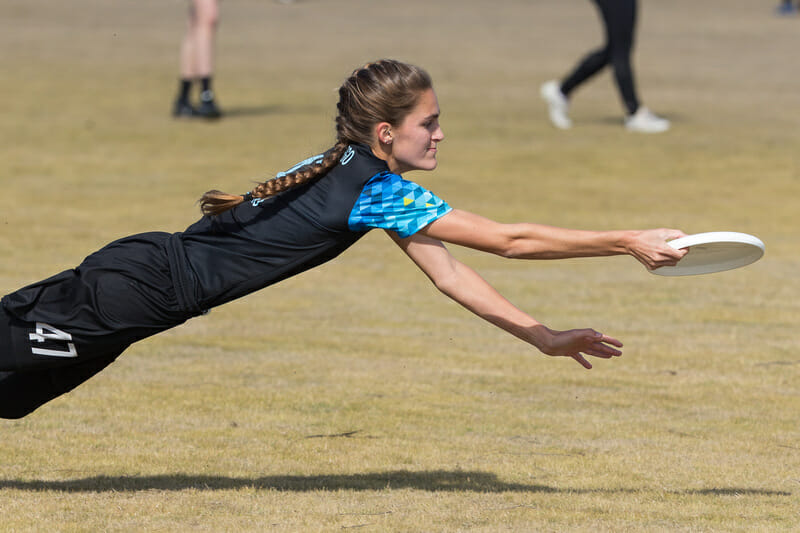 As the Yin to Iwamoto's Yang, Elimelech has all the tools to be an indomitable threat downfield. Her combination of size and effortless athleticism makes her a matchup nightmare and an easy bailout option for UCSD if the offense stagnates. As one of college ultimate's rising stars, Elimelech should take 2019 by storm.
With the versatility of their two brightest stars, UCSD often staggers the points they play. When they do get the opportunity to play on the same line together, Iwamoto and Elimelech play with a connection that most college coaches can only pray for.
---
Ella Hansen & Morgan Caldwell (Oregon)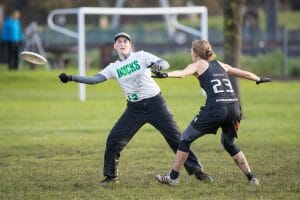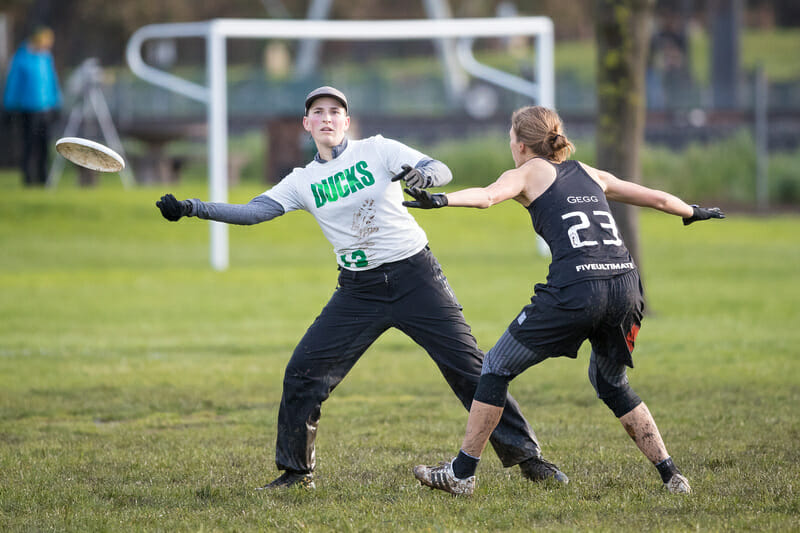 Oregon Fugue might not be the dominant force they were earlier in the 2010s, but the one-two punch of Ella Hansen and Morgan Caldwell make them a threat against even the most elite teams. Hansen, returning for a fifth year, is one of the division's most powerful throwers, and Caldwell's refined her game to become a more skillful athlete downfield. In classic Fugue fashion, expect them to strike early and often.
Hansen's final turn in a Fugue uniform will cap off an impressive career. After earning second runner-up Rookie of the Year in 2015, she added 1st and 2nd team All-American honors over the past two seasons. Her bolt of a forehand comes out so quickly and expansively that she earned the nickname "One-Throw Ella." There may not be a more feared player in the division picking up a stopped disc or collecting the centering pass.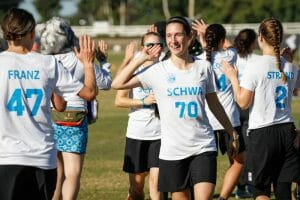 Caldwell doesn't have Hansen's notoriety, but she's plenty capable of delivering on her end.
She put up solid numbers with Portland Schwa at the Club Championships, tallying six goals and two assists, and led Fugue in goals at last year's Nationals with 14. The fellow fifth year made her name as a sticky-handed rookie ready to her throw her body around.
She's not afraid of the big stage, and will be a constant threat whenever Hansen eyes the end zone.
---
Sadie Jezierski & Emily Barrett (Ohio State)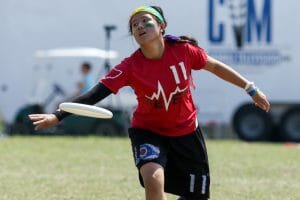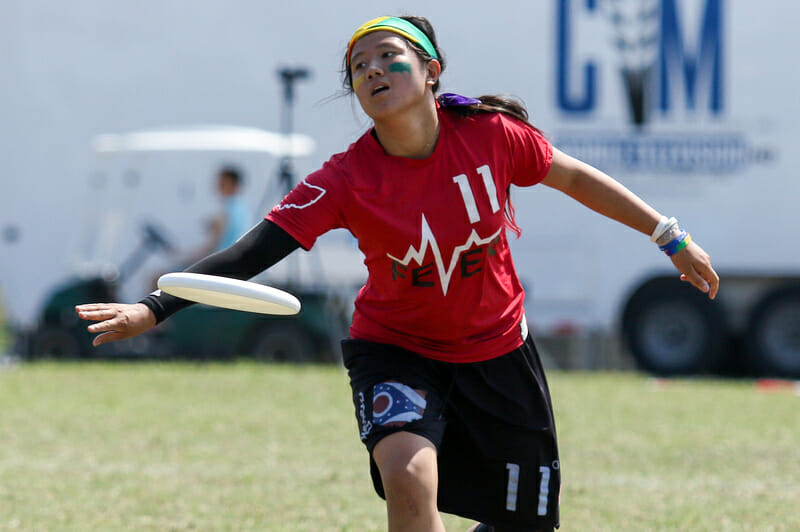 We've spent plenty of words waxing lyrical about Sadie Jezierski's throwing prowess. She's one of the most dangerous players with a disc in her hand that the division has seen in recent years. She's not afraid to use her full arsenal of throws at any given moment.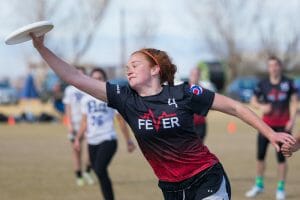 It wasn't until last season, though, that Emily Barrett really stepped onto the scene. She led the team in goals at Nationals as as a junior and should be ready to take a step further in her senior season. Barrett's height, athleticism, and fearlessness in and around the end zone make her a perfect match for Jezierski's throws, and a nightmare for other teams to defend.
Ohio State is a sneaky semis contender this year, and Jezierski and Barrett are two big reasons why. They were both key contributors for the Columbus Cocktails team that made Club Nationals, with Jezierski leading the team's women in assists and Barrett leading the team's women in goals. The combo should only be more fearsome with Fever in 2019.
---
Domenica Sutherland & Ivy Harrison (Texas)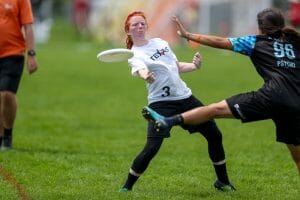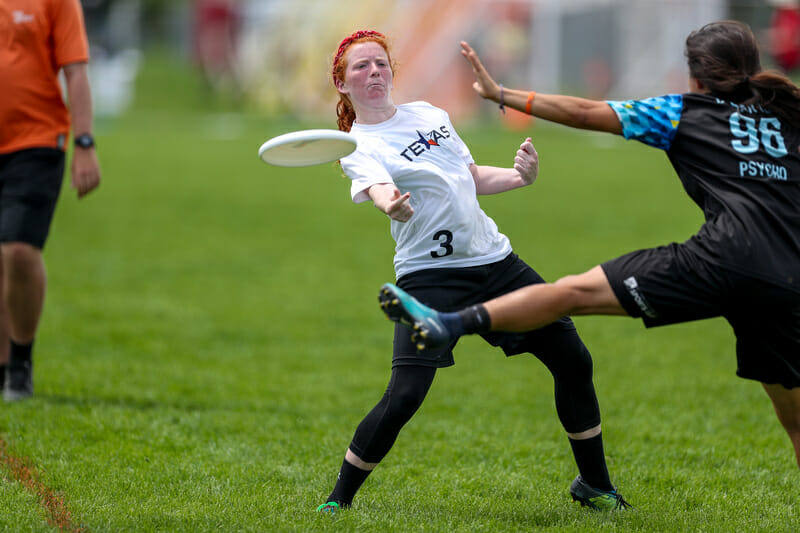 Domenica Sutherland, now in her fifth year with Texas Melee, has been known in the division as an athletic gunslinger for a few years now. She finished tied for fifth in the division in assists at Nationals last year, and she should take on an even bigger load in this backfield this year with the departure of Laura Gerencser.
Harrison transferred to the program from TCU in 2018 and immediately became an impact player downfield, taking home the 2017 runner-up Breakout Player of the Year award. She stood out most for her penchant for high-flying layouts, but she's exhibited the timing and practical intelligence to match her athleticism.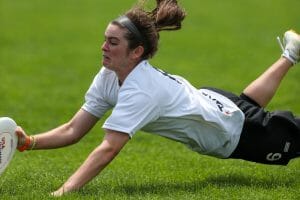 The two also spent the last two club seasons playing together on Austin Showdown, developing chemistry together so they should make a truly fearsome duo in 2019.
Harrison and Sutherland both bring Texas-sized flare and attitude to the ultimate field — along with their undeniable technical skills — and will form one of the most high-octane handler-cutter combos in the country this season. Don't be surprised if the two finish near the division lead in assists and goals, respectively, on their home field at Nationals in May.