Who in element could win the year in 2019?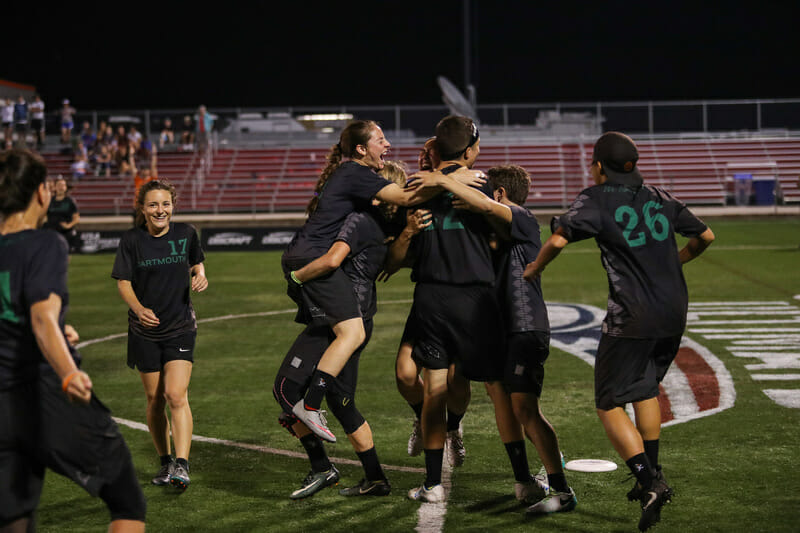 Ultiworld's 12 Days of College Ultimate are presented by Spin Ultimate; all opinions are those of the authors. Please support the brands that make Ultiworld possible and shop at Spin Ultimate!
It's time to unwrap some presents as we introduce the 12 Days of College Ultimate. Through December 21st, we will be releasing one gift per day, though don't count on getting any partridges in pear trees: it's all college ultimate. From highlight videos to player chatter to a giant bracket, we've got a little something for everyone.
On the 12th and final day, we commemorate the 12 team bracket at college Nationals, we're putting together a 12 team bracket of the people, things, and concepts competing to "win" the 2019 college season. Just like the Nationals bracket,the top four seeds get byes straight to quarters, while everyone else dukes it out in PreQs.
A couple points to clarify before we get started:
How is seeding determined? Clout/impact heading into the season, which of course doesn't necessarily reflect who will win in the season yet to come.
What is the criteria for selecting a winner? What does it mean to "win? Winning isn't as tangible as strictly on field accomplishments. It's making an impression. It's dominating the conversation. It's pulling off an outfit you otherwise have no business wearing. It's finding the cultural center and setting up shop.  I guess, in the parlance of our times, if you know, you know.
Seeding
The top four seeds advance directly to the quarterfinals.
Dartmouth Women's
The Callahan Award
North Carolina (the state of)
Elitism
Spikes
Bad Takes
Algorithm Truthers
John Randolph
Texas Weather
Cleat Equity
Nicknames
Turf Truthers
Prequarterfinal Round
No. 5 Spikes vs. No. 12 Turf Truthers
Adapt or die. That's the mantra for spikes this year. Spiking mirrored the arc of the internet, going from taboo, to actually pretty cool if you knew about it, to ubiquitous but still thriving off the bubble of creativity, to stagnant and depressing and making tragically uncool people the center of culture. We haven't seen anything really original in the spike game in some time, but nature abhors a vacuum so maybe the art form has a renaissance left in it.
Turf Truthers haven't quite had their moment yet, but you can sense that it is coming. Is ultimate bad on turf? Should we not be playing on turf? DOES TURF GIVE YOU CANCER? All important questions that could come to a head this season, particularly as parks departments start realizing that ultimate is the single worst game for the health of field and more tournaments are pushed towards turf fields.
I'm willing to bet more on people's willingness to blame external factors for bad things than their creativity, so Turf Truthers pull of the big upset in the first round.
No. 6 Bad Takes vs. No. 11 Nicknames
Bad Takes might prove to be egregiously underseeded at no. 6, and the selection committee did Nicknames no favors by pairing them here. Yes, Nicknames are everywhere in ultimate, but it doesn't seem like we've had enough.. good ones in a while. Pittsburgh's Noah Robinson is bringing it back around with BIG CAT, but this potential resurgence doesn't stand a chance against Bad Takes. Like, have you met people?
Bad Takes doesn't even break stride walking to quarters.
No. 7 Algorithm Truthers v. No. 10 Cleat Equity
In one corner you've got a burgeoning issue du jour among gender equity advocates, protesting the disparity of footwear choices for women, and in the other corner you've got a bunch of nerds going crazy trying to create a bid system that prevents Cincinnati from making Nationals ever again.
Cleat Equity is a powerful alliance of convenience, between gender equity advocates and a burgeoning ultimate apparel industry that believes that ultimate should have its own cleats because so does every other sport. I'll see your study on the prevalence of injuries among female athletes due to a lack of adequate footwear and raise you niche companies trying to profit off of it. See, capitalism works!  
Algorithm Truthers have a legitimate axe to grind, namely that the system we've put in place doesn't produce justice and can be easily manipulated. But, tough news, that's the problem with our entire capitalist society. And unfortunately, the Algorithm Truthers don't have it all together yet in a way that could meaningfully affect change. Does there need to be a human component? Should it be probabilistic? Algorithm Truthers won't win a year until they can unite under the realization that they have nothing to lose but their chains, and that doesn't seem likely any time soon.
Cleat Equity advances to the next round because it's at an earlier stage of the capitalist doom spiral.
No. 8 John Randolph vs. No. 9 Texas Weather
One of the best parts about college ultimate is that the style of play and level of talent can sometimes allow one player to really grab a season by the scruff of the neck, driving their team past the point they probably deserve to go. Brown's John Randolph seems like he could fit the bill. A breakout freshman year followed by a huge club season with Sockeye has Randolph as the buzziest player in the men's division. With a Brown team that is good, but not incredibly deep, Randolph should be in a good position to play some wildly entertaining hero ball against bigger, better programs like UNC and Carleton.
It's not enough, though. Not against Texas Weather. USAU elected to hold Nationals in Austin and College Station  this year for… reasons? As a result, either scorching heat, monsoon rains, or some horrible humid combination seemingly await at the end of the season. It's the kind of weather that can stop a lone star in their tracks, and it could swallow up Randolph for real, just as it is doing in this bracket.
Texas Weather scorches a path to the quarterfinals.
Quarterfinal Round
No. 1 Dartmouth Women's vs. No. 9 Texas Weather
The one seed gets more of a challenge than they might have been expecting this early in the bracket. Texas Weather is the stuff of poetry, specifically the kind of brutal nihilistic poetry that makes you stop reading poetry and watch some dumb sitcom to forget about the uncaring void at the center of the universe.
But Dartmouth Women's Team are masters of the void. They have all the infinity stones. They are back to back defending champs, bringing back the best player in the (history of the?) division, and neither snow nor rain nor heat nor gloom of night (which are all on the table, by the way) is going to keep them from taking what is theirs.
The champs stay the champs.
No. 4 Elitism vs. No. 12 Turf Truthers
Turf Truthers make their bones with convincing-in-the-moment concerns about the dangers and downsides of turf. Are games played on turf worse because the temperature gradient between the hot turf and the air is steeper, leading to windier conditions? I don't know if that's true but it sounds true, and more importantly it seems true. 
Yes, CUT seems primed for another title run in the men's division, but the rest of the elites don't seem as vibrant. Elitism has been a part of ultimate from the beginning, but the tides of change are coming. Eat the rich.
The Cinderella story continues, as the no. 12 seed moves on to semis over Elitism.
No. 3 North Carolina (the state of) vs. No. 6 Bad Takes
A truly seismic matchup, and a crime that it has to happen so early in the bracket. A close cousin of the Algorithm Truthers, the bracket truthers are probably working up some half-baked manifesto as we speak about how brackets should be reseeded halfway through the tournament based on assist/turnover ratio or something weird. But this isn't about them, this is about the largest producer of sweet potatoes in the nation being pitted against some Takes.
North Carolina is the hottest scene in the country right now, with Darkside the defending champion in the men's division and Pleiades stockpiling young talent like crazy, hoping that if you get enough plucky 18 year olds together they can topple Jac Verzuh. It's not just the UNC teams either, as the Carolina talent boom is reaching gold rush status and teams all over the state are reaping the benefits..
But Bad Takes though… Bad Takes are everywhere. Last year had some great ones, culminating in Jackelyne Nguyen's Callahan award, which was like if a bad take became sentient and emanated itself into existence. I can't wait to see what this year will bring. Will a Regionals-level team bitch about their exclusion from the top 25 because they only lost 13-11 against some good team in the fall? Will the parent of an academically elite Metro East school whose kid just lost to a state school tweet that the state school team is only good because they don't spend any time in the library? Only time will tell. But also yes.

This is so close, and at first blush it seems like Bad Takes comes out just ahead. But here's the problem: if Bad Takes end up winning the whole thing, and it pans out, then it will have been a good take that Bad Takes will win the year. This would create a logical black hole from which no takes of any kind can emerge. But if Bad Takes don't pan out, then it will have been a good take to not pick them, which would be ideologically consistent. So for the good of the bracket, and the take industry in general, North Carolina moves on.
No. 2 The Callahan Award vs. No. 10 Cleat Equity
Let's not mince words, last year was a rough one for the Callahan award. One of the winners not showing up to Nationals because it seemed impossible that she could/should win, leading to a very awkward ceremony announcement where no one knew what to do, was an EXTREMELY tough look for the biggest award in the sport.
And while there wasn't much controversy in the men's division, it's not like there was an inspiring slate of candidates. One guy didn't play elite club, two of the guys played with the kind of personality and swagger that you could charitably call "fibrous," and the winner took home the trophy in large part because he tore his ACL… sort of jumping weird for no apparent reason?
But I'm sensing a comeback year for the award. It certainly enough juice to get it past Cleat Equity, which just this second ran out of steam as a big issue once some alt-right 15 year old on reddit made everyone agree that it's not a problem that the community needs to address because the free market should decide who gets to play sports without getting injured. Good job u/shoetersteez!
Semifinal Round
No. 1 Dartmouth Women's vs. No. 12 Turf Truthers
I feel bad for whichever poor sap had to write the semis preview for this one, trying to gin up some belief that maybe the underdog would continue it's inspiring path and give the one seed a game. No. Nope. Not this this world. Not in Dartmouth's world.
The gospel of the Turf Truthers was intriguing, and while they turned some heads (you know what, good point, it is bullshit that we need to buy separate cleats just to play on this garbage surface) they ran out of steam here. We're now beyond dynasty talk with Dartmouth, and we're getting closer to full on theocracy. Strictly winning on the field clearly isn't everything in this bracket, but goddamn they're going to do a lot of winning.
The inevitable march of the forever tyrants continues.
No. 2 The Callahan Award vs. No. 3 North Carolina (the state of)
It could be a redemption year for the Callahan Award. On the men's side, you've got one of the strongest looking preseason fields ever, with several players that have already proven to be elite at the club level likely to be going battling it out all season. On the women's side, the Callahan award will get to present itself to Jac Verzuh, and potentially correct some of the misdeeds of years past by adding her name to it's VIP list. (Although, for a second, imagine if they didn't win. IMAGINE. Would there even be an award in 2020? Would it just be over?)
But North Carolina isn't just looking for redemption. They are currently "dempted", and could soon get more. They provide the backbone of the deepest men's region in the country, Darkside are the favorites to become the first men's team to repeat since 2013 Pitt and they might pick up a Callahan award for themselves as a bonus if Gooch wins the award. The girls youth scene is the best in the country right now, and many of those YCC players are making their way to Carolina schools. Also, the state's official drink is "milk" which is very funny to me.

The Callahan award has lots of prestige, but it is teetering and needs a big 2018. It might get it, but North Carolina is the now and makes it's way to the final.
Final
No. 1 Dartmouth Women's vs. No. 3 North Carolina (the state of)
Dartmouth Women are going to win Nationals. That's just a thing that is true. But does that mean they will win this bracket?
At the end of this season, people are going to remember rooting against Dartmouth more fondly than the hazy recollection of Princess Layout's third straight title. And UNC Pleiades is one of the few teams that seems like they might have a chance to actually sling a few stones at Goliath. So while Dartmouth can try to feign enjoyment over winning something that becomes increasingly less meaningful the more they win, the rest of the country can get on board the Carolina train as they try to climb the mountain. And at the end of the day, the climb is all there is.
Winner – No. 3 North Carolina (the state of)