The seven best players in Europe this season.
With the 2018 season over and the winners crowned, it is time to take a moment to recognize the top players in the Men's Division in Europe this year. While the talent of the division reaches far beyond short lists, the All-Europe Awards are meant to honor those players who put together what we believe to be the best seasons in the Men's game this year.
While we consider both regular season and postseason performance, because of the nature of the Club Division, we weighted success at WUCC and at European Championship events above all else. The All-Europe Awards are selected based on input from Ultiworld reporters, contributors, and editors.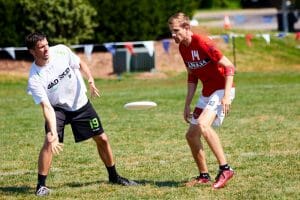 Holger Beuttenmüller (Heilbronn Bad Skid)
Holger Beuttenmüller was the best European ultimate player in the Men's division this season. He has size, skill, and athleticism that are very hard for any European team to contend with. He shouldered Bad Skid on their way to a top 8 finish at Worlds this season and nearly led them to defeat CUSB La Fotta in the EUCF semifinal. Though Bad Skid is a very good team, they are not nearly as deep as the likes of La Fotta and Clapham. It takes an extremely talented top end for them to stay competitive with those teams: Holger is the centerpiece of that group.
He will often take the toughest cutter defender as a matchup and still get his way most of the time. If a defender totally backs him, he is also happy to initiate underneath and has the throws to put the disc deep. Ask any team what the toughest part of playing Bad Skid is, and they will always say containing Holger. He clearly deserves a spot on the starting seven of the All-Europe team.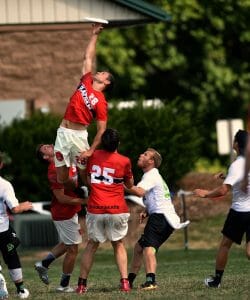 Justin Foord (London Clapham)
While Holger may have played slightly better this season, Justin Foord has long been considered the best men's player in Europe. He has the luxury of playing in the most deep and talented team on the continent but he still finds a way to stand out.
During the peak game of European club ultimate, the EUCF final, he played what may have been the best game of his career. Even though he has been touted as the best in Europe for at least half a decade, he still has what it takes at the highest level. Foord can lead from the handler position or go deep and sky the top defenders with his crazy ups.
The best player on Clapham for seven straight EUCF titles easily appears on this list.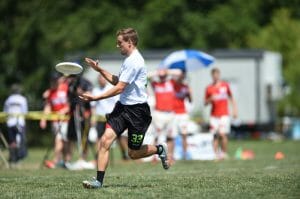 Nico Müller (Heilbronn Bad Skid)
In the most important game of Bad Skid's entire history, there was only one man the Germans could trust to catch the pull: Nico Müller. Therein lies his greatness. A lot of other players on this list are here for the heights of their excellence; Müller is here because of how consistent he is. He will get free on the reset, he will make the correct throw choice1, and he will make it incredibly difficult for the man he's marking to get free.
His stats tally from WUCC may be 12 behind Holger's, but it's 13 ahead of the next Bad Skid player, proving how crucial his contributions have been this season. A lot of the players on this list can be described with the old adage 'Live by the sword, die by the sword', whereas one can't help but feel if you live by Müller you will, at the very least, survive.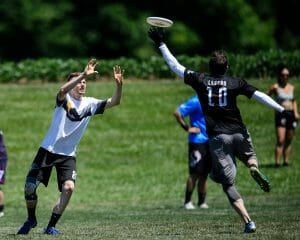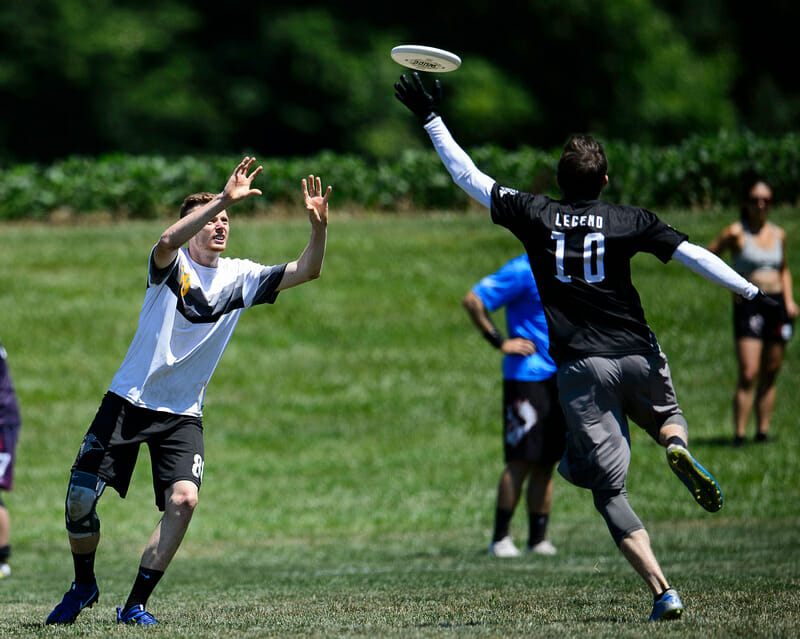 Reph Jonkers (Brussels Mooncatchers)
If you want someone to go deep and come down with a disc even if a pack of elite defenders have all followed him down the pitch, Reph Jonkers is your man. The Breakout Player of the Year flashed incredible grabs all season long from his double game point catch to win Tom's Tourney with the Freezzz Beezzz to his countless grabs which were key to getting a 3rd place finish for the Mooncatchers at EUCF.
Jonkers was simply the best pure receiver in the European Men's Division this year. He also has some dangerous throws in his arsenal for the rare time that he catches a disc outside the endzone, but his biggest strength is in the sky. If the pass is too risky and he doesn't manage to come down with it, he is also likely the best bet to get the disc back with his tenacious defense. As the WUCC stats leader in the men's division, with a mind-boggling 38 goals and 27 assists, it would be bonkers not to put Jonkers on the list.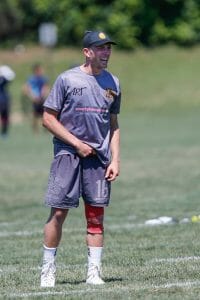 Mo Brucklacher (Düsseldorf Family Ultimate)
Mo Brucklacher might just have the best left arm in ultimate. At WUCC, he piled up 44 assists, more than anyone else at the tournament. That says something. Mo and his brother Aaron are the driving force behind club team Family Ultimate. After finishing at the bottom of their pool at Worlds, Family Ultimate bounced back to win every game from there on out. Mo is tenacious, and you could say he brings a lot of personality to the field.
The Brucklacker brothers have often worked as free agents across the ultimate community in Europe; this year was no different. They joined a strong Mooncatchers team for their EUCF campaign. Mo was pivotal in getting the team on the podium, beating Bad Skid in the bronze medal match. He is terrifying with disc in his hand and is not afraid to get down and dirty on defense. The young German player is maturing like a fine wine whilst still keeping that fire.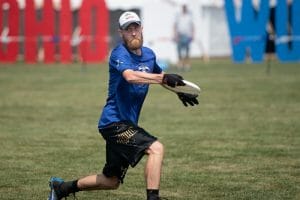 Mathieu Bosser (Pornichet Tchac)
Mathieu Bosser has been a leader in the French ranks for quite some time. He was instrumental on the France Men's team that won bronze at WCBU on home sand last year. This season, things started off well for Bosser with a silver medal at Tom's Tourney, including a win over Freespeed on double game point in the semis where he caught the winning goal. He was a focal point on offense but occasionally switched to the D-line if they wanted to try shut one player down, showing off his versatility.
Windmill was a tournament to forget for Tchac as they failed to make quarters. One month later, they went on to make quarters at WUCC, quite the contrast. A lot of credit is due to Bosser. He scored the winning goal against General Strike on double game point to send them into the top eight and was the stats leader for the team with 22 goals and 15 assists. Tchac didn't go to EUCF but Bosser did attend, picking up with french rivals Iznogood, rounding off a great season for the Frenchman.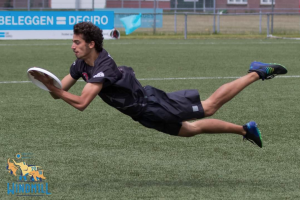 Simone Gasperini (CUSB La Fotta)
Of all the young talent available to pick from in Bologna, it was difficult to settle on just one player. In Mine, there is throwing, Laffi offence, Pavan receptions, but it is Gasperini that we see all these abilities combine. He is an offensive powerhouse without being a liability should his team cede possession. Gasperini's season started in Perth at U24 Worlds, where he collected eight assists and nine goals to go along with his silver medal. As a statement of intent, Perth was Gaperini's announcement to the world that he had arrived. He further laid the foundations of his burgeoning legacy by leading La Fotta in stats at WUCC with 16 assists and 13 goals.
The spread of assists and scores speaks to the adaptability that defines Gasperini's game. He is an ever present danger for opposing defences, demanding special attention from the best defenders on the opposite line, lest they risk giving his imaginative arsenal a free shot. The scariest aspect for those of us doomed to face him on the pitch is that, at 22, he's only just started conquering the world.
---
Generally an around continuation break to the far sideline. ↩