2018 D-I Men's champions North Carolina Darkside put up a perfect weekend, opening the season on their home turf in Chapel Hill.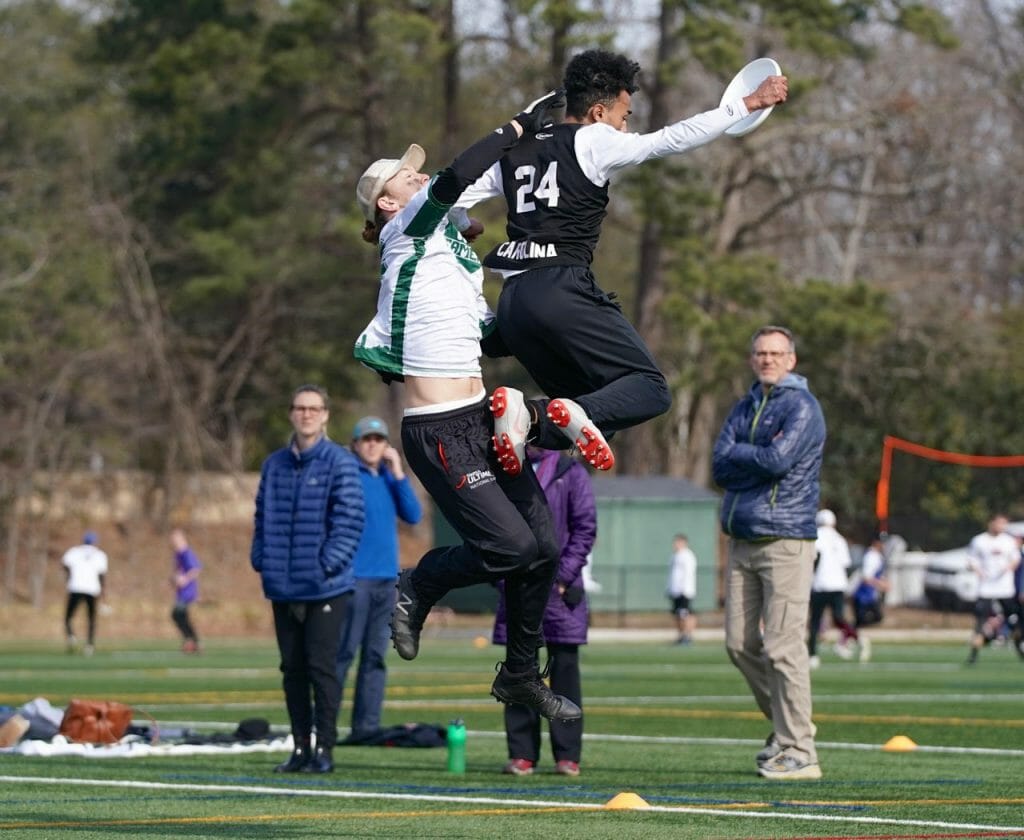 Ultiworld's 2019 college coverage is presented by Spin Ultimate; all opinions are those of the authors. Please support the brands that make Ultiworld possible and shop at Spin Ultimate!
At home and comfortable, North Carolina Darkside owned their backyard to start the 2019 season. Only NC State, sporting a new name and new commitments to a change of culture, threatened Darkside's dominance. Elsewhere in the field, other Atlantic Coast contenders wrestled with early-season growing pains and Georgia Tech showed off the talents of a promising young team.
Strong Weekends For Darkside And Alpha
It's unsurprising to see #1 North Carolina Darkside dominate against a field like that they faced this weekend. Despite having only 17 players in active rotation this weekend, Darkside was more challenged by the need to keep every single player engaged and playing within their system than by the teams they encountered until their 15-12 battle with NC State in the final.
The higher pressure of playing a very hungry and healthy NC State team was exactly the kind of obstacle needed to bring out UNC's energy. All of their players rose up to the challenge of overcoming a 6-4 deficit to take half and ultimately, take the tournament with a convincing 15-12 win. Matt Gouchoe-Hanas, Walker Matthews, and Elijah Long shined all weekend long despite having to play both ways, especially in their last game against State. UNC's role players all had a big weekend–even short-handed, they still looked like one of the deepest teams in the division.
"All of our guys can do a little bit of everything," said offensive coach David Allison. "We need to have the mental stamina to stay focused in every game and that's what Matt [Gouchoe-Hanas] and I have been preaching this tournament. There are going to be times when they need to be engaged throughout an entire tournament."
This early in the season, the reigning division champs got by without constant vigilance and a longer bench. They went 6-0 to start the season, only allowing Alpha to score in the double digits.
Meanwhile the other finalist, #14 NC State Alpha, may have played one of the most complete weekends of ultimate they've played in recent memory. Unlike previous seasons, there were few mental lapses on their offensive line, and while their semifinal against Emory showcased some of the chippiness that State has been prone to in the past, that flare-up seemed to be the exception rather than the rule against their opponents in the bracket. Austin Von Alten was one of the weekend's biggest stars, and if you didn't know what kind of caliber of player he was before now that's okay; this may be the first spring of his college career that he's been healthy. Even UNC's seasoned defenders had trouble stopping him for much of the final. Alongside Conor Chickos and Bailey Laberteaux, Von Alten rounds out State's throwing and cutting core in a very complete way. NC State proved they could play well over whole weekend and hang with the top D-I team in the country. That's a good sign heading into Queen City Tune Up in less than two weeks.
Concerning Start for Wilmington, Slow Start For Emory
Unlike State, #15 UNC Wilmington's play looked unstable at times this weekend. Once again, their offense showed flashes of rhythm, especially with the return of Matt Ellis. But for the majority of the tournament they looked like the same team as last season. Overly aggressive hucks into coverage and difficulties moving the disc laterally between their handlers gave their opponents plenty of opportunities to earn breaks. Georgia Tech took advantage of Wilmington's poor execution and ended up taking Pool B over the Seamen in a low scoring 10-9 upset.
Wilmington has long used multiple D-lines and looks to taking on larger schools like NC State and UNC, but that approach seemed to ring hollow at times. Wilmington's mistakes came in no small part from their top end. Too often, talented veterans were hucking into coverage and that has to be fixed if they hope to surpass last year's performance, especially with NC State and Maryland waiting in the wings to snatch up a bid.
"We're still learning to play good offense," said captain Rick Hennighausen. "We know that we have a long way to and the mistakes we saw that we made are fixable."
#18 Emory Juice also had struggles of a different sort this weekend that were symptomatic of the developmental approach they're taking with their players. Anders Olsen's availability was limited to just Saturday and will remain so for much of the spring due to medical school. The load fell on the shoulders of Daniel Sperling to generate efficient backfield movement and execution errors abounded in the semis. 15-9 losses to both NC State in the semifinal and Wilmington in the third place game demonstrated the impact that personnel shortages could have in bracket games for Juice. They also had trouble sustaining their focus against other high energy teams. Notre Dame, well known for having a boisterous sideline in both divisions, upset Emory with a combination of zone and a very loud and active sideline.
"Because we didn't have CCC to play at this tournament is essentially like that for us," said head coach TJ Martin before Emory's semifinal against NC State. "Unfortunately it is sanctioned, of course. It is what it is. Our goals are a little different this year. We want to play as many non-southeast teams and different types of teams as possible."
Georgia Tech Rising
Georgia Tech, despite fielding a young squad, is certainly continuing to trend upward. Tribe held their own against Wilmington and Georgetown in Pool B, winning both games on double game point. They still lack the polish of more elite squads, but they have some real potential in their younger players. When Tech made loud mistakes, particularly on their D-line offense, they still proved capable of sticking out the point and getting more chances. Tyler French, who has been playing more offense this season for Tech, was excellent in the air and rose up to the big games in pool play. Micah Jo continued to provide his trademark steadiness as a handler.
It's a shame that Tech drew Emory for their quarterfinal. Juice would have been on the other side of the bracket if not for their 13-9 loss to Notre Dame. If Tribe can clean up their mistakes and be a little more consistent, their ceiling in a competitive Southeast region could be high. Kickoff was a good start.
FSU and Georgetown Slip In Their First Test Of The Season
Georgetown and Florida State have certainly taken a step back after surprising their respective regions last year. FSU was blown out by NC State and UNC and played tight games against App State and Temple in pool play. Georgetown only notched two wins on the weekend and had a hard time against Wilmington who were able to lock down on Georgetown's receivers very effectively. They have a capable backfield but their downfield production from their cutters left much to be desired. A pair of losses to South Carolina, another regional caliber Atlantic Coast program, are concerning.
GoP Shines in Their Game Against Richmond
Coming into this season the biggest question about D-III #4 Carleton GoP was how they would be able to fill the shoes of nine graduated players including their top handler, Abe Eichner. This weekend dispelled a lot of doubts about the caliber of offense GoP will be bringing to the table later this spring.
GoP snagged a convincing 13-9 win over rookie heavy Richmond squad. Saul Wildavsky made a strong case in a potential player of the year candidacy as either the initiating cutter throwing deep in GoP's offense or the isolated cutter downfield. Noah Robiner has turned into the new marshal of GoP's offense, taking over the primary handler role that Eichner used to fill. GoP opted to run open lines against UNC and NC State which accounted for their blowout losses to those D-I squads. GoP's great strength remains their system oriented approach to offense which maximizes the strengths of their talent.
"I know I credit our success to our system, but that's really what it is," said head coach Michael Massad. "Our goal was to come, take second in the pool and move on to the championship bracket. It looked a little bit shaky at times but we did it."
D-III #6 Richmond in the meantime looked about where you might expect a D-III team with 13 rookies at a largely D-I tournament to be. They have a lot of development to go through following this tournament, especially on their offense, which struggled against GoP's athletic D-line. They didn't do themselves and the Atlantic Coast any favors in the bid picture, but they still have the strongest case to be the best team in the region come April. Chris Selwood helped get Richmond back on its feet offensively to rally their game against GoP at 6-6 after falling into a two point deficit to start the game.
All-Tournament Line
Matt Gouchoe-Hanas (North Carolina)
Austin Von Alten (NC State)
Tyler French (Georgia Tech)
Conor Chickos (NC State)
Elijah Long (North Carolina)
Daniel Sperling (Emory)
Walker Matthews (North Carolina)