A rematch of the SB Invite final seems almost assured.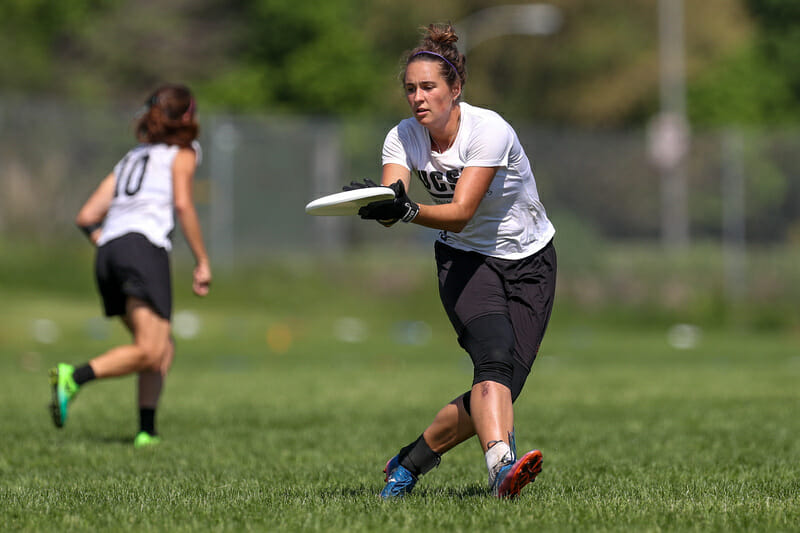 Ultiworld's 2019 college coverage is presented by Spin Ultimate; all opinions are those of the authors. Please support the brands that make Ultiworld possible and shop at Spin Ultimate!
LA JOLLA—While the promise of poor weather seemed to be the largest obstacle for teams at the Presidents' Day Invite, the weather actually remained civil for most of the weekend thus far. Instead, the shortened games (hard cap at 65 minutes) proved to be the biggest inhibitor of upsets or wild outcomes. That's not to say that the first two days were without surprises, but they were few and far between. With only four teams left in contention, we're looking back on the major storylines from Saturday and Sunday of Presidents' Day.
UCSD & UCSB Looking Like The Clear Frontrunners
Much in the same way they did a little under a month ago, Santa Barbara and San Diego are carving up the competition between them. Both teams ran roughshod over their opponents in pool play and remained mostly unscathed on day one. UCSD allowed only ten points scored against them in pool play and USCB was even more efficient, allowing only six. Their average margin of victory was four breaks or more for both teams.
While this set UCSD up with a relatively easy power pool –at least from a seeding standpoint– the same could not be said for UCSB. The Burning Skirts had to face Texas and Stanford on Sunday, two storied programs with a history of excellence at Prez Day. If that mattered to UCSB at all, they didn't show it. UCSB smashed both teams, easily dispatching Stanford 11-5 before bouncing back from an early one break deficit against Texas to run away with the 10-4 victory. UCSB is just relentless: even when they turn it over (which they do, a lot), they keep swarming on defense and pushing the pace.
UCSD would meet Vermont and Northeastern in their power pool, two teams from the New England region hoping to earn an extra bid or two. UCSD did their best to end that hope as best they could. The combination of talent and discipline from UCSD's stars was simply too great to overcome. Dena Elimelech and Kelli Iwamoto were unquestionably stunning but weren't forced to play at their limits with how efficient their D-line counterparts played. Rebecca Ellis, Avery Jones, and Ava Hanna all had a major impact in UCSD's wins on Sunday.
In quarters, UCSD hit their first tough break, having to match with Oregon, who had just lost a tight game against Western Washington. For the first time, UCSD's handlers looked a little out of sync. Iwamoto rushed a few throws trying to break free of Oregon's zone and even Elimelech was struggling to get open. Their rookies bailed them out early, as both Hanna sisters were remarkably consistent and tactful on defense after the turn.
Once UCSD got their D-line on, it was a different story. Jones played lockdown handler defense on Ella Hansen and made Oregon squeamish without a chance to find their best player. That's not to say Ella 'One Throw' Hansen was ineffective–she still assisted on Oregon's first two goals–but she was forced to work for every pass.
UCSD would bust the game wide open at 4-2. Oregon's Takisha Tarvin was wide open and blazing deep for Hansen, who didn't see Elimelech give chase and launched the huck. Despite Tarvin's separation, Elimelech made up the distance and made a layout block in the endzone to prevent the goal. In less than a minute, UCSD scored on the other end.
From there, the San Diego defense got rolling and took half 7-3. Oregon had a few good offensive points in the second half but couldn't make up the difference and the game ended 12-6.
If both UCSD and UCSB win their semis, we're looking at a rematch of the Santa Barbara Invite Finals. On UCSB's home turf, San Diego put on an offensive clinic, and calmed the storm that was Santa Barbara's defensive unit. With the elements favoring defense this tournament, perhaps the tides could turn.
Colorado Shows Spirit in Loss to UCSB
This isn't the same Kali team that made it to Nationals last year, but they're young and exciting nonetheless. Losses to Cal Poly and UCSB don't express how impressive Colorado's defense was this weekend. Their offense still needs some work, although it looks lethal when firing on all cylinders.
The team committed hard to person defense all weekend and it worked well for them in their quarters game. UCSB never had an easy option and would often barely beat the Kali defender to the disc. It was easily the game of the weekend for Colorado and UCSB so far. Both teams commented on how impressed they were with their opposition and how physical the game felt without being chippy.
Freshman Bailey Shigley has been not only one of the most impressive players on her team but one of the best at the tournament, and Emma Capra is taking on more responsibility.
Colorado wasn't perfect this weekend but they didn't have to be. It's a promising start to their season and portends well for them moving forward.
Cal Poly's Small Roster Tallies Some Bigs Wins
It's not often that a roster of sixteen players makes it all the way to semis. It's also uncommon for a team missing both their coaches to make semis. Did we mention they had to beat Stanford twice to do it?
Cal Poly's success at this tournament has been equal parts determination and solid team chemistry. When your roster is five players shy of three full lines, you get comfortable with your teammates very quickly. It just so happens that the tournament format was perfect for this SLO Motion squad. Only playing two short games on day one helped SLO from flaming out too quickly. Despite starting their weekend in a pool with Stanford and a sneaky good Utah team, Cal Poly used their firepower and athletic cutters to win their pool convincingly.
In their power pool, both Colorado and Colorado college were thrown off their rhythm by Cal Poly's smart handler defense and ferocity when defending against hucks. Vanessa Beeler and Caroline Swanson were particularly effective for Cal Poly in these games, as they seemed to trade open unders and aggressive deep cuts which were often rewarded by Sherita Li and Thalia Ward.
In quarters, they met Stanford again, after having beaten Superfly 8-5 in pool play. This time around, Stanford gave them a much tighter game. Maika Isogawa read the Cal Poly handlers perfectly on a number of plays and Carly Eckstrom's laser flicks were connecting consistently enough that SLO was the team under pressure this time around.
The wind and rain were also working against SLO, as Stanford's zone kept Cal Poly from their usual aggressive sidestack. The teams traded for most of the game until cap sounded at 6-6, Stanford's disc. A slick disc went right through Carly Eckstrom's hands and gave Cal Poly a short field, which set up Vanessa Beeler to get open in the endzone. Kelly Dickinson spotted her and floated an OI flick into her hands to give Cal Poly their second victory over Stanford and a spot in semis.
Texas Stumbles in a Vicious Power Pool
It's now clear that the loss of some key offensive personnel, including Laura Gerencser, is taking its toll on Texas early in the season. While the team is capable of generating plenty of pressure on defense and coming up with some big plays, there was a lack of consistency from the offense that made it difficult for the team to put points on the board.
Without Domenica Sutherland on the field, Caroline O'Connell was forced to try to do everything, and too often the Texas offense would stall out and cough up the disc on a tricky high stall throw.
Texas did finish 2-0 on Saturday with an 8-7 win over Northeastern, but a stacked power pool featuring UCSB and Stanford was too much to handle. They gave up a late break after mostly holding downwind to lose 8-6 to Stanford and then got overwhelmed by the speed and aggression of Santa Barbara.
There's plenty to like about Texas–Sutherland made some huge defensive plays and launched some great flick hucks–but they've got a lot of work to do to develop their second tier of players before the Series.
Western Washington Plays One Universe Point Too Many
The tournament may have ended a little earlier than Western Washington would have liked, but a double game point loss is not worth panicking over. In fact, their loss to Vermont in quarters only happened because of how much confidence the team had in each other. Throughout the weekend, Samiya Ismail, Riley Tauer, Ruby Cassidy, and the rest of WWU's throwers were unafraid to make aggressive throws if they saw a teammate open. Even though many of these shots went against them, especially with the wind this weekend, the skill of their handlers cannot be denied.
Ismail, Tauer, and Madison Brodahl all gave Western Washington's cutters the freedom to make deep cuts and explosive plays. Their only loss during pool play was to a white-hot UCSD squad, and they came out ahead in a close game against Oregon to win their power pool.
Their game against Fugue had all the makings of a classic. Both sides were attacking deep and using the breakside effectively to start. Oregon was the first to come out in zone, which gave WWU some trouble though they still held.
The game would quickly devolve into a shootout, but the first break only came at 3s, when Oregon ended a marathon point with a perfect endzone set. Neither side, though, could establish a clear advantage. WWU went up 7-6 just as the cap horn sounded and quickly huddled to plan the next few points. They opted not to send out their kill line on defense, and kept starters like Maddie Gilbert and Eleanor Joselyn ready for double game point. It would prove to be a wise decision. Oregon's offense proved unstoppable on the next point, sending it to sudden death.
WWU played to their strengths to end the game. Ismail got the disc on the open side and Tauer took off downfield. The huck hit her in stride and she made a short pass to the endzone to close it out.
Their win meant an immediate game against Vermont in Quarters, and Chaos had very little time to recover. That set up a very sloppy contest. The two teams traded poor hucks, dropped swings, and handler errors to barely reach 6-5 when the cap horn went off. With all the drops and overthrown passes, both sides had grown frustrated, leading to a chippy game with many calls. WWU had the lead at cap, but Vermont played their first point of truly clean offense, finding Mariz Mangundayao right at the convergence of the endzone and the sideline. She toed the line to tie the game, sending it to double game point.
WWU was unable to pull off their clean DGP win a second time. Vermont came down in a zone and stifled WWU downfield. This had almost no effect on Western Washington's strong handler core, until Cassidy forced a backhand through the cup, and into Mangundayao's poaching defense. Vermont would work it the length of the field to score and end WWU's run in San Diego.
It was a respectable, if frustrating, loss for WWU but two close games against some of the best teams at the tournament are positive signals. They need to iron out their offense a bit but are definitely not lacking in talent or grit.
Vermont Continues to Find Success in Southern California
'You don't have to win every game, just the ones that matter' is an old tournament virtue, one that fits Vermont perfectly this weekend. On paper, Vermont does not look like a semis contender. They have a 3-2 record over Saturday and Sunday, and two of those wins were on double game point. The team has eked out wins with the smallest of margins and, yet, here they are, playing UCSB for a spot in the final.
Much of their success can be attributed to their handlers Emma Massey, Ellie Hasenohr, and especially Mariz Mangundayao. They've got the fundamentals down pat and rarely rush throws, even when faced with a zone. Still, if you're looking for a hero to root for, it has to be Bethany Eldridge. Vermont's star rookie plays defense like a senior and knows how to be physical without fouling. She's one of the few players this tournament that actually managed to beat Elimelech for a jump ball.
Vermont's other strength is their zone defense. Both Northeastern and Western Washington hit a wall when trying to get momentum on offense. With the help of some gusty wind, Vermont's zone led them right past teams that had been performing better this weekend.
The Monday Bracket