A key D-III women's Northwest event gives a pecking order regionally and hope nationally.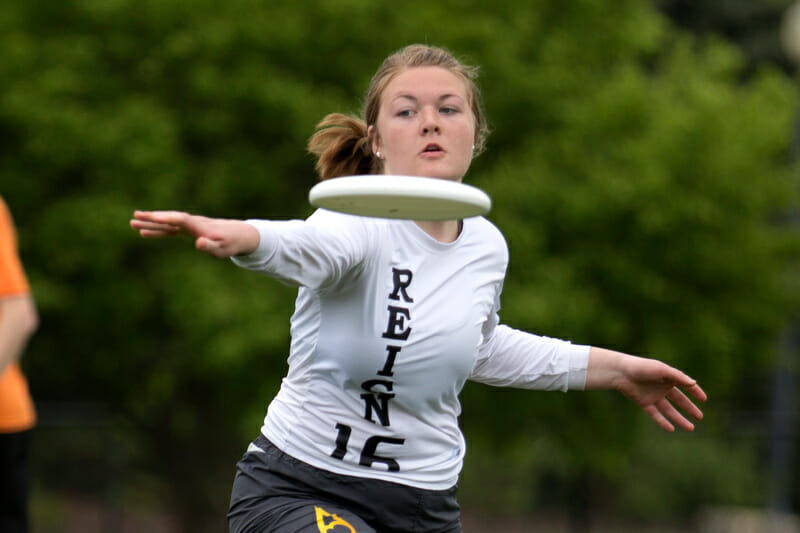 Ultiworld's 2019 college coverage is presented by Spin Ultimate; all opinions are those of the authors. Please support the brands that make Ultiworld possible and shop at Spin Ultimate!
Tacoma, WA– PLU BBQ saw every sort of winter weather: snow, sleet, rain, wind, and cold temperatures. Luckily, they only came in spurts, and allowed for real, competitive games across the tournament weekend. Intense, hard-fought, and meaningful results came through, but one thing has definitely been cemented after the last goal was scored: the women's D-III Northwest Region has four quality teams that are all going to have chances for Nationals.
Pool Play
Oregon State had the lone upset in the two primary pools on Saturday. A fast, ready squad jumped on D-III #16 Pacific Lutheran Reign right away. The game was close, but containing OSU's Katie Darke, who looks much improved and more confidant this season, proved to be a challenge for Reign and every team at the tournament.
The final round of bracket play was an alternative version of semifinals, with the top four seeds of the tournament facing off. #14 Lewis and Clark Artemis, who had been having a great day, stumbled through PLU's cup zone, and were a little too aggressive in trying to get through and over the zone. Lots of turnovers yielded lots of long points, and PLU was just way cleaner and consistent, winning the game 11-5.
#11 Puget Sound Clearcut played #10 Portland UProar after they both won their first game by 10 or more points. With a packed sideline, the game was high energy all the way through; leads were only ever two or three points large before the other team would put on a little run to get back in it. UPS won the game in sudden death.
Bracket Play
The championship bracket went to seed until semifinals, except for the PLU alumni, who would play a big part in the day's results. Beating Gonzaga 15-0 in the prequarters, the alumni faced their future teammates, current day PLU. The game went all the way to the cap, and the alumni lead most of the game. It was a tough win for the younger squad, setting them up for an uphill matchup against UProar. Portland cruised through their quarterfinal against Western Washington'-B and came into that semifinal punching right away. They got two breaks in the first six points, and never looked back.
Clearcut and Artemis played on the other side in what was likely the game of the tournament. Artemis started the game with three unanswered goals in a row, which prompted a Clearcut timeout that started their own unanswered three goal run. Both of these teams are excitable in that if the right player gets a block at the right time, the entire team explodes out of that moment with a ton of energy, and run the disc back the other way for goals. Artemis closed out the upset win 14-12.
In the final, Portland's great depth and zone defenses proved too much for Artemis, who had just put a lot into their semis win. UProar played all weekend with a lot of open lines and every player participating in meaningful ways. They have a couple of great top-of-the-roster players, but if they can stay on their current track of development, this team is a great pick for tournament-long success wherever they play.
Takeaways
Puget Sound
Clearcut, after getting upset in a semis loss, really stood out as the team with the most outright talent on the roster. If I had to pick a team at this tournament to win on double game point, it's definitely this team. Archie Gill stood out most to me, a short but really smart cutter who found the right spaces at the right time. She wasn't beating her marks with pure speed, although she is definitely a strong athlete, but just played mature ultimate. She was immaculate at receiving a 15-20 yard pass and then putting out her own shot to continuing cutters for goals. Lilli Olson is a second year player who uses all of her 6'3" frame to control space downfield. Backing Clearcut's zones and giving reliable deep throw options, Olson was consistent all weekend, getting more run through blocks than pure vertical blocks, which is really impressive given that she is a full foot taller than some players out there.
Pacific Lutheran
Reign had a shorter roster than the other "Big 4" at the tournament, and maybe that was what kept them from a better finish. Regardless, this team definitely belongs in the semis and finals of tournaments. They, strangely enough, had the best backhands as a team at the tournament. Almost every player on the team would step through and around marks to hit players all over the field with backhands. Emma Mickelson, who is also a competitive swimmer, really showed out with a knack for navigating the handler spaces. Almost every single time she got a decent opportunity to wind up and throw a backhand throw to a deep cutter, she hit them in stride. It was a frequently tapped weapon as this team scored a lot of goals to the break side of the field.
Lewis and Clark
Lewis and Clark might have reached the highest, most impressive and showy level of ultimate at this tournament. Playing against mostly straight-up defenses in their first two pool play games, this team put on a couple highlight reel points. When left to their own devices, this team can be frightening. Ruby Holman is a spark plug that teams need to game plan for. No group felt more unstoppable than a fast-breaking Artemis with Holman running and gunning. Rose Terner also had a great weekend earning blocks and doing a lot of great cutting work downfield.
If this team finds the best version of themselves, together, at the right time, they could take the first bid to Nationals in this region.
Portland
Portland is damn good, no hyperbole. After facing a slog of a rebuilding year last year, this team is back and proving that they has used that time to raise their floor higher than maybe any other team in the region. Celina Li is a D-line anchor that this team can and does trust to lead the group. She is undersized, but so detailed and sharp with her throws that she rewrites her stature on the field. Julianna Kampe was a pure shooter, slinging forehands at a high pace all weekend for goals. Kim Dorr was a menace downfield, on both sides of the disc, chewing up yards as a cutter and hounding them on defense. Honestly, it was hard to stand out for this team on this weekend. Pick a name out of a hat, and you would have a quality contributor. It's clear that this team is ready for the challenges of this season.
Oregon State
The Dinos are currently on the outside looking in for the D-I Nationals conversation, but they've got a team that can really punch-up in weight class. Katie Darke is long, quick, and a punishing athlete. Skylar Roach was a great quarterback for the team, and rarely made a poor choice with the disc. The team also ran a really nice, disciplined vert stack, which proved difficult for teams to cover without a zone look. If current seeding holds in this region, everyone should be frightened to play a high stakes game against this team.
Portland State
The Osiks are in a rebuilding type of year, losing some massively talented and important seniors from last year. With only 11 players at the tournament, the team saw a lot of ups and downs, but played smart, and have some definite future upside. Bella Brown is a solid cutter with a lot of potential, playing a lot of pivotal roles on both sides of the disc all weekend long. Grace Neumann was a fearless handler who definitely had some turnovers, but also created some electric plays with hammers and aggressive choices all over. Really, this whole team was unafraid of the challenge of the weekend. They played a lot of "huck and play D", but not just throwing things away for nothing. Everyone was ready to go pick up the disc and try and make a play. That's a good energy for a young team like this.
Seattle
Seattle came to this tournament with just eight players, and all of them felt experienced and reliable and good. They sustained great energy all weekend, played hard, and has a lot of upside. This team has an outside chance to play the spoilers at other tournaments.