Is this the prelude to a couple of massive weekends?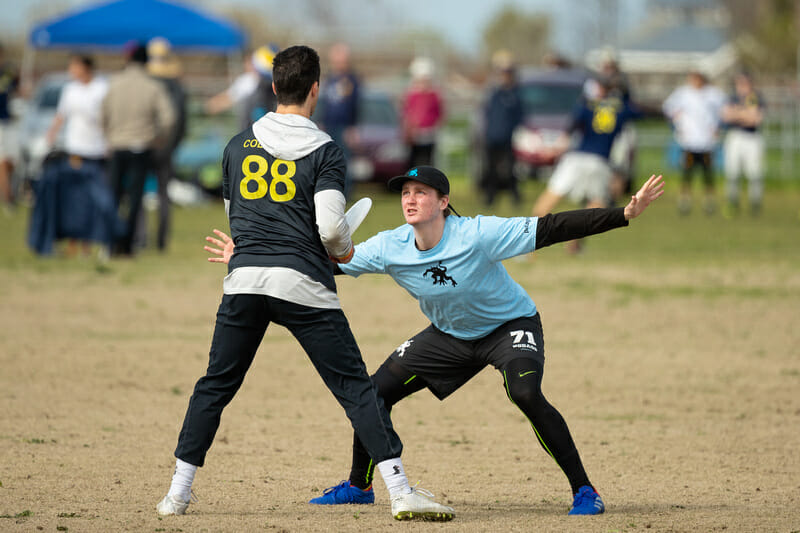 College Update during the 2019 season is presented by Spin Ultimate. Please support the brands that make Ultiworld possible and shop at Spin Ultimate!
During the spring season, we will publish a bite-sized weekly recap of the action across the College Division. This will serve as a supplement to our standard tournament reporting and will offer a high-level look at the latest happenings and the biggest stories of the week.
Want your tournament listed here? Submit a recap of what happened right here.
Women's
Clemson Cruises at Tally Classic
Clemson dominated the competition at Tally Classic in Florida over the weekend. They went 6-0 on the weekend and none of their games were even close. The Tiger Lillies outscored their opponents by a combined score of 81-22 throughout the weekend. Clemson's zone defense suffocated their opponents and their athleticism on the break gave the other teams no chance. Their 23-4 record projects to have them 25th in USAU rankings, not far from a bid, but they're likely to finish the season empty-handed.
For more on Tally Classic, check out our Tournament Recap.
D-III: Bonanza, Air Force Invite, and Tally Classic
A quiet weekend in the D-III Women's division, but a few teams increased their game count, comfortably hitting the 10 game limit to be included in the next series of rankings.
#2 Williams traveled to Bonanza for their second tournament. It was a strong run for Williams, who went undefeated in pool play and narrowly missed making it to their second straight tournament final. They lost 8-7 to Penn in their semifinal, and won their final game of the weekend to finish third, breaking seed from no. 8.
Out West, Air Force held the women's division of the Air Force Invite. While largely featuring D-I squads, the home team of Air Force Kiwi did nicely, ending the weekend at 5-2 and taking second place. Of their five wins, the Kiwis beat Colorado School of Mines Enthalpy twice by margins of 12-7 and 12-4. Air Force's only losses came to Denver in pool play and in the final, improving from a loss of 8-4 to 10-9 on Sunday. Colorado School of Mines went winless across the weekend.
In the Southeast, Florida Tech Flux represented the division in Tier 2 play at Tally Classic. While winless in Saturday pool play, they did win their rematch on Sunday against Notre Dame B 12-7, even with low numbers and after sustaining several injuries. They've gotten reps this year in preparation for what could the first ever SE Confregionals.
Quick Hits
Delaware knocked off Penn in the final of Bonanza, 11-5. D-III #2 Williams lost in the semifinals to Penn, but it was Delaware's weekend, as they won all of their games by four or more.
Denver defeated host team Air Force 10-9 in the Air Force Invite 2019 final. They're now an impressive 15-3 in 2019.
Men's
Colorado Defeats Wisconsin in DGP Final at Centex
#13 Colorado narrowly defeated #19 Wisconsin in the final of Centex down in Austin, Texas. There was plenty of exciting matchups throughout the weekend, including Cinderella story Iowa State losing to #4 Texas on double game point in the quarterfinals. Texas lost convincingly to eventual champion Colorado and LSU lost to Wisconsin 15-13 in the other semifinals.
For more on Centex, check out our Tournament Recap.
UCF Continues to Prove They Are a Force to Be Reckoned with at Tally Classic
#8 Central Florida suffered a Saturday upset to Notre Dame but redeemed themselves on Sunday. Central Florida rattled off three straight 15-10 wins over regional foes Alabama, Florida State, and Auburn in quarters, semis, and the final, respectively. UCF was under the impression that a lot teams had written them off as a fluke based on their early season success, so they felt like they had a lot to prove. They will definitely not be an underdog come the Series.
For more on Tally Classic, check out our Tournament Recap.
D-III: Centex, Oak Creek Invite, Air Force Invite
This past weekend was the calm before the storm, as almost every team in the division will be playing sanctioned games over the next two weekends. That said, a handful of top teams were in action, with most of them gaining strong results.
#10 Rice Cloud 9 got the short end of the seeding stick at Centex and found themselves as the top seed in the second tier rather than getting to compete against tougher opposition in Tier 1. Cloud 9 got off to a slow start with a 12-10 win over North Texas, but Rice locked in after that and held the rest of their opponents to single digit goals the rest of the weekend en route to a 6-0 record and Tier 2 championship.
Further west, #4 Air Force Afterburn played hosts for the annual Air Force Invite. Afterburn marched to a 7-0 tournament victory, with their only close game coming in a 13-10 win over Colorado School of Mines Entropy. For Entropy, it was yet another game against a quality opponent that ended as a good loss rather than a resume-boosting win. They have knocked on the door of scoring a big win all season, and Entropy will need to get over that hump if they hope to make an impact come Regionals.
Oak Creek Invite played host to two D-III teams, #18 Williams WUFO and SUNY-Geneseo Snail, and the two programs had polar opposite weekends. WUFO struggled in pool play, going 1-3 and struggling against their D-I opposition. Williams turned things around a bit on Sunday during consolation play, but WUFO will be disappointed to leave Virginia without a signature win. For Snail, their debut tournament for this spring got off to a great start, as Geneseo went 3-1 on Saturday to find themselves in the championship bracket on Sunday. Snail was out of their depth against Sunday opposition, but Geneseo will be happy with the bar they've set for themselves for the rest of the spring.
Wrapping up the action on the weekend were a couple of one-day tournaments for teams at the bottom of our rankings. Bates O-Whip exacted revenge on the #21 Colby Dazzlin' Asses, picking up a 12-7 win as part of a round robin hosted by Bates. Elsewhere, the #25 Messiah Falcons easily went 4-0 in one day at Squirrely Cuts Only, a developmental tournament in Lorton, VA.
Quick Hits
Looking Ahead
Teams are gearing up for their final events as the bid picture starts to crystallize. There's a lot at stake at key events like Women's Centex and the men's side of Northwest Challenge. But there's over 20 events1 this weekend as team's try to get in games in one of the season's final weekends.
---
counting men's and women's as separate ↩