The best of the Mixed Division, according to their peers.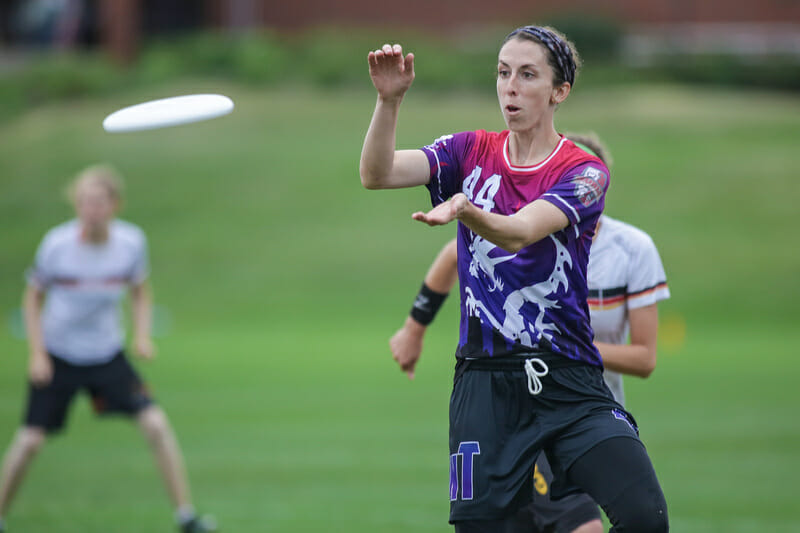 While Ultiworld has long featured various player awards, including All-Club selections, the voting has always been internal to our reporting team. Starting at last year's National Championships, we started to ask players for their thoughts on the best of the best in various categories. What resulted was a fun and fascinating look at the Division from the players themselves: who do they see as the top performers from the season?
We asked a wide range of players for their thoughts on players in a variety of categories. Here's what they had to say.
Player of the Year
"The best player in 2018 was Sarah Meckstroth (Drag'N Thrust) — she was very deserving of the POTY award. Her ability to cross over to the D-line and get block after block on tough matchups separated her from the rest of the pack in terms of versatility, all while being a leader for her teammates." – Khalif El-Salaam (Mixtape)
"Sarah Meckstroth is amazing. She's incredibly fun to watch. She's incredibly fast, probably unmatched straight-line speed in the division. She also will shoot it when she gets an under. She's not just challenging us deep, she's also challenging us under with her throws. And defensively, she's one of the best players in the division. She can cover everyone and does a great job at that. She demands a lot of attention." – Anna Thompson (AMP)
"I'd say Linda Morse (AMP). She's unbelievable. She is unstoppable in the deep space. Because she is so unstoppable she carves up unders like nobody I've ever seen. She gets 25 yards like its nothing. She doesn't really turn the disc over. She is one of the best defenders in the division." – Calvin Trisolini (AMP)
"Nicky Spiva (AMP)/Sarah Meckstroth (Drag'N Thrust). Spiva pretty much did whatever was needed for AMP and was always a steadying presence. That left-handed leaping score he had in the final was a thing of beauty. Meckstroth was consistently the answer whenever DnT was in trouble, and it looked like they were a completely different team when she wasn't on the field." – Ryan Turner (Slow White)
"This one is tough for me because we didn't match up against several of the top teams in the division. I guess if I had first pick in a draft, I'd probably choose Georgia Bosscher (Space Heater). Nick Lance (Shame) is up there too. You can't really stop either of them from doing what they want to do. Just as far as overall skillset goes, either of those would be my choice for best player." – Jake Juszak (Shame)
Best Defender
"One of the toughest defensive matchups I've had was in the semifinals of the U.S. Open Championships against Drag'N Thrust. They have a guy named Caleb Denecour, who wasn't here this weekend because he just had a baby. That was a matchup where I felt like I had to work really hard. He's not super tall, but he's sturdy, fast, and springy. He can play a physical game and I didn't feel like I could move him around a lot, and he closed on things fast. I think them not having him this weekend made it a little harder for them. He was a really tough matchup." – Nicky Spiva (AMP)
"Chris Mazur (Public Enemy, briefly in 2018). He's very quick and he's not afraid to be physical. He has incredible legs, he doesn't get tired. He's a very good defender. – Calvin Trisolini (AMP)
"Sarah Meckstroth. Her deep defense is the best I've encountered among a female match up. Meckstroth's height and speed advantage, accentuated by her ability to read the disc, means she's consistently determining where and when she gets to make her move regardless of her opponent's positioning…and it's generally somewhere I simply can't reach." – Sam Valesano (No Touching)
"Mac Taylor (Blackbird) is a matchup that I have drawn in the past and all I have to say…do I cut, no?…do I handle…yes? But do I have to work to get a throw off around his massive mark? Yes. Stops my initial looks off the bat and when I try to hit breakside, he has footwork and the length to make it hard." – Mark Burton (Mixtape)
"Alan Kolick (Space Heater). We didn't play Space Heater this season, but it's always fun to watch Alan Kolick play defense. He generally shutdown his match-up and consistently generated blocks, plus his throws make him just as dangerous on the turn." – Ryan Turner (Slow White)
"DPOTY bang bang!!" – Khalif El-Salaam (Mixtape)
Best Thrower
"I'm biased. I'm going to go Nicky Spiva. Mostly because I focus on what I have to do during a game. I'm not as much of a connoisseur of the game. I'm not like, 'Aww man, this person's a great thrower.' I watch a lot of AMP. I've watched Spiva make some shots that tail the right way or loft at just the right moment. He does it on bladey throws. He does it on the open side." – Allysha Dixon (AMP, formerly)
"Ben Sever (Cocktails), Best Disc Shooter Around" – Sadie Jezierski (Cocktails)
"Mac [Taylor] has very good deep throws and he has good length. He is very dangerous. Carolyn [Normile] (AMP) can be quite dangerous. At practice, she can open up the field in ways that a lot of people are not ready for or anticipating. She finds blade looks quite well. She has a lot of interesting throwing options. I'm not sure which other team I would say that person has it, where we're yelling shooter and just totally backing. I mean certainly Georgia [Bosscher] is a phenomenal hucker. Jenny Fey (Space Heater), also. I think those two are very dangerous, we want to take away their hucking opportunities. I'd say those two are very good throwing threats." – Nicky Spiva (AMP)
"I think Sadie Jezierski (Cocktails) deserves recognition. I don't follow college ultimate, so her name was new to me when we ran into her at Nationals. It was fun to see a female handler have such an impact in mixed." – Sam Valesano (No Touching)
"Shame's own Nick Lance. For a team that didn't really practice and regularly had spacing issues, his throws were pretty crucial in bailing us out." – Jake Juszak (Shame)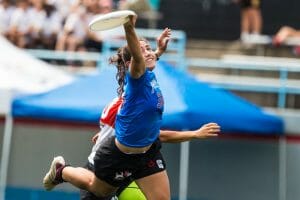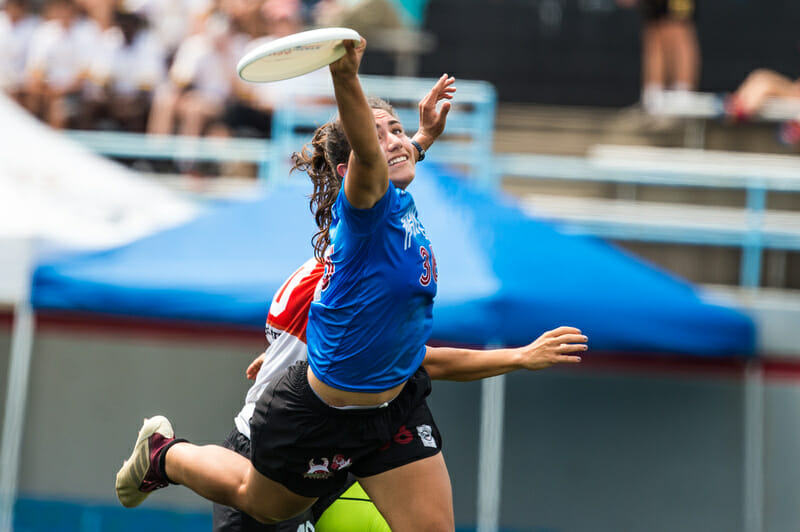 "There are different kinds of throwers. There are people like my guy [Mark Burton] on Mixtape, who can bomb it and Khalif [El-Salaam] can bomb it. There's Carolyn Normile. If she's not the best, she's right in there. Jenny Fey is great. Also, Bert Abbott is one of the best pure throwers, you can't forget about her." – Calvin Trisolini (AMP)
"Carolyn Normile has release points above and below the mark, she can huck from a standstill and is so dangerous with the disc. AMP's offense going through her is a linchpin of a lot of their successful possessions." – Khalif El-Salaam (Mixtape)
"The mark of a good thrower is that they take full responsibility for making a disc catchable, regardless of receiver size, speed, etc. Nicky Spiva can throw beautifully to anyone; there's no one who makes better receiver-specific adjustments on the fly." – Jenny Fey (Space Heater)
"Alex Trahey (Slow White)/Sadie Jezierski. We all know Sadie J has a cannon attached to her shoulder but can also get soft and tricky with the rest of her arsenal. Playing with Trahey, he is always looking to attack the dangerous spaces on the field and has the throws to hit those spaces consistently. Also has the smoothest high release backhand in the division." – Ryan Turner (Slow White)
"Georgia Bosscher has some of the most amazing throws in the division. She's a player I really really admire. Her throws baffle me. Her backhand is incredible. She definitely rivals the best deep throwers in the game." –Anna Thompson (AMP)
"Kolick." – Tristan Green (Toro)
Toughest Player to Guard
"Carolyn Normile is really hard to guard." – Anna Thompson (AMP)
"Sean Mott came onto AMP this year with a lot of experience, explosion, and quickness. He was awful to guard, he was always an option, they targeted him, and he was able to cover a lot of ground. Poaching off people is difficult, but poaching off Mott was just irresponsible as a defender because he would punish you hard." – Khalif El-Salaam (Mixtape)
"Alan [Kolick] is a tough one on the give-go. It's a combination of throwing and quick movement. Mark Burton can be a really deadly thrower at times." – Nicky Spiva (AMP)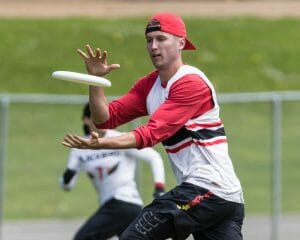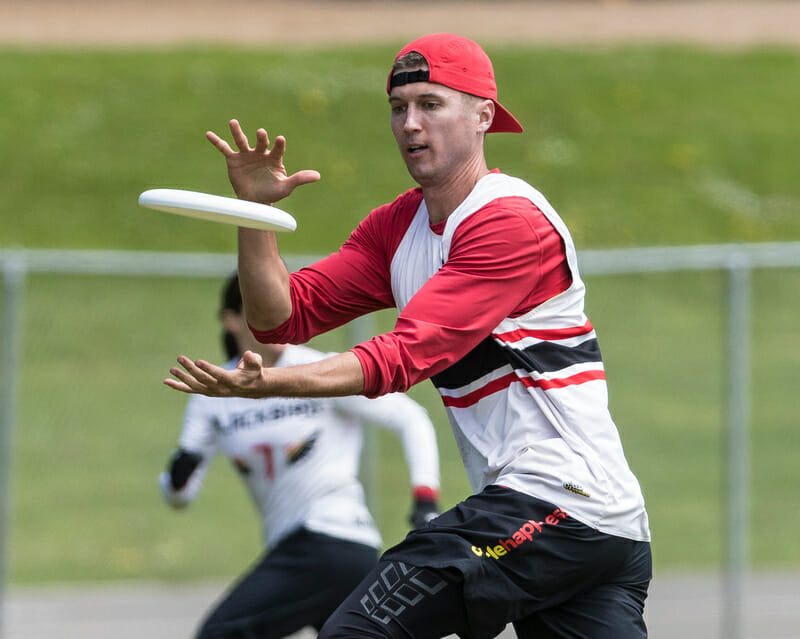 "Mac Taylor was a huge bummer for me to guard…. He's got a similar frame to me, minus about 30 pounds around the mid section, so it didn't really go in my favor very often." – Jake Juszak (Shame)
"Sam Valesano (No Touching) caught everything in her vicinity and made plays every single point." – Tristan Green (Toro)
"Claire Revere (Mixtape) is one of the best in the division. She's really fast, a huge deep threat and a great teammate for Mixtape." – Carolyn Normile (AMP)
"Kieran Kelly, when he was still with BFG. Super fast, super smart, and dangerous in every direction." – Ryan Turner (Slow White)
"Too many to count! I love the challenge of playing in the mixed division. As a female in mixed, there are tons of matchups that leave me feeling like the underdog." – Sam Valesano (No Touching)
Most Underrated
"Ted Sither (Space Heater). He's 20 years old and he never seems at all flustered by anything. He breaks the mark whenever he wants to and he's always there for a reset. He was incredibly impressive to me." -Alan Kolick (Space Heater)
"I think Katz Ritzmann is underrated, from Drag'N Thrust. Doesn't get a lot of hype, doesn't get a lot of talk, but she is a phenomenal cutter. She's fast, she's quick, she gets Ds almost every line she's on. I can say that name and I guarantee people will be like, 'Who is that?', but again if you watch the tape, she's getting work in." – Allysha Dixon (AMP, formerly)
"Mia Bladin…do not test Mia Bladin. Don't know who she is? Try throwing to her matchup, you will find out." – Mark Burton (Mixtape)
"Caroline Taylor (Bucket) is one of the most underrated players in the game. Despite her small frame, her speed and physicality make her a super-sized pest on defense. Her field sense, hops and superb ability to read the disc make her equally annoying to guard. Caroline is also hands down the best ultimate captain I've ever had the privilege of playing alongside! Her leadership, genuine kindness and work ethic have a lot to do with why the southeast is going to make so much noise this season! #bucket2019″ – Shanye Crawford (Bucket)
"Can I nominate myself? 14G/11A/1T at Pro Championships and led the division in goals/plus-minus at Nationals, and I feel like nobody really knows who I am. Maybe that's just my perception, though." – Ryan Turner (Slow White)
"Aubree Dietrich (Shame). She finally started to get some recognition this year, but is still super underrated. She regularly dominated top players on top club teams. At least half of my assists were absolute garbage throws to Aubree last year…" – Jake Juszak (Shame)
"Caitlin Duffner (Cocktails), she does all the right things, a selfless player and one of the best teammates I've ever had." – Sadie Jezierski (Cocktails)
"Natalia (Genevieve) De Jesus from Jughandle (who goes by Genny) is an athletic beast. She was also Space Heater's introduction to the mixed division as she promptly destroyed us deep in our first game of 2018. It was…motivating." – Jenny Fey (Space Heater)
"Lucas Darden (Toro), when healthy, is one of the best throwers and downfield receivers I have ever played with." – Tristan Green (Toro)
"Graham Brayshaw (No Touching!). He is not particularly showy and looks completely unassuming, but he is hands down one of the best ultimate players I've ever encountered. Brayshaw has phenomenal field awareness and the quickness to make the plays he knows are developing. More impressively, his body control is awe-inspiring. He may get pummeled all the time on offense, but when he's on D, he's the cleanest player I've ever seen. When he's injured (which has been fairly often these past two years), I feel like I'm forced to play ultimate with one arm tied behind my back. I think the only reason Brayshaw is relatively unknown is because he plays with me on No Touching!… and it's more uncommon for a female to be a linchpin on a mixed team than a male, so his story isn't quite as compelling." – Sam Valesano (No Touching)
Best Downfield Receiver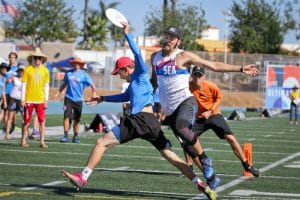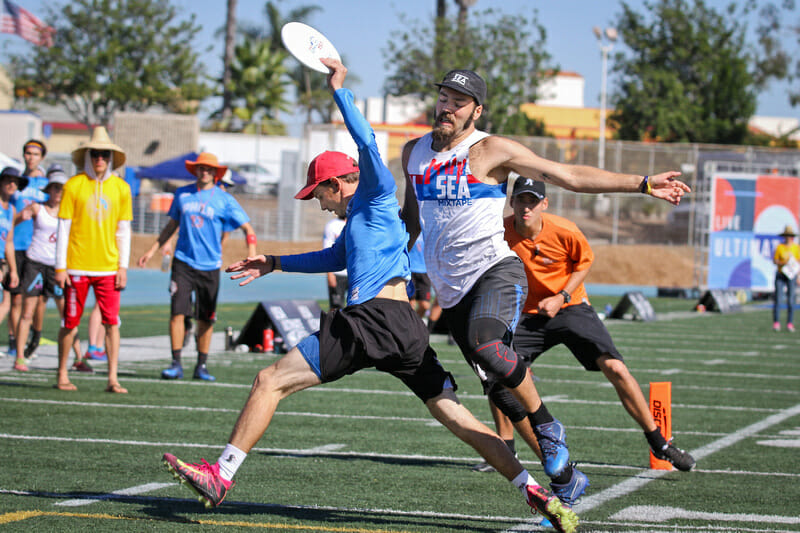 "Sean Mott. Dude is tiny, he's small, he's springy, but he makes some phenomenal grabs. He's been on tons and tons of highlight reels this year for some of the grabs he makes. He's small and unassuming and people don't always respect it, but he let 'em know." – Allysha Dixon (AMP, formerly)
"Linda [Morse] and [Sean] Mott. Linda is very strong, very fast, and has a good nose for timing and makes hard grabs well. Mott is undersized, but can spring, and if he gets an even-sized matchup, he's going to out-jump them. If he gets a bigger guy, who can break the ankles of a lot of those matchups. I love playing with Mott." – Nicky Spiva (AMP)
"Sarah Meckstroth is very dangerous. She's a really good deep threat and we were very intentional about containing her." – Nicky Spiva (AMP)
"Emily Barrett, Cara Sieber." – Sadie Jezierski (Cocktails)
"Lindsay Simon (BFG)/Sam Valesano. LSF had three or four goals against us at Nationals and I feel like all of them happened when she attacked the deep space — she's has great straight line speed to get separation and the height to get over her defender if needed. Throughout the season, it sounded like a lot of No Touching!'s offense was centered around hucking it to Sam V and it seemed to work more often than not." – Ryan Turner (Slow White)
"Lindsay Simon is straight up powerful." – Jenny Fey (Space Heater)
"Sean Mott's acceleration and hops make him a force downfield you can't ignore." – Tristan Green (Toro)
"I've been particularly impressed by Zach Fleming (Shame). He repeatedly posterizes some of our best defenders. Jade McLaughlin is also exceptionally intense…but she wasn't on shame.'s roster this season, so cheers to Aubree Dietrich for successfully taking on an even bigger role." – Sam Valesano (No Touching)
Smartest/Craftiest Player
"Alan Kolick is very crafty. He's a very tough defensive matchup. He makes getting open on the dump very difficult." – Nicky Spiva (AMP)
"I think we can all tip our hats to the Grand Masters still performing at Club Nationals. But I think a 42-year-old who continues to lead his team in assists is particularly special…and it certainly isn't because he's been athletically gifted his entire career. No, Paul Norgaard (No Touching!) was one of the slowest men on our club team even in '04. And, yeah, we often give him a hard time for getting so many of his Ds on women…but not many players are heads up enough to pay attention to the entire field to be able to make those plays. Norgaard's underdog and wind game strategies are phenomenal and he has led his teams to more wins than anyone thought possible. I think you can measure how crafty a player is by the number of times they've made their opponents groan in frustration…and that's Norgaard to a T." – Sam Valesano (No Touching)
"Crystal Davis. She's a sneaky player. She's so fast. She finds a way to make up ground and get a lot of Ds." – Alan Kolick (Space Heater)
"Tommy Li (BFG) is sneaky crafty. He's fundamental, he plays his game, but he can be a very physical player." – Nicky Spiva (AMP)
"Jack McShane (Love Tractor). It's a bummer Love Tractor missed out on Nationals because that means we all missed out on Jack McShane. He has every throw and cut to get out of any situation and uses everything to his advantage." – Ryan Turner (Slow White)
"Calvin Trisolini. His OIOs, his around flicks, you never know when it's coming. You have to be looking at Calvin because he could throw it to you at any time — he hits the tightest spots." – Carolyn Normile (AMP)
Most Fun Matchup
"I matched up against plenty of former teammates this year, but Sean Childers of Mischief (who I played with on Truck Stop in 2015) was the most fun to match up against. He's a good, smart defender who took away my first looks and challenged me to change my cutting approach downfield. In the first half of our quarterfinal matchup with Mischief, he showed great spirit and trust in his opponents by not contesting two foul calls, both of which resulted in large field position swings against his team." – Peter Prial (Snake Country)
"Love guarding Bryson Fox, Sean Mott, Mac Taylor." – Khalif El-Salaam (Mixtape)
"Marcus Storey (Penguin Village). Our teams faced off twice at MWUCC last summer. It was pretty windy our second game and the errant hucks Storey was coming down with were inspiring. It's always fun to play against someone who plays with such heart, intensity, and spirit. He'd be a welcome addition to any roster of mine. (Look me up if you're interested, Marcus!)" – Sam Valesano (No Touching)
"Kevin Herrera (Shame). That guy is just a blast to match up against and then laugh with on the sideline about what happened on the field." – Tristan Green (Toro)
"When you're matched up with Raha Mozafarri (AMP), she makes amazing plays and great conversation." – Jenny Fey (Space Heater)
"Luke Ryan (AMP). We are pretty similar players that excel on athleticism and attacking the deep space, so it was fun matching up against that style. He plays with a lot of intensity so I knew I had to work that much harder against him. Also, he is a friendly guy that was fun to chat with during stoppages, so that's an added bonus." – Ryan Turner (Slow White)
Assorted
Best Goal Celebrations: "Pat Barron (Slow White). Go back and watch any footage of Pat Barron scoring a goal this season. He will either do a super casual headspike or kick spike it to the moon. Unparalleled." – Ryan Turner (Slow White)
Team That Impressed Me The Most: "Hands down, BFG. They win and lose with class. A rare combination to find in such a talented team." – Sam Valesano (No Touching)