How did the final weekend play out?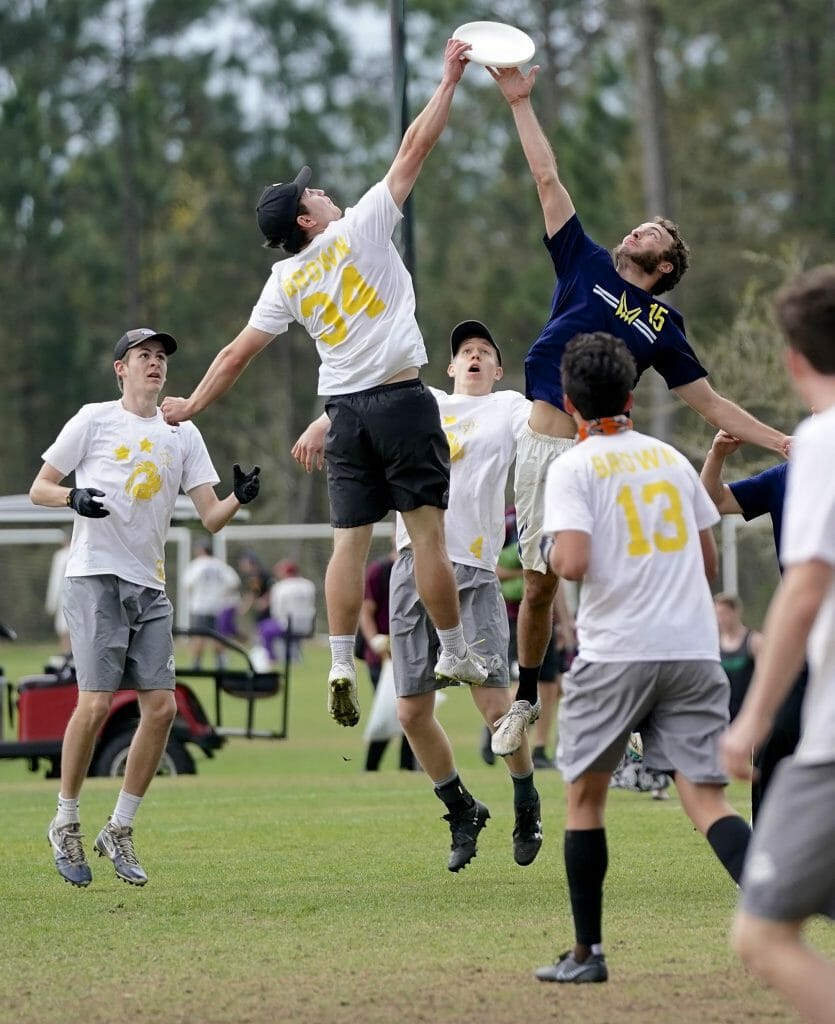 College Update during the 2019 season is presented by Spin Ultimate. Please support the brands that make Ultiworld possible and shop at Spin Ultimate!
During the spring season, we will publish a bite-sized weekly recap of the action across the College Division. This will serve as a supplement to our standard tournament reporting and will offer a high-level look at the latest happenings and the biggest stories of the week.
Want your tournament listed here? Submit a recap of what happened right here.
Women's
Ohio State Wins Shocking Northwest Challenge
How could we possibly capture everything that happened at Northwest Challenge? Ohio State earned the tournament's prestigious title, defeating UBC in the final. Last time Ohio State won NWC, they won a national title…just sayin'. Title favorites UC San Diego and Dartmouth both looked pedestrian by their lofty standards while missing top contributors. North Carolina impressed in a run to the semifinal round, while Oregon, Stanford, and aforementioned UBC did enough to keep their grip on their strength bids.
For all the juicy details, check out our Tournament Recap (once available). We also talked lots of NWC on our weekly podcast, Deep Look.
I-85 Rodeo
We might have underestimated the important of I-85 Rodeo, where Georgia, NC State, and South Carolina added some key national relevance, not to mention key D-III player, Middlebury. South Carolina capped off their undefeated regular season and fell just tens of rankings points short of landing a surprise bid of their own. Of course, that also means they won the tournament, upending the aforementioned top two seeds in succession, edging Georgia 11-10 in the final.
D-III: Busy Final Weekend
In the last season of the weekend, action went down all over the country; teams met, surpassed or fell short of the 10 game limit with serious impacts on rankings; and the expectations are set for Conference Championships and Regionals.
At Towsontown Throwdown, the lone D-III team, Catholic Nun Betta, took the tournament crown, going 5-1 and beating Rutgers in the final 9-5 after losing 8-7 to them on Saturday.
In small round robin play, Tulsa Tossup saw John Brown and Tulsa tangle, with the Savage Skies of John Brown taking both wins 10-7 and 7-0 respectively. At Colby's First Annual Frolic, Colby Dazzlin' Asses defeated Bowdoin Chaos Theory by a 10-4 margin. At Vermont Open, Smith Luna Disc went 3-1, including a win over WPI Pi-Thons.
In larger competitions, the New England, Metro East, Ohio Valley, Great Lakes and Northwest regions were out in full force.
Northwest Challenge Tier 2 & 3 play hosted Portland UPRoar, Puget Sound Clearcut, Lewis & Clark Artemis, Pacific Lutheran Reign and Claremont Greenshirts. In Pool A, Artemis went 3-1–including a win over Portland–and Portland followed behind at 2-2, as Claremont lost all Saturday games. In Pool B, Clearcut topped the list with 5-0 on Saturday, and Reign ended with a 3-2 record. In bracket play, Puget Sound defeated Lewis & Clark 11-10 in a semifinal matchup before Clearcut took second against California in the final. Portland similarly lost in their semifinal, before proceeding to defeat Lewis & Clark in the third place match, 12-7. Reign took eighth, and Claremont won the Sunday consolation pool 2-0.
Garden State hosted a plethora of D-III teams–most notably, Skidmore Wombats and Brandeis Banshee went 1-2 in Pool A; Wesleyan Vicious Circles, Mount Holyoke Daisy Chain and Lehigh Gravity took 3, 2 and 1 wins, respectively. Amherst Sparkle Motion and SUNY-Geneseo Escargot also ended at the tops of Pools C and Pools F with 3-0 records. In bracket play, Mount Holyoke took the crown with a 13-3 win over Wesleyan, defeating Skidmore and Brandeis respectively along the way. Escargot took fourth and Skidmore tied for seventh.
Out at Country Roads Classic, Shippensburg Bellewethers and Mary Washington Massacre faced off in the final, with Shippensburg ending with a perfect weekend record after defeating Mary Washington 8-5. Allegheny Hellbenderitas also attended, taking fourth place with a 3-4 record.
At Black Penguin Classic, North Park cruised through pool play 3-0 before stumbling to Knox Alley Cats in the crossover play 13-5, also perfect after pool play. Knox took the crown 10-3 over Wisconsin-B, notching wins against Wheaton Mastadonnas and Wooster Betty Gone Wild. Olivet Nazarene also took home a 15-6 win over the squad from Wooster.
Inter-regional play at I-85 Rodeo between D-III teams as well occurred, with the Middlebury Prankster's 2-1 pool play record including a win over Richmond Redhots, 13-7. Swarthmore won Pool D 3-0 before taking 11th place; Middlebury ended sixth.
Ram Jam saw RPI hit 2-2 in pool play and Haverford & Bryn Mawr Sneetches going 1-3, and eventually finishing sixth and seventh, respectively.
Let's hit the lightning round: Wellesley took second at Strong Island Invite, hitting 5-0 before losing to SUNY-Stonybrook in the final. Luther Freya beat Drake iBex 11-6 at Old Capitol Open; Luther ended in seventh place. Christopher Newport went 3-3 at Atlantic Coast Open, ending in fifth place. Valparaiso took sixth at Illinois Invite, ending with a 2-5 record.
Quick Hits
Men's
Easterns Rewrites the Men's Division Script
There's too many big stories from Easterns to hit them all here. What's even the top story? #1 North Carolina's undefeated season ended as they lost not once, but twice! Carleton's back, too, having defeated UNC and reached the final. Brown's looking every bit the new #1 after beating Carleton in the final and UNC in the quarterfinals. Plus, bids were won and lost. It's a lot to digest.
I recommend you take a look at our Tournament Recap to really get the full scale of things. Our weekly podcast, Deep Look, also talked a lot Easterns.
Huck Finn Move Leads to Drops
The poor Huck Finn attendees had to deal with quite a lot to get in some ultimate, but the steadfast TDs managed to get the teams some chance to play. The tournament moved late in the week from St. Louis to Boonville to dodge rain. That combined with a poor weather outlook induced plenty of late drops, including Central Florida and Ohio State, the two tournament favorites and only highly ranked teams in the USAU algorithm. Even Saturday play was suspended due to snow.
Once all the games were over, it was #20 Michigan sitting atop the tournament. They won an All-Great Lakes final, defeating Illinois 11-5 in the final. Texas Tech, perhaps the favorite of the remaining teams going into the first day of competition, fell to Illinois 8-7 in the semifinal, but did earn a win over Michigan on Saturday. Tough to take too much away here, but the late changes really sapped the juice from this tournament's role in the national conversation.
Bidwatch: The Final Hours
The New England and South Central regions are both waiting patiently to see who will get another strength bid this postseason. Tufts put together a respectable showing at Easterns, but are separated from Colorado State by a small margin. As games are ruled ineligible for various reasons, the thrown out results could be enough to cause a bid to change hands. USAU should finalize the results and release the rankings shortly, but all we can do is wait.
D-III: Layout Pigout, Northwest Challenge, D3 Eastur, and Atlantic Coast Open
The New England killer B's took control at Layout Pigout: #18 Brandeis, #20 Bates, and #24 Bowdoin won the three pools on Saturday. That included a notable 10-8 upset of Brandeis over #7 Franciscan. The four squads all made it to the semifinals, and Brandeis showed it wasn't a fluke, defeating Franciscan 13-10. But Bowdoin got the last laugh, slamming both Bates in the semifinals and Brandeis in the final. #19 SUNY-Geneseo went 3-4, but three of their losses came to the aforementioned NE trio and their last came against Haverford to start the weekend. They got that one back by a larger margin later, so their weekend looks a little worse than it actually was.
Brandeis's strong performance catapulted them up to where they could bring home a fourth bid to the NE. #10 Luther, who was at Old Capitol Open, dominated most teams, but those blowouts against week teams don't count, and their 14-13 loss to Minnesota-B damaged their ranking too heavily. The NC is left with just three bids.
D3 Eastur hosted six teams, including #2 Richmond, but they were knocked from their perch by Davidson, who wrecked them 13-5 in round robin play. #17 Davidson was the only team to go undefeated, getting a 12-7 win over Wesleyan and a 10-8 win over Messiah. We finally got a chance to see #13 Wesleyan in action, and Nietzsch Factor's first and only regular season tournament ended with them holding a 3-3 record. They split with Shippensburg, lost by a goal to Richmond, and topped a struggling #25 Messiah squad.
It was another round of Northwest knockout at Northwest Challenge, headlined by the usual trio of Puget Sound, Portland, and Lewis and Clark. The trio seem pretty evenly matched, but this weekend went to Bacchus, who went undefeated, with two goal wins over each of the other two. Portland earned a one goal win over UPS, and fell to Lewis and Clark in the final. With just one bid between them, Northwest Regionals looks like it'll come down to the slimmest of margins.
Atlantic Coast Open hosted both #1 Middlebury and #6 Mary Washington. Both won their pools on Saturday, although Middlebury needed tiebreakers after dropping their weekend opener to Duke by a 12-11 count. The two met in quarterfinals, with Middlebury earning a 13-9 win on their way to winning the tournament; they got revenge in the final with a 15-11 victory against Duke again. Mary Washington finished fifth, beating Penn State and Villanova in competitive consolation contests.
Quick Hits
Looking Ahead
Unless you're going to be attending practices, we've got an off weekend as teams preparing for their Conference Championships.
---
Sunday results for the championship bracket are not currently viewable. ↩