YULA Invite continues to grow.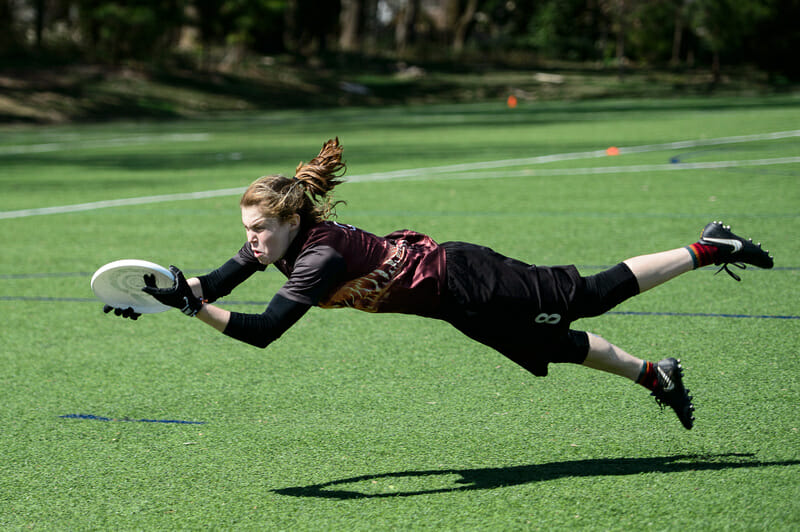 The city of Arlington, Virginia, continues to to be a major player in the world of youth ultimate. The YULA Invite (Youth Ultimate League of Arlington) has grown to be one of the biggest and most competitive high school ultimate tournaments in the country.
The seventh edition of the YULA Invite expanded to 48 teams hailing from 11 different states. Both the girls' and boys' division boasted seven of Ultiworld's top 25 teams, setting the stage for an extremely competitive weekend. Let's dive in to the action.
Girls Division
Saturday
Top seeds cruise, Lower Merion to quarterfinals
Tucked away in a protected setting which offered a reprieve from the afternoon breeze, pool play concluded with seven of the eight top seeds moving on to the quarterfinals.
In what turned out to be a very competitive pool, second seeded Vermont was upset by the pool's four seed Lower Merion in their first game, 10-9, which ended up being the difference to move Lower Merion through to the quarterfinals. Vermont, consisting of players from around the state, played seemingly every game to double game point, showcasing the rising talent out of the only state that features ultimate as a varsity sport.
The four #1 seeds — Chapel Hill (with a contingent of Green Hope players), East Chapel Hill, Edina, and HB Woodlawn — went relatively untested throughout the day, with the lone test coming from Newton who gave a game to Chapel Hill in Pool A, coming up two goals short in an 8-6 loss.
Sunday
Chapel Hill separates from the pack en route to a repeat
If Newton's close game against Chapel Hill on Saturday didn't turn any heads, then their quarterfinal win against 2018 YULA Invite semifinalist HB Woodlawn did. Employing Gigi Downey out in the lane to stop HB's side stack, Newton was able to score both the first and final four goals to win 8-1.
HB Woodlawn, a perennial powerhouse in the region, enters a season of growth after graduating 12 players last season. Due to some absences, they brought a small squad of 13 players to YULA.
Elsewhere in quarters, Lower Merion nearly continued their improbable run. After fighting to get into the quarterfinals as the last seed in their pool the day prior, they played Edina tight before suffering a 13-8 loss.
The closest quarterfinal game was contested between last year's runner up East Chapel Hill, and Wilson (Washington, DC). Due to some cooler, unfavorable conditions, East Chapel came out in a zone against Wilson. Wilson handler Claire Schmitt was asked to do some heavy lifting against the zone and had a strong game (and tournament overall). After a few runs by both teams, East Chapel hill was able to break a couple times late to win a well fought game 11-8.
Chapel Hill was untested in their quarterfinal matchup, rolling to a 12-3 win against Lexington.
Semifinals
Newton vs. East Chapel Hill
The threat of inclement weather started to break just in time for the most exciting game in the tournament, as Newton looked to continue their magic run against East Chapel Hill. Both teams brought defensive pressure early and often, and the grit set in on some back and forth points early. With the cap looming, Newton was able to take half 7-6 before coming out what would ultimately be the deciding point in the game. Newton avoided allowing the game to reach double game point by scoring the game clinching goal and walking away with an 8-6 victory. Newton, who only brought 11 players to the tournament, fought through visible fatigue to play relentless defense.
Jessie Chan was not only called upon to set the tone on defense for Newton but also did a lot of heavy lifting on offense, picking up the disc on the turn and using a powerful and accurate arsenal of throws to open things up. Gigi Downey picked up where she left off against HB Woodlawn and was a difference maker as she continued to win difficult matchups.
Edina vs. Chapel Hill
With the format tweaked for 1 v 3 and 2 v 4 semis, a matchup that looked like it was destined to be the finals was played one round early. Edina seemed to match up athletically with a very fast Chapel Hill, and both teams switched up the looks on defense, rotating between trap zones, junk zones, and matchup defense. This game featured two of the best players in the entire tournament, Clil Phillips (Chapel Hill) and Ali Kidd (Edina). Kidd was simply unstoppable downfield throughout the weekend, and Phillips' athleticism and upwind flicks separated her from the field.
The major difference was Chapel Hill's success around the endzone. They simply executed in the red zone at a higher clip than Edina, and that is where Chapel Hill was able to pull ahead and maintain a comfortable advantage en route to an 11-4 victory.
Final
In a Pool A rematch that saw Chapel Hill go down 0-2 before coming back for an 8-6 victory, Chapel Hill's depth and poise was the difference in the finals. Using a plethora of defensive schemes, including a 3-3-1 force middle, Chapel Hill was able to bring pressure early and often, resulting in both backfield turnovers and high stall hucks. Chapel Hill was brilliant on the turn, slicing powerful hucks in a slight to moderate crosswind. Chapel Hill was also the fresher team, and they cruised to take half 7-0 before closing it out 10-3.
One notable change from the pool play matchup was the increased efficiency, as Chapel Hill's chemistry improved rapidly throughout the tournament. This shouldn't come as a big surprise, as inclement weather has limited Chapel Hill's practices and games so far in the early season.
Chapel Hill, who only graduated two seniors, is clearly one of the best teams in the country, and they now set their eyes on the Paideia Cup. While it's too soon to know if they will be attending the High School National Invite, it's certain that they would compete for the title.
Boys Division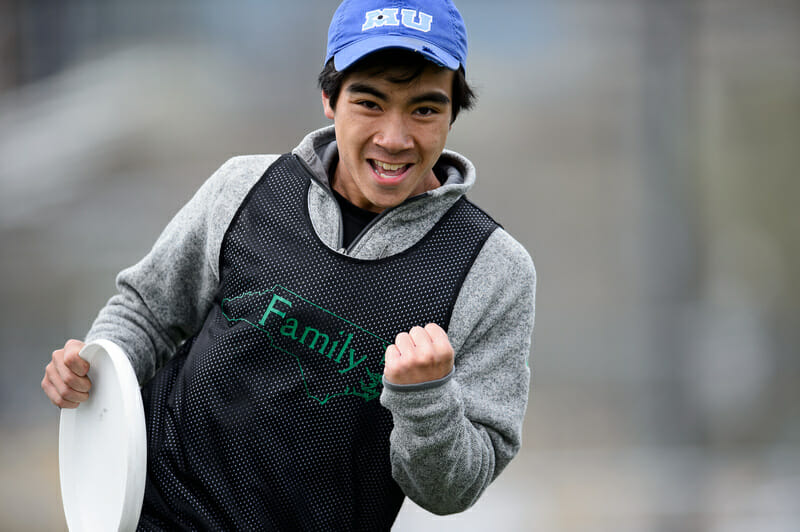 Saturday
Located across town, the Boys Division's fields did not have great protection against the wind, which started the day as a non-factor but picked up for a couple of late rounds, including the prequarters.
However, just like in the girls division, the top seeds managed to prevail. Amidst the flurry of late afternoon zones, the top eight seeds arrived safely into the quarterfinals. And all eight teams were able to separate themselves handily: the closest pre quarter game was an 11-7 Jordan win over Yorktown. Yorktown was able to get an upwind break back late in the second half, but Albert Yuan was able to take over the game around the disc with Cal Nightingale, utilizing a throw and go with shades of his YCC coach Jonathan Nethercutt.
Out of the eight pools, all #1 seeds managed to win with the exception of Stuyvesant, who upset HB Woodlawn, the 2018 YULA Invite Runner Up. Stuyvesant, coming out of a lower pool, was defeated by Bard to take the last spot in prequarters.
Sunday
Quarterfinals
As the wind started to pick up where it left off, the majority of the prequarter games saw mostly zone with long, slow points. And just like the prequarters, all four favorites and top four overall seeds made it through into semifinals without much resistance.
Semifinals
Last year, Wilson (Washington DC) was one of the biggest surprises, going toe to toe with CFS and pushing Westfield in the quarterfinals. This year, bringing back 11 seniors, they had their eyes set winning the whole tournament. After surviving an onslaught of zone-breaking throws from CHUF's Ruben Keane in the quarterfinals, Wilson matched up with a familiar opponent in the semifinals: Columbia High School.
If any team brought back more experience than Wilson this year, it is Columbia, whose roster boasts 18 seniors. That chemistry and energy was on full display throughout the Semifinals. After going down 3-1, Columbia roared back with multiple breaks and, by the half, had a multiple break lead of their own.
On the other side of the bracket stood two teams geographically separated by over 1,000 miles. Edina, coming off a 5th place finish at the 2018 High School National Invite, matched up against last year's YULA champion, Carolina Friends School (CFS). Edina, coming from the frozen Midwest, had only been outdoors to practice for one week, and this semifinal game was just their 5th game all season. Yet they managed to give CFS a good run behind some incredible throws from Peter Rock, whose throwing ability was magnified with the wind coming alive. Downfield, AJ Larson was able to showcase his aerial ability on both offense and defense. The difference in the game was the quality of the zone offenses: CFS was just a tad stronger with the disc in the wind. Edina had a bit more trouble, as wind is obviously difficult to emulate in their indoor practices. Kevin Pignone was able to move the disc around the field at will and had a very strong tournament.
For Edina, the goal coming in was semifinals, and that was met. CFS, looking to go back to back, would have to get through Columbia first.
Final
Throughout the day, the wind had been slowly picking up its intensity. While the wind never reached the peak level of Saturday, it started to impact the flow of the finals. Columbia was able to put out a four player cup where each player stood 6'2'' or taller, and that devastating length contributed to two early breaks. However, as CFS started to make some adjustments going up against the cup, they were able to grab those breaks back. Field position started to become a factor, and the hucks that Columbia had hit successfully against Wilson in the semifinal were no longer connecting.
As each team was content to huck and set up a zone on an incompletion, the flow of the game slowed down, and. after several long points, the cap became a factor on the deciding point out of halftime. With CFS up 7-5, Columbia would need to score to stay alive, but after Simon Covington caught a pass through the middle of a crowd to make it 8-5, the game was effectively decided. After one last meaningless point, CFS was able to celebrate their back to back YULA championships.
Moving Forward
Paideia, Amherst on the horizon
As teams head their separate ways for the remainder of the season, some to Paideia, others to Amherst, it is clear that the YULA Invite will be a staple on the East Coast high school ultimate circuit for years to come. And it is not out of the question that it can continue to grow (though not in size). Tournament director and Washington-Lee Boys head coach Michael Klemencic said, "As YULA looks toward the 2020 event, we understand 48 teams is our absolute cap. However, we will continue to improve on the geographic diversity as well as the quality of formatting and scheduling of the tournament. Next year, we hope to feature equal 20-team divisions for both Girls and Open Select in addition to our 8-team Open Developmental division."