Most of the field is set for Nationals across all divisions after a crazy weekend.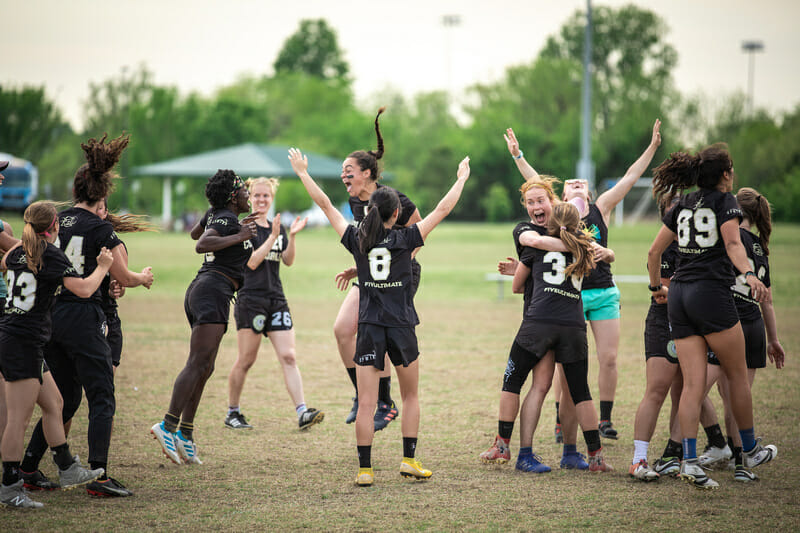 College Update during the 2019 season is presented by Spin Ultimate. Please support the brands that make Ultiworld possible and shop at Spin Ultimate!
During the spring season, we will publish a bite-sized weekly recap of the action across the college division. This will serve as a supplement to our standard tournament reporting and will offer a high-level look at the latest happenings and the biggest stories of the week.
Want your tournament listed here? Submit a recap of what happened right here.
Women's
Here's Who's Headed to Nationals
North Carolina
Northwestern
Dartmouth
Tufts
Northeastern
Carleton
Wisconsin
Minnesota
Western Washington
Washington
Oregon
Ohio State
Pittsburgh
Texas
Colorado
Georgia
UC San Diego
UC Santa Barbara
UCLA
The Metro East's single bid is the only outstanding bid.
UBC Knocked Out in Northwest Shocker
The most shocking elimination in the women's division was that of #3 British Columbia, who suffered three straight losses to end their season at Northwest Regionals. The no. 1 seed reached the final of the Northwest Challenge roughly a month ago before going undefeated at Cascadia Conferences. A pool play loss to Oregon portended trouble for UBC, although they still won the pool on point differential.
In ther first place semifinal, #20 Washington dug an early hole, going down 7-4. But Element held and then ground out a break to come within one, and added another before the half, making the tally 8-7 in UBC's favor. The favorite extended that lead to two and were up 10-8 before giving up four straight to UW, led by big plays from Janet Ho and Haley Lescinsky. Rookie Steph Phillips was tremendous for Washington in the upset that qualified them for Nationals. #6 Western Washington defeated UW in the title match, and while both had already secured advancement, WWU likely locked up a top six seed and gave themselves a shot at even at top four seed.
UBC had to win out in the single elimination third place bracket. They lined up across from an #21 Oregon team that had beaten them Saturday, and was coming fresh off of a dominant showing against Victoria. Oregon took half 8-6, and pushed the lead to 10-6 to begin the second half. Fugue fended off the UBC comeback to win 12-9 and eliminate a Nationals semifinals contender. Oregon went on to defeat Utah in the game to go to take the last bid to Nationals.
Quick Hits
D-III: Who's Headed to Nationals
Mary Washington
North Park
Wesleyan
Bates
Williams
Middlebury
Mount Holyoke
St. Olaf
Carleton
Puget Sound
Portland
Lewis & Clark
Oberlin
Truman State
North Georgia
Occidental
Check out our D-III focused podcast, the 7500 Club, for more on the division.
Men's
Here's Who's Headed to Nationals
North Carolina
NC State
Michigan
Brown
Northeastern
Tufts
Minnesota
Iowa State
Wisconsin
Oregon
Washington
Victoria
Colorado
Texas
Georgia
Cal Poly SLO
California
Carleton Fails to Qualify While Iowa State Advances
In perhaps the most shocking result of Super Sunday, #4 Carleton failed to qualify for Nationals at North Central Regionals. The vaunted squad looked the part on the way to the first place semifinals, where they squared off with a plucky Iowa State team. CUT got up 5-2 before things evened out, and eventually, ISU broke to take half 8-7. CUT could never quite get back in front and ISU closed it out, 14-12, to send Carleton to the third place bracket.
Who else would await Carleton in a win-or-go-home matchup than longtime rival, #10 Wisconsin? The Hodags jumped all over Carleton, going up 4-1. And when I say 'jumped all over', it's not just figuratively; things got contentious after some physical bids, including one that injured Carleton's Ethan Bloodworth. Carleton was already playing without Joe White and Stanley Birdsong due to injury. After Wisconsin took an 8-5 halftime lead, they withstood a late Carleton run to win 13-11.
Meanwhile, #20 Minnesota somewhat quietly won the region in a close final against Iowa State. The 15-13 win earned them their third North Central championship in five years.
UMass Unable to Advance from New England
Even with #1 Brown a regional favorite in New England, a three-bid cushion felt like it gave #8 Massachussetts room for error and nearly locked them to make Nationals. But that's why they play the games, as they say. While Brown performed as expected on their way to winning the region again, UMass's results were not as predicted.
UMass started off rocky, giving up an 8-4 lead to Tufts in their tournament opener. They recovered, despite some rainy conditions, to win 10-9, and then comfortably worked through the rest of their pool to reach the semifinals. They faced #22 Northeastern, who took early control of the game and an 8-4 lead into halftime. Zoodisc fought back to make the final moments of the game extremely close, but they could not recover, falling on double game point, 14-13.
In the game to go rematch with Tufts, they gave up the first break. Although they earned one back, they were broken to go into the half 8-7, Tufts. Another EMen break extended the lead to two late, and with their backs to the wall, UMass could not come up with the answers. Tufts took it, 14-12, to advance to Nationals and end Zoodisc's season.
Quick Hits
D-III: Who's Headed to Nationals
Richmond
Valparaiso
Hamilton
Middlebury
Bowdoin
Bryant
Colby
Carleton
Michigan Tech
Luther
Portland
Franciscan
Air Force
Missouri S&T
Berry
Claremont
Check out our D-III focused podcast, the 7500 Club, for more on the division.
Looking Ahead
Fitting given the regular season, the weather had to break up a few Regionals. The Metro East men's and women's regions each have one bid to battle for, with four teams per division prepared to meet again to decide things. The Ohio Valley men's division has six teams in contention for two bids.
The Ohio Valley heads to Pittsburgh, where one of Pittsburgh or Ohio State will walk through the front door with a ticket to Nationals and a regional title. The loser of that final will drop down to face whomever emerges in the second place bracket. Carnegie Mellon draws in with Penn State, while Villanova and Ohio are set to face off. PSU is 1-0 versus CMU, with a narrow 11-10 victory at Conferences, while Villanova and Ohio have yet to meet.
The situation is murkier for the Metro East. Locations are still being determined in order to counteract more potential inclement weather.

In the men's division, the top four seeds remain in contention. It's been mostly smooth sailing for no. 1 Rutgers, no. 2 UConn, and no. 4 Yale, but no. 3 Cornell took a loss to RIT in pool play to mar their record. UConn, the reigning three-time champion, and Rutgers should be favored, though if they advance, Rutgers 12-6 regular season win over UConn stands as reason to believe the region could have a new champ.
On the women's side, while the top four seeds are all alive, the bracket was shifted by a pool play upset. No. 4 Yale outscored no. 2 Columbia 10-8, sending Columbia to the other side of the bracket with no. 1 seed Cornell. Yale faces no. 3 seed Ottawa. Each team has had highs and lows during the year and the tournament, and it's anybody's game. Hopefully, attendance isn't the deciding factor.