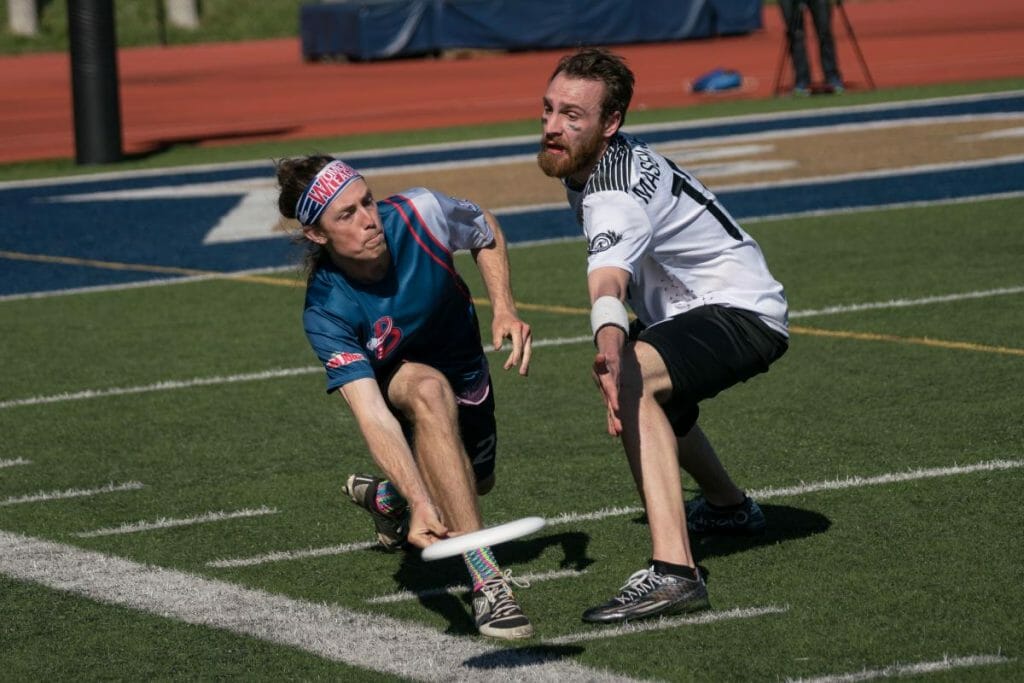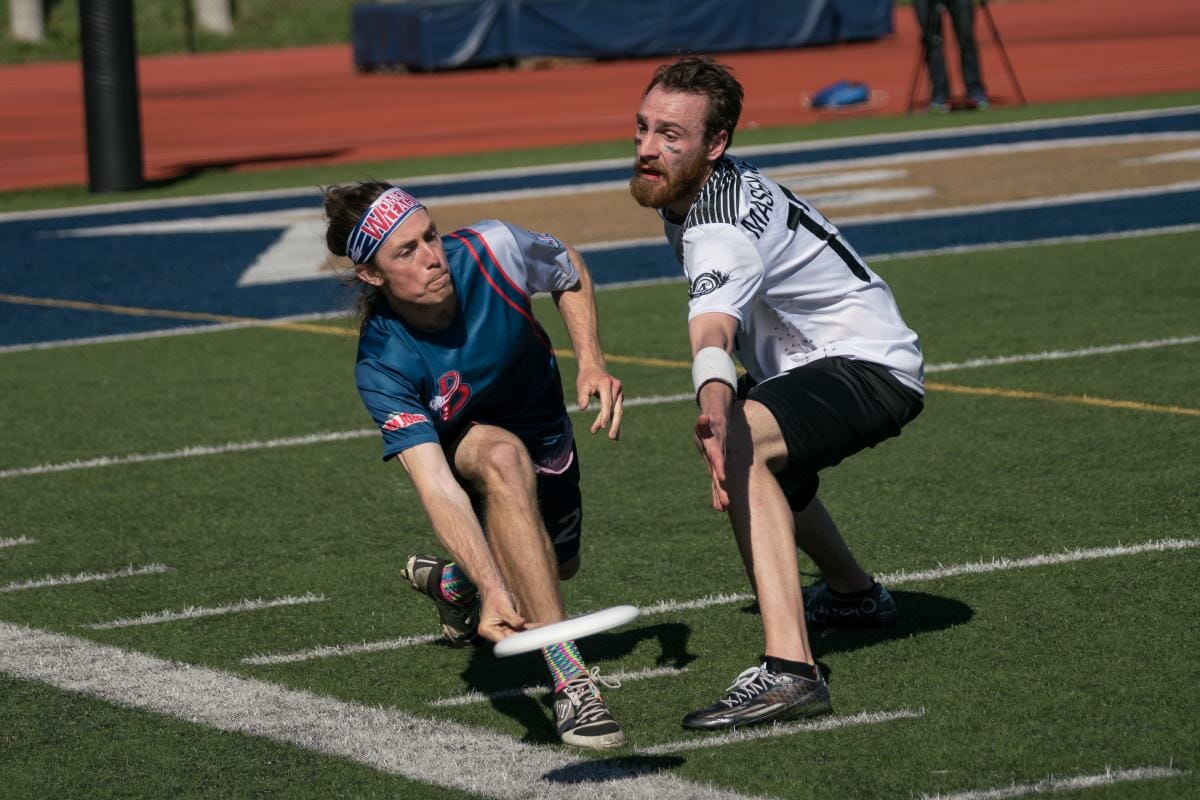 Some shock upsets this week from two winless teams — Atlanta over Austin and Seattle over San Diego — could reshape the dynamic of the playoff race as we near the midpoint of the regular season. Let's throw it around.
The Scores
Montreal 16-21 Toronto
Austin 19-23 Atlanta
Ottawa 15-24 Washington DC
Minnesota 17-23 Chicago
Indianapolis 19-16 Pittsburgh
San Diego 21-25 Seattle
Los Angeles 25-16 San Jose
Minnesota 31-22 Detroit
Austin 18-23 Raleigh
Ottawa 16-21 Philadelphia
Standings Through Week 5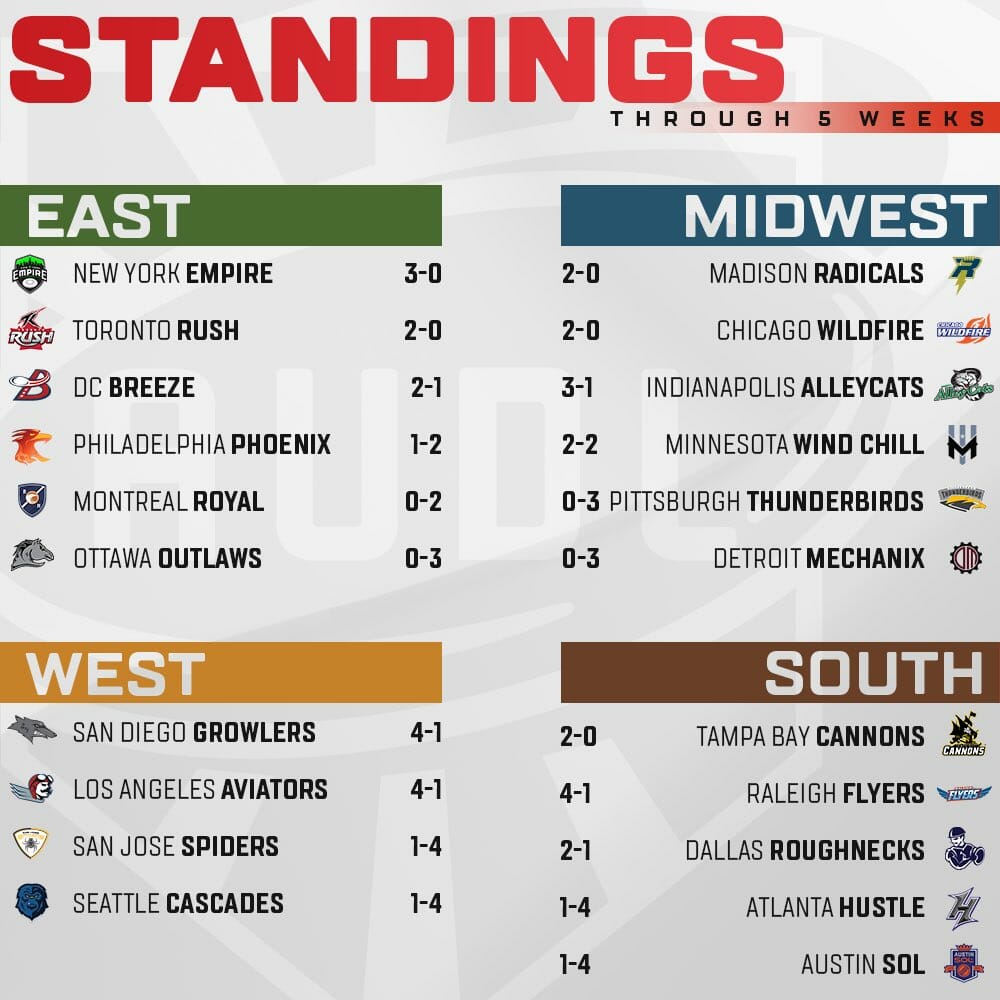 Austin Drops Both Games in Road Trip
The Austin Sol traveled to the east coast for an important Saturday-Sunday doubleheader against Atlanta and Raleigh but were unable to pick up a much-needed road win in either game.
Saturday's game against the previously winless Atlanta Hustle provided what seemed to be the far better opportunity for Austin. Both teams emerged from the gate with urgency, and the first period was tightly contested. Atlanta's zone defense created a few miscues, and some strong offensive play from Elijah Jaime and Matt Smith allowed the Hustle to jump out to a 9-5 lead early in the second. However, that lead quickly shrank to 9-8 as the Sol capitalized on a couple of unforced turnovers to convert breaks.
Atlanta was able to maintain a lead that ranged from one to three goals over the course of the second half. Their zone, which clogged the middle of the field and forced Austin handlers Ryan Purcell and Keivaun Waugh to resort to riskier throws, continued to annoy. Austin's two defensive lines were able to create turnovers, but they couldn't seem to string together enough breaks to tie the game. Player Pierce masterfully managed the Hustle offense, and the speedy Smith and Austin Taylor provided resets at will.
A key moment came midway through the fourth quarter when, after a few minutes of trading points, Atlanta's Kelvin Williams came up with a hand block on a hammer attempt, and the Hustle converted to Jaime to take a 19-16 lead. Austin was unable to break the Hustle offense for the remainder of the game, and Atlanta took home their first win of the season, 23-19.
The Sol next made the quick turnaround to Raleigh for an afternoon game on Sunday, where it was quickly made obvious that they could not muster the same energy early on against the perennial powerhouse Flyers. The conditions were breezier than they had been the previous day, and Austin suffered a number of poorly executed throws in the first half, most of which were transformed into Raleigh breaks. The home side led 6-3 after the first period and 13-5 at the half, backed by strong performances from Eric Taylor and Allan Laviolette.
Austin was able to right the ship in the second half, forcing the Raleigh offense into a few mistakes of their own, but the damage was already done. The Flyers win was punctuated by a play with about four minutes remaining in the game, when Austin's Bobby Lewis sent a huck towards two Sol receivers in an attempt to cut the lead down to four. Raleigh's Jacob Fairfax tracked the disc from behind for a massive highlight block, and, although Austin later scored that point, the Flyers went on to complete the 23-18 wire-to-wire victory.
With the two losses, Austin now falls to last place in the South Division at 1-4 (tied with the Hustle, but with a head-to-head loss). They will look to prove that their lone win of the season so far was not a fluke this weekend as they rematch with Dallas at home. The Tampa Bay Cannons currently lead the division at 2-0, but both of those wins came against lowly Atlanta. They will host Raleigh on Saturday in their first true test.
– Sean Brady
?️?️?️
San Diego Drops First Game
In a back and forth game, the Seattle Cascades pulled out a 25-21 victory over the previously unbeaten San Diego Growlers. Neither team had more than a two goal lead throughout until Seattle pulled away late in the 4th quarter.
The Cascades offense was boosted by the return of Mark Burton, who went 59/62 with nine assists. Jay Boychuk and Brad Houser were released downfield and turned in six goals and two assists each.
San Diego traveled with nearly a full roster, but the long flight north must have drained something from the team as they faded down the stretch. Sean Ham was his usually productive self, notching seven goals and two assists. Travis Dunn and Goose Helton were all over the stat sheet, scoring four goals and throwing four assists each. San Diego still tops the division thanks to their head-to-head win over Los Angeles earlier this season, but they will be put to the test against a resurgent Aviators team next weekend.
After the game, Cascades Owner/GM Xtehn Titcomb interviewed Molly McKeon, one of the team's live stream commentators. She had some interesting insight:
– Alex Rubin
More Clarity In The Midwest
A weekend of two wildly different games for the Wind Chill gave fans some clarity to the pecking order in the Midwest. Four games into the season, the Wind Chill are 0-2 against Chicago after losing handily on Saturday after keeping it close in the first half. After some halftime adjustments from Chicago, the Wildfire were able to pull away and claim a 23-17 victory.
Chicago looks athletic in a way that few teams in the Midwest have looked in the past few years. They have platoons of guys that can beat you in the air, and Pawel Janas can get them the disc whenever he wants. This athleticism should give Wildfire fans hope of a Chicago appearance at Championship Weekend. With the additions of Zane Rankin and Matt Rehder, Chicago has the most consistent talent in the Division right now. Look for Madison to concoct a variety of defensive strategies to limit Chicago's strengths, but Chicago should be a contender for a championship weekend spot if they remain bought in and playing at their current level.
After a stinker in Chicago, the Wind Chill faced an interesting challenge in Detroit. This was a game that many thought could be Detroit's best chance of a victory this season. The Wind Chill would be road tripping to Detroit for an afternoon game, they'd be tired on a back-to-back, and playing with a short roster. Their lineup included two AUDL rookies added from Iowa State after their victory over Carleton at College Regionals. Detroit has also showed some signs of life this year, adding players from the college division and playing two close games with Indianapolis, who was supposed to be better this year. It was a fashionable upset pick.
Minnesota, however, came in and was never really challenged by Detroit. From start to finish, it looked like the same old Detroit team that didn't win a game in 2018. Minnesota's defense was able to force turnovers and capitalize on them fairly easily. Minnesota imposed their will on Detroit, which could have some interesting ramifications for the rest of the division. What does this mean for Indianapolis? A short handed Minnesota squad was able to clobber Detroit, while Indianapolis and Detroit played competitively twice this season already, Detroit losing once by three and once by four. Indianapolis is certainly better than Detroit, but what does it say about the Alleycats that they played tight with a team that Minnesota was able to easily handle?
– Tanner Jurek
Toronto Handles Montreal
Toronto continues its dominance over the rest of Canada with a convincing 21-16 victory over Montreal. The Rush got off to a hot start with three breaks in the first quarter and never let up.
Once again, Toronto showcased its depth. Five players had multiple goals, highlighted by Nathan Hirst, who posted four goals and four assists in an impressive offensive showing.
Surprisingly, the Rush had very few touches in this game compared to the Royal. It is a reflection of the play styles of these two teams. Toronto wants to score quickly, maximizing the impact of each throw. Montreal looks to chip away at the defense, comfortably trusting its handlers to find openings eventually downfield after working their way into the best possible situation.
While Toronto was in control for most of the contest, there were some notable flaws in the team's defensive approach. For one, they had no way to contain Quentin Bonnaud. The third-year player torched the Rush defense for eight goals. Toronto will point to the job it did limiting Bonnaud's teammates, as just one other Royal scored more than a single goal.
The Rush should continue to cruise through the division with a visit from the Outlaws on the horizon. The Royal, on the other hand, need to regroup during a week off before hosting the Breeze. Overcoming an 0-3 start in the East would likely be impossible given the shorter schedule, so the pressure is certainly on for Montreal.
– Chris McGlynn
New Faces Lead Los Angeles To Blowout In San Jose
The Los Angeles Aviators pulled away from the San Jose Spiders early to cruise to a 25-16 victory that has them tied for the best record in the AUDL West. For the Aviators, this season's results might look similar to last year's, but the people making headlines certainly aren't.
Danny Landesman once again made a highlight reel catch, and Joc Jimenez impressed with an all around game. He recorded three goals, two blocks, and an assist, and Xavier Charles got a shout out on the league's Twitter. The Aviators have to be impressed with the way their rookies are playing; if they are able to maintain this level of play, LA could return to Championship Weekend.
San Jose, meanwhile, could not take advantage of an influx of college talent added to the squad. Justin Norden led the Spiders effort with a 33/33 throwing, six assist, one goal stat-line, but Los Angeles was too dominant for the Spiders to crawl back into the game.
– Alex Rubin
Tough Road Trip for Ottawa
After dropping its season opener to the Toronto Rush, the Ottawa Outlaws traveled south for a back-to-back weekend with the DC Breeze and Philadelphia Phoenix. It proved to be another rough showing, as Ottawa dropped to 0-3 with a pair of losses on the weekend.
The team hailing from Canada's capital visited the U.S. capital to start the weekend. DC looked fresh after having a week off from action. Darryl Stanley clearly put the week off to good use as the Breeze rolled over the Outlaws 24-15.
Finally, in the fourth week of AUDL action, we saw the return of the AUDL's reigning MVP to top form. Rowan McDonnell broke the cape out of the closet and once again became Super Rowan. With a four-goal, six-assist performance, he led the way with a +10 for a DC offense that played some of its best ultimate of the season.
It would be easy to point to McDonnell's excellence as the reason for the Breeze's blowout. This was truly a team effort, though. DC had four players with three or more goals and six players with 2+ assists.
The team was also aided by the season debut of Jeff Wodatch, who took a break from his usual goal-scoring role to dish out four assists. His appearance was definitely felt by an Outlaws team that struggled to generate much defensive pressure. As a team, Ottawa only managed four blocks for the game.
DC has put to bed any concerns about its ability to compete with the rest of the division after losing a sizable chunk of its roster to the AUDL boycott at the end of last season. At 2-1, the Breeze are solidly in control of the third playoff spot in the East.
Despite another lackluster performance from Ottawa, David Colic had a breakout game of sorts with five goals and three assists in the loss. At just 20 years old, the Outlaws have a potential young star if Colic is capable of replicating this performance.
Ottawa lacked any real offensive flow throughout its matchup with DC, though, and those issues followed them into Sunday's game in Philly. The Phoenix tallied three breaks in the opening quarter alone and coasted to an easy 21-16 victory.
Defense proved to be Philly's calling card all game long: they finished the contest with an impressive 18 blocks. Billy Sickles and Eric Nardelli led the way yet again. Sickles had another all-around solid performance with two assists, three goals and a block. Nardelli posted one goal, one assists and a trio of blocks. The Phoenix had five players finish with multiple blocks.
Weather proved to be a big factor as the teams met on a rain-soaked grass field in windy conditions actually outside of Philadelphia's usual home field. Neither team drastically changed their approach offensively, but both teams got creative with the defensive looks.
Those defensive looks were met well by Scott Xu and Ethan Fortin for Philly, each of whom finished with four assists. On the Outlaws' side, Colic continued to be a goal-scoring machine, adding five more to bring his weekend total to 10.
It was an ugly, messy game full of turnovers, no doubt messing with countless fantasy ultimate players. This type of performance puts Philly squarely in the postseason conversation, a game back of DC for the final playoff spot. Ottawa's season does not get any easier, as the team will return home for a matchup with Toronto.
– Chris McGlynn
Sky High
Latest Power Rankings