It's been a fast rise for Michigan Tech.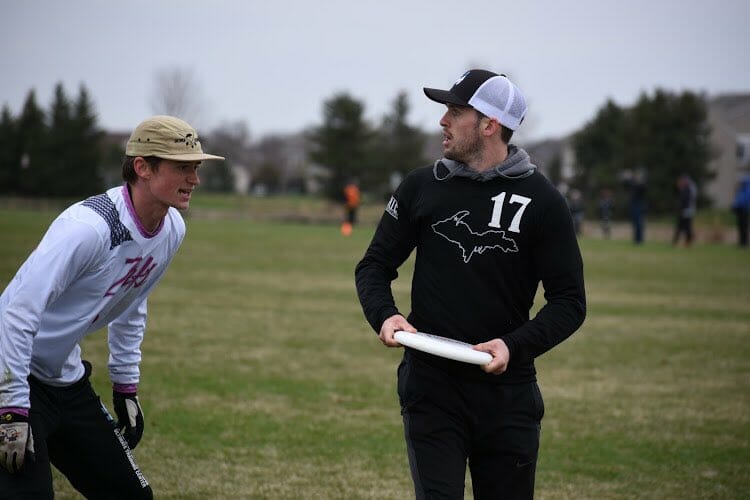 Ultiworld's 2019 D-III College Championships coverage is presented by VC Ultimate.
In 2018, Michigan Tech DiscoTech burst into the national spotlight with an impressive showing at D-III Midwestern Invite. They continued to show their power throughout the year, narrowly missing out on earning a bid for the North Central region and losing in the semifinals of NC Regionals. With the stage set for 2019, Michigan Tech set themselves on a mission to reach the D-III College Championships for the first time.
Michigan Tech is a longstanding program in the North Central region. DiscoTech, the current iteration of the team, has existed since 1999. The school has had a program for even longer than that, previously under the name Lake Effect. It wasn't until recently, however, that the team gained national relevance.
"Our team used to be a drinking team 'because it was more fun,'" said Brendan McCann, captain of the Michigan Tech squad. "I don't think losing is very fun, though. As we have grown, we have really made an effort to keep the fun aspect, while committing ourselves to become better players and students. Time management is a huge thing I preach. Homework is never an excuse to miss practice."
Given their location in Houghton, Michigan, in the Upper Peninsula, Michigan Tech is a school that faces tough winters and long travels. Houghton is an arduous trek from major cities where tournaments are usually hosted. Milwaukee and Madison are each over five hours away, while other ultimate hubs, such as Minneapolis, Chicago, and Rockford, are closer to seven.
"Logistically speaking, being from Houghton is a nightmare. We do not have indoor turf and only get access to two basketball courts to practice in the winter months, which for us means mid-October through April," said Michael Merwin, a Michigan Tech coach who helps at tournaments.
"Traveling to tournaments is at least a six hour drive, so getting players that are truly committed is a huge thing. Flying to tournaments is not an option either, there is one airport and it only flies to Chicago so all the flights to anywhere else are very cost prohibitive. For the record, Houghton County just broke their snow record with 357.2 inches of snow this year."
Thanks in large part to the struggles that come with their location, it has historically been tough for Michigan Tech to travel to productive tournaments throughout the year. Even when the team finds tournaments to attend, they are usually at risk of getting cancelled, and the struggle to get to ten games exists to the highest extent for a team like DiscoTech. Similar to the challenges that many teams in the North Central regions face, the weather of the region also makes it nearly impossible to host tournaments throughout much of the year.
"We used to only go to two tourneys in the fall, then Conferences would be the first tournament for us in the spring," said McCann. "Not surprisingly, we sucked, and four years ago was the first time we ever even qualified for Regionals. Chicago and Minneapolis and Milwaukee don't even have spring tournaments of note. Huck Finn, D-III Midwestern Invite and Old Capitol Open are the closest tournaments to us. The minimum is 8.5 hours away."
"I think that contributed to being a drinking team majorly," he continued. "It was more of a social club who would casually throw the disc, than a team looking to compete."
******
Over the past two years, the Michigan Tech team has exploded onto the scene. A 2018 appearance at D-III Midwestern Invite showed that DiscoTech was able to compete with just about anybody, as they worked their way to the semifinals before falling to Whitman. With the team's growth, Brendan McCann has shown himself as not only one of the best players in the North Central region, but one of the best players in the entire division. A premier thrower with the ability to get resets and put the disc just about anywhere on the field, McCann has been the engine driving the Michigan Tech offense.
"Having Brendan opens up a whole world of options that most offenses to not have," said Merwin. "He can hit any spot whenever he wants. He is special in the way he sees the field and can see plays developing, and on defense he is always looking for the advantage and knows where the disc will go next, often before the offensive cutters do. He is one of the best players in the country."
McCann has established himself as a player outside of the college season as well, and the experiences he has picked up have helped to bring talent and knowledge to the Michigan Tech team. Having played before entering college, McCann already had a step ahead of much of the competition. Add on time playing for the Detroit Mechanix, captaining the growing Ann Arbor Four club team, and now playing with the Minnesota Wind Chill, and McCann brings a wealth of experience to the table.
"I started playing ultimate the summer before my freshman year of college," said McCann. "Youth ultimate is pretty sporadic around Michigan. There are pockets of youth programs, but it is nothing compared to Minnesota, Boston, Seattle, or North Carolina."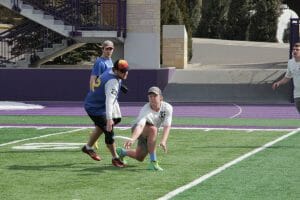 With the growth of McCann has come the growth of Michigan Tech's renown. Once an overlooked team, DiscoTech has now held a spot in the Top 25 for much of the past two season. Breakout stars alongside McCann, such as Kevin Anthony and Frank Uganski, have established themselves as well-known athletes able to make plays on deep shots. In addition to that, the team has grown in numbers, far from what they were at the beginning of McCann's Michigan Tech career.
"My first year, we only had six people on the team," said McCann. "I was named captain of the team in the winter of my freshman year. Second year, we made Regionals for the first time ever. Third year, we were competitive at Regionals. Last year, we traveled further for our tournaments and tried to earn a bid. It has been a steady progression towards where we are."
"I think to our team, we didn't 'pop' onto the scene. But since we are so far away from everybody, teams at tournaments were like 'Who's Michigan Tech? Dang you drove 12 hours to be here?'"
Despite their emergence as a premier, competitive team in the country, Michigan Tech has not lost sight of their fun beginnings. The team still prides themselves on having a fun sideline, positive energy, and being an enjoyable team.
"We are the goofiest team I have ever been around," said McCann. "We have some characters on this team that have really established a positive team identity. I think if you talk to other teams around the region, they'll tell you they like playing against us. We have a lot of funny cheers and we are always joking around with the other team. I think the major tenets of our team would be commitment and goofiness."
******
With an established, experienced thrower in McCann and a bundle of growing athletes around him, Michigan Tech has solidified themselves as one of the nation's powerhouse programs in 2019. Despite the immense amount of travel needed to compete at the highest level, Tech did enough to earn the North Central a bid to the 2019 D-III College Championships, a bid that they would hold onto at the North Central Regional Championships.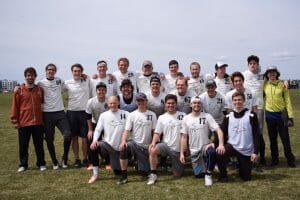 Entering Nationals, Michigan Tech is a team that still has a chip on its shoulder. Michigan Tech has shown what they can do against Nationals-caliber teams, picking up a win over Portland at D-III Midwestern Invite and falling to Missouri S&T 7-5 without McCann, who sat out Sunday with a dislocated shoulder.
Watch for Brendan McCann and the rest of the Michigan Tech squad to be one of the most fun and enjoyable teams to watch at the D-III College Championships. With a brand of ultimate that showcases big deep shots, fun over-the-top throws, and loads of athleticism, DiscoTech will surely be a team bringing the heat to College Station.