The biggest upset of the prequarterfinal round!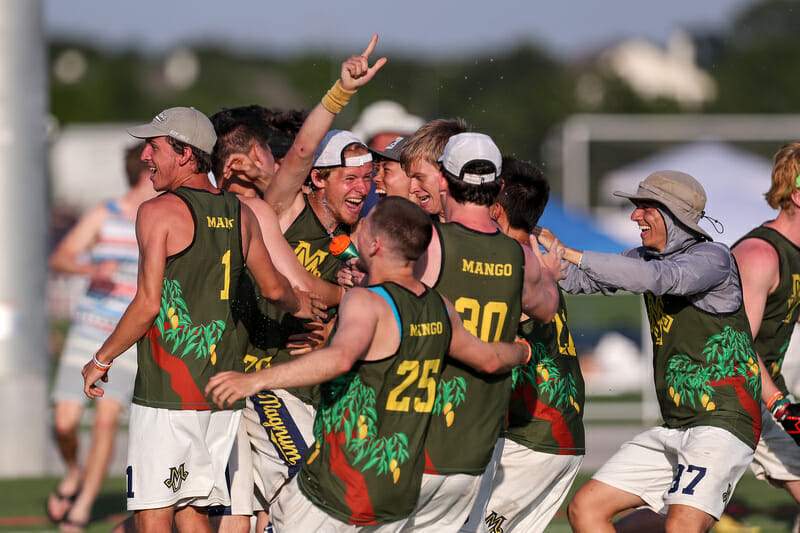 Ultiworld's Men's Division college coverage is presented by Spin Ultimate; all opinions are those of the author. Please support the brands that make Ultiworld possible and shop at Spin Ultimate!
No. 14 seed Michigan MagnUM upset no. 6 seed Oregon Ego in their prequarter game in a grueling game of breaks and big plays by a count of 13-12.
Oregon Ego came in second in one of the tough Pool C, having to face Pittsburgh, Wisconsin, Tufts, and Victoria. Ego looked strong leading up to prequarters. On Friday, they handled Tufts, winning 15-8, before narrowly falling to Pittsburgh, 14-12. On Saturday morning, they beat Victoria, 15-10, setting up an exciting showdown with the third seed in the pool, Wisconsin, which Ego also won 12-9.
Michigan MagnUM started off their tournament with one of pool play's most action packed games against NC State in the very first round of pool play. The game featured extended scoring runs by both teams, tons of huge plays, dozens of missed throws and drops, and a compelling double game point upwind goal to clinch the game for Michigan. It was the kind of start that showcases why so many people come from far and wide to watch the College Championships every year.
Michigan followed up their thrilling victory over NCSU by getting drubbed by Texas, losing 15-7. On Saturday, Michigan had back to back tests against Iowa State and Brown. In what felt like an instant throwback, Michigan and Iowa State fought each other tooth and nail, and MagnUM managed to pull off another double game point nail biter, 15-14. After that, the real drama settled in for Michigan. They watched the Ultiworld stream on their phones as Texas battled NC State on the showcase field. If Alpha won, there would be a three-way tie in the pool between Michigan, Texas, and NC State that would leave them on the outside as a result of their beatdown from Texas. Instead, Texas fought to force double game point and then break downwind to finish off NC State. The Texas win earned TUFF second place in the pool, and Michigan squeaked into the bracket in third.
Going into the prequarter, Oregon looked like the better team. They were seeded higher, they had the pedigree, and the regular season wins to their name.They were expected to beat MagnUM comfortably. Instead, Michigan broke upwind to start the game, and broke again downwind to go up 2-0. Oregon didn't look ready to go, bouncing an uncontested swing pass on the second point. Ego gathered themselves, and they held downwind. Oregon then returned the favor, breaking upwind thanks to bookends from Noah Coolman, and breaking downwind to take the lead, 3-2.
Michigan took the lead back with the same moves, holding downwind and breaking upwind to lead 4-3. Players took a heat break, but the rest would be futile, since the next point included at least a dozen turns. Oregon eventually held upwind to tie it 4-4, and the next point was the last one that Oregon's Xander Cuizon Tice would play, injuring his heel and not returning. The rest of the half was a brawl of breaks: Michigan held upwind to regain the lead, only to have Oregon hold and then break downwind. Michigan shot back with an upwind break soon afterward. Michigan won a long sloppy point to take half, 8-6. At halftime, both tents discussed how to clean up their offensive games.
The second half opened with several clean holds. With soft cap looming and Michigan up 11-9, Oregon snagged a precious upwind break to close the game 11-10. Oregon got a quick downwind break to tie it at 11-11 before the soft cap went into effect, so the teams would take a heat break and play to 13. Michigan held downwind to go up 12-11 and took a timeout. Even after an additional break, players on both teams looked gassed. Oregon needed two tries to hold downwind and tie it 12-12, and then they also called a timeout. With Michigan receiving downwind on double game point, Nicholas Gerber connected with Jeff Gao on a huck into the red zone, prompting Michigan to use their last timeout. Coming out of the timeout, the sidelines were packed with spectators anticipating the dramatic conclusion, but Michigan's Adam Stautberg got open easily on the open side and finished the game with a casual clap catch, winning 13-12. Michigan would move on to quarterfinals to take on Cal-Poly SLO, having won a third game at Nationals on double game point.
The game was another spectacular showing for Michigan's Gao, a sophomore who played almost exclusively defense and still has 14 goals on the weekend, second in the men's division only to Oregon's Marx. Michigan's head coach, Parker Howard, said Gao was integral to the team's success, citing his ability to contain the explosive Ego handlers. He guarded Ted Sither in the first half, containing him in the reset space and keeping him from throwing any goals, and crossed over to play more offense in the second half as Michigan looked to hold onto their lead.
Michigan also got strong play, especially in the second half, from their Callahan nominee, Gerber. Howard, specifically mentioned Gerber's improvement in the second half as a key reason why they were able to connect more often on their deep looks and hold on to win. Of the string of clean holds by both teams, two of the three goals were hucks from Gerber. He threw two more assists and had zero turns in the half, after racking up six turns in the first half.
Michigan is playing with house money at this point, the lowest seeded men's team to make the quarterfinal round of the bracket, and as a team that came into Nationals without as much hype and exposure as their competition, they are hoping to continue their surprising run.