The top performers of the year on the offensive side of the disc.
Ultiworld's 2019 Men's College Awards are presented in part by VC Ultimate, outfitting the world's best players since 1998. They are also presented in part by the National Ultimate Training Camp, who can help prepare you to be an All-Star. All opinions are those of the authors. Thanks for supporting the brands that make Ultiworld possible!
Ultiworld is pleased to announced our sixth annual D-I College Awards. The criteria for each award can be found here — we consider both regular season and postseason performance in our selection of awards. As the overall top performers of the year, players selected as top three in Player of the Year voting are removed from consideration for other individual awards.
Links to all of the 2019 D-I Men's Division awards will be added as awards are announced:
Player of the Year Award
Offensive Player of the Year Award
Defensive Player of the Year Award
Breakout Player of the Year Award
Rookie of the Year Award (will be announced later this week!)
Coach of the Year Award (will be announced later this week!)
All American 1st Team (will be announced later this week!)
All American 2nd Team (will be announced later this week!)
D-I Men's 2019 Offensive Player Of The Year
Liam Searles-Bohs (North Carolina)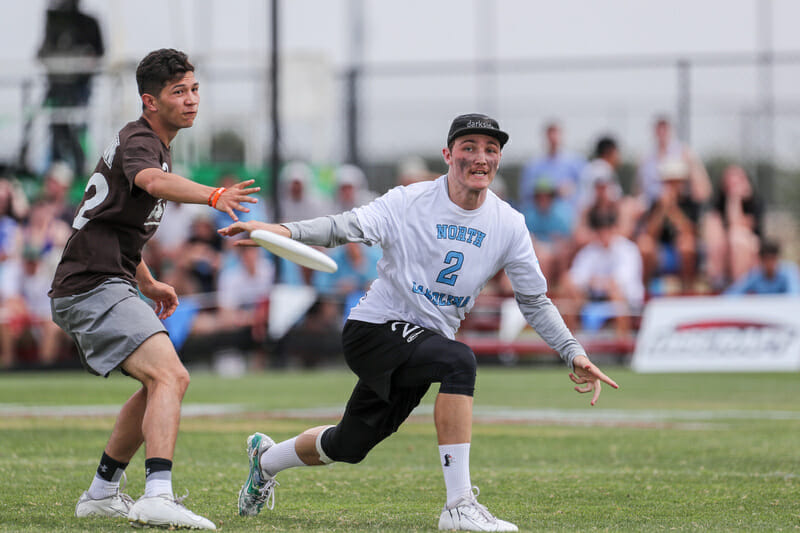 No one in the Men's division made a bigger leap this season than Searles-Bohs, whose rise from top prospect at the beginning of 2018 to top performer by the mid-point of 2019 may well be a template other teams with high-ceiling recruits can only hope to emulate. His size, field intelligence, and steady reset game always had a place on UNC's vaunted offensive line, but the overall impact he made his freshman year was muted. Searles-Bohs was a real contributor on a championship team: a feat, certainly, but a feat on a modest scale.
As it turns out, though, the low-key field presence Searles-Bohs displayed his first year on Darkside was only the serene aspect of a long incubation period. By the time Easterns rolled around at the end of March 2019, he had exploded into one of the division's most dominant cutters and most powerful throwers.
The sophomore's ability to carry a team was so apparent that North Carolina leadership had the luxury of optioning fifth-year captain and reigning Player of the Year Matt Gouchoe-Hanas to the D-line, and Searles-Bohs became the go-to player in North Carolina's isolation-heavy offense. He rewarded that trust with an offensive performance for the ages at Nationals. Torching defenders one-on-one for wide open deep looks, making quick-fire hucks look routine, and bringing down enormously difficult catches through the windy conditions and desperate physicality, Searles-Bohs finished a single goal shy of top-five in both goals and assists, with 16 and 20, respectively.
It will be a tough act to follow in 2020 — then again, Searles-Bohs may not have even approached the upper limits of his talent yet.
1st Runner up: Tannor Johnson (Massachusetts)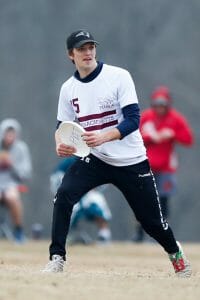 If our awards were given out at the end of the regular season, it would be hard to argue that Tannor Johnson hadn't been the most dominant offensive player in the division, or even the most dominant overall player. The senior has been a matchup nightmare throughout his college career, but never more so than in 2019.
The quintessential takeover player, Johnson asserted his dominance on the field at will, as if he were flexing a muscle. He overwhelmed marks and downfield defenders alike with the division's purest display of power — to which power he added the level of refinement necessary to suppress his wilder moments.
While the end came too soon and we were deprived of what likely would have been a marvelous showcase of his talents when UMass missed Nationals, the fact is that no player this season came closer to that impossible adjective, 'unguardable,' than Johnson.
2nd Runner up: Jordan Kerr (Brigham Young)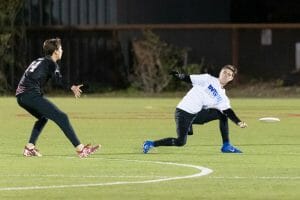 In a strange season that had many dangerous offensive players miss out on making Nationals, Jordan Kerr very much belongs near the top of that list of notable absentees. BYU looked like semis contenders all spring long, and Kerr, a major reason why, was their most dangerous offensive weapon.
In 27 regular games, Kerr racked up 106 assists, 40 goals, and averaged a plus/minus1 of 4.5 per game. With his elite combination of top end speed, quickness, and highlight reel athleticism, Kerr was one of the toughest downfield matchups in the country. He either roasted defenders deep, or left them in the dust underneath and then made up the yardage with his pinpoint lefty hucks.
Kerr, a junior, possesses a rare skill set, with the ability to hurt teams in any number of ways. Opposing defenses had no answer for him this season, and that's why he was an easy choice for this award.
---
goals + assists + blocks – turnovers ↩