The golden elephant stays in Europe for another year!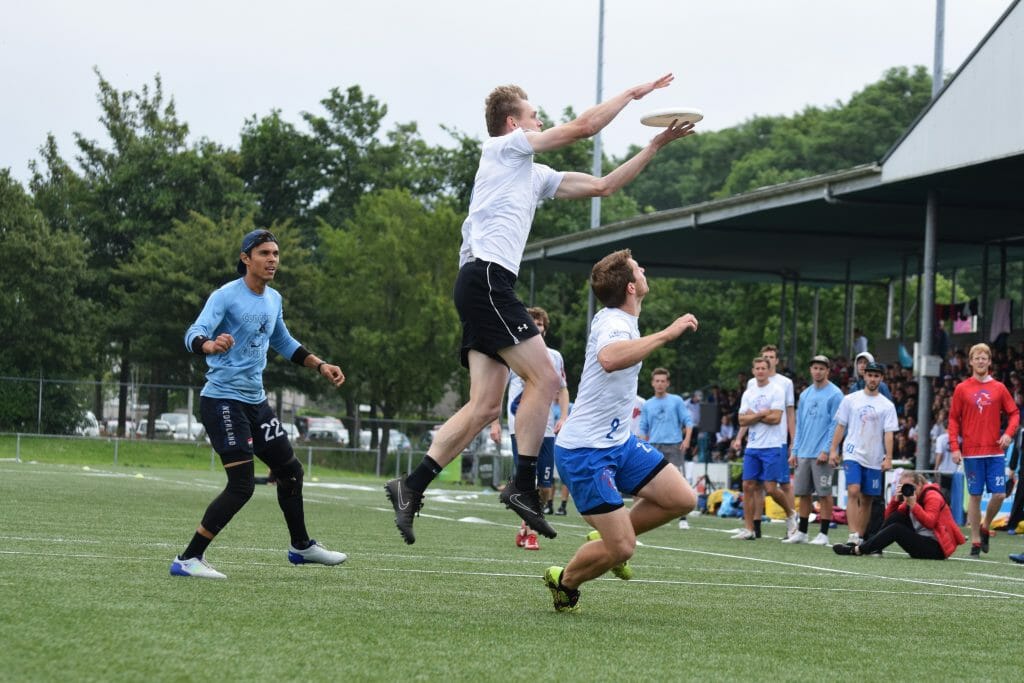 Ultiworld's coverage of Windmill is presented by VC Lookfly; all opinions are those of the author. Please support the brands that make Ultiworld possible and shop at VC Lookfly!
We now know where the trophy is headed following the culmination of the men's division here at Windmill. Great Britain, the pre-tournament favorites, ended the game with a four-point run after coming back from two early breaks. You can watch the full video on youtube.
Their opponents, Condors, started stronger with breaks to take a 3-1 lead early on. The Californians were moving the disc effortlessly and exerting real pressure on the other side of the disc, forcing GB into some loose throws and handling errors. As the game wore on, though, GB was able to get a foothold in the game. An impressive layout block by Josh Awcock helped the Brits get the first break back. At 7-7 GB threw on a power D-line featuring O-line players Ash Yeo, Justin Foord and Robbie Haines to take half 8-7 for GB.
The second half was where GB started to find their feet. The teams traded until 11-11, with Condors finding it more and more difficult to move the disc as they had in the early going. They turned at 12-11, giving the British D line a good look at the endzone. Ollie Gordon was forced into a high stall endzone shot by tight handler marks, and a swarm of Condors managed to knock the disc away. Hayden Slaughter made the play of the game, though, diving to the back corner to save the disc spectacularly and steal all the momentum. The British sideline and the watching fans erupted – Britain was up a break for the first time at 13-11.
From there, errors crept into the Condor offense. Britain capitalized on two errors, moving the disc with a deliberate and at times frenetic D-line offense to score two more points and slam the comeback door shut with a professional performance.
Condors captain Tyler Bacon said that the team was disappointed in the result and felt that they could have done more, but that they wouldn't be looking at things too critically in the wake of the defeat. "We've had a great weekend coming across the pond to play against the Europeans," he said. "A lot of these guys have got other things on the docket now, some of them are going to the World Cup, so we're just focused on enjoying our vacation now. It wasn't the result we wanted but we've had a great time."
British captain Josh Briggs, on the other hand, was pleased not only with the result but with the mental application of his team: "It's hard work mentally to play at high-level tournaments like this, and the team has done really well in dealing with that. Compared to other teams I've been with that have come to Windmill and won ahead of week-long summer tournaments, I think we're in a good spot. I'm feeling really good about the team, but we can't afford to slow down. We'll relax a bit today but when we get home it's right back to it, preparing for EUC and making sure we're on track."
He added that Britain had been able to work on everything they wanted to ahead of EUC in Gyor in two weeks, and that they'd done things in bracket play that they plan on doing should they qualify for the bracket at EUC. Considering that GB are reigning European champions and have now added a Windmill title, Briggs agreed that they have a target on their backs but viewed it as a positive: "It's nice to have that target because it's a mark of respect. We have to play up to that. We had tough games against Austria, who are in our pool at EUC, and Ireland. We didn't play the Czech Republic but they looked good. These teams are going to be coming at us and we have to deal with that, take each game and each point at a time."
The rest of the tournament
Speaking of the Czechs, the surprise package managed to snatch a high-creditable third place by beating Austria 12-8. They made the final in 2015 but then had a poor EUC, so they'll be looking to ensure that doesn't happen again this time around. With an assertive, confident offensive style they've certainly got the tools to make the quarters against the rest of Europe.
The other US team in the open division, Philadelphia Eagels, were beaten 15-7 by France in the 5th place game, but seemed to be struggling to recover from a committed performance at the party. The top eight was rounded out by Italy in seventh and Ireland in eighth after the Italians won on double-game point. The Irish squad will be disappointed given their close games against the two finalists, but now have a few weeks to make some changes to ensure that this performance can be turned around in Gyor.
All the national teams will be satisfied with what they were able to get in terms of competition here in Amsterdam, with a lot of quality teams making the overall draw very competitive. Crucial reps in pressure situations that are almost impossible to fully recreate at a training session will have helped everyone; the character of a team is often forged in a crucible such as this. Britain, for one, will hope that the positive signs so far continue into EUC and beyond.