The showcase event captured ultimate's attention.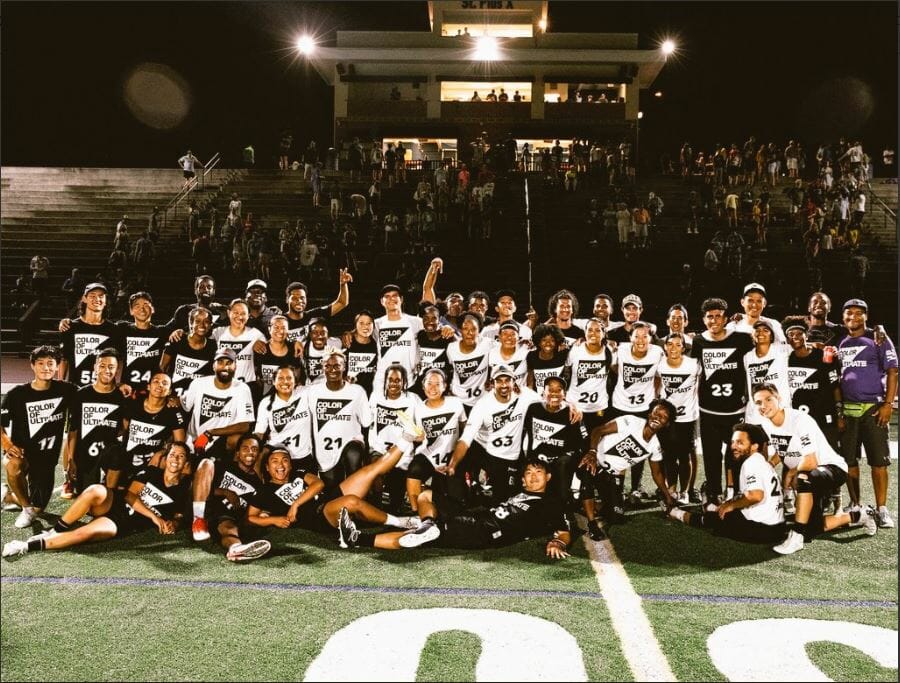 The AFDC Project Diversity's Color of Ultimate: ATL showcase took place this past weekend, bringing many of the game's best players of color together on one field for an all star game. The game was played between two sides coached by prominent players of color and members of the ultimate community, Jason Simpson and Tuba Benson-Jaja, who made their mark on this generation with their play in years past.
The goal of the game was, according to Project Diversity, to "raise awareness about the socioeconomic and racial inequity of the sport of ultimate," and to "highlight our game's elite players of color and expose our sport to those outside of our community, encouraging more people of color to play ultimate." It was a momentous night for many of the underserved athletes in the sport, and the culmination of a lot of hard work from AFDC Project Diversity and their partners. While last year's showcase event, hosted in Alabama, got the ball rolling, this edition felt like a major event. It all came together for a fun evening of ultimate that resonated throughout the ultimate community.
The Game
The game itself was fantastic. There were highlights galore, impressively smooth offense, a few comeback runs, and it ended up going to sudden death overtime. Both teams brought the big throws and big catches early, particularly through their women, but it was Team Tuba that claimed a couple of breaks in the first quarter.
A weather delay hit early in the second quarter and disrupted Team Tuba's momentum. Team Simpson led by as many as three goals, but went into halftime up 12-10. Byron Liu, Elizabeth Mosquera, and Marie Perivier were some of Team Simpson's top performers in the first half, while Delrico Johnson, Manuela Cardenas, and Jesse Bolton stood out with moments of individual brilliance for Team Tuba.
The weather delay in the first half led to shortened quarters in the second, but the loss of time didn't hamper Team Tuba's hopes of taking the lead back. Late in the third quarter, they rattled off four straight goals to take a 14-13 lead, and they took a 15-14 lead into the fourth quarter.
Team Tuba started the fourth on offense and were able to push the lead to two goals, before a series of holds took the game to 17-16. Team Simpson was finally able to get the break to tie things up with under two minutes left. Both teams showed in the final minutes that, while it may have been an exhibition game, they wanted the win.
Johnson made an unreal grab to save a huck from Bolton that led to a 19-18 lead for Team Tuba with 12 seconds left. Mosquera than lasered a big forehand to Shanye Crawford in the end zone right as the buzzer sounded to to force overtime. Overtime lasted just one possession, as Anders Olsen rifled another forehand huck to Cardenas for the game winning score for Team Tuba to bring the thrilling game to a fitting and exciting conclusion.
The Highlights
It was an exceptionally well played game, particularly considering the all star nature of the match, with loads of players that hadn't played with each other before. But more than the highlights, it was certainly a game worth watching for the larger importance of it. The whole game, for those interested, is still available on the Project Diversity YouTube channel here. But to hold you over until then, here are a few of the game's best plays.
Michelle Yang fought off two defenders for this tough sky.
One of Rico's multiple highlight catches.
Sun Choi saw this throw coming, and turned on the jets on the way to takeoff for the interception.
Leah Tsinajinnie fired to forehand to Jaime Perez, who hauled in the goal over the defender.
Revolution teammates Ximena Montana and Elizabeth Mosquera connected for a goal on this beautiful huck.
The play of the night went to Johnson's flying, nearly contact-less catch to get around Jacques Perivier's smart positional defense.
The Reactions
Twitter was abuzz during and after the game. Here are some of the highlights.1
If you want it, you have to go get it ? #SCtop10

(via @tnewson21) pic.twitter.com/vTqz1e6Ak0

— SportsCenter (@SportsCenter) June 26, 2019
The @afdc_diversity color of ultimate game is giving me major chills. This is so important. Thank you to all involved in making this happen ?? https://t.co/POh0qwrm0Q

— Hannah Leathers (@hLeath) June 22, 2019
The #colorofultimate game was everything I wanted and more ??? so amazing, so many feels. So proud to be a player of color ??

— Lauren Forrest (@lwoodzz) June 23, 2019
Watching the Game of Color and kept getting chills. Extraordinary display of mixed ultimate at the highest level. Truly inspiring in many ways. More visibility, empowering diverse leadership, and, oh yeah, insane plays like this by @LanaDelRey … Reminds me of MJ switching hands pic.twitter.com/j2wGcezXs0

— Christopher Mazur (@chrismazur) June 23, 2019
The emotion is hitting me. We did it!; we gave the next generation something to look up to. The chance to say I want to be like them, a chance to be role models for a demographic that isn't represented as much. WE paved the way for the future and it's fucking amazing.

— ?????? ? (@Lana_del_rico) June 23, 2019
Just watched the @afdc_diversity Color of Ultimate game and it makes my heart so happy. Shout out to all the folks who made this incredibly important event happen. https://t.co/ylrU6XsS9K

— cl00ds (@cl00ds) June 24, 2019
"For the first time, I was able to look up during a game and not feel like I was one of a few." – @afdc_diversity pic.twitter.com/mJRUsCy3Ex

— Gabriel Hernández (@GambitoHdez) June 23, 2019
The Impact
Several players and others involved with the game shared their thoughts on what it meant to them.
Josh Feng (Team Tuba, event organizer): It was a bit surreal. I'm shaking players' hands, giving them their jerseys, and signing them in. And I'm chatting with Mark Rauls, Ari Lozano, the Revolution Stars, AJ Beard! TNReels was working his interview questions in the background and Tino Tran arrived with his mobile green screen to get those fantastic photo images of us. I was just like, "Damn! This is really happening."
The game was one thing, but it's only a part of the bigger picture. I'm happy that things went as they did, despite the lightning delay, and that the players greatly enjoyed their experiences. But what's more important is that we have this family of ultimate players that we can rely on and be a part of, and solve problems together–The player groupme is pretty lit. I'm glad people in the ultimate community are thinking about this. And I'm glad social media is blowing up about the game (at least within ultimate circles) because the racial and socioeconomic inequity in our sport is really something that needs to be brought to light.
I'm excited where we're able to take this next. Because while the game was an incredible start to our initiative of increasing the racial and socioeconomic diversity of ultimate, our work is far from done. Not even close.
Keith Raynor (Broadcast Commentator): I'm so used to the way things are, I didn't realize how surprising it would be, visually and emotionally, to see a whole game played by people of color. I think I'll always remember the feeling of watching that.
Shanye Crawford (Team Simpson, event organizer): To say that CoU: ATL surpassed my expectations would be a gross understatement. Despite getting almost no sleep since our inaugural match, knowing that the game and community I love most can and will change people's realities, is still invisibly sustaining me! Let's gooooooo!
Ben Feng (Team Tuba): People will talk about the success of the pregame intersectionality & advocacy discussion, geographic representation, and the overall entertainment of the game, but what is equally as impressive were the subtle hints of gender equity and Spirit of the Game. The organizers did a fantastic job promoting both genders prior to the game, and that game itself was full of contributions from every player on the field! It truly is a blessing to participate in an ultimate game that had such a dynamic combination of high level play, gender equity, and Spirit of the Game, not to mention that the game's mission of raising awareness about racial and socioeconomic inequity was incredibly powerful.
Leah Tsinajinnie (Team Tuba): Promoting the importance of racial and socioeconomic equity in our sport has been close to my heart for a long time. I have wanted this conversation to be at the forefront of our community [since] I first started playing elite ultimate in 2012 with DC Scandal, when I heard the stories of my teammates on Downtown Brown, and again when I coached the W.D. Mohammed high school girls (an all African-American Muslims girls' team) in 2015. Unfortunately, with the AUDL and MLU presence back then, we didn't make the push as a whole community to focus on these issues when compared to other important issues.
I'm beyond amazed and truly grateful that I got to meet and play with such incredible people at the Color of Ultimate game. I'm also super proud that the showcase game was in Atlanta, the biggest hub for African-American culture and success. We show everyone what I believe ultimate looks like if we care about everyone being a part of our community. I know we will have more work to do after the excitement of this game is over, but I fully loved the whole weekend because it's been a long time coming.
---
Shout out to Chris Mazur for accidentally tagging singer Lana Del Rey rather than Delrico Johnson. ↩