The Women's division may be the most competitive at this year's EUC!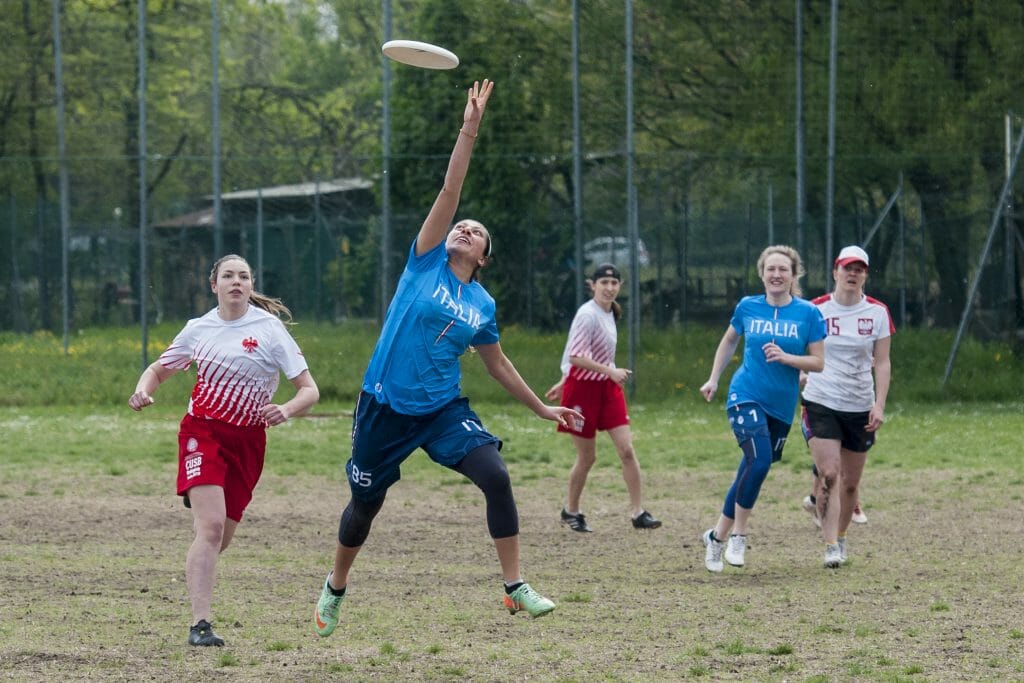 The European Ultimate Championship 2019 is coming up, hosted in the city of Györ, Hungary, with a slightly smaller turnout for women's teams compared to the EUC four years ago in Denmark, where they were represented by 15 teams. However, the women's division is more stacked than ever this year, with national federations focusing on developing a bigger scene of women's ultimate in their countries.
Tournament Profile
June 29th-July 6th
Location: Györ, Hungary
Weather: 20-30 Degrees Celsius, Sunny
Teams: 15
Format: Group stage -> power pools -> bracket play
The System
The championship starts out with three pools of four teams and one pool of three, advancing into two power and one lower pool of five after the first two competition days. The first two teams will advance to power pools, as well as the two best third teams. Due to the odd number of teams, only two of the three pool play games – the games against the top two finishing opponents in their pool – will be taken into account when determining the team's position after first pool phase. Ties will then be broken by initial seeding, which is essentially the tournament finish of EUC 2015.
After the second pool phase, the four highest of five teams from the lower pool still have a chance to advance into brackets by playing a pre-quarter game against the lower ranked teams from both power pools. Eventually, bracket play will start for places 1-8 and 9-15.
Pool by Pool
Pool WA:
Starting off Pool WA is the winning nation of EUC 2015, Finland. The Finnish women's team showed off their strength at Windmill 2019, playing against Germany in the final. Due to their rather small roster they might struggle later during the week to keep up their performance, but for early pool stages Finland is the team to beat.
Players to watch: #19 Vappu Reunanen #30 Essi Inkinen
Moving on to Belgium, this year, they played at Tom's Tourney 2019 as well as Disc Days Cologne 2019 to prepare for EUC and won both tournaments while having only one defeat at Tom's. They have a rather small roster but can rely on great connections from their experienced players.
Players to watch: #19 Ella Cromheecke, #28 Janne van Eecke, #94 Lisa Celis
Third in this pool is Ireland, going to EUC this year with the goal to make quarters and set new standards for women's ultimate in Ireland. They have a rather small squad, therefore they rested some players at Windmill every game, where they finished 7th.
Players to watch: #43 Sarah Melvin #88 Kelly Hyland
The last team in this pool is Ukraine, who were not seen at any preparation tournaments, so they might surprise viewers in Györ. They did participate at EUC four years ago, managing to win against the Czech Republic back then, but still just finished at the end of the ranking.
Players to watch: #8 Valeria Strelchina, #10 Yulya Petrova
Predicted winner of this pool: Finland
Pool WB:
Pool WB is led by EUC 2015 silver medalist Switzerland, who are now in a bit of a recovering period, as they have had some "frisbee retirements" as well as new additions to the team. This year they came in 9th at Windmill and 5th at Tom's Tourney so it is expected that they will do fine, but not as well as they did four years ago.
Players to watch: #17 Olivia Hauser, #14 Isabelle Güttinger
Russia, on the other hand, has a lot of recognizable names on their roster. Russia won the EBUC 2019 in both the mixed and the women's division, with their mixed team relying heavily on their women. Last year's Brilliance squad also did especially well at WUCC 2018, having finished 11th after a narrow defeat in prequarters.
Players to watch: #23 Olga Kochenova, #91 Aliza Tizik
Third in this pool is Sweden, who have a mixture of new players and experience from years past. They went to play Windmill with a nearly complete squad, could not quite make it into the bracket play after the Swiss draw rounds and finished 10th, just below their EUC pool opponent, Switzerland. They had a Swiss score of 1.50 compared to Switzerland's 1.51 which means that the algorithm predicts these teams to be separated by only 0.01 points! The Switzerland vs Sweden matchup will definitely be one to watch.
Players to watch: #7 Sara Eklund, #8 Molly Robbins
Completing this pool is Poland, who placed 15th four years ago in Denmark, but are coming to Györ with a more experienced team and a goal of make quarters this year. They have a majority of players from Troubles (Warsaw), who got 3rd at last year's EUCF.
Players to watch: #8 Ewa Banbula Duda, #16 Paulina Duhl
Predicted winner of this pool: Russia
Pool WC:
Pool WC starts off with a Italy, who won their "home" tournament, Bologna Invite 2019, rather early in the season. They could not quite add to their performance at Windmill, probably due to the lack of a few key players. They have some great depth of talent though, so they are expected to keep their level of play during the entire week.
Players to watch: #11 Vanessa Barzasi #31 Anna Ceschi
Moving on to France, who seem to have focused on their mixed team a little this year. The women's side had a rather surprising weekend at Tom's Tourney by only making 15th place but improved at Windmill with an 8th place finish including a very close 11-9 loss to Germany in quarter finals. They are still waiting to impress at EUC, focusing on newly-formed connections and bringing in Daniela Rodriguez, who was not with them for the preparation phase of the season.
Players to watch: #18 Aline "Rasta" Mondiot #26 Alice "aliVe" Sammarco
Third in this pool are the Netherlands, who have a completely new team, with only four players returning from the last cycle. Since they have yet to play together as a full squad due to some injuries and other international obligations like EBUC 2019, their full strength is yet to be seen.
Players to watch: #14 Maartje Keulen, #66 Sarah Sparks
Last but not least, the Czech Republic. Formerly focusing on the mixed division, Czech Republic has brought out a stacked women's squad for this cycle. They are aiming for recognition in the European scene but had a rather tough weekend at Windmill.
Players to watch: #8 Sarah Tošnerová, #25 Eliška Zikešová
Predicted winner of this pool: Italy
Pool WD:
Germany is starting off this fourth pool. They have had a great preparation period, topping it off with a dominant win at Windmill final over Finland. They have a huge squad of 26 players registered for EUC and their goals were described by a winking face emoji, so I guess that leaves it to our imagination. They are set to play the US Open later this summer though as the German program has their sights set further than just EUC this year.
Players to watch: #17 Anna Gerner, #24 Lena Trautmann, #89 Kyoko Hosokawa
Second team in this pool of three is Great Britain. They had a great performance at UKU tournament, Nottingham Windfarm 2019, and placed third earlier this year at the Bologna Invite. They are focusing on a smaller, but coherent roster and are focusing on having fun playing at a high level.
Players to watch: #26 Alice Hanton, #51 Laura van Krieken
To complete the fourth pool is Austria. They have had some ups and downs during their preparations this season but are coming to EUC with great potential. At Windmill, their first game was against their pool opponent, Germany, where they lost 14-8 after playing a great first half. The team is expected to have some great moments and highlight plays for sure, and might even surprise viewers with their capability.
Players to watch: #11 Silke Delafortrie, #15 Annika Wolfsteiner, #21 Veronika Paschinger
Predicted winner of this pool: Germany
Predictions:
Since anything can basically happen going into pre-quarters, picking semi-finalists is a hard task. One can count on Germany's legs due to their big roster and their great preparation period. In addition to this, their great athletes and experienced coaches will give them a great chance of making semis and even finals. With as nearly as big a roster, including many star players from CUSB Shout, Italy will be a force to recon with at all stages of the tournament if they can keep up their team's focus during the games. Their athletic plays in both offense and defense will make it hard for any opponent to stop them. Russia, having a lot of very experienced players, will also be a team to watch out for. They have a great clinical offense and intense match defense and are never afraid to bid for the disc. The last team that one can count on to be a semis contender is Finland, as although they did struggle against Germany's intense defense in the final, they did beat them during Swiss draw and managed to get by a lot of other stacked teams with their unconventional throws and great connections.
To sum it all up, there have been a lot of changes in terms of rosters since EUC 2015. Many new faces as well as experienced ones make this a hard tournament to predict the outcome of. In any case, one can expect a great, intense week of ultimate, displaying the best European women's ultimate has to offer.