Five teams look to be title contenders this year!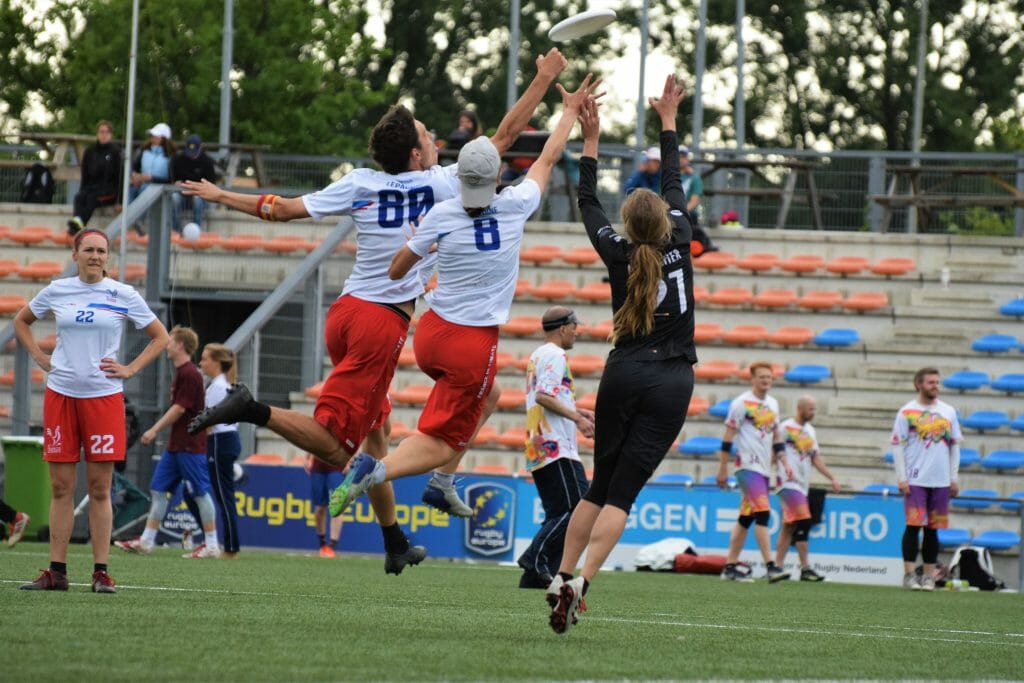 This year in Györ Europe's national teams will compete for the title for the fourth time. Great Britain has won gold in the mixed division every time. This time more teams than ever will try to thrust GB from the throne. All in all the tournament hosts 19 Teams. They divide up into four groups to start the tournament, then move to power pools and finally, brackets.
Tournament Profile
June 29th-July 6th
Location: Györ, Hungary
Weather: 20-30 Degrees Celsius, Sunny
Teams: 19
Format: Group stage -> power pools -> bracket play
Medal Contenders
There are five teams that realistically have a chance to make it to semifinals and contend for medals this year. Each has different strengths and styles and here is how they could each reach the final.
France is the consensus favorite to win gold. They earned that status with a confident Windmill performance. France seems to have it all: top end talent and plenty of depth. They have the star players like Ronan Bichon and Laura Chagneux-Becker but they are not relying on them to do all the work. The riches in talent are managed by a team of three: Olivier Labbé, Jonathan & Jenny Vallet, who have plenty of experience with the mixed national team. The familiarity with their teammates on the field might be just what is necessary to get gold.
The strength of Germany might be in their coaching team and in the endless depth of their mixed scene. Coach Heiko Walldorf is in his second stint with the mixed national team, after four years of coaching Germany up until WUGC in Japan 2012. Since then he gained some more experience coaching the Poland Word Games Team. He is assisted by Philipp "Hardi" Hartmann, who is also responsible for Germany Mixed U24. Germany brought in coaches from the US to improve their skills and they sent the Mixed Team to compete at US Open to gain experience. This team might not have the star power we are used to seeing on a German side, but they gained strength through the year. Germany only lost by two points to favorite France in the Windmill semifinal and they will need to improve a bit on that performance to crack the top four here.
Great Britain have won every EUC mixed gold ever. A committee of four players selected the squad out of 172 applicants and around 110 players at tryouts. GB brings a lot of players from Chevron Action Flash and Bristol Women: two teams that already showed in 2019 that they mean business by winning Tom's and Vienna Spring Break respectively. GB played the invitational tournament in Denmark where they were only beaten by Sweden. At Talampaya they impressed on the field making easy work of some national team competition before they forfeited their semifinal.1 GB has never lost the EUC gold before, but this year's competition may be the toughest that the country has ever had to contend with.
Russia are filled with stars and will try to cruise to success in Györ after they won a gold at EBUC earlier this season. They are going to Györ without a coach and they didn't attend any preparation tournaments but are seen as contenders by many experts. Toly Vasilyev, Ilya Dannenberg, Dina Dumanskaia, Sasha and Anna Pustovaya are names that cause sleepless nights for opposition coaches but at this stage it is very hard to predict if the depth players will be on a championship level. Teams will have to stop the dominant women to be a challenge to this Russian team.
Mixed Ultimate is on the rise in Sweden. In the past the Men's and Women's teams brought home the medals for the early Ultimate Frisbee adopters in Scandinavia but the most recent success stories were written by Swedish Mixed Teams. In 2017 the Sweden Mixed team won a European gold medal on sand and Göteborg club SeE6 won EUCF 2018. SeE6 coach Jonathan Sjögren is at the helm of the national team. He was part of Swedish men's club powerhouse Skogshyddan and coached the men's national team back in 2014. A skeleton crew of 13 players participated in the national team preparation tournament in Denmark where they won every game, including a victory against perennial favorites, GB. Stars like Annika Lindqvist and Martin Hargeby will shine for this Swedish team.
Quarters
It will be very difficult for teams outside of those top five to make semis. However, there are still a number of other teams that could challenge to make their way into the quarters. With seven teams listed here contending for three more spots in quarters, making the top eight will be a battle in itself.
Austria's mixed scene is far from its most glorious moment when Upsa Daisy placed 8th at WUCC 2010 in Prague. In the following EUC in Maribor the mixed team brought together Austria's top talent but it did not really click and Women's and Men's has been the focus for club and national teams ever since. Dave Huter was part of the stacked mixed team in 2011 and Patrick Zerlauth was part of Upsa Daisy in 2010. They will provide veteran leadership on offense for Austria mixed this year. Wunderteam and Mantis standout Julia Schmeisser is back from injury and will be a nightmare to deal with for the female opponents. Coach Gerhard Thonhauser brings the Wunderteam style of play to the national team. The team played Talampaya and Windmill on back to back weekends with similar results against national teams. Austria dominated the lower tier countries but could not really challenge the top tier.
At the club level, mixed ultimate is not the focus in Denmark but without a Danish women's team this year, the mixed team will be stronger than usual. Sofie and Jeppe Ankjær are coaching what could be the strongest Danish mixed team ever assembled. At the Danish preparation tournament, Denmark traded wins with Finland and lost close games to Sweden and GB. The team is looking forward to match up with Russia in the group phase. Denmark seems to be a quarters contender with the potential to upset some favorites.
Finland is lead by their coach and Mixed Ultimate proponent Jyri Saarinen, who was also involved in coaching the team in the last cycle. Team Finland selected players who were determined to play in the mixed division. Tryouts were held on the same weekend as the other national teams, which forced players to decide early in the process where they want to play. Half of the 2015 roster is returning and the ranks are filled with former Finnish junior national team players. At the invitational tournament in Denmark, Finland showed that they can compete by getting third place.
Ireland are not the same team that got a silver medal at EUC 2015 in Copenhagen. The focus in Ireland has shifted to the men's and women's divisions for this national team cycle and the current team does not seem to be able to challenge the very best mixed teams. At Windmill the team presented themselves as reliant on their male talent and were able to make the quarter finals in Amsterdam which shows promise for their chances in Györ.
Poland is not the same team that competed in the World Games where only the very best polish individual players where selected. This is a homogenous group routed in big and internationally somewhat successful Polish mixed scene. After the selection process that included tryout scrimmage games against a Czech tryout squad the team did not play any tournaments. Flow Wroclaw, with a large contingent of national team players, beat Austria's Mixed national team at Windmill. The team will try to build on that success and they are confident that their team will fire on all cylinders from the get go but this newly formed team without a non playing coach might have some trouble getting started in a close group XD.
Slovenia is on the rise in 2019. Passionate individuals like Matic Kuselj jumpstarted ultimate and keep working hard with school projects and with the nation's biggest club, Maribor Ultimate. Slovenia has lots of young talents in their squad, especially on the women's side of the roster, but the brightest star of them all is 17 year old Aurora Lešnik. On the men's side Blaž Jakopin is their go to player. The team might be too inexperienced to surprise this time around, but they are up and coming.
Switzerland Mixed Ultimate is on the rise since teams from the French-speaking part specialize in this division. These French speaking teams make up the bulk of this mixed national teams. The team takes full advantage of the EUF's rostering rules regarding "EUF citizens" which reflects the international nature of the Swiss Ultimate community. Head coach Ron Kubalanza will oversee a team that is building towards WUGC 2020. At their single preparation tournament Talampaya the team lost 12-6 to GB but the tournament was a success overall with an appearance in the final.2
Just Outside Quarters
The teams here will probably not make the top eight. However, if they can reach a favorable draw in pre-quarters, it would not be impossible to see them sneak into the top eight.
Belgium is clearly focusing on men's and women's but some teams like Flying Rabbits are raising the level of mixed competition. Belgium's squad selection process was started by clubs suggesting players for the mixed national team. Their 20th place at Windmill is not all that promising. The team is a mixture of very experienced players and some young talents. For this Belgium team the quarters might be just out of reach, but starting in what seems to be the relatively weak pool XC might be of some advantage.
The Czech Republic is not as dominated by Prague as it used to be. Clubs from Bohemia and Moravia are challenging the capital for superiority in this small country with a big ultimate scene.
Lukáš Maňák from Leftovers, a team contending in EUCF tournaments in recent years, is coaching and captaining this Mixed squad. The team relies on two Czech ultimate legends, Honza Novák and Lukáš Karásek. Both won silver at EUC in 2007 and were part of Czech super team, Silence. Lucie Schönová, who was a vital part of the mixed squad in 2014 can't make it due to injury. Her leadership will be missed in a somewhat inexperienced team. At Windmill the team was not contending for a spot in the bracket which makes it hard to see them reaching quarters this time around.
Italy mixed is the national selection that is not dominated by CUSB players. You can expect frantic speed with handler movement from this team who are coached by Francesco Dongo. Italy did not show the top end talent or the structure to challenge for a top spot in their appearance at Flying Unicorn Cup Kundl earlier this season.
The Rest
The remaining teams will probably not finish very high in the rankings, but they will still have their own story to tell in Hungary.
Belarus ultimate contains only eight teams in total. They are sending a mixed team lead by veteran player and coach Pavel Budnik. The team is looking forward to present Belorussian ultimate at an international stage. Preparation started over a year ago with sessions in Brest and Minsk once a month up until now. The team played in two preparation tournaments: Warsaw Delight and Windmill. The participation in EUC is seen as a big step in Belorussian Ultimate and can be seen as a direct consequence of EUF's decision to hold the tournament in Eastern Europe.
Coach Zoltán Erdősi oversees a project in Hungary that runs from 2014 to 2028. The goal for this team is to be competitive in 2024 so they selected many young players to build towards that goal. According to the roster there are seven 14 year olds on the team; the average player is 18.5 years old. Parallel to the efforts with national teams and junior national teams there are coordinated efforts to grow ultimate in schools all around Hungary. Players from top club team LOL are completely absent from this team. With the crowd behind them and games on TV they could make some trouble in the lower third of the bracket.
Lithuania is the representation of the best players in the country. It offers an opportunity to showcase all the talent from the small Baltic country. In London at WUGC Lithuania competed in the open division, lots of players switched over to mixed for 2019. Also part of the team is 2019 Eurostar Barbora Kundelytė. Lithuania did not compete in any preparation tournament this year and they don't have a non playing coach. They want to represent their scene at EUC and show the rest of Europe what Lithuanian Ultimate is about.
The small ultimate scene in Norway made it harder on themselves to send a team to Györ by deciding that only citizens would be allowed to compete. Some community members fell out the team due to this decision by Norway's Ultimate governing body. Grytøyr Strønen will coach the team, he has the experience from coaching the Norwegian serial champion Panncake Ultimate but this is his first experience "just coaching". At Talampaya and at the Danish invitational tournament, Norway failed to get wins against National team competition. Norway is a huge underdog and they will be happy if they win some games.
---
There were lightning delays that pushed the semifinal to turf fields. With slight injuries on the team, GB thought it would not be a good idea to risk further injury by playing on those fields ↩

Their appearance in the final was directly due to GB forfeiting ↩