The first ever Premier Ultimate League Championship Weekend is here, where four teams will battle for the inaugural title.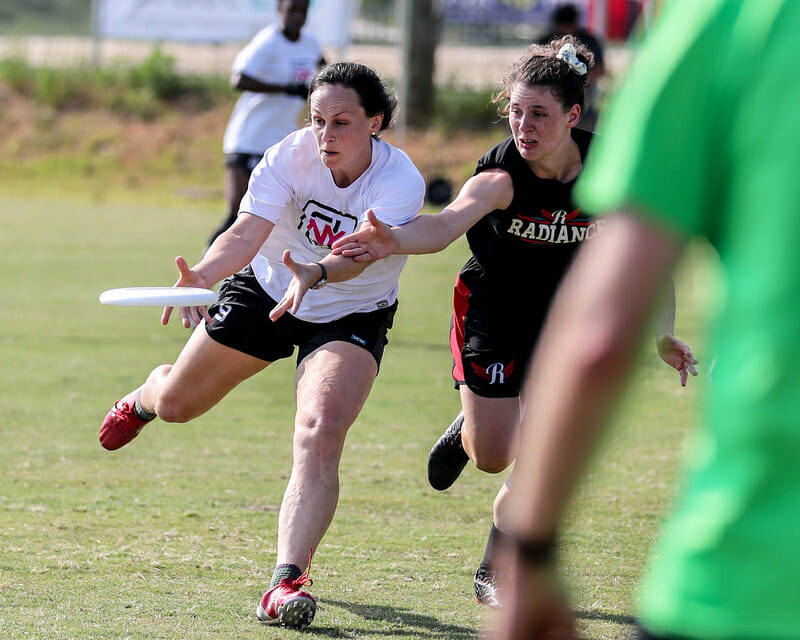 The inaugural Premier Ultimate League Championship Weekend is upon us. After a 20-game regular season, there are just four teams left that still have hope of claiming the first ever PUL title.
So who has the advantages this weekend? What players should you keep an eye out for? We've got you covered. And if you missed a little bit of the regular season, we'll catch you up on all of that, too. It's time for the first ever PUL playoffs.
Livestream
PUL Power Rankings
PUL Coverage
Medellín Revolution (5-0)
Key Players: Elizabeth Mosquera, Yina Cartagena
Season Arc: Revolution has been the top team in the league from the first pull of the regular season until the last. They started their campaign with an impressive win against the Atlanta Soul at home1 before grinding their way through a gruesome road trip in the States that required them to play four games in two weekends. But even with a shortened roster and the demand of playing back-to-back games, Revolution went through the regular season undefeated. Their top end talent is that of one of the best club teams in the world, and a majority of their roster — minus their all-world American pickups — has been playing together for years. None of the other teams in the league can claim either of those things. They're the best team in the league, have been all season, and enter the weekend as heavy favorites to win the first ever PUL championship.
Why They'll Win It All: Simply put, they're better than everyone else. We limited the 'Key Players' section to two players per team, but Revo could have had several more listed. The Cardenas twins have been fantastic; US National Team stars Claire Chastain (as a cutter!) and Kaela Helton have fit right in and been two of the best players in the league; and others like Maria Angelia Forero and Alejandra Torres have really shown off their worth as role players. They are the Murderers' Row of the league. Revolution have the best throwers and the best cutters, and when push comes to shove, that's usually what determines who wins. They're the heavy favorite to win it all, and frankly, it's difficult to come up with a realistic way in which they don't come away with the crown this weekend.
Related: How Could Revolution Lose? [Video]
New York Gridlock (4-1)
Key Players: Tulsa Douglas, Andrea DeSabato
Season Arc: The Gridlock has been the team of close wins. Despite having the second best record in the league, they have only the fourth best goal differential. They've been able to fight out close wins over Atlanta and Austin, both by two goals. Their relatively low goal difference (+8) was also partly due to the wheels falling off against Raleigh, where they were beaten in a 20-11 rout. From the beginning, it was a rough game for the offense, with a lot of turnovers in their own half of the field. The games against Atlanta and Raleigh were their only matches against playoff teams, and they're the only team in the playoffs that's yet to face Revolution.
Why They'll Win It All: Great handlers and the element of surprise. If there's anything last month's college championships taught us — looking at you, UC San Diego and Brown — it's that a set of good handlers, given enough room to work, can be incredibly difficult to stop. Between Douglas, DeSabato, and Brittany Kaplan, Gridlock have the handlers. Those three can play keep-away all day. And with finishers like Lindsay McKenna and Cassie Wong lurking in the stack, defenses won't often have the luxury of gumming up the backfield with extra bodies. The other thing working in Gridlock's favor is the fact that since they aren't a single cohesive unit outside of the PUL and haven't played Revolution yet, they'll be more difficult to scout.
Raleigh Radiance (3-2)
Key Players: Jessi Jones, Lindsay Soo
Season Arc: Raleigh laid claim to the reputation as the second best team in the league with their first game of the season, despite it being a loss. After having seen Medellín blow out Atlanta twice, to see Raleigh jump out to a lead, and hang tough with Revolution after giving up the lead, was impressive. They followed that up with three straight wins, the most impressive of which was the 20-11 blow out over the Gridlock. But their final game of the season left a bit to be desired. A sloppy 12-10 loss at home to Austin didn't line up with the rest of the season's results or performances. They were already guaranteed a playoff spot and their semifinal opponent was already guaranteed to be the Gridlock, so there wasn't a whole lot to play for, but the loss of the momentum they'd built after the opening loss is less than ideal.
Why They'll Win It All: Radiance have cutters for days. Cutters win games, and none of the teams at Championship Weekend have the legs to keep up with the overwhelming combination of Worth, Jones, Jenny Wei, Lisa Pitcaithley, and Lindsay Soo. The Raleigh cutting corps are a formidable blend of speed, size, and technique — not to mention how devastating their big continue throws can be. Stir in the playmaking abilities of college stars Dawn Culton and Rebecca Fagan, and you have a powerful brew. While top defenders like Revolution's Elizabeth Mosquera, Gridlock's Lindsay McKenna, and Soul's Robyn Fennig will be able to mute individuals on some points, there is hardly a defensive unit that can hope to contain them all for a quarter, let alone a full game.
Atlanta Soul (2-3)
Key Players: Robyn Fennig, Kate Travaglini
Season Arc: The 2-3 record doesn't look great, but they're the only team in the league that had to play Medellín twice, so they deserve a little bit of a pass there. The first loss to Revolution was closer than the final 30-20 scoreline indicated, and was the only game that anyone in the league played against Revolution as a road opponent. The second loss at home to Revolution is a bigger concern, as is the fact that they have no wins against any of the playoff teams2 — they're the only team out of the four with that distinction. The good news for Soul is that their goal differential against teams other than Medellín is +9, which is higher than no. 2 New York's. The Soul's record isn't fantastic, but their win over Austin in Week 2 was a genuinely nice result, and they've passed the eye test of being a playoff-caliber team, as well.
Why They'll Win It All: The big hurdle for Soul, obviously, will be knocking off the team that's beaten them twice already in semifinals. If they do that, they'll have a real shot at winning the title. They'll have the home crowd's support, and they get to stay at home while everyone else suffers the wear and tear of traveling. They're also the deepest team of the four, at least in terms of the way the spread out their points played and production. They'll need to rely on that advantage, while also getting a couple of transcendent performances from the likes of Fennig, Travaglini, or Erynn Schroeder.
Semifinal Previews
Radiance vs. Gridlock (Friday 6/28, 6:00 PM)3
Gridlock traveled to Raleigh with a small roster a few weeks ago and were pushed around by the Radiance stars — Jenny Wei and Lisa Pitcaithley in particular. While the 20-11 defeat New York suffered was a significant shortfall for the team's expectations, the game may have been instructive for them. Gridlock got a very good look at the way Raleigh likes to run the disc upfield quickly through their army of cutters. No doubt New York will have drawn up some schemes to bog down the Radiance offense the second time around, as straight matchup defense proved minimally effective.
The previous matchup with Raleigh may have been a useful check for the New York offense, too, who played a too-timid version of their game. Look for Gridlock to focus on pushing for longer, faster under throws to cutters like Linda Morse, Amy Zhou, and Kelly Hyland to keep the Radiance defense on their heels. Stack discipline, particularly in keeping defenders engaged and out of the cutting lanes, will be a key factor in those three being able to get open frequently. If Gridlock manage to attack downfield confidently enough during some points, it should free up handlers Tulsa Douglas and Andrea DeSabato to look for higher percentage power position strikes and soft breaks rather than use all of their energy to reset the count time and time again. When New York can't find the flow, they'll try to find box-out receiver extraordinaire Cassie Wong on a 50/50 ball, which isn't such a bad back-up plan.
Even with a good game plan, the Gridlock have a massive challenge facing them in the Radiance. There are far too many questions, from the New York perspective, that don't have satisfactory answers. How do you limit Ashley Powell's throwing game? If you turn it over, who is prepared to stay with Wei and Pitcaithley — assuming they're both playing D-line again — one-on-one in a fast-break scenario? If you match Lindsay McKenna on Lindsey Soo, Rebecca Fagan, or Anne Worth, who do you match up on the other two?
Raleigh have to feel good about what they're bringing to the table. They have the athletes and the chemistry to push any team in the league, and they've already dismantled New York once. That most of their best cutters can sling the disc almost as well as they chase it adds a dynamic element that will be an obstacle for the best defenders.
All the same, an aggressive offensive style always carries the risk that a thrower or two will have an off day. If Radiance do not execute at a high level, they could put the disc into the hands of Douglas and DeSabato a few too many times, which would be the first step to a disappointing result. Additionally, if New York manages to throw a defensive look that successfully disrupts the Raleigh cutting patterns, the Radiance will need to be ready to adapt to a more handler-driven style. Powell, Jones, and Becky Widmayer should be able to work something out in that case, but they'll have to do it before New York cashes in too many break chances.
Prediction: Raleigh over New York, 21 – 17
Revolution vs. Soul (Friday 6/28, 8:30 PM)
Medellín and Atlanta are facing off for the third time this season. Revolution has taken both victories, as Soul was unable to match Revolution's depth of top end talent for the duration of the game.
If the Soul are to flip that script, their elite tier players like Robyn Fennig and Kate Travaglini will have to come up with big performances, especially on the defensive side of the disc, in order to minimize Medellín's top line's control of the game. So too will Erynn Schroeder and Maddy Frey. But they'll also likely have to try to win at the depth positions. Medellín will have 16 players on the roster for the weekend. They do bring Calise Cardenas, who's played just one game with the team this season, but even with the addition of Cardenas, Soul has a numbers advantage with their 21-strong roster. They have to get strong performances from the likes of Katherine Yost, Shanye Crawford, and Sam Daugherty, players with the athleticism to wear out Revolution's athletes if they are going to have a chance of advancing to the final.
We also haven't seen Soul's complete roster play together a whole lot. They have just six players who've played in all five of their games. Paula Seville has played in just three, but put up big numbers in those games, so having her could provide a vital boost to the offense. Having a more complete arsenal at their disposal should give them a better chance than they had in their two previous games.
But even if they do get step-up games from all of those players, it will still be a tough battle for Soul. Revolution are just so remarkably talented. They'll still likely have as many as five of the best players on the field at times, and that's a very difficult thing to counteract. There's a reason that Revolution has been one of the most successful women's teams on the planet for years. And then they went out and added some of the best American talent as reinforcements. It almost feels a little unfair.
Atlanta will have the home field advantage, and a leg up in numbers, but they'll need some really special individual performances from players — and probably hope for some uncharacteristic mistakes from Revolution — and if they're going to get the upset.
Prediction: Revolution wins, 23-17
---
Their lone home game, as Atlanta came down during Colombia's TEP ↩

Their other loss came by two goals to New York at home. ↩

All times Eastern ↩