Revolution capped off their undefeated season with a clean victory.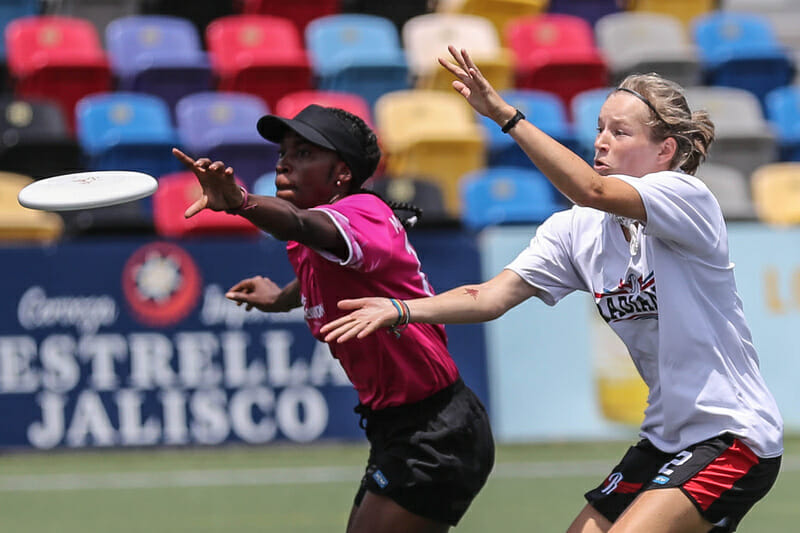 ATLANTA — The Premier Ultimate League Championship game, the first ever women's semi-professional championship match in ultimate, was a momentous occasion for the sport and the larger gender equity movement, the culmination of months of hard work. Two star-studded sides in Medellín Revolution and Raleigh Radiance, the top teams in the regular season, squared off for the title scarcely twelve hours after both were pushed to the limit in their semifinal victories. Revolution, led by the breathtaking two-way play of Elizabeth Mosquera, pulled away in the second half to cap off their undefeated season and take the crown by a final score of 20-14.
Revolution came out of the gate strong, with stars Valeria Cardenas and Yina Cartagena connecting for the first hold, and a Mosquera run-through block and deep put for the ensuing break. The rest of their big names soon followed suit. Alejandra Torres, Claire Chastain, and Manuela Cardenas used their exceptional understanding of the field — not to mention a couple of truly excellent throws — to poke holes in the Raleigh scheme.
The first quarter was a rough one for Radiance, who clearly needed a few points to adjust to the breakneck pace of Revolution, faster even than the well-honed New York Gridlock offense they saw the day before.
"They just had this other level that they hit when they needed to," said captain Becky Widmayer. "We took a little bit of time to match that intensity."
They also struggled initially to re-incorporate handler Ashley Powell, absent from the semifinal, into their own offense. Powell, with her power, wide array of break throws, and spark plug mentality, is typically one of Raleigh's most effective players. But while she dominated the reset and upline space with her legs, early on she got crossed up with a teammate on a dump set and spent most of the game trying to calibrate the consistency of her deep throws.
Despite the 5-2 advantage, Medellín's first quarter brought its share of concerns. The heat was already a serious challenge to all players — the final was played just after noon on a turf field surrounded by metal stands, a parking lot, and a major highway on a muggy day — and Medellín faced the additional obstacles of a short roster (sixteen players, five below the maximum allowed) and a very quick turnaround after an exhausting semifinal the night before. With those factors already working against them, three of their players left the field with injuries in quick succession. A dangerous bid into the lane by Raleigh's Jessi Jones caused a collision with Ximena Montaña. While Montaña would eventually return, Calise Cardenas left the game when she landed hard on a massive chase-down block, and Torres tweaked her knee stepping out to throw a backhand huck.
Those injuries left Revolution with just fourteen players to finish out the remaining three-and-a-half quarters, a tall task in the sweltering conditions and the pressure-cooker of the final. As the half wore on, however, Revolution gained steam. "They were really prepared," said coach Mauricio Moore. He explained after the game that the team is constructed with a short roster as one of its main tenets.
"That's where we're working on a new vision of ultimate which is like: less is more," he said. "Having less people, it means more connection…Sometimes it takes too long when you have twenty-four players. But when you have fewer players, you have more opportunity to get on it, to connect."
Moore's theory about roster size may hold water or it may not. Either way, it certainly didn't hurt Revolution's ability to connect to have their talented North American imports, Chastain and Kaela Helton, running a continuation cut clinic. Behind their yard-devouring downfield play and more great defense from Mosquera, Medellín opened up a 9-5 lead. Radiance earned one of the breaks back to close out the half at a respectable 9-7.
Raleigh faltered to start the third quarter, falling behind 11-7, but soon made a push that nearly knotted the game. The key drivers of the comeback were cutters Anne Worth and Lindsay Soo. They worked the lanes relentlessly to keep the disc moving for an overworked Radiance offense and showed off athleticism to match the best of Revolution. Worth did not play a perfect game by any stretch, but with her team butting up against a consistently stifling red zone defense for the second game in a row, she largely succeeded in the exhausting dominator role through heavy contact to convert a couple of key goals, including a huge sky on a floating pass early in the fourth quarter.
Soo was even better. Between her size, strength, speed, and apparent determination, she gave the Revolution defenders all they could handle. In addition to her proficiency as a cutter, she boasts a set of high release throws tailor-made for red zone dominance, and she was Raleigh's best bet to regain possession when they turned it. Soo's finest moment came at the start of the fourth quarter. Powell, with no clear-cut open options, put up an elevator backhand for her to run down at the back of the end zone. With Mosquera closing in on the play, Soo leaped to snatch the disc in the nick of time to bring Radiance within a point of tying the game.
Raleigh got a good chance on the next point when a backhand from Cartagena went awry, but they squandered it. Deep throws on Revolution's next two possessions to Helton and Akina Younge, who made an incredible toe-in catch, re-established their multi-break lead, and they proceeded to run away with the game.
The dynamic Medellín offense, as it has all season, proved too multifaceted for the opposition. Between a whirlwind Cartagena to Manuela Cardenas to Chastain give-and-go routine, the ability of Valeria Cardenas to zip big throws from anywhere on the field, and excellent secondary cutting from lesser-known players like Maria Paula Santos and Maria Angelica Forero, Revolution always had a variety of ways to score at their command.
But no single player made a larger impact on the championship game — or, indeed, the entire PUL season — than Mosquera. Mosquera is, without question, the best defender in the league. It starts with her pulls, which drew appreciation from the spectators several times throughout the championship weekend. Once the disc was in play, like recent-vintage stand-outs Sandy Jorgensen in club or Jeff Babbitt in college, she seemed to find a level of focus and athleticism that none of her peers could match.
"In my perspective, she's the most athletic player in the world," said Moore. It's hard to argue with him. In the final, Mosquera essentially closed off entire sections of the field to the Radiance, racking up five blocks1 — three of them run-through — in the process. Radiance captain Katie Backus explained the extra level of difficulty at work when throwers have to take a player like Mosquera into account. "You know you have to have separation from her if you're going to throw to that player… If you see her in the deep space, you do second guess for a second to make sure your throw is really open," said Backus.
A force on both sides of the disc, Mosquera is only slightly less dominant as a receiver than a defender, and she has the chops to launch deep throws when opponents push her underneath. Her teammates clearly have faith in her to make plays, and she rewarded their trust in the fourth quarter with a pair of scores in tight coverage to put away the Radiance once and for all.
With just over a minute and a half left to play and facing a 19-14 deficit, Raleigh seemed to have accepted the impending defeat. Valeria Cardenas hucked to a wide open Cartagena to break one last time and cement a final score line of 20-14.
Radiance may have cause to regret some execution mistakes on open throws, and they may wish they had found a way to better involve Lisa Pitcaithley, who was the star of their semifinal win but had a notably quiet game in the final. However, keeping the game close for three quarters against a super-team like Revolution is no minor accomplishment, and the loss in the final takes nothing away from a fantastic inaugural campaign in the league. Raleigh leave the championship game with the knowledge that they have all the tools to find themselves challenging for a title again next season.
Though they entered the season as the favorites, Medellín Revolution did not have an easy road to the championship by any stretch of the imagination. Between the frontrunner's privilege of getting every other team's best shot and the unique hardship of making two grueling transcontinental trips to compete, they had every excuse to stumble. The fact that they did not confirms that they are who we thought they were: the best team in the league, through and through. And it confirms to them that the years of work it took them to reach this point have been well worth the effort.
---
That is, at least five blocks, by our tally. ↩