Get to know the biggest stars, the new faces, and the pivotal stories of this club season.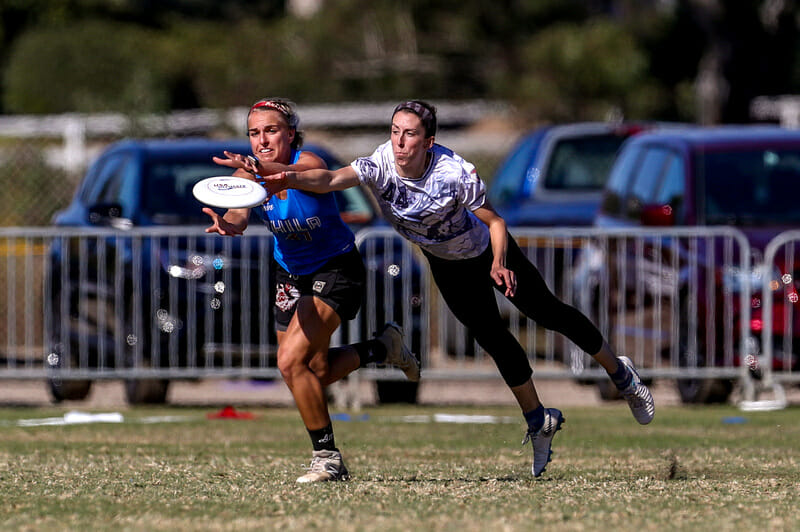 Ultiworld's reporting on the Club Mixed division is presented by Universe Point cleats. All opinions are those of the authors. Please support the brands that make Ultiworld possible and shop at Universe Point!
The 2019 club season is upon us! Teams have made their offseason changes and the quest for the title has already begun. Whether you're looking for a brush up on the main contenders or a hint at which players and teams to keep an eye on, here's the big picture view of what you need to know to be a responsible fan this season!
If you want to follow along with the top teams, players, and games this season, support Ultiworld's club season coverage and grab a subscription.
Major Storylines
Can AMP and Mixtape Make it Three Finals in a Row?
For a division marked by heavy player movement, brand new all-star teams bursting onto the scene, and competitive parity, the mixed division has a surprising number of championship rematches. Philadelphia AMP and Seattle Mixtape are the latest pair to emerge above the fray. After a tremendous back-and-forth battle in the 2017 final in Sarasota which saw Mixtape walk away with their first championship, AMP returned the favor in 2018 in a lopsided victory in San Diego. Now that the series is tied, will we see a third round?
Both teams see turnover in the ranks this year. Carolyn Normile and Nicky Spiva headline the departures from AMP, while Mixtape loses Mark Burton, Brad Houser, and Claire Revere, amongst many others. Roster turnover is not necessarily the kiss of death for a team's championship hopes, but it does depend on where that turnover happens. All the names mentioned were high-usage players for their respective teams last year, and they represent a huge percentage of touches that will need to be dispersed if AMP and Mixtape want to meet once more for the mixed title.
Boston Snake Country, Boston Slow White, San Francisco Blackbird, and Washington DC Space Heater will all be gunning for the top spot this year, and each of these teams pushed last year's finalists to the brink of elimination. AMP and Mixtape have a history of overcoming the odds, though, and as premier programs, they have the luxury of attracting top talent. Mixtape returns Jen Cogburn and Henry Phan, and brings in Kieran Kelly, Bryson Fox, and Adam Simon. AMP, meanwhile, celebrates the return of Michael Ing, and pick up several more standouts in Bethany Eldridge and Jordan Rhyne, alongside more young talent from the Philadelphia area. Don't be surprised to see both teams back in the championship, but the road is more treacherous than it's been before.
2018's Semifinals Rookies Get the TCT Treatment
The creation of instantly elite teams out of thin air has always been an element in the mixed division. In 15 of the 21 years of the division's existence, at least one national semifinalist was either in their first year as a team or in their first year qualifying for Nationals. That trend had begun to slow in the middle of this decade as the institution of the Triple Crown Tour was specifically designed to reward long-term programs and make it harder for brand new teams to break through. But the least two years has proven it's not impossible. In 2017, it was Seattle BFG, who stormed the competition on their way to a third-place finish at Nationals, then won a gold medal at the WUCC in Cincinnati in only their second season as a team. Last year, it was Boston Snake Country and Washington DC Space Heater, each of whom reached the National semifinals in their inaugural season.
Though both teams were able to create their own schedules last year, choosing tournaments that worked for them and that would allow them to face just enough competition to earn a bid for their respective regions, they are now forced into the TCT prescribed schedule this year due to their Pro Flight status. Both Snake Country and Space Heater will compete against the top competition in the division at the U.S. Open in August in Minnesota, as well as the Pro Championships on Labor Day weekend in Philadelphia.
What effect will the new regular season schedules have on these teams? For BFG, there may be some evidence that the heavier schedule, with the addition of the WUCC marathon, took a toll on the team's energy and chemistry over the course of the season, although they finished a respectable tied-seventh place at 2018 Nationals. The TCT schedule tends to increase a team's financial and travel burden, although Snake Country and Space Heater are both conveniently located for the Pro Championships. Another consideration is the added exposure to elite teams in the division — for instance, Space Heater is set to attend five of the same tournaments as AMP this season, including Mid-Atlantic Regionals and Nationals. The greater intimacy between the top teams may give the perennial contenders a leg up come the Series.
Who Will Be 2019's First-Time Quarterfinalist?
During every single year of the division's history, mixed has seen at least one new team qualify for the quarterfinals for the first time. While the top-tier of the division has calcified some in the past few years as the TCT startifies competitive opportunities, each of the existing powerhouse programs were once the pesky upstarts.
From where we stand today, 11 of the top 12 teams from our preseason rankings have previously qualified for the season's final eight, along with at least half a dozen other programs that are still kicking around. Is it possible that this is the year to finally break the streak? Sure. But would we bet on it? That's not where the smart money is. Given that, which are the teams most likely to break though in 2019?
Perhaps the likeliest option is Denver Love Tractor, a three-time Nationals qualifier who spent the majority of 2018 inside our Top 10 before being upset in a single-bid South Central Regionals. With the nigh unstoppable Jack McShane still terrorizing opponents and improved depth down the roster, the Denver squad seem primed for a bracket run at Nationals — provided the region earns enough bids to get Love Tractor to San Diego.
The other top candidate heading into the season is a second-year Columbus Cocktails crew who surprised many by earning a spot to Nationals last fall. Feasting on a pipeline from Ohio State that has seen both women's and men's teams enjoy renewed success over the past couple seasons, Cocktails have built out a strong young squad that has added both depth and veteran leadership in 2019. Getting opportunities against the division's top tier as an Elite Flight team will only help Columbus grown into their talent.
And there's always the chance the surprise quarterfinalist will be a squad we didn't see coming — that's what a surprise is. If we've learned anything about the division over the years, mixed is never boring.
Players Who Could Define This Season
Sion Agami (Columbus Cocktails)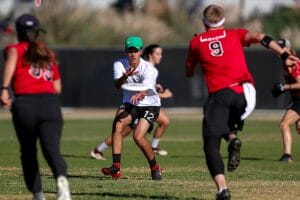 Sion Agami was all over the field for surprise Nationals qualifiers Columbus Cocktails in 2018, contributing a team-leading 15 goals and adding 13 assists in the Cocktails' effort in San Diego. The only other mixed players to notch a double-double at Nationals: Brad Houser, Sarah Meckstroth, Peter Prial, and Sam Valesano — elite company.
Coming off of a highly successful sophomore season with Ohio State Leadbelly in the college division, Agami will need to take advantage of every ounce of that high-level experience to help his team ensure continued success. With Columbus adding the Pro-Elite Challenge to their schedule this year, look for Agami to shoulder a heavier load in the backfield for the Cocktails, who lose a major weapon on the female side in the departure of Sadie Jezierski. He will, however, gain some help from the addition of his Leadbelly teammates to the Cocktails roster, including brother Axel Agami, backfield running-mate Zach Braun, and downfield threat Neil Taylor.
Shellie Cohen (Boston Snake Country)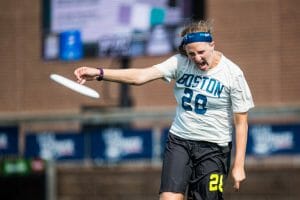 Shellie Cohen was described as a 'premier power thrower' back in her high school days, and she's lived up to that moniker every season of ultimate she's played since. Now, Cohen is moving on from her stint with Boston Brute Squad and returning to mixed to remind the division of all she has to offer — and she couldn't have picked a better team. By joining Snake Country for their second season as a program, she'll have every opportunity to showcase her best attributes, specifically her overwhelming defense and game-changing flick hucks. The wealth of downfield talent that made Snake Country such a threat last season has just been paired with one of the most dangerous female throwers on the East Coast.
What Cohen provides most for Snake Country is a plethora of options on offense. Last season, the team relied heavily on their male handlers to anchor their backfield. With Cohen in the mix, it gives the Boston squad a chance to reorient their offense on any given point. Cohen ability to take over an offense will allow Snake Country's other handlers to assert themselves downfield more, and potentially roll through defenses that don't give her the respect she deserves. Snake Country came up just shy of a finals appearance in 2018; if they were looking for a player to get them over the hump, they couldn't have asked for a better option than Cohen.
Lucas Dallmann (San Francisco Blackbird)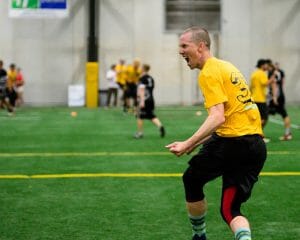 Many have come to know Dallmann as a long-time captain and emotional leader for the Revolver dynasty, but people forget he cut his club teeth as a national champion with Polar Bears back in the early years of the decade. His return to the mixed division after six years away will now bolster the fortunes of a different Bay Area power.
Blackbird was a solid, cohesive squad last season that frequently punched above their weight, but with much of their production concentrated at the top end of the roster. Dallmann adds another elite all-around talent to their arsenal, ready to be deployed wherever the team needs. He is a suffocating defender, using his length to stifle throwers on the mark and his tireless motor to grind down whoever has the misfortune of drawing his assignment, all while also spying opportunities to help his teammates with a well-timed poach. On offense, Dallmann plays smooth and smart, spacing the field well and exhibiting tremendous poise and decision-making to go along with his speed and disc skills. A naturally fiery competitor, the Revolver defector will add steel to the backbone of an already veteran squad, no matter where is utilized on the field.
Kieran Kelly (Seattle Mixtape)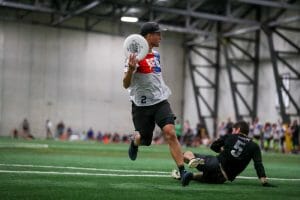 Kieran Kelly was at the heart of Seattle BFG's run to the WUCC 2018 title, before abruptly leaving the team before the USAU Series kicked off. This year, he returns to the Seattle mixed scene, only this time he'll be lacing up with Mixtape. A dynamic primary cutter who is also dangerous with the disc in his hands, he is the definition of a game-changer. For a Mixtape squad losing several big names, Kelly is the relief Mixtape needs to make another deep run at Nationals.
Expect Kelly to slot into the role previously held by the departing Brad Houser, driving for yards downfield, cycling through the handler position, and scoring goals seemingly at will. BFG made a run to the quarterfinals without Kelly last year at Nationals, but it isn't hard to believe that his presence on the field could have pushed them past Washington DC Space Heater and into the semifinals. Joining a team as tightly knit as Mixtape poses a challenge for anyone, but if Kelly can match the team's hypercompetitive attitude and freewheeling on-field playing style, he could be enough to get Mixtape to a fifth final appearance in six years.
Lexi Zalk (San Francisco Mischief)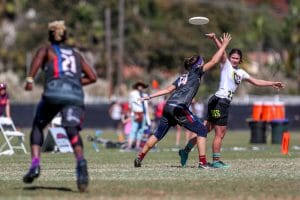 Lexi Zalk knows elite mixed: with Boston Slow White, she was a 2016 national champion, a 2017 national semifinalist, and a 2018 WUCC finalist. On Boston Snake Country for the 2018 club Series, she found herself a semifinalist once again. And it's no mistake that the teams she's chosen have found themselves so far into the bracket at the highest level of the sport. She's an athletic force with an tendency for doing exactly what needs to be done when the stakes are highest.
This year, Zalk will be bringing her game to the West Coast with San Francisco Mischief. Mischief fell to Snake Country in quarters of Nationals last season, partially due to Zalk's uncanny knack for collecting poach blocks. But she isn't just a defensive powerhouse: her versatility and dominance on offense make her a player who could turn the tide in those late-bracket Nationals games. Her impact on Mischief may be exactly what they need to bring them back to the semi-finals and beyond.
Regional Previews
Great Lakes
In the seven years since the regional redraw, the Great Lakes has sent four different teams to Nationals, only one of which has made more than one appearance. Only three times has their representative gotten as far as the quarterfinals. While Chicago has served as a major hub within the region for the single-gender division, a corresponding mixed scene in the Windy City has not followed, nor has the region produced a truly sustainable national-level program elsewhere within its borders. So while it's always been safe to predict that the region will enter the postseason with just a single bid to Nationals, the hierarchy is typically in flux. The dissolution of Hive Five this offseason has freed up some male talent that could shake things up even further. Even as last year's qualifier improves, an up year for multiple teams on the cusp and an unlikely path to earning a second bid means the Great Lakes could be wide open once again.
To the extent that any Great Lakes mixed squad has enjoyed sustained success, Cincinnati Steamboat has been nationally relevant since their first Nationals appearance in 2013, though their reign may be ebbing. The nominal top program in the region endured a rough 2018 on the back of heavy roster turnover, but less upheaval this offseason should lead to an uptick in cohesion. Plus, they've still got the steady leadership and skill of Brittany Winner and Tim Settles to keep them in the mix to be competitive.
Columbus Cocktails picked up the Nationals mantle last year, riding a young core of talent that was too full of youthful belief to realize they weren't supposed to be knocking off the region's top dogs. While they'll no longer enjoy underdog status and no longer employ the gunslinging services of Sadie Jezierski, they otherwise expand on their Oho State contingent, have retained all of their other meaningful statistical contributors, and are benefitting from the breakup of High Five. Jordan O'Neill is a hyper-explosive athlete and Phil Cherosky is a seasoned vet who will be a strong, dependable addition to the team.
Another team thankful for the dissolution of High Five is Ann Arbor Hybrid. After finishing fifth at Regionals last fall, the Michigan squad will benefit a lot from Alex Kapiamba and James Highsmith. The team already has an undefeated tournament victory under their belt in 2019, and could surprise as Cocktails did last year. Further complicating the equation for the regional favorites, The UPA1 is rumored to be back after a self-imposed hiatus to avoid TCT requirements. It's as yet unclear what their roster could look like, but the talented veterans from Chicago have proven they know how to win this region and could once again threaten to steal a single bid.
No matter in what order these teams eventually shake out, the hunt for a second Nationals bid should be a region-wide goal. That hasn't happened for the Great Lakes yet and perhaps their talent is still spread too thin. But this is perhaps the deepest set of competitive teams we've seen in the region for several years at least — expect an dogfight to come out on top.
Bid Prediction: 1
Mid-Atlantic
Heading into 2018, the Mid-Atlantic looked for sure like a straightforward two-bid region. AMP was returning a strong squad coming off an appearance in the national final and the supernova of Washington DC Space Heater absorbed all the remaining preseason air. No one doubted that both would challenge for a national title and that no one else was worth talking about. Then, another new squad West Chester Loco skated to a 21-1 regular season record to land inside the cutoff for a third bid, and Regionals was full of excitement — Pittsburgh Alloy almost beat Space Heater in the game to secure the second bid and the backdoor bracket saw long-time regional middler New Jersey Jughandle emerge with a ticket to San Diego. Both AMP and Space Heater will once again rightfully be considered locks, but the rest of the division is now on notice that there is a crew of capable teams below them in the Mid-Atlantic gunning to earn a third bid.
While there is definitely some roster turnover for both AMP and Space Heater, the two 2018 Nationals semifinalists look strong. AMP went 4-0 at their home tournament in early June and also beat New England's top three squads — Slow White, Snake Country, and Wild Card — to win Boston Invite. Space Heater showed up at AMP Invite with a smaller roster that was missing some notable players, but still managed a close game with Philly, losing in hard cap, 10-8. Results from the rest of that tournament, including a Jughandle win over Space Heater, bode well for the region's chances at retaining their three-bid status.
A pair of brand new contenders from 2018 — Loco and Washington DC Rally — are sticking around and should remain, at worst, competitive. Those two, along with Jughandle and Alloy, will take on a more competitive slate of tournaments this summer to hunt for a bid. The region needs at least one from that crew to step up and perform well, as it looks like we'll see a tight race between a few different regions for the last couple of bids. Which Mid-Atlantic contender has the best shot is tough to say at this point; even harder is predicting which would step up at Regionals to take it.
Bid Prediction: 3
North Central
Death, taxes, and Minneapolis Drag'n Thrust being a contender for the title. If it seems like you've read this before, you can thank Drag'n Thrust's year-in, year-out consistency. Any team with Sarah Meckstroth at the helm is going to be a threat, and she has been the centerpiece of the team for years. Expect more of the same out of the North Central region this year, as no team looks poised to end the Minneapolis team's run of dominance. If anything, Drag'n Thrust is even better than last year, bringing in Becca Ludford and Claire Thallon to boost the cutting ranks. This region is Drag'n Thrust's to lose.
A much more interesting question is if there will be a second bid to go around. Last season, a solid regular season run from Minneapolis No Touching! kept them just inside the top 14, which was enough to earn a second bid for the North Central. This year, however, primary offensive cutter and goal-scoring machine Sam Valesano is out for the season. No Touching! will need to somehow figure out how to replace her immense scoring output — and fast, if they want to stay in bid contention.
Madison NOISE is the next likeliest candidate to earn a second bid, but a huge amount of turnover leaves them with an uphill battle on the road back to Nationals. The team took a surprising early season win over Drag'n Thrust at a preseason tournament, but lost in the rematch. Expect the gulf to widen over the course of the season. Ames Chad Larson Experience could return to the mix to make a push into bid territory, but now several years removed from their last appearance in the Big Show, CLX will struggle with getting access to the level of competition that can help their rankings.
If No Touching!, NOISE, or CLX can string together big wins, the North Central has a shot at a second bid to San Diego. But with so many teams on the rise around the country, the odds are against them. Expect one bid for the region, and Drag'n Thrust to emerge victorious.
Bid Prediction: 1
Northeast
Boston is a big ultimate city, but is it deep enough to earn three bids? That is the question each season in the competitive and unpredictable Northeast, as despite the depth of talent that can challenge at Regionals, the onus of earning national berths typically falls on the big programs out of Beantown: Slow White, Wild Card, and now Snake Country.
Slow White and Snake Country are looking beyond simply securing a spot at the national championships this year. Both teams have the title in their sights and have the experienced leadership and depth to get them there. So far, the two Boston squads are neck and neck, a Slow White win against Snake Country at Boston Invite balanced by a Snake Country win at Mixed Easterns. These regional leaders are somehow dodging each other at every Pro or Elite Flight tournament this upcoming season so we may have to wait until Regionals for the rubber match, though their familiarity with each other should produce an epic battle regardless.
After Boston Wild Card tied for third in the world at WUCC last summer, a wild ride at Northeast 2018 Regionals saw them finish fourth in their own region as New York XIST advanced to Nationals and left Boston's third team behind. The depth in the Northeast will once again be a challenge, but Wild Card is loaded with young talent and is sporting the lowest roster turnover of any of the region's contenders. They have already produced showing solid results against top-tier programs this summer and should be able to do enough to earn a bid and make up for last season's miss — a close loss to AMP should age well in the algorithm.
XIST, on the other hand, loses some top players, though they retain powerful cutters Ryan Drost and Tricia Smit. So far they seem to be holding onto their fourth place regional perch, having won out over regional challengers League of Shadows and Metro North at Boston Invite. Having access to top competition at TCT tournaments as an Elite Flight team gives XIST the opportunity to win another bid for the region, but they will have to perform well.
With XIST potentially hovering too far down in the rankings and facing heavy competition from bid hungry Northwest and Mid-Atlantic teams, the Northeast is unlikely to get any help from New York City. Slow White and Snake Country seem like sure bid earners, which makes Wild Card the team to watch here.
Bid Prediction: 3
Northwest
Seattle Mixtape and Seattle BFG have been the clear frontrunners in the Northwest for the past two seasons, but personnel shakeups across the board should create a tight regional race this year. Mixtape looks like the top team once again, despite losing several of their big names to retirement or other teams. They still play at a pace few teams can match, and their new eye-popping additions should maintain the team's place out front. BFG were one point away from a second straight semifinals berth last year, but will be hard-pressed to make another similar run. With several key departures, they will need to find their rhythm early to hold off the Northwest's Select Flight teams.
Boise Lochsa was on the doorstep of earning a third bid for the region last year, and if they can put together another strong start at the Pro-Elite Challenge, Lochsa has a chance to make good on the promise their 2019 roster holds. However, they can also expect a strong push from both Seattle Birdfruit and Seattle Lights Out. All three teams were hovering around the top 25 last year, and the arms race this year makes the group even tighter. Montana MOONDOG, a new team bringing together the best players in Montana, can jump into the conversation and vault past any team who slips.
Expect a two-bid region this year, but a third is still on the radar, if the teams can capitalize on out-of-region matchups. With Mixtape, BFG, Lochsa, and Birdruit at the Pro-Elite Challenge (plus Lights Out at the Select Flight Invite), we'll get an early look at how the region is stacking up to kick off the season.
Bid Prediction: 2
South Central
After earning an abundance of bids in 2017, the elite teams in the South Central region struggled with the national schedules during the regular season last year, resulting in a chaotic one-bid Regionals that saw the bid earner, Denver Love Tractor, fall to a Fort Collins shame. team that peaked at the right time in the regional championship.
Ideally, shame., now a Pro Flight team after a strong finish at Nationals, will do enough with their strengthened schedule —they will play Pro Championships this year instead of Elite-Select, where they suffered some key losses in 2018 — to earn that bid back, although their nonchalant team culture does not lead one to believe that they will take concepts such as "regular season ultimate" too seriously. If they do earn a bid, it will ease the burden on Love Tractor, which returns a high percentage of its roster, including devastating handler-cutter tandem Jack McShane and Jesse Roehm and constant goal-scoring threat Hilary Walker. Shame., led again by Aubree Dietrich and Nick Lance and adding a new weapon in Owen Westbrook, are the early favorites to repeat in the region after a 15-13 win over Tractor at Fort Collins Solstice.
Until they prove otherwise, the Texas contingent remains secondary to the Colorado contingent in an increasingly deep region, although Dallas Public Enemy remains a legitimate threat to earn or steal a bid from one of the two powers, especially with Regionals happening much closer to sea level this season. AUDL standout Connor Olson has departed, but the team retains mainstays like Dani Runzo, Kevin Christian, and Jenna Bigbie, and has plenty of young talent waiting to fill key roles.
Outside of those three, the pecking order of potential regional spoilers becomes murkier. Denver Mesteño has had consistent success at the Select Flight level, and Austin Waterloo is a team to keep an eye on. Waterloo represents an attempt to bring together the top mixed talent in Austin, merging what was formerly Cosa Nostra with a Masters Worlds team, Five One Two. If Waterloo can put the pieces together come series time, they have plenty of talent to play spoiler.
Bid Prediction: 2
Southeast
The Southeast region has harbored an increasingly deep talent pool over the past few years as it receives an influx of elite college players from schools like North Carolina, Florida, Georgia, and Auburn, but cannot seem to shake the designation as a lone-bid region.
Durham Toro has been the earner of that singular bid each of the past two seasons, and looks to be in a position to earn it again in 2019. Despite suffering a loss in pool play to DC Rally at Glazed Daze, they rebounded to win the tournament against a strong field. They return most of last year's core, plus a few nice Triangle-area college pickups.
The team Toro defeated in the muddy Glazed Daze final, Florida Weird, likely represents the region's best hope for a second Nationals qualifier. Weird, formerly constituted as G-Unit, is the last team to win the region other than Toro, making it to the big stage in 2016. Adding the Elite-Select Challenge to their schedule in August gives them a chance to earn another bid, if they can play up to the competition.
After the two top, there are a whole mess of teams waiting in the wings to alter the prescribed storyline. Charlotte Storm, third-place finishers at Glazed Daze, return a sizable portion of a roster that competed at last year's U.S. Open. Atlanta Bucket, a traditional power, has consistently pushed the envelope and were the top seed at 2018 Regionals. Asheville Mixfits, Athens Murmur, and Atlanta JLP all have the ability to make things interesting. If the region fails to secure more than one bid, the Southeast will once again be a mad scramble for glory.
Bid Prediction: 1
Southwest
The Southwest has long been considered a standard bearer for the mixed division, a region so deep that one of its sections is routinely far more competitive than most other Regionals. For much of the last decade, the region could rely on a trio of Bay Area clubs — all of whom have won a national title — to procure both strength bids and enough algorithm points that in-region competition could raise the rankings of the next tier. That is still likely to be the case for Blackbird and Mischief — both won big in recruiting this offseason, landing some of the biggest prizes in the free agent market.
San Francisco Blackbird has built a reliable pipeline from Revolver that this season delivered the aforementioned Lucas Dallmann along with Kevin Cocks and the return of Tim Gilligan. Add to that the pickup of longtime Fury handler Dre Romano and Nightlock founder Abby Van Muijen, and last year's fifth place finisher have greatly improved both their depth and top end.
San Francisco Mischief also has some shiny new toys on their roster for 2019, picking up two-time All-Club First Teamer Lexi Zalk and U24 player Mia Bladin, along with the celebrating the return of Evan Brydon and Matthew Crawford. Despite saying goodbye to some key contributors from last season, the 2006 national champs are deep and work hard. Both teams should reliably bring a bid back to the Southwest.
San Francisco Polar Bears, however, may be dicier bet. Not only are team founders An-Chi Tsou and Greg Marliave finally hanging them up, the squad loses a big chunk of young male talent that might have served as a next generation core. Most of their stable of Cal Poly SLOCORE recruits have moved on to the men's division, while breakout star Ryan Takayama has decided to keep his talents closer to home in Reno. Even if they can capture a third bid through their schedule of Elite Flight competition, they'll have a host of local competition anxious to finally overtake them in the competitive Bay Area pecking order. San Francisco Classy and Sunnyvale BW Ultimate played close with the top three at Regionals last fall and continue to consolidate talent to inch closer to national relevance.
Southern California will also add a wild card challenger to the mess. In the wake of last year's sanctioning debacle, 7 Figures have folded up shop and been replaced by a new team in Los Angeles Lotus. LA resident Chris Mazur finally decided to ply his trade on the West Coast, focusing on starting up a competitive team to capitalize on the young talent available in the area.
Like the Mid-Atlantic, Northeast, and Northwest, the Southwest should see a number of teams hovering around the bid cutoff throughout the season. With not enough bids to go around, it would not be shocking if the Southwest somehow ended up on the outside looking in. While it's anyone's guess which team steps up, expect one to secure a bid. Either way, gear up for another insane Regionals
Bid Prediction: 3
---
If they even reprise that name. ↩